The Daily Stirrer is constantly looking at the news and trying to dig out the stiory behind the story. With latest news that does not make mainstream media and controversial reporting and opinion, we are loking forward to bringing you inside information on the disintegration of the European Union, the replacement of the Petrodollar as global reserve currency, the continuing decay of the USA (unless Trump can neutralise the authoritarian warmongers of the deep state, and we don't think he can) and the ongoing problems caused by the flood of illegal immigrants from the third world to Europe and North America. We certainly do live in Interesting Times.
Daily Stirrer, October 2018
31 October, 2018
Top Cop Slams Politicised 'Hate Crime' Obsession, Demands Focus on Real Crime
Most British people agree police have lost control of the streets because of politically correct government policies
One of the UK's highest ranking police officers has attacked the government's policy of prioritising "hate crimes," over serious crimes such as theft, vandalism, violence and fraud, calling for officers to be reassigned to investigate more burglaries and violent attacks by focusing on "core policing."
National Police Chiefs' Council (NPCC) Chair Sara Thornton CBE also said she did not want to see "misogyny" and offensive comments about women specified in law as hate crimes. One can only hope she feels the same about truthful criticisms of Islam, which glorifies misogyny, violence and rape.
Thornton suggested political pressure is being put on police to record "hate incidents" that do not qualify as crimes when resources are stretched, many traditional crimes against people or property are not being investigated and violent crimes has risen to record levels.
She said "investigating gender-based hate crime… cannot be a priority for a service that is overstretched" and that "core policing" has not "received enough attention in recent years."
The outburst was on the same day as the government revealed plans to encourage reporting of even more trivial incidents as hate crime by launching a "new nationwide hate crime campaign aimed at increasing awareness and understanding of what constitutes a hate crime."
This blog will tell them what constitutes hate crime. Nothing, that's what. If some straight guy kicks the crap out of a homosexual because he's homosexual, is it worse than if a thug kicks the crap out of a man who might or might not be homosexual, for the purpose of stealing his wallet and watch? Both are terrible crimes for which the perp should be punished equally severely.
However, beating someone up should not be put on a par with saying homosexuals should be pushed back in the closet because they are perverts. That is mildly offensive but can only hurt someone's feelings. And in the great scheme of things, an individual's feelings are no more significant than a gnat's fart in a hurricane.
Speaking at the NPCC nation annual conference, Ms Thornton said: "We do really need to refocus on core policing. The public expects an effective response to organised crime, to terrorism, to the focus on the vunerable.
"But, they also expect the basics: responding to emergencies, investigating and solving crimes, and neighbourhood policing. It is this core policing that is seriously stretched – This is surely part of the police covenant with the public. We are, however, asked to provide more and more bespoke services that are all desirable. But the simple fact is, there are too many desirable and deserving issues.
"For example, treating misogyny as a 'hate crime' is a concern for some well-organised campaigning organisations."
Some police forces already began treating "misogyny" and making offensive comments to women as hate incidents back in 2016 and London's Metropolitan force revealed last year they are considering following suit. In violation of every long establishedd principle of British justice, "no evidence" is needed to report a hate incident. An accusation by a member of one of the anointed minorities is sufficient to establish guilt.
Ms Thornton appeared to suggest that certain "well organised" political activist groups and some officers with personal agendas (members of the Gay BLT police association?) wanted "non-crime" incidents recorded for political reasons and to pressure the government.
It has frequently been reported that some UK police forces are urging people to report "non-crime hate incidents" and "offensive" online comments to "re-emphasises the need" for officers to "tackle hate." And they thick plods wonder why they have lost the trust of the public. Still that's what happens when you make a vocation into a degree entry profession - you end up only being able to recruit university brainwashed idiots.
Male Privilege Is A Myth (video)

The pushback against politically correct thinking, identity politcs and the hatred from feminists for all things male is probably overdue but it is coming. After the #MeToo campaign tried to return our view of justice to the equivalent of a medieval witch hunt by making accusation of a man by a woman sufficient evidence on which to convict, while the racists of black Lives Matter tried to bully lawmakers into accepting that requiring black and brown people to obey the law is racist, the populist movements in the USA and Europe. which have put Trump in The White House, taken Britain out of the EU and put anti -establishment governments in power in Poland and Italy continue to gain strength.
Dishonesty Of Mainstream Media Revealed
Since Donald Trump, frontrunner in the race to be nominated Rebpublican candidate in the 2016 US Presidental election made some unpolitically-correct comments about stropping followers of Islam entering the USA until a way can be found of identifying the ones who have been radicalised and trained to perpetrate acts of terrorism in the USA, they media have been getting their knickers in a right old twist.
White Privilege Now Inculdes The Privilege Of Being Fired For being White
Its should be obvious by now that the politically correct left, insaniac sociopaths that they are, have only one emotion at their disposal; hate. Bizarrely the hatered of these predominantly white, middle class people, while of themselves, is mostly racist in nature but directed at members of their own race.
Ugly Marxist Lesbians Demand Right To Menstruate In Public
The story of the militant femists munter who ran a marathon on the first day of her 'monthlies' without using a tampon or sanitary towel (they're a sexist symbol or the oppressive patriarchy donchakow) is not new. The London Marathon was run back in April and the story of Kiran Gandhi's brave stance against male oppression (along with pitures of the dark stain speading across the croth of her leggings) was ignored by mainsteam and alternative media alike.
Social Science Degrees Make Great Leaders? More Junk Science.
We've had junk science on climate change, genetically modified seeds, many types of medicines and social engineering. The junkiest of junk science however is always commissioned by public service organisations and is aimed at convincing the public that our public servants are doing a good job. Fortunately the public are not as gullible as our leaders suppose.
Adolescent Girl Raped By 60 Men In Asian Grooming Gang
A trial jury atThe Old Bailey, London, heard yesterday the harrowing ddetails of how two schoolgirls were groomed and raped by an paedophile gang based in Aylesbury, Bucks, while aged just 12 and 13. Eleven gang members, accused of carrying out the crimes between 2006 and 2012 face 49 criminal charges between them including statutory rape, child prostitution and creating child pornography, The Daily Mirror reports.
Poldark female star: Obsession with topless Aidan Turner is 'sexist and undermines the show'
The latest outburst has come in response to a few tabloid stories of actor Aidan Turner's 'topless' appearances in the BBC television series Poldark. The screeching sisters can't really complain about male chauvinism as it is women who are lusting for Ross Poldark. So the ladies (?) are upset because they can't go topless too.
More Swedish PC Madness. Art treasures declared pornographic and offensive to women and Muslims
Crazy California has for many years held the title of global capital of politically correct isanity, but recently Sweden, always a contender, has shown signs of taking the title. The latest example of PC fuckwittery from Sweden's politically correct in their efforts to sacrifice western civilisation to feminist self righteousness and Muslim extremism left suggests they might be ready to assume the title, craziest place on earth.
Nineteen Eighty-Four: Sweden's Ministry of Truth to 'Gender-Adjust' History Books
Multi-Cultural England: Are You Feeling The Progressive Diversity.
As racial and sectarian tension increase on the streets of britain while politicians gear up for the election campaign, we take a look at the state of Britain today, Imigrant child abuse gangs, Clerics of alient faiths dictating moral strictures, and everywhere we look, foreigners being given provieged status. Is it any wonder the voters are angry?
">Mothers banned from breastfeeding at breastfeeding conference
'Mothers invited to a Scottish Government-backed breastfeeding conference were left angry and bemused after being told that they would not be allowed to breastfeed their babies.
Labour's Cockfish Reveals How Mainfesto Will Piss You Off.
All three main parties in the UK General Election are campaigning from a Politically Correct Consensus (i.e. Control Freak) platform. But whenm it comes to politically correct control freakery, Labour will always outdo the others. The main early thut of their campaign is a promise to criminalise sugary snacks and breakfast cereals, fatty foods and some fizzy drinks. And they're serious, they have handed the job of selling this idiocy to The Cockfish of British politics.
Oxford University Bans All Things Pig Related In Support Of Free Speech
When does being reasonable and open minded become cowardice? When academics who pride themselves on intellectual detachment cave in to threats from extremists and try to pass off their pitiful weakness by pretending they are showing sensitivity to the feelings of minorities. Don't send you little geniuses to Oxfor, they may and up with a PhD in spinlessness.
Liberal Says We Shouldn't Prosecute Sexual Predators… if They are Black.
There are plenty of examples of the depths of stupidity to which 'liberals' or supporters of 'the progressive left' will stooop in order to curry favout from members of the darker skinned races, but few are as staggeringly idiot as this one.
The Feminist Witch Hunt That aims To Destroy Ched Evans
British Democracy In Terminal Decline - Voting Is Redundant And Civil Liberties Are So Last Year
When did democracy go out of fashion. I don't remember voting on whether we wanted to give up our civil liberties or be ruled by a dictatorship of unelected bureaucrats from Brussels, but that is where we are heading, along with the other free nations of Europe. And the USA, so-called land of the free is further along the road to fascism than Europe.
South Yorkshire Police Commissioner Shaun Wright Finally Resigns Over Rotherham Child Abuse Scandal
The man who bears most responsibility for failure to investigate the Rotherham child abuse scandal has finally resigned after three weeks of excuses and evasions. Police Commissioner Wright has been under pressure ever since a report by Prof Alexis Jay (see below) revealed a huge level of child abuse in the South Yourkshire town of Rotherham. The organised sex crime rings had been operating for ...
Rotherham child sex abuse scandal: More victims identifies, more cover ups exposed.
What immigration has been to the Conservative so the Child Sex Cover Up scandal is proving to be for Labour as the party gets set to tear itself apart. With similar scandals due to be exposed in Rochdale, Bradfor, Oxford and other big towns, the Rotherham case is gathering momentum. So indirectly it looks as if immigration and fear of being called racist will be the downfall of both major parties.
Tony Benn's inheritance tax dodge - another leftie hyocrite exposed
Remember the patron saint of loony lefties, Saint Anthony of Wedgewood - Benn, previously known as Viscount Stansgate? Agreeable sort of bloke, pip smokers, great speaker, utterly daft opinions as one would expect from an aristocrat who is so deluded he thinks he understands the working class?
Rotherham - Bad New For The Nation But It Gets Better And Better For The Kippers
All week I have been seeing blogs and comments written by lefties proclaiming idiotically that Douglas Carswell's defection to UKIP was the beginning of the end, that the UKIP bubble had burst and so on. Pretty much what they were saying in the days after UKIP had trounced the mainstream parties in the European Parliament elections.
Scandal hit Rotherham 'deleted abuse files'
In a move that puts them among the contenders for lying, self serving shits of the decade, but still in a league of their own un terms of complete and utter shittiness, it has emerged that the scum sucking scab lice of Rotherham Council's controlling Labour group and the public servants they employed had deleted files in order to cover up their complicity in the blatant and systematic child abuse perpetrated under the noses of council officials.
Kick Political Correctness Out Of Football
As another football versus politiocally correct authoritarianist brings 'the beautiful game' even further into disrepute, we wonder is it time to kick politically correct authoritarianism out of sport.
The Hate And Prejudice The Bourgeois Left Find Acceptable
The neo - fascist left are quick to jump on any of the forbidden pejudices, racism, sexism, homophobia, islamophobia and so on. But as we have seen, they find pejudice and hated againt Christians and white Europeans quite acceptable. The bourgeois metropitan set might think that is acceptable but where I come from it's called hypocrisy.
Scots Wha Hae When Wallace Bled - A Boggart's view of Scottish Independence.
The Scottish Independence debate has failed so far to fire passions north of the border. Most Scots seem to be seeking evidence that Scotland will be no worse off as an independent nation, or is and will continue to be better off as part of the UK. Nobody in either London or Edinburgh is able to give a straight answer however. Her's our contribution ...
Pandemonium: UKIP Taken Over By Fiends From Hell?
UKIP are at risk of being engulfed in another "ism" scandal as Jake Baynes, prospective parliamentary candidate for Wells has resigned his candiacy and party offices, claiming the constituency party has been taken over by "Occultists"
---
Grooming Gangs: Police Ignored Mother's Pleas to Find Charlene Because She Was Working Class
The mother of Charlene Downes, a 14-year-old Blackpool girl who police suspect was groomed for sex and it was allegedly ground up for kebab meat by her killers, believes her original pleas to find her daughter were ignored because she was working class.
"The police came but they just dismissed Charlene as a runaway. They wouldn't put her picture in the paper or on TV. It was six weeks later that her disappearance was made public," Karen Downes told the Daily Mail in the run-up to the fifteenth anniversary of her daughter's disappearance.
"When Madeleine McCann went missing it made headlines round the world overnight. Of course I feel dreadfully sorry for her parents. But was my daughter not worth the same? I can't help feeling we were sidelined because we are uneducated and working class." (The parents of Madeline McCann are both doctors.)
Similar complaints have been made survivors and families of young women and girls abused by Muslim grooming gangs in Rotherham, Rochdale and across the country, who said that police dismissed their complaints because the young girls were seen as trouble-makers, runaways, and sometimes even child prostitutes complicit in their own abuse.
Charlene Downes, from the seaside resort, Blackpool, in north-west England, was 14 years old when she went missing. She was last seen on November 1st, 2003. Police oficers involved with the case have said investigators were certain Charlene was groomed by a gang of Muslim men for sexual exploitation and may have been raped by up to 100 men before she was murdered. If so it would conform to a pattern of sex crimes among immigrants communities from the same national and religious background that has beenm repeated in many British towns and cities.
Charlene's body has never been found. While there is no proof of the suspicion that her remains were butchered and put in food for human consumption, there have been other cases, one which actually resulted in a
successful prosecution,
of memvers of migrant communities being investigated for disposing of bodies in this way. Obviously the lack of victims' remains has prevented many cases getting to court.
Years after the quest for Charlene's killers collapsed, the Independent Police Complaints Commission (IPCC) found that errors in gathering evidence had contributed to the collapse of suspects' trials in 2007, with Lancashire Police being criticised and officers disciplined.
At the time of her disappearance, Mrs Downes said she was "so despairing of the lack of interest in Charlene" that she took to the streets herself to give out leaflet "night after night."
In the course of investigations, there have been five arrests — the most recent in 2017, the suspect later released — and two trials but no convictions have been secured.
30 October, 2018
Saudi-Led Coalition Sends Over 10,000 Troops To Prepare For Assault On Yemem Port
The Saudi-led military coalition which has been waging a genocial war on Yemen has now sent more than 10,000 troops towards a strategically important rebel-held port city ahead in preparation for a new assault on what is descriobed as Yemen's humatitarian lifeline, Yemeni government officials said on Tuesday.
The Sunni Muslim coalition deployed the reinforcements to the Red Sea coast ahead of a new offensive on Hodeidah that will be launched "within days", a military official told the AFP news agency. He said they would also "secure areas liberated" from the Houthi rebels, and that forces from Sudan, part of the coalition, had moved in to "secure" areas around the city.
The aim of this latest assault is to starve the people of the Shia - dominated nation into submission. Saudi coalition boming and artillery assaults have already reduced much of Yemen's vital infrastructure, including transport systems, hospials, water and sewerage sytems and the electrical grid and communications network to rubble.
Houthi rebels have for the past 10 days been stationing fighters on rooftops of buildings in Hodeidah city, government military officials told AFP. The port is the entry point for three-quarters of imports to the impoverished country, which is teetering on the edge of famine and suffering epidemic levels of infectious diseases due to lack of medicines.
Saudi Arabia and its allies intervened in Yemen in 2015 to support President Abd Rabbuh Mansour Hadi's government after the Houthis ousted it and took swathes of territory including the capital Sanaa. The coalition has used air power to push the rebels back from much of Yemen, but the Houthis have held onto Hodeidah and Sanaa.
Sources: Middle east Eye, Reuters
RELATED POSTS:
UK 'complicit in Yemen's destruction' – activist attacks government on eve of Saudi visit (VIDEO)
US Aiding Massive Genocide in Yemen at Behest of Saudi Arabia
Humanitarian Crisis Unfolds in Yemen, As US-EU-NATO backed Saudi war destoys another nation.
British Lawmakers Demand Inquiry Into Saudi / US War Crime In Yemen
Saudi Arabia Bids For Islamic Globalisation
What's Really Happening With Saudi Arabia and Qatar Will Not Be Televised
---
28 October, 2018

EU Parliament Passes Resolution On Ban Of 'Neo-Fascist' Groups, Lists Identitarian Movement

Image source: Christof Stache, AFP

The most undemocratic democratically elected body in the world, The European Union Parliament this week passed a resolution demanding that member-states ban 'neo-fascist' parties and groups and have intelligence agencies fully co-operate with 'anti-racism' NGOs. Ironically the 'anti - racism NGOs they mention are all offshots of globalist, anti - democracy organisations such as Open Society Institute and the Immigrant Defence Project. The

motion

, which was introduced at the request of Italian MEP Eleonora Forenza, was passed by a vote of 355 MEPs. Many MEPs were not present in the 751-seat chamber for the vote. The resolution cited several high-profile acts of violence including the murder of Labour MP Jo Cox in 2016, the murder rampage of Norwegian extremist Anders Brevik, along with other cases like the

recent arrest this year

of members of the Action des Forces Opérationnelles (AFO), who allegedly plotted to attack Muslims they deemed extremists. NOTE: MEPs, like the 'anti-racist NGOs' they voted to support do not seem in the least concerned about attacks on European Jews, Christians and secular citizens, or hate speech inciting such violence, by Muslims. While most of the incidents listed in the report were acts of violence, the authors also added the French branch of the Identitarian movement Generation Identitaire, as members had been taken to court and convicted of 'hate speech', apparently for the heinous crime of arguing that the french government should protect French culture and values rather than pandering to Muslim extremists . The EP not only the banning of groups like the far-right Italian group Casapound whose members

attacked Ms Forenza

in September but also recommended anti-hate crime units be set up in police forces across the EU, and that intelligence and law enforcement agencies should fully co-operate with anti-racism NGOs. We should remember that it is almost impossible to legally define what constitutes 'hate speech' when Muslim and leftist groups regularly call for violence to be used to suppress criticism of their ideals, and yet do not apply the same standards to their own supporters and fellow travellers. The motion also calls for "the protection of community groups and civil society organisations that fight against fascism, racism, xenophobia and other forms of intolerance." Again we run up against the issue of hard legal definitions, fascism has no legal definition and is usually taken to mean hard line authoritarianism, but more recently has been used to mean any criticism of left wing ideology or Muslim theology. In fact the only organisation in Europe of any significance that could be described as fascist is the European Union. British independent MEP Janice Atkinson, vice-president of the populist Europe for Nations and Freedom (ENF) parliamentary group, who commented that the motion was "a very disturbing

example of the growing tendency of shutting down free speech under the guise of claiming that the European Parliament is concerned about the growing acceptance of fascism, racism, and xenophobia."

RELATED POSTS:

A Song Of Servitude (poem)

Lord' Sugar Sugar called 'racist' for Senegal World Cup team tweet (but it was funny) Alan Sugar (one of Blair's dodgy 'lords' and front man of the UK version of 'The Apprentice' TV show, has come in for a shitstorm of criticism online after tweeting a typical market traders gag about the Senegal World Cup team. Sugar posted a photoshopped image of the Senegal players standing over a row fake designer sunglasses and handbags and gave it the caption "I recognise some of these guys ..."

White Privilege Now Inculdes The Privilege Of Being Fired For being White
Its should be obvious by now that the politically correct left, insaniac sociopaths that they are, have only one emotion at their disposal; hate. Bizarrely the hatered of these predominantly white, middle class people, while of themselves, is mostly racist in nature but directed at members of their own race.

Ten Truths You Can't Tell In Britain Without Being Accused Of Racism.
by Arthur Foxake The screenshot below is from an article written by Trevor Phillips, former head of the Equalities and Human Rights commission for The Daily Mail (or Mail On Sunday) Trevor Philips home truths on racism. Image source Finally, we?re having that open and honest debate about immigration and race everyone has been calling … Continue reading

White Girl Is Burned Alive, 17 Black Gang Members Arrested. Mainstream Media Blanks The Story Remember how the Social Justice Warriors of the politically correct 'left' screamed when a young black man named Trayvon Martin was shot by Hispanic George Zimmerman, because it was assumed someone named Zimmerman would be white? Remember how they wailed and stirred up civil unrest when a black man was shot by white cops in Ferguson, Missouri, automatically assuming the the killing was racially motivated. more >>>

Politician Blasts Conviction For Speaking The Truth On Anti-Semitism In Europe
A Danish politician has been reprimanded for posting comments on Twitter about the resurgence of anti semitism in Europe. Apparently while hand wringing and breast beating about violent attacks on Jewish people is fine, stating the obvious by linking the Europe migrant crisis to this new wave of anti Semitism is a criminal offence ...

15 More Men of South Asian Descent Charged With Child Sex Offences
West Yorkshire Police have charged 14 men and a 16-year-old boy with sex offences including the rape of a girl under the age of 16 in Keighley, a small town in the old Woollen Industry distict of the county. The offences centre on one female victim, with one allegation involving a second who was also under 16 at the time.

Racist Student Union Officer says 'I Can't be Racist'
We have often made points about the hypocroisy of the left, but a Student Union diversity officer from London beats all comers. Having tweeted 'kill all white men' she justifies herself by saying that as an ethnic minority woman she cannot be racist or bigoted.

Multi-Cultural England: Are You Feeling The Progressive Diversity That's Enriching Your Life Visit some parts of most British cities with large immigrant populations and you will be hard pressed to recognize it, certainly my granparents would struggle to recognize the towns they knew. Appeasement of foreigners has destroyed the character of our communities but as usual the political left advise solving the problem by doing over again the things that caused it.

US Soldiers Forced To Sit Through P C 'White Privilege Presentation. Not Happy Bunnies
The U.S. Army is investigating an unauthorized diversity training presentation on "white privilege" shown to hundreds of Georgia soldiers, USA Today reported, citing an Army spokeswoman. The Equal Opportunity training presentation was shown to about 400 soldiers of the 67th Signal Battalion at Fort Gordon on Thursday, according to Captain Lindsay Roman.

If a black person acts like a twat is it racist to say he's a twat.
Examples of US rapper Kayne West behaving in ways that show what a cupid stunt he is occur to frequently for mainstream media to report them any more it seems. Or maybe it's just that because Kayne is an African American those mainstream journos were afraid of being called racist if they report his latest fuckwittery.

The British Jihad, Islamism And The Curse Of Multiculturalism.
As the world recoils in horror at images posted on the internet of an American journalist being cruelly and brutally beheaded by an (allegedly) British terrorist fighting for the extremists of the Islamic State in northern Iraq, we ask is the left wing folly of multiculturalism coming home to roost.

Shock; horror. Human Barbie Doll has her own opinions
The human Barbie girl Valeria Lukyanova has become something of an online phenomenon and is regarded as a sex symbol by many young men of the kind who have more computers than friends. Personally I find her apearance bizarre and about as sexually alluring as cold porridge. Still each to there own, where would we be without diversity of opinion.

Immigration - the elephant in the political debating chamber

'White Racism' For too long the neo – Fascist left have been allowed to get away with dividing all of humanity into two racial groups, black and white. This has allowed those extremists who support the idea of an authoritarian, global government to dub white people generally as racist, because we have (again generally)been more successful throughout … Continue reading

---

Elites Losing The War On Cash? Sweden U-Turns On 'Cashless Society' Agenda

image: https://gsiexchange.com/

Sweden was until now proudly leading the advance in the War On Cash, the neo - Maoist ruling elite had pushed the idea that a cashless society, with all financial activity moved to electronic media would protect citizens from crime and be more convenient. There was no mention when the idea was pitched by politicians and bankers that in a cashless society we would completely surrender control of our money to banks, and our privacy in financial matters to government security agencies. Yes, every electronic financial transaction is recorded, your spending habits are tracked, and while disreputable organisations like Google, Facebook and Twitter will sell that information to anybody who can afford to pay, governments can use it against you in many other ways. In a surprise turnaround Sweden's Riksbank this weekend has become the first central bank in the 21st century to take concrete measures to ensure that cash does not disappear as a means of payment from the financial system, in opposition to corporate efforts to force retail customers away from cash. To achieve that the Riksbank proposes, in a

document published on its website

, to mandate that all banks and financial institutions continue to offer cash services. The policy initiative comes in response to a recent proposal suggestion by the Riksbank Committee that only the country's six major banks should be obligated to continue offering cash services. That prompted a

reaction

from Sweden's competition watchdog, which argued that the plan would distort competition as it would affect only a few of the nation's banks. In response, the Riksbank has opted to apply the rule to "all banks and other credit institutions that offer payment accounts." There was also a disagreement between the RiksbankCommittee (a political overseer,) and the central bank's senior management over what deposit facilities should be offered. While the Committee recommended that banks should only be obliged to provide deposit facilities to businesses, the Riksbank believes it is important for banks to also offer deposit services to private citizens:

"This is a service that consumers can reasonably expect of credit institutions. There must also be symmetry between withdrawal and deposit facilities. In the Riksbank's view, there is otherwise a risk that the possibilities for individuals to make deposits will decrease even further in the future. For most consumers, it would also be difficult to understand why they can withdraw cash from an account but not make deposits."

For yearsnow, both the ultra progressive Swedish the government and the Riksbank management have been pushing for a "cashless society." The Riksbank has over 1,000 articles posted on its website on the "

cashless society

".

The emphasis worked: between 2013 and 2017, the amount of cash in circulation dropped by 35%, earning Sweden a reputation as the world's "most cashless nation".

Many of Sweden's bank branches had stopped handling cash altogether, but now will have to begin doing so again. Many of them are not happy about it

arguing

that access to cash should be the sole responsibility of the state and not private banks. "To secure access to cash is a collective good that the state should reasonably be responsible for," the Swedish Financial Supervisory Authority

said

. It's an opinion that's shared by ATM provider Bankomat, which argued that it should be the state's responsibility to ensure that citizens have access to cash since the handing of notes and coins is such an important — and expensive — part of a country's infrastructure.

Shops and restaurants, could also be affected by a suggestion that retail operations which provide public services, such as pharmacies, transport services, food shops and petrol stations, should also "be included in an obligation to accept cash."

One likely result of this is that many people who struggle to navigate the digital system, or who don't have credit cards, in particular the elderly, no longer have to fear finding themselves locked out of the country's payment system.' There is also that section of society known as 'the underclass - and yes Sweden does have them despite government efforts to present the nation as a socialist utopia in which things like poverty, crime, prostitution and begging are unknown. Sweden's parliament has also launched a review on the impact of going cashless too quickly as it excludes the financial needs of the elderly, children and tourists who rely on cash.

It is a dramatic u-turn for a country that not so long ago was further along the path toward eliminating cash than just about any other advanced economy.

Sweden enlisted its citizens as largely willing guinea pigs in an economic experiment that was doomed from the start — negative interest rates. People quick on the uptake will have worked out in such a system we, the punters pay the bank to gamble with our hard earned. But a negative interest rate policy (NIRP) has its limits with consumers as long as cash remains an alternative because while you have to pay for the privilege of having money in the bank, stuffing it in a matress or under the floorboards is free. And that is the true explanation of the eagerness to eliminate cash. It was not for our protection or our convenience, but to make stealing from us easier for banks, financial services companies and governments.

RELATED POSTS:

New Global Crisis Imminent, New Geneva Report Warns

The Geneva Report refers to a "poisonous combination of high and rising global debt and slowing nominal GDP [gross domestic product], driven by both slowing real growth and falling inflation". The total burden of world debt, private and public, has risen from 160 per cent of national income in 2001 to almost 200 per cent after the crisis struck in 2009 and 215 per cent in 2013. "Contrary to widely held beliefs, the world has not yet begun to delever and the global debt to GDP ratio is still growing, breaking new highs," the report said.

Cashless Society - The Resistance Begins Here
A seaside market town in Norfolk may be less than 100 miles from the world's financial capital, London, , it may be the commercial centre of West Norfolk' as the town website boasts, it may be home to 45,000 people — but there, unlike in London, cash is king.

Establishment Pushing 'Cashless Society' to Control Humanity
The global establishment is increasingly pushing the notion of what it calls a "cashless society" — a world in which all payments and transactions would be conducted electronically, creating a permanent record for governments to inspect and track at will.Multiple governments from Africa and Asia to Europe and ...

Being Evil? Just Another Day At The Office For Google Boss Amazon's Human Robots: More and more people are finding themselves dehumanised in the modern workplace Baltic Dry Index Hits All Time Low - Don't Panic Is a Global Wide Cash Ban Coming? The War On Cash Intensifies In Response To Trump and Brexit Game On: Bloomberg Editorial Calls For An End To Cash Banning Cash Will Stop Terrorism (and end war, poverty, disease and bad smells) says Bill Gates Washington Signals Fears Over Dollar Globalist Bankers Make Plans To Rob Your Bank Account Slaves To The Machine Holy City (slam poem) Living Within The Conspiracy New World Order Internet Technology Science and Technology London transport bans cash Latest Posts

---

27 October, 2018

If there is a People's Vote on Brexit, will you vote differently to how you voted in the original referendum, and why?

The headline is a question posed on the 'Answers' website Quora. I do not answer questions on Brexit any more because of the vitriolic attacks launched by Remainers or anybody who puts forward a gogent argument making the case for britain's leaving the EU. It isn't the attacks themselves that made me quit, but that when Brexit suporters answer the emotive, fact free rants of remainers, which never contain any links to documented evidence supporting their case and we call them out on their easily exposed lies, they complain to the site moderators and try to get us thrown off the site.

There is no way of having a reasonable discussion with people who first cally ou a Nazi because you disagree with them, and then resort to Nazi tactics to silence opposing views when the lies and disinformation they spread is challenged. I will acknowledge that Leave supporters in mainsteam media and the political establishment have also been economical with the truth on many occasions, but I have not seen any leave supporter try to silence opposing views.

Here is a brilliant answer to the above question from a former Remain supporter who believed the lies of Remain campaingners but has had his mind changed by the authoritarian intransigence of the EU in negotiations with the government.

If there is a People's Vote on Brexit, will you vote differently to how you voted in the original referendum, and why?

Neal Owen
Answered Sep 20 · Upvoted by Tony Jackson, lives in The United Kingdom (1981-present) and Leigh Jones, lives in The United Kingdom (1982-present)

I voted to Remain.

I listened carefully to the campaigns and thought they were all dreadful. I knew little about the EU, how it works or how it affects us. I was concerned about mass immigration, was highly skeptical about claims on buses, did not know which way to vote right up to the final day, and in the end voted to Remain because I was concerned about my children's future and was worried about the forecast economic doom if we Left. If 'Project Fear' existed then it worked on me.

The Brexit victory came as a bit of a shock. I really believed my decision was academic as we would Remain anyway, I just wanted to participate. But I can't say I was particularly disappointed. I became interested. I read Quora, got involved in the debates. The first thing I noticed was that a lot of Remainers used insults to try and win points. Racist. Little Englander. Xenophobe. Head-in-the-sand, etc… Now in general anyone who resorts to insult in a debate doesn't know any decent, logical arguments for their position, so I became suspicious. And looked deeper.

Much of what I heard from the Remain camp didn't pass the common sense test.

I heard people worried about not being able to go on holiday to Europe, read how the boss of Airbus wouldn't be able to visit his factories, how aircraft wouldn't fly, how driving licences wouldn't be recognised. It seemed to me that it must be nonsense because I fly off to non EU countries and drive around them on my UK driving licence, and people fly to the EU from around the world and drive around. Sure it would take some treaties or whatever to be signed by those in power but of course they will be. There is absolutely no reason why not, and incredibly strong reasons why they should be. Sheer common sense dictates normal life will continue.

Then I read about queues at Dover as every lorry will have to be checked and thought that doesn't make sense either. Goods coming in and out of the EU are very rarely checked at the border, they never have been, why should it change? I read how we won't be able to buy food and medicine and I thought if the EU won't sell us stuff we can just buy them elsewhere. It's a big old world. I grew up eating apples from South Africa and lamb and butter from New Zealand, which is at the opposite end of the world. Even now almost everything I buy seems to be made in the Far East. How hard can world trade actually be? I read how we are a tiny off shore island destined to become like Albania that everybody will push around, then read up a few facts about the size, economic power and political influence the UK still has on the world stage. We ain't no Albania. That's for sure.

And of course, month after month went by and the promised economic crisis failed to appear. Like a religious doomsday prophet the end of the world was on Tuesday the 15th. Then the 19th, then next 15th…

Then I observed the EU negotiating tactics. "We have to settle the Irish border question before we talk about trade." But surely the Irish border question cannot be settled until we know what the trade deal is?
"Non".
"We have to settle how much the UK will pay us before we talk about what benefits the UK will get from us." But surely you discuss the price alongside the product? "Non".


I read up about the EU, how it is run, how hard it is to influence - meaning it was in practice not very democratic at all. How the books don't balance. How they say one thing and do another. How there is to be no cherry picking while every EU country but two have bespoke deals. About what their ultimate aim is. How a foreign court has so much power over us. I looked into how much money was going into the pockets of the rich, how much land value is determined by tariffs and the CAP, how the EU is set up as a capitalist organisation, where the talk is of a socialist paradise but the rich somehow always get richer. I found out how many EU countries have significant problems, and the rise of anti EU feeling across the EU. How it took decades to reach any trade deals. About the protectionism. The more I read, the less inviting the ship looked, and the bigger the icebergs loomed.

Then I noticed how TM went about negotiations. "We have to have a deal with you otherwise we are stuffed. Will you be nice?" WHAT! I'm no high flyer but I know the first rule of negotiation is to have an alternative. It's like trying to get a good deal on a car while your wife is telling the salesman that we're going to buy the car anyway.

All this time I read posts from the likes of Barney Lane and Adrian Patterson, who presented fact and informed opinion on key issues around economics, world trade and Ireland. I read posts from the likes of Anthony Pateman who live on the other end of the spectrum and how his life is affected. They were polite and honestly presented.

I was persuaded by politeness, rational argument and common sense. I am now a staunch Brexiteer and would most definitely change my vote to Leave.
---
26 October, 2018
FBI Is Investigating If Tesla Misstated Info About Model 3 Production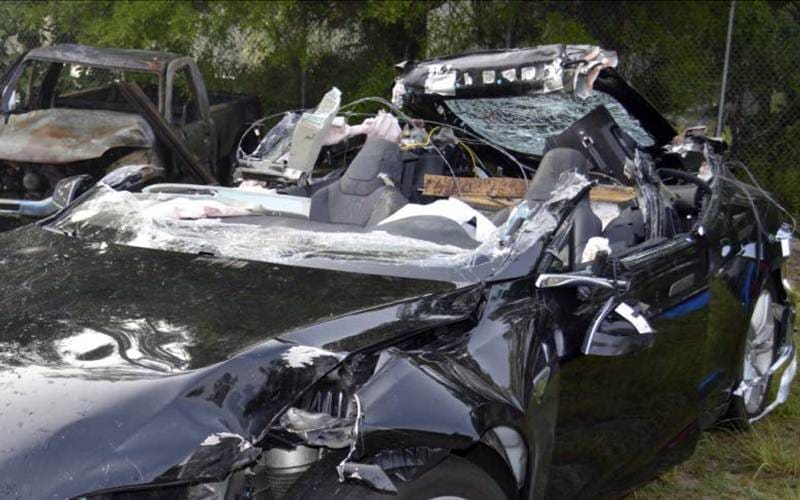 Tesla car crash - Elon Musk doesn't do things by halves (picture: indianexpress.com)
Electric Vehicle maker Tesla, which released astounding Q3 figures yesterday, suggesting the company had turrned a $1billion plus loss in Q2 into a multi million surplus in the third quarter of this year (more on that a little further down the page,) looks to be courting more trouble from stock Market regulators, and simultaneously tempring the FBI to get involved.
While we already know that following a statement by loony CEO Elon Musk to the effect that he was taking the public company private, a move that netted Musk millions as the value of his holding soared, but resulted in a regulatory investigation as Musk did not have the finance to carrry out the change, a second SEC investigation is taking place in relation to Tesla's Model 3 production, because Tesla overstated production figures after news was leaked that production was well short of the break - even target. This afternoon the Wall Street Journal dropped a bombshell by revealing that a Department of Justice investigation into Model 3 production numbers was also not only was taking place, but was also intensifying.
According to the Wall Street Journal, the FBI is examining whether Tesla misstated information about production of its Model 3 dating back to early 2017. Action in the criminal investigation is reported to have intensified since Musk settled with the SEC last week.
The Journal also reports that the FBI has contacted former Tesla employees for testimony in the criminal case. Many former employees have received subpoenas and have been interviewed by the FBI.
Tesla shares quickly dropped almost $25 off highs on the news before bouncing after releasing its own response, stating it has only received a "voluntary request for documents" and not a subpoena. If people believe any statement from Tesla any more they deserve to lose their money.
Here's what an experienced US market analyst had to say about those third quarter profits yesterday:
Analyst Erupts At Tesla: "They Used Every Trick From Every Fraud To Put Lipstick On Q3 Results"
by Adventures in Capitalism
On October 11, I noted that "…I have booked all of my Tesla (TSLAQ – USA) Jan 2019 250/175 put spreads after owning them for almost a year, at a reference price of $255 compared to a reference price of $320 when I first wrote about them. While I am certain that Tesla collapses in the near future, all evidence seems to show that they've used every trick from every financial fraud over the past 100 years to put lipstick on the Q3 financial results." Modern day Ivar Kreuger has not disappointed.
Over the years, I have purposefully kept accounting and numbers to a minimum on this site—they're "boring." Besides, if you must use a fancy spreadsheet to prove a point, then your thesis isn't very good to begin with. The numbers should fit onto a bar napkin after a full night of drinking. Unless, of course, you suspect fraud—in that case, numbers and financial ratios are everything. With that out of the way, let's delve into the Q3 Tesla numbers.
Big picture, from Q2 to Q3, there was a sequential improvement in operating income of $1.038 billion, and they delivered 43,007 incremental cars. That's $24,140 per incremental vehicle on a car that is retailing for as little as $49,000. No other auto OEM even comes close to that. Something simply doesn't add up—so I went looking for it.
I get that when revenue grows, you get operating leverage. This can be seen where SG&A as a percentage of revenue declined for 4 sequential quarters (green). This is normal. You would expect with a huge increase in Q3 revenue, that there would be more operating leverage. Would you expect that SG&A drops 2.8% sequentially on a 70.5% increase in revenue (red)? That's not how manufacturing companies work. The expense is obviously still there, we just don't know where they hid it…
Meanwhile The Daily Telegraph was running a story about how lousy electric cars are when faced with real, open road driving conditions (they don't like hills according to this road test, carried out in southern England. Imagine driving one round the Lake District, the north Pennines, Snowdonia or the Scottish Highlands.
---
25 October, 2018
Science Wins - Trump Administration Proposes Transgender Policy Based On Biology
The Trump administration has committed the unforgivable sin of being sensible. In a move guaranteed to trigger thousands of lefties and send snowflakes into meltdown, The White House has proposed the idea of recognizing "sex" as "biological sex" for purposes of Title IX, according to a draft memo leaked to the New York Times.
This seemingly innocuous proposal has sparked a firestorm with hate speech spewing from the mouths and through the fingers of university brainwashed idiots and their even more idiotic professors and lecturers as they leap to the decence of terminally confused individuals who believe people with testicles can be women and people with ovaries can be men.
First, a brief background.
Title IX prohibits discrimination "on the basis of sex" in federally funded programs. It was passed in 1972 as part of the Education Amendments Act to ensure that women have access to educational programs equivalent to men's programs.
In 2016, in a blatant act of executive overreach, the Obama administration issued a guidance letter reinterpreting "sex" to include sexual orientation and gender identity. The letter required schools to "'treat a student's gender identity as the student's sex for purposes of Title IX." This drastic reinterpretation was done without an act of Congress or even the normal rule-making process for regulations. In other words the president who told Americans they must believe 'the science' on climate change, even though its conclusions are very dubious, was telling them in matters of biology they must inore thousands of years of scientific evidence and follow the diktat ofchicks-with dicks (like his 'wife'?) or men who think having their dicks lopped off makes them women.
So 'the science is settled' on carbon dioxide, but not on what defines us as men and women. Well if certain rumours about Obama are true, there might be room for doubt in his case, but obviously Donald Trump has a better grasp of science.
Obama's blurring of the lines that separate men from women spurred a frenzy of disputes over trans-sanity students claiming access to spaces restricted to the opposite sex—bathrooms, locker rooms, showers, dormitories, sports teams, and so on.
Then, in 2017, the Trump administration rescinded the Obama guidelines. But it left unclear just what the law does require. Hence the administration's current effort to provide a clear, uniform definition of the term "sex."
The memo suggests that "the sex listed on a person's birth certificate, as originally issued, shall constitute definitive proof of a person's sex unless rebutted by reliable genetic evidence." In this way, sex will be determined "on a biological basis that is clear, grounded in science, objective and administrable."
Who could object to science and objectivity? Lots of people, apparently, and most of them are among the demographic that claims to 'believe' in science and reason (the trouble with reason, I always find, is that it's so irrational. The New York Times reported the story with the overheated headline "Trump Administration Eyes Defining Transgender Out of Existence."
The New York Times reported the story with the overheated headline "Trump Administration Eyes Defining Transgender Out of Existence."

Actually, no. The administration is merely saying that Title IX does not apply to trans people. No one is being defined "out of existence." There are lots of laws that do not apply to you or me, and that fact does not deny our existence.

Jonathan Weisman, deputy Washington editor of The NYT, likewise indulged in histrionic overstatement, tweeting, "The Trump Admin has a new definition of sex that would render 1.4 million transgendered people legally nonexistent."

Not exactly. The administration is saying that discrimination "on the basis of sex" means biological sex, not gender identity. Trans people still enjoy all the ordinary protections of other citizens, including the Bill of Rights and all other constitutional rights.

George Takei, the "Star Trek" actor, tweeted, "The Trump administration is trying to make trans people disappear by defining gender as only male and female, determined by genitalia at birth."

Come back to earth, Mr. Takei. The administration is not trying to make people "disappear." The fact is that Title IX was originally intended to apply to biological sex — which, by the way, is established not at birth but long before birth. Most parents use ultrasound to discover their babies' sex before they are born.

Planned Parenthood panicked, tweeting, "This is horrifying. These inhumane, cruel, and discriminatory policies are dangerous." (Ironic, considering that words like "inhumane" and "cruel" describe what Planned Parenthood itself does — tearing apart tiny babies.)
If we ignore the dramatics and the hissy fits of the Gay BLT lobby, the current administration is seeking to correct the Obama administration's overreach. The lawmakers who passed Title IX in 1972 did not mean sexual orientation and gender identity. They wanted to protect women's rights. Period. Including women's rights to have periods without being sneered at by leering men. Privacy is a human right defined in the Geneva Convention.
Ironically, Obama's reinterpretation had precisely the opposite outcome. It undercut women's rights by reducing biological sex to a social construct.
Trans ideologues claim what counts are not objective facts based on irefutable scientific evidence but subjective feelings although, scientific evidence shows that in the great scheme of things an individual's feelings are no more significant than a gnat's fart in a hurricaneim. They insist that people with penises and prostate glands are "women" if they feel like women. Or that people with uteruses are "men" if they feel like men. That's why we see misleading headlines like "Man Gives Birth to Healthy Baby" (in reality, a woman living as a man (with a facsimile willie) whose ovaries and womb is still intact). We should perhaps tell such people to go and fuck themselves. Watching the outcome could be hysterically funny.
If we can no longer define women by objective, scientific criteria, then we can no longer legally protect women as a class, which renders feminism redundant (this blog has always said feminism is a synonym of stupid,) and throws into chaos most of the equality laws passed in the lest few decades. We cannot legally protect a category of people if we cannot identify that category. This was proved in a recent case with came to court in England, of a 'transgender' man who by claiming that on the basis of his feeling he is a woman was sent to a women's prison, where he was soon arrested on several charges of rape and sexual molestation. He may have 'felt' like a woman but he looked like a man (an ugly man at that,) and he raped like a man by forcing himself on his victims and penetrating them.
An individual's feelings are important, but the law must apply to all equally, and therefore it must be based on scientific facts, not the half arsed whims of politically correct idiots.
RELATED POSTS:
Gay Rights Lobby Calls for Ban on LGBT Therapy After Finding Hundreds of Health Workers Believe in a Cure The Daily Stirrer has noted many times that sheeple on the left of the political spectrum get very confused on finding not everybody agrees with their world view. but rather than accept they are bigots they turn on those who dissent. No surprise then that gay activist working in the NHS are turning on African, middle eastern and east Europan colleagues who believe homosexuality is a sin.
Bakery Sued For Refusing to Produce Pro-Gay Marriage Cake A Belfast bakery has been threatened with legal action after its owners refused to accept an order for a cake with the words "support gay marriage" on it. Ashers Baking Company staff at first accepted the order but it was later reviewed by the owners who deemed the cake against their Christian beliefs.
Nonconformity and Freethinking Now Considered Mental Illnesses
We've been here before of course, shrinks and head quacks are now trying to say everything you do can be interpreted as a sign of mental illness. Its starange but the sickets, most dysfunctional people I've met have been psychatrists and psychologists - perhaps they want to make the rest of us as crazy as they are
How the gay-marriage campaign has unleashed a bureaucratic assault on people's identities
Do gooders, progressives and bleeding hearts hurl hatred at those who question gay mariage. But these politically correct fools have as usual wallowed in their own self righteousness too long without thinking of the social consequences of this law which will devalue mainstream society to set up the gay community as a precious little elite
Homosexuality: As a liberal society we have a duty to tolderate, not celebrate
Even though the government has accepted a very limited definition of same sex marriage the gay lobby keeps raving on about the greates non issue of all time. But in a free society should we be subjected to bullying if we do not show enough enthusiasm for homosexual and lesbian relationships? When did indifference become a hate crime?
Gay and same sex marriage: The Bigotry And Intolerance Of Those Who Describe Themselves As The Liberal Left
With same sex marriage made legal in Britain we face the same kind of witch hunts against businesses that do not want to deal with beareded queens in bridal gowns as the liberal bigots and gay nazis are launching in the USA. As many of us new media common sense merchants predicted, once the principle was accepted in law, nobody would be allowed to opt out of supporting these bullies.
Primary School Teacher Forced Out For Teaching It's OK To Be Gay
The thought police are well and truly embedded in the education system, the legal system, government and public services, everywhere you look in fact. Their dovtrines of multiculturalism and diversity and they sacred cows of human rights ad equality are suppressing freedom of speech and thought. But what do the politically correct thought police do when two of their sacred cows come into conflict ...
Overeducated Elitist Snobs Go For World Domination

We have written many times with tongues in our cheeks of The New World Order but what are we talking about. Is it a conspiracy theory like The Illuminati, are there shape shifting lizards involved. We wish, but sadly it is just a concensus political movement that blurs the lines betwen old parties but hardens those betwee the political, academic and financial elite and the lowrer orders. Find out how it operates below ...
These stupid laws insult the public and threaten free speech
When the law forbids us to insult or offend somebody, to insult or offend a religion, race, skin colour or sexual preference, free speech and other important democratic rights are under threat. When the law then goes on to say that anyone accused of these offences has no right to defend themselves and the word of the accuser is sufficient evidence on which to obtain a conviction then we have abandoned justice and are ruled by fascists.
Identities On ParadeEvery day we hear stories of the idiocies perpetrated by the Politically Correct Thought Police who in their zeal for being fair to ethnic, gender and sexual minorities only succeed in being unfair to everybody. This story of a Britisht army military tribunral and a case of discrimination against a woman soldier it is hearing reaches unprecedented levels of stupidity even for the Politically Correct idiots.
The Equalities BillThe Equalities Bill, passed by the previous Labour government before they were ejected from power becomes law today. This farrago is typical of the imbecilic mindset of the self righteous hypocrites who style themselves the progressive left. Presented as a law in support of equality in the workplace , in this era of pandemic joblessness and perpetual financial crisis it is nothing but an attack on the businesses that provide the real, wealth producing, revenue generating jobs in the private sector.
Is Criticising Black Gang Culture Racist
In Britain and America the left are always ready with the knee jerk reaction, crying raceism whjenever there is an opportunity. But do the facts justify the hysteria or is there more racism among poor black communities than mainstream society?
Broken SocietiesAn appraisal of Coming Apart: The State of White America 1960-2010 by Charles Murray. inequality is a very hot topic, Murray is one of the few people looking at it from a conservative point of view, which is strange when one looks at what is most likely causing this divide. Policically nations have never ben more polarised with conservatives and liberals both convinced the other is evil, while the gap between rich and poor widens, the middle class disintegrates and the working class becomes a state dependent underclass.
Liberal BigotsProgressive liberals, or the progressive left, or Trotskyites as the politically correct core of the Labour, Geen and Lib Dem parties would call themselves are quick to accuse their critics of being intolerant bigots. But take a closer look at the state of politics in Britain and you see it is not conservative, old Labour or classical liberals who are bigots but the neo facsists who want to impose their warped views on us by law. ...
Equal Rights Campaigners Not Christians Are Imposing Their Belief On OthersWhen head of the Euality and Human Rights Commission Trevor Phillips speaks we should termble. This nasty little race hustler is the de facto head of the thought police and sees his job as to stamp on racism, sexism, homophobia and anything else he and his cronies decide they are not going to tolerate. It is all in the name of tolerance of course, or divesity as Phillips would say. But how does telling people what they can and cannot think promote diversity?
Gay Marriage Row Set To Erupt AgainLed by that evil little crypto - Nazi Peter Tachell they Gay lobby are turning up the whineometer to extra loud as they once again demand that gays be given the same right as the rest of us enjoy, the right to marry. You might think gays already have the right to marry, after alo Hello Magazine is full of pictures of trud burlsar and rug muncher coulpes getting hitched every week. Sadly civil ceremonies are not enough for some ...
http://greenteeth.blog.co.uk/2014/05/12/what-a-gay-day-as-the-wonderful-larry-grayson-used-18430863/ the hate and hypocrisy of the left
liberal nazis
the flight from freedom
Thumpa and The Tyranny Of Human Rights
Hypocrites and CHIMPS
Bitter Fruit

---
23 October,2018
SHOCK (not): Khashoggi Remains Discovered In Garden Of Saudi Consul General's Home: Sky News
Jamal Khashoggi
Shortly after Turkish President Erdogan demanded that Saudi Arabia disclose the where the body of (allegedly) murdered journalist Jamal Khashoggi's had been dumped, body parts thought to be from the dismembered body of Khashoggi have been found, according to Turkish and Greek sources, though the exact location wasn't revealed. According to anonymous sources, including one cited by Sky News, the writer had been "cut up" and his face "disfigured."
One report claimed Khashoggi's remains had been discovered in the garden of the Saudi consul general's home. "Why has the body of someone who was officially said to be killed not been found yet?" Erdogan asked during his speech at Turkey's parliament on Tuesday. He added that the Saudi nationals arrested by Turkish police and security forces in connection with the killing should stand trial in Istanbul.
The circumstances surrounding the discovery of Khashoggi's body parts make nonsense of Saudi Arabia's explanation for his death. According to the Saudis, Khashoggi's body was handed off to a local fixer being wrapped in a rug after he was killed by 'rogue elements' trying to discredit the Saudi Government. Though Erdogan didn't mention Crown Prince Mohammad bin Salman (a fanatical Islamist known as Mad Mo, who has been the director of the Saudi genocidal war on Yemen,) in his speech, the kingdom and the prince have denied his involvement.
---
MERKEL: Chancellor calls voters in DESPERATE plea days before election
ANGELA Merkel has been pictured telephoning residents in the state of Hesse before they head to the polls in a crunch vote, which threatens to tear down the German Chancellor's government.
The German leader made the unusual step to directly phone voters in a desperate bid to persuade them to back her party CDU's candidate in Hesse, home to Germany's financial capital, Frankfurt.
Merkel is desperate
to claw back power in the state, one of the CDU's traditional strongholds.
With support for the far-right Alternative for Germany (AfD) and the Greens rising, according to opinion polls, it looks increasingly likely the CDU will lose power. Losing Hesse would prompt calls for Mrs Merkel to resign as Chancellor, bringing her 13-year premiership to an inglorious end and prompting a leadership challenge.
Images of Mrs Merkel phoning residents posted on Twitter exposes the chancellor's fragility as she clings on to power after 18 years at the helm of the Christian Democratic Union (CDU). Posting the photo
(above), which shows Mrs Merkel on the phone, Nico Lange wrote: "Well, good morning, this is Angela Merkel. "Chancellor, Minister-President Bouffier and Annegret Kramp-Karrenbauer are motivating election campaigners of the CDU in Hesse with direct phone calls."
Angela Merkel's popularity has taken a battering after her open door policy saw more than one million African and Middle Eastern refugees arrive in Germany in 2015. The German Chancellor's party is set to receive only 26 percent of the votes at the upcoming state election in Hesse, according to a survey by pollster Forschungsgruppe Wahlen for broadcaster ZDF.
22 October, 2018

May's Top Brexit Bureaucrat Offered Millions by Big Banks

Teresa May and Olly Roberts

Oliver 'Olly' Robbins

, the top bureaucrat to whom Theresa May has delegated most of her Prime Ministerial negotiating powers on Brexit, is being head - hunted by a number of major investment banking corporation, for a role in their organisations after the EU negotiations are complete.

The unelected civil servant has openlt expressed admiration for the tyrannous bureaucracies of the Soviet Union, noting that the autocratic Communist leaders transformed Russia "from a backward peasant autocracy, despised by the West, into a technological giant at whom the world cowered in fear for half a century". Obviously Olly hasn't read any histories of the Soviet era.

Such sentiments have helped to fuel a widespread belief among Leave-supporting politicians that Robbins, like all senior civil servants a rabid Remainer, would rather Britain would not leave the European Union at all and become a vassal state of the EUSSR. He has been the driving force pushing the Prime Minister towards a soft 'Brexit In Name Only' in which the UK will remain subject to the EU's institutions and regulations in many respects and continue to pay £billions into the EU while not enjoying the few benefits of membership.

However, his theoretically neutral position has now been further compromised by the news that he is being headhunted by investment bankers willing to pay him a million pounds a year to advise them on strategy post Brexit. There is a clear conflict of interest and he should be fired from his civil service post.

Many of the biggest banking corporations, including Goldman Sachs, J P Morgan, Morgan Stanley, and Citigroup poured big money into the Remain campaign, and there are concerns that the prospect of a salary many times larger than Robbins could expect to earn even at the very top of the Civil Service could impact his decision-making in the EU negotiations.

"Olly has his exit strategy," a source remarked to the Sunday Times. "Every man and his dog in the City wants him."

---

Syria - U.S.Still Only Pretends To Fight ISIS

The U.S. occupation force and its Kurdish proxy SDF in northeastern Syria are supposed to fight the Islamic State in its last hold out northeast of Euphrates. But the operations against the handful of towns ISIS (grey) still holds - launched only after long and unexplained delays - shows little progress. Last week it received a serious setback.

Red = Syrian Arab Army; Yellow = U.S./SDF; Grey = ISIS

bigger

After several days of sandstorms

(vid) hindered U.S. air support, ISIS counterattacked on October 11 against the U.S. led SDF. Suicide bombers blew up SDF checkpoints as ISIS broke through the lines. It retook several villages and on October 12 raided a refugee camp for local civilians that the U.S. coalition had set up near Al Bahrah (on the upper left of the map). Some 130 refugee families with about 700 persons

were taken prisoners

and brought to Hajin, a small city at the northern end of the ISIS held area.

Through local tribal elders ISIS requested to negotiate with the U.S. coalition about an exchange of prisoners. It also demanded medical and food supplies in exchange for 90 captured women it had isolated from their families. The request was rejected. ISIS now threatens to kill ten of the abductees per day unless its demands are fulfilled.

---

19 October, 2018

Calls for May to quit as furious Tories blast her for considering 'humiliating' Brexit delay by Arthur Foxake

Outraged Tory MPs from both the Leave and Remain side of the Brexit debate called on Prime Minister Theresa May's to resign today after her admission that she had told EU negoriators the UK could stay under EU rules "months" after Brexit. On Thursday morning, May faced reporters after a night of wrangling in Brussels with other EU leaders that were intended to try and break the current impasse on Brexit negotiations. The main obstacle to progress, it appears, was that little Irish arse merchant Varadkar who thinks he can use Brexit to force Britain to hand Northern Ireland over the The Republic.

May told journalists one option that had emerged from last night's talks was an extension of the " transition period for a matter of months," in an effort to break the deadlock over the Irish border issue. The poofter Varadkar immediateely gloated that the Irish border issue could keep Britain tied to the customs union indefinitely. The prospect of Brexit being further delayed, with a transition period running into 2021, and with it, potentially further UK payments of £15 billion going into the EU coffers, has infuriated Tory MPs and dismayed some on the Labour side.

What should alarm the PM, though she probably thinks her ability to be patronising and condescending will bring her charges to heel, is that it's no longer just hardline Brexiteers questioning her ability to lead the country and front up Brexit negotiations. Tory Remainer Nick Boles, a former minister for skills under David Cameron, has blasted May's "humiliating" concessions and claimed Conservative colleagues from across the Brexit spectrum are "close to despair."

He told BBC Radio 4 Today programme: "I'm afraid she's losing the confidence now of colleagues of all shades of opinion." Boles added: "They are close to despair at the state of this negotiation," suggesting the PM is complicit in running the clock down for a 'No deal' Brexit scenario.

Backbench Tory MP Nadine Dorries, suggested the only way forward for the country now was for May to quit and allow David Davis, the former brexit secretary, to become the interim leader and take over negotiations. She's found supporters to the idea of replacing the PM from Talkradio presenter Julia Hartley-Brewer and Tim Montgomerie, a prominent grassroots Conservative blogger.

Italexit looming? Majority of Italians would vote to leave EU as immigration tops agenda.

---

18 October,2018

Lancashire Bans 'Cruel' Halal Meat From Schools, But Some Councils 'Kow-tow to Islam' and Serve Halal

In the most encouraging example of politicians puttinmg British values first that we have seen for a considerable time, Lancashire council voted to cease serving meat from animals that are not stunned before slaughter in schools today (Thursday 18 October). Although it signals a step in the right direction after a decade in which politiucally correct pressure groups have pushed officials towards favouring Islamic communities over Secular and Christian citizens around one in 10 UK councils are still supplying sharia law-compliant halal meat to schools produced in a way considered cruel by major animal rights groups.

We were reporting the early stages of that to the Islamification of school lunches ten years ago.

So-called "non-stun" meat (i.e. from animals killed in the primitive way prescribed in ancient holy books,) is widely thought to cause unnecessary suffering to animals, and there is no obligation on schools or councils to inform parents of children when it is served. While some vegetarians would argue that all methods of killing animals for meat are cruel and unacceptable, the majority of Europeans feel the practice of stunning the animal before it is killed does not cause unnecessary suffering.

According to new research by the National Secular Society (NSS), around 18 councils are supplying at least 140 schools with non-stunned meat – most of which are not Islamic faith schools but have large proportions of muslim students. Fortunately a push a few years ago to ban the use of non halal meat in school kitchens, led by hard left extremists, has been defeated by parent power. The loony lefties claimed that non halal could not be used in schools which had Muslim pupils as according to extreme interpretations of the Koran, the mere presence of non halal food in a kitchen rendered all food passing through that kitchen unclean.

News of the Lancashire County Council move signals the end of a long political battle in an area where most towns have significant proportions of Muslim pupils. That battle has included calls by Muslim groups for boycotts of schools which refused to go halal only. The council voted in favour of stopping supplied non-stun meat to schools Thursday afternoon, with 49 vote sin favour and 23 against. Perhaps the councillors have got the idea at lat w=that whites have rights too.

Lancashire Council boss Geoff Driver said of the vote: "Today's decision to ban the provision of meat from animals that were not stunned before they were slaughtered is purely an animal welfare issue. There is no other motivation. The county council will now work with the Lancashire Council of Mosques to mitigate against any unwanted and unwarranted consequences of this decision."

Despite the vote, Lancashire council will continue to provide unstunned poultry meat to schools for now, but will "Undertake further investigations with the Lancashire Council of Mosques into the stunning of poultry before slaughter."

Christians Are Not Safe In Europe, European Parliament President Says
In a meeting on religious tensions in Europe today (3 December, 2015), European Parrliament (EP) President Martin Schulz said that the persecution of Christians in Europe is under - reported and does not receive enough media attention, which has also meant that it "has not been properly addressed".

European Governments Hold "Secret" Meeting To Dismantle Borderless Travel Since the spring of this year, when numbers of migrant flooding across the European Union's border illegaly began to rise exponentially we have predicted that the resultant crisis would bring about the end of the Schengen Agreement - under which 28 EU nations operate open internal borders, unravels in the face of the overwhelming flow of refugees fleeing the war-torn Mid-East

While Europe Is Still Reeling From The Paris Attacks Another Capital City Is Plunged Into Chaos
Following a warning last night of an "imminent" terror threat in Brussels security services raised the country's terror alert to the highest level, plunging Europe, still reeling from last weeks carnage in Paris and gripped by fear and panic due to the honest reporting (at last) that the EU's politically correct 'open doors' immigration policy has allowed extremists hostile to European culture and our way of life to infiltrate European societies ...

Council Of Europe Concerned At Rising Racism In Germay (but No Mention Of Violence And Sex Crimes Committed By Illegal Immigrants)
The European Union immigration crisis that is now affecting most of the EU's wealthy nations and some that are only just clawing their way out of poverty after independence from the Soviet Union or Yugoslavia, appears to be dividing societies more deeply and pushing many European societies towards civil conflict as the affluent, self indulgent elite, in their efforts to show how caring and politically correct they are, ...

Swedish Immigrant Street Wars Spread: Stockholm Grenade Attack Follows Kurd-Turk Migrant Clashes
Violence between migrant gangs of different ethnicities vying for territorial rights to run organised crime has become the norm in Malmo, southern Sweden. Now it appears that as a consequence of the Swedish loony left government's insane policy of flooding the country with third world migrants without

German Authorities Claim Economic Migrants Are Saying They Are Syrian Refugees To Get Into The Country
The shock renewal by Germany of border controls was, it turns out, a consequence of Hausfrau Merkel's ill - advised decision to announce that all Syrians arriving in Germany would be welcomed, a stupid move, probably aimed at sucking up to the terrorist - loving Obama administration in the USA, that was doomed to end in disaster from the outset.

Opposition Party to Sue Austrian Government Over Complicity In People Trafficking

We have reported previously that in their eagerness to complete the genocide of Europe's white working classes, the political and business elites are prepared to make a mockery of their own laws. One way in which this has been done is by turning a blind eye to people trafficking so that the entry of illegal immigrants to Europe would not be slowed by national law. We can't claim credit for the action reported here, we have very few Austrian readers, but it's good to see oyhers are starting to think.

The Boy Macron looking increasingly isolated as the EU falls apart (Picture: independent.co.uk) Europe is struggling to tackle the mass immigration crisis, which was triggered by Brussels' imposition of an open doors system what ordered member states to welcome all comers. common EU asylum policy. The authoritarian bureaucrats rammed the policy down the throats of …

Continue reading

Germany's Chancellor Angela Merkel facing potentially greater crisis today than she did when her efforts to form a ruling coalition repeatedly failed following an inconclusive election last September. A deep rift between Merkel's CDU party which still clings to its 'open borders' immigration policy, and their traditional ally the CSU which favour strict immigration controls …

Continue reading

That mass immigration boosts the economy of nations in which the highly skilled beggars and brush pushers are landing has long been presented as an established truth. It is the duty of every free thinkers in a democratic society to question established truths however. And when one Cambridge Profesor did question this established truth, guess …

Continue reading

Mass immigration into Britain could lead to failing hospitals, overcrowded classrooms, water shortages and the need for hundreds of new cities, a new report warns. Metaphors involving bolting horses and stable doors spring to mind. This is of course exactly what Boggart Blog, UKIP bloggers and common sense merchants have been warning about for twenty …

Continue reading The immigration story (omnibus post) Death of democracy Threat to free speech How immigration impacts hospitals, schools and infrastructure Immigration marginalises white working class How the elite plan a global takeover How Euopean bureaucratic dictators are planning to expand their Empire Democracy will be sacrificed to European integration

Christianophobic' Hate Crimes Treble in Five Years in Multicultural Paradise Sweden


Religious, racist, and xenophobic "hate crimes" are at their highest ever level in Sweden, with "Christianophobic" crimes seeing the fastest growth.A new report from the Swedish National Council for Crime Prevention reveals 2014 was a record year for so-called hate crime in Sweden. The Scandinavian 'multicultural paradise' experienced the highest level of hate crimes in recorded history.

---

17 October, 2018

The left's identity politics falls apart ahead of US Midterm elections

As the US 2018 midterm elections loom ever larger on the horizon it is clear the US electorate has never been more implacably polarised, while the smearing, lying, backstabbing and name calling have never been more blatant. The Democrats know there is not only control of the Senate and House of Representatives at stake, but the outcome will have a huge influence on the outcome of the 2020 Presidential Election when Donald Trump will seek a second term. Win control of both houses, the Democrats will be able to effectively hamstring Trump's presidency, win only the House of Representatives and they will be able to make life difficilt for his administration. Six months ago it looked as though The Democrats could gain control of both houses but since then they have been determined to show they can repeat hillary clinton's trick of snatching defeat from the jaws of victory.

The failed attempt to derail the conformation of Supreme Court nomineee Brett Kavanaugh by smearing him with an unsubstantiated accusation of a sexual misdemeanour which allegedly took place 35 years ago and was witnesses by nobody (not even the victim apparently, given her inability to remember accurately and details of the when and where,) seriously backfired on the party. This was followed by the debacle over claims made by 2020 presidential hopeful Elizabeth Warren, who in a bid to gain support from minorities said she is a member of the Chreokee nation. Unfortunately Ms. Warren, whose claim dates back to her 2012 senatorial campaign, was pressured into taking a DNA test, and proved to be ten generations away from any Cherokee ansector.

The left's assumption is that women and minorities Democrats because they perceive supporting the party's liberal stance as being in their best interest while major cultural events back up that view. This is not entirely true, the Republicans have done as much on civil rights, while before World War 2 The Democrats were the part of slavery and segregation in the southern states , (it's all documented.) Over the course of the past two weeks, since the conformation of Justice Kavanaugh, and the discrediting of 'Fauxoontas' Warren as Trump calls her, the left's strategy of identity politics as a way to divide and conquer American voters has not only failed catastrophically, it's backfired.

We saw this play out first with the fight to confirm Judge Brett Kavanaugh to the Supreme Court. The narrative, created by the left and repeated by allies in the media, quickly became about women. Without distinction, it was declared that all women were on the side of Kavanaugh's accuser, Christine Blasey Ford.

This was not true and it refelcts badly on The Democrats and feminism the assumption that 'all women' hold the opinion the liberal narrative on mainstream media assigns them can even be made. Hundreds of women who knew Kavanaugh came out publicly in his defense, saying that he had always behaved properly in female company. Scores of women wearing "I Stand With Brett" and "Women For Kavanaugh" T-shirts gathered on Capitol Hill to show their support for his nomination. Thousands tweeted #HimToo as a way to show support for due process and evidence to back accusations.

After years of pussy hats, #MeToo, college kangaroo courts and entirely spurious gay and trans rights cases, plus some particularly nasty outbreaks of fascist style street violence people don't buy the liberal message about a right wing 'war on women,' the 'rape culture' or the need to 'exterminate white heterosexual males." These crude scare tactics are repeated at left wing events and rallies designed to grab the votes of women and ethnic / sexual minorities. But Democrats are making a huge miscalculation.

Conservatives are furious at the people purporting to speak for women, furious that what should have been an ordinary parsing of evidence (what little there is after 36 years) was turned into a Kabuki theater campaign ad for the Democratic Party, stressing their trope that the GOP is conducting a so-called war on women," Stephanie Gutmann wrote in an op-ed for USA Today.

More importantly, this facile assumption that 'all women' supported #MeToo because 'all women' have faced sexual harassment from every man they meet, that ethnic minorities are constantly beaten down by 'white racism' or 'white privilege' and that gays are universal victims (when most have good careers and are accepted by most people, has encouraged conservatives to get ready to head to the polls and vote against Democratic Party candidates.

According to a survey conducted by NPR/PBS NewsHour/Marist Polls, enthusiasm among Republican women jumped 12 percent since Kavanaugh was announced in July and that was further solidified during and after his confirmation.

Shortly after Kavanaugh was officially sworn in as a justice, President Trump held a meeting at the White House with rapper and cultural icon Kanye West.

With the cameras rolling, West lavished Trump with praise, talked about prison reform and explained why he loves what the president is doing. "He can speak for me any time he wants," Trump said from the Oval Office. "He's a smart cookie. He gets it."

It was yet another cultural moment that derailed the left's talking points: African-Americans are Democrats and could never align themselves with a Republican president has been the assumprion for several decades. The meeting was shocked many liberals, particularly those easily triggered snowflakes, the university students and spun many into a panic of egregious and racist insults.

"Kanye West is what happens when negroes don't read," CNN commentator Bakari Sellers said on Don Lemon's show.

Since West showed support for Trump's policies earlier this year, the president's approval among African-American voters has been on the rise.

In a desperate attempt to somehow fit into the left's narrative on race, the Warren fiasco further alienated minorities Complete with a video and extensive campaign website, the data shows she might be 1/1,024th Native American.

The fallout was swift and painful.

"A DNA test is useless to determine tribal citizenship. Current DNA tests do not even distinguish whether a person's ancestors were indigenous to North or South America," Cherokee Nation Secretary of State Chuck Hoskin Jr. released in a statement. "Using a DNA test to lay claim to any connection to the Cherokee Nation or any tribal nation, even vaguely, is inappropriate and wrong. … Senator Warren is undermining tribal interests with her continued claims of tribal heritage."

Warren's cultural and victim status appropriation not only further hampered her reputation, but threw a bomb into the waning "blue wave" just three weeks ahead of the midterms.

"Argue the substance all you want, but why 22 days before a crucial election where we MUST win house and senate to save America, why did @SenWarren have to do her announcement now? Why can't Dems ever stay focused???" tweeted Jim Messina, former President Obama's 2012 campaign manager.

The Democrats obsession with skin color and gender, and their fondness for Islam while they simultaneously denounce Christianity and are positively anti - Semitic (as are their fellowe travellers the UK Labour Party,) is as a strategy, falling apart and recent events show why. Nov. 6 is just around the corner and the battle lines for presidential votes are already being drawn. For Democrats, those lines are being crossed as women and minorities vote on interest, not on identity politics.

Last week,White House Press Secretary Sarah Sanders was kicked out of a Red Hen restaurant in Virginia because the owner, a pussy hat wearing liberal feminist, did not want to serve anyone who worked for the Trump administration. In a separate incident Protesters swarmed around Homeland Security Secretary Kirstjen Nielsen's home on Friday. Florida's Attorney General was confronted and heckled at a showing …

Continue reading

The Harvey Weinstein sexual harassment scandal which has rocked the Hollywood establishment and shocked America to its core, according to mainstream media should not have surprised anyone (if fact much of the shock and horror being expressed is typical Hollywood liberal hypocrisy.) And now the story has broken, it seems that as well as a … Continue reading

Authored by 'Washington Watcher' via VDare.com, The leaked internal Google briefing "The Good Censor" [PDF] has received suspiciously little attention from the Main Stream Media, but it represents the crassest statement yet of the Tech oligopolies' intention to impose Silicon Valley Political Correctness on the U.S. As American Thinker Editor Thomas Lifson puts it: "I congratulate Breitbart.com for the … Continue reading

On a day that saw the latest nonsensical claims from the UK government about Russian government culpability for the Skripal assassination attempt back in March, we came across a story which shows how the other great "It's The Russians fabricated narrative is falling apart. While NATO governments were getting their knickers in a right old … Continue reading

How US Department Of Homeland Security Created Fake News On Russia Hacking US Election
The narrative of Russian intelligence interfering with the outcome of U.S. elections has achieved near-universal acceptance among media and political organisations. But the real story behind that narrative reveals that the Department of Homeland Security (DHS) created an account of events that was designed to spread false information and cause fear and panic.

The Deep State Is Real..& They Don't Like Trump's Disruption
In his new book titled "The Deep State: How an army of bureaucrats protected Barack Obama and is working to destroy Donald Trump," Jason Chaffetz alleges that the deep state is very real. His book, which is set to be published on September 18, details the lengths the intelligence community is going to in an attempt to undermine Trump.

How Can US / NATO Claim Info From Syrian Rebels Is Reliable?
The problem with the latest attempt to justify intervention by the USA and its allies France and the UK has things in common with previous illegal weapons incidents in Syria for which no evidence of the involvement of Russia or President Assad's government was found, and one in particular in which the culprits were identified...

China and Russia Move To Outflank Washington Hawks, Avert War In Asia
Events in recent days have given everybody in the world cause for concern. First it was revealed that renegade state North Korea how has nuclear capability to attack American interests in the Pacific and possible even targets on the US mainland. Then the war of words between the North Koreans and Washington took a nasty turn, opened up the throttle and seemed to be hurtling towards all out war.

Oprah Winfrey, Praised As A Feminist Icon, Exposed As A Fraud Within Twenty Four Hours
Tanya Gold, writing about The Golden Globes awards, praised the acceptance speech given by Oprah Winfrey who was given a lifetime achievement award presumably for fronting a television freak show, and commented on the ridiculous calls from other 'liberals' in hollywood and Washington for Oprah to run against Donald Trump in the 2020 Presidential Election.

Coming To A Town Near You: Expert Warns That No-Go Zones Are Growing In America
Nothing illustrated the failure of Europe's open doors immigration policies more than the notorious "no-go zones" that have sprung up in Muslim dominated areas of many European cities. For decades the West has opened its borders to people who don't share their values, and the West has utterly failed to encourage these people to assimilate. The lack of assimilation has reached a degree that many of these populations have become resentful of their mediocre status in society, and have actually become more insular.

'Unacceptable': China slams Trump's threat to end commerce with N. Korea's trade partners Russia Today reports:
China has warned that Donald Trump's threat to cut off trade with countries that deal with Pyongyang would be "unacceptable" and "unfair" to Beijing. It also stressed that Beijing cannot be the sole player in resolving the North Korean crisis.

Trump blocks Sale Of US Tech Company To China

President Trump has reportedly blocked the attempted acquisitions of a US technology company by a Chinese firm. while his opponents accuse him of breaking election promises and betraying votes, although they offer little evidence to support their claims, the increasingly tough policy against China's acquisition of US companies continues, despite the firing of White House chief strategist Steve Bannon, who supported Trmp's "economic nationalism."

"Hopelessly Compromised": Judiciary Member Calls For Mueller's Resignation Over Uranium One Scandal Earlier this morning (November 4) House Judiciary Committee representative Matt Gaetz (R-FL) submitted a resolution calling for Robert Mueller to resign as special counsel overseeing the FBI investigation of possible collusion between the Trump campaign and the Russian government saying that the former FBI director is "hopelessly compromised" as a result of his failed oversight of the controversial Uranium One transaction ...

It's the breaking news we all knew about over a year ago, the Democratic Party Primaries were as bent as a fisherman's hook. This blog and most other unaligned news websites in New Media reported last year, supplying irrefutable proof it must be said, that the Democratic Party pirmaries which secured the nomination for Hillary Clinton were rigged.

Soros: The European Union Is Now In An "Existential Crisis" And Trump's America Is A "Hostile Power" - June 1, 2017:
Speaking about the state of the European project in the wake of Brexit and the continuing advance of nationalism in EU member states, billionaire glabalist George Soros warned the European Union has plunged into an existential crisis as a result of "dysfunctional" institutions and undemocratic decisions imposed on members, and will require the bloc to …

"Watershed Moment" In US – EU Relations, Merkel Says Europe Can No Longer Rely On America Only hours after Donald Trump infuriated Angela Merkel and the rest of his G-7 peers by refusing to endorse the Paris climate treaty, the US President has done it again. Hausfrau Volksfuhrer Merkel has now decided Europe can no longer rely on the USA to commit military support to EU nations that do not pay … Continue reading

You'll be surprised to learn everybody in America does not hate Trump
Read most UK mainstream newspapers or listen to BBC, Sky or ITN television news and you could easily go away with the impression that everybody in America hates Donald Trump. A moment's thought would inform you that is nothing more than propaganda from the fake news industry of course, only three months ago Trump was … Continue reading

Is World War Three Really Kicking Off This Time?

The airstrikes by a US led coalition that killed many Syrian soldiers fighting for the legitimate government of Bashar al Assad against the terrorist forces of ISIS has raised the level of hostile rhetoric between the USA / NATO coalition and the Russia / China / Iran alliance. The likelihood of war seemed to have receded through the summer, after it seemed possible early this year, that one stray shell or bullet could spread the war beyond the middle east.
Is World War Three Really Kicking Off This Time?

If This Does Not Disqualify Hillary For The Presidency, It's Hard To Know What Will

Even the conservative Wall Street Journal is waking up to the massive deception that is being perpetrated on voters by the American political establishment, media and judiciary. Unfortunately the around half or the voters seem to be willingly complicit in this deception. In fact the USA collectively appears capable of a level of cognitive dissonance on an unprecedented scale in relation to the crimes and corrupt practices of Hillary Clinton ...
If This Does Not Disqualify Hillary For The Presidency, It's Hard To Know What Will

16 October, 2018

Drunkard Juncker says EU Cannot Survive Without Italy

Ignoring warnings from the European Commission, the ECB and the European Commission (as well as practically every other supranational organization in Europe), the populist-led Italian government managed to submit their draft budget to the Commission before a midnight deadline - an outcome that was cheered by BTP traders, who bought back into Italian bonds, once again compressing the spread to bunds, which has blown out in recent months.

But rather than representing a deescalation of tensions between Italy and Brussels, the game of fiscal chicken in which both sides are presently engaged is instead entering its most acute phase, as Brussels now has two weeks to review the budget proposal before it can either accept the plan, or send it back with requests for revisions. And anybody who has been paying even passing attention to the populist government's denigration of EU budgetary guidelines over the past few months should already understand that Brussels won't just sit back and accept the budget for what it is.

In fact, European Commissioner Jean-Claude Juncker hinted as much Tuesday morning when he told Italian reporters that accepting the budget would be tantamount to inviting an widespread revolt against the EU, per Italian newswire ANSA and the FT. Juncker also blasted Italy for abandoning the fiscal commitments it made when it joined the EU. However, though they have wavered from time to time, the Italians haven't kept their intentions to press for a budget deficit equivalent to 2.4% of GDP a secret. Even Giovanni Tria, Italy's economy minister, defended the draft budget, saying the deficit "would be considered normal in all Western democracies, not explosive."

Undeterred by the fact that there's absolutely no political will in the Italian government to back down from their budget stance, despite threats from the ECB to provoke a Greece-style banking crisis if the Italians don't yield to EU rules.

'Islam Doesn't Belong to Germany' - New Interior Minister

While mainstream media was hailing the political mastery of Hausfrau - Volksfuhrer Merkel in negotiationg a new coalition deal to keep her in power for another four years, after Germany had been without a government for almost six months, The Daily Stirrer (and other alt_news sites to be fair) warned that the new government of Europe's most powwerful economy was fragile and full of holes. Only days after Merkel was sworn in for a fourth term, the holes in her coalition started to appear ...

Continue Reading"> Majority of Germans Favour Snap Election as Merkel Coalition Talks Stumble

There appears to be no end in sight to Germany's crisis of democracy as the European Union's most populous and economically powerful state continues to stumble along without an effective government. Coalition talks between Chancellor Merkel's CDU/CSU and the left wing Greens and classical liberal Free Domocrats have stalled over irreconcilable policy demands.

Germany Sees Fourfold Rise in Terrorism-Related Cases

According to a report in the Welt am Sonntag, Germany has experienced a huge rise in the number of terror-related cases in just one year, with prosecutors having dealt with more than 900 cases so far in 2017, compared with 250 cases initiated throughout 2016. Around 700 Islamic extremists now living in Germany have been identified by the Federal Criminal Police Office (BKA) as posing a potential terror threat.

A Week Before Election 30% Of German Voters Still Undecided Polling companies in Germany are indicating that support for Chancellor Angela Merkel's conservative Christian Democratic Party is still slipping with the election only one week away. More disturbingly perhaps for Hausfrau - Volkfuhere Merkel is the news that over a third of Germans are still unsure how they will vote. An opinion poll published today (15 September) on Friday showing the number of undecideds was not coming down fueled uncertainty about the kind of coalition that will emerge from an election on September 24. Merkel Faces Crisis As German Ruling Coalition Collapses

German Chancellor Angela Merkel faces a crisis in her ruling coalition after Bavarian Premier Horst Seehofer demanded she take steps to halt the tide of illegal immigrants entering the country. To have any chance of surviving, the government must present new initiatives for controlling illegal immigration, deal with the critical situation on the Austrian border ...

New German Coalition in Peril as Potential Partners Clash over 200,000 Annual Migrant Limit

Reports that German Chancellor Angela Merkel has agreed a proposal from coalition partner and leader of the Christian Social Union (CSU) Horst Seehofer to limit the number of asylum seekers in Germany to 200,000 per year to secure a ruling coalition may be somewhat premature. Other coalition partners are not as positive on the policy.

Merkel Calls for Beginning of Coalition Talks With Greens, Free Democratic Party

German Chancellor Angela Merkel officially announced on Saturday for the first time that her conservative bloc of the Christian Democratic Union (CDU) and its Bavarian sister party Christian Social Union (CSU) will seek to form a coalition government with the centre right Free Democratic Party (FDP) and left wing loony Greens.

More news from September 2017 The EU can go and F*** itself!' Italian Politician's Outburst Rallies Support In Italy

The leader of the Lega party, formerly known as Lega Nord, Matteo Salvini claimed the European Union should stop interfering with Italian politics as the measures taken by the bloc have crippled the Italian economy for the past 15 years. Mr Salvini is the frontrunner in the upcoming Italian general election as Italy's next Prime …

European sovereign debt crisis could cause Eurozone implosion – ex-BoE chief

Are government economists and mainstream media finally catching up with what The Daily Stirrer and Boggart Blog's finance expert Phil T Looker has said since we started publishing? Former Bank of England chief Mervyn King has written an article warning that Eurozone deabt problems pose a bigger threat to the EU than a British OUT vote in the referendum

Cameron's EU Package: Not A Deal But A Few Turns In The Spin Machine

As we and almost everybody else predicted, David Cameron's deal to improve Britain's relationship with the EU is worthless. It changes nmothing, and can be vetoed once we have voted to stay in.

Cameron's Hopes For EU Membership Reforms For UK Torpedoed By Tusk

David Cameron's hopes of winning serious concessions on sovereignty, border controls, contributions, trade agreements, human rights and labour laws so he could claim to have won a better deal for Britain by the time the in / out referendum starts next year European Union suffered an early blow when European Council President Donald Tusk warned that reaching a deal would be "very tough" ...

Italian Town 'Taken Over' By Nigerian Migrant Gangs

The former seaside resort town of Castel Volturno, to the north of Naples, has reportedly been taken over by Nigerian gangs who run drug and prostitution rings. The town has a total population of around 30,000 people, of which an estimated 20,000 are migrants, many of them in Italy illegallly, French news magazine L'Obs reports.

---

15 October, 2018

FBI Concealed Evidence That "Directly Refutes" Premise Of Trump-Russia Probe: GOP Lawmaker

After hinting for months that the FBI was not forthcoming with federal surveillance court judges when they made their case to spy on the Trump campaign, Texas Rep. John Ratcliffe (R) said on Sunday that the agency is holding evidence which "directly refutes" its premise for launching the probe, reports the Daily Caller's Chuck Ross.

Texas Rep. John Ratcliffe provided Sunday the clearest picture to date of what the FBI allegedly withheld from the surveillance court.

Ratcliffe suggested that the FBI failed to include evidence regarding former Trump campaign adviser George Papadopoulos, in an interview with Fox News.

Ratcliffe noted that the FBI opened its investigation on July 31, 2016, after receiving information from the Australian government about a conversation that Papadopoulos had on May 10, 2016, with Alexander Downer, the top Australian diplomat to the U.K. (Daily Caller)

While Australia's Alexander Downer claimed that Papadopoulos revealed Russia had "dirt" on Hillary Clinton, Ratcliffe - who sits on the House Judiciary Committee - suggested on Sunday that the FBI and DOJ possess information which directly contradicts that account.

"Hypothetically, if the Department of Justice and the FBI have another piece of evidence that directly refutes that, that directly contradicts that, what you would expect is for the Department of Justice to present both sides of the coin to the Foreign Intelligence Surveillance Court to evaluate the weight and sufficiency of that evidence," Ratcliffe said, adding: "Instead, what happened here was Department of Justice and FBI officials in the Obama administration in October of 2016 only presented to the court the evidence that made the government's case to get a warrant to spy on a Trump campaign associate."

---

14 October, 2018

---

13 October, 2018

---

Italy Declares War On Merkel And The EU

Matteo Salvini promises Eurosceptic surge in 2019 EU elections - Picture:www.express.co.uk

There was never any doubt that the leaders of the Euroskeptic coalition now governing Italy planned to challence the EU's ruling bureaucracy over Italy's proposed budget. Both Deputy Prime Ministers, Luigi Di Maio of Five Star Movement and Matteo Salvini of The League, were adamant about locking horns with European Union leadership over all issues of sovereignty between now and May's European Parliamentary elections. This battle, coming as it does as Angeal Merkel's fraile coalition faces another major setback, indicates that Germany's domination of the EU, if not at an end, is looking very vulnerable.

The Italian budget proposes both tax cuts and universal income and has kicked into touch the EU budget limit of 2.0% of GDP, coming in at 2.4%. It has put their Finance Minister, Giovanni Tria, in a difficult position because Tria doesn't want to negotiate this budget with Brussels, preferring a less confrontational, read more pro-EU, approach.

Salvini and Di Maio, however, have other plans. And since we began covering this story before the Italian election back in March, the imperative that Salvini force the issue of the Troika's demands – (the EU, European Central Bank and the International Monetary Fund) – back down their throats on debt restructuring/forgiveness.

Salvini's emergence as the leader of this fight, was that Italy, because they are more than technically insolvent, have all the leverage in the negotiations. The size of their outstanding debt and the liabilities existent on the balance sheets of banks across Europe, most notably the nearly $1 trillion in TARGET 2 liabilities, are something Juncker, Draghi, Merkel and Christine LaGarde at the IMF simply cannot ignore. The reason Italy's debt problem, and those of other EU members in southern Europe are so intractable is the single currency, which was created for political reasons without regard for the sheer economic stupidity of tying economies like those of Italy, Greece, Spain and Portugal to the German economic powerhouse. This cut off the debtor nations from their traditional escape route, devaluation.

To successfully challenge EU financial diktat, Salvini and Luigi Di Maio, leader of Five Star have to make a serious effort to negotiate a good deal for Italy with Brussels, Berlin and the IMF. This is why the budget squeaked past the 2.0% limit and then they walked it back to 2.0% but with provisions they knew would anger the EU finance ministers.

The point of this is to provoke Brussels into a punitive reaction and then paint them as the bad guys to shift public sentiment back towards an Italeave position. Italy's problems are not solvable with Germany holding the purse strings for all the EU countries.

With a big swing towards Euroscepticism and nationalism under way in Germany it looks as though the days of the Federal Europe project are truly numbered. With voting due tomorrow in Bravaria's regional election, the CSU, sister party of Merkel's CDU and traditional ruling party in the Bravarian provincial government and their main rivals the Social Democrats see their respective votes collapsing. Alternate for Germany (AfD)is now pushing up towards 20% nationally and looks likely to have a significant presence in the Bravarian assembly after the votes are counted, while centre left voters are turning to The Greens. If AfD out polls the Greens and denies the CSU a path to a coalition government without them then that could have spillover effects for Angela Merkel.

The latest polls have AfD averaging around 11% versus a strong push up to 18% by the Greens. Given recent shock results we must doubt the accuracy of these polls, but given the recent history of anti - establishment paries it would not be a surprise to see AfD outperform their polling numbers on Sunday.

---

12 October, 2018

---

11 October, 2018

---

Vaccine Damaged Child Compensated By US Special Vaccine Court.


Theresa Black, right, with her daughter, Angelica, at their home in Panama City Beach, Fla. Angelica, who is 14 now, was 3 months old when she was diagnosed with a brain injury. Patti Blake COURTESY OF PATTI BLAKE

As they started their family, Mooresville residents Theresa and Lucas Black dutifully got their children immunized, never doubting their doctor's word that vaccines are safe and necessary. But their faith in those promises was shaken in 2001, when their 3-month-old daughter, Angelica, developed life-threatening seizures and brain damage just three days after getting several vaccinations. The child's Charlotte neurologist diagnosed her with vaccine-related encephalopathy, or brain injury. And in 2006, the little-known federal "

vaccine court

" agreed, awarding Angelica nearly $2 million plus about $250,000 a year for medical expenses for the rest of her life. Despite the ruling that vaccines caused her daughter's brain damage, Theresa Black said she has felt bullied in recent weeks by reaction to the California measles outbreak that has spread to 16 other states.

Fourteen years going through the courts, fourteen years of being bullied by doctors, officials, lawyers and the inevitable hate mobs of left wing extremists, There is nothing the Big Pharma cartel, their cronies in politics and the medical professionals and rent seeking journalists in mainstream media will not do to prevent the truth about vaccines becoming known to the public.

---

10 October, 2018

Scaremongering IPCC Pushes Climate Hysteria with New Doomsday Report

Those discredited jokers, gropers and fake scientists of the Intergovernmental Panel on Climate Change (IPCC) have surpassed themselves in the idiocy stakes in their latest Summary for Policy Makers. It is just a rehashed version of the farrago of adjusted data, dubious science, wailing and gnashing of teeth and eco-fascistic edicts on how we shall all live our lives in the future.

Here are a few of the main points:

Sea levels are rising. (As they have been, by the way, at the same harmless pace, for centuries),

The crisis is so dire that even if all the countries stick to their Paris Accord commitments, it still won't be enough to stop the planet heating by 2 degrees C or more.

Drastic lifestyle changes must be made, drastic carbon emissions cuts must be implemented to stave off further disaster,(no mention of how many of the thirty - something thousand deligates to the Paris climate conference turned up in private jets, oh no, us ordinary punters must change OUR lifestyles but the elites must live ever more lavishly, in order that they may be at their best when dealing with the onerous tasks involved in saving the planet.)

$2.4 trillion must be spent by 2035 on sustainable energy projects such as wind and solar , (even though these 'sustainable' sources have failed to prove they can supply the baseload required by modern, developed societies.)

Climate-related risks to health, livelihoods, food security, water supply, human security, and economic growth are projected to increase as the planet warms

Vector borne diseases such as malaria and dengue fever will likely increase

One observer – Benny Peiser of the Global Warming Policy Foundation – describes it as the IPCC's "Hail Mary": its last, desperate shot at trying to scare a world which just doesn't care any more. He's right. None of the predictions made by the warmageddonist lobby over the past twenty years have been correct. Snow is not a folk memory, the arcitic sea ice has not disappeared, the predicted 50 million refugees displaced by rising sea levels must be wearing Harry Potter's cloak of invisibility.

The reason people no longer believe the "last chance to save the planet" bollocks is first, we've heard it many times before, second, it hasn't been supported by real-world evidence and thirdly because thanks to the internet and free speech (which governments, aided and abetted by Google and Facebook, want to abolish,) we have access to all the scientific research projects conducted by diligent researchers according to the scientific medthod (i.e. no adjusted data,) and these reports make sense.

Take that tired old line on vector borne diseases. Anyone who has followed this saga or researched it thoroughly knows that this claim was debunked years ago by an expert epidemiologist, Paul Reiter.

As far back as 1998, just as the hysteria was starting to rev up, Reiter delivered a lecture on this subject to the Cooler Heads Coalition:

All attempts to link specific recent outbreaks to climate change cannot survive a confrontation with the facts. In all cases, local conditions (such as the banning of DDT, land use changes, or foreign contact) account for expansions of disease vectors or increases in infection rates.

Yet here is the IPCC, trotting out the same old scare stories as if no one's paying attention.

What is new, or new-ish, is the IPCC's fairly frank acknowledgement that the Paris Climate Accord was a failure. What would be really meaningful is if the IPCC would admit that its attempts to push the globalist agenda by creating a big scary monster have failed.

War and Politics Behind Mass Displacement in Africa, Not Climate Change – UCL
A report from a new study conducted by University College London's may cause a stir in the climate scaremongering industry. The report challenges the academic establishment's standard narrative of mass displacement in Africa being principally responsible for the creation of refugees in Africa and casts doubt on a number of other assumptions about global problems.

Hurricane Harvey Climate Catastrophe Man Made?As we reported last week the Hurricane Harvey disaster which has hit the U.S. states of Texas and Louisiana has shown characteristics never before observed in any hurricane or tropical storm since records began. Meteorological depressions (because that is what hurricanes, typhoons and other intense storms are,) move and once over land quickly weaken as air pressures become normalised. Harvey has stayed in the same area, dumping massive amounts of rain on the heavily populated coastal strip and causing $$$billionsworth of damage through flooding and high winds.

Trump Announces US To Quit The Paris Climate Accord
Fulfilling another campaign pledge, US President Donald Trump yesterday announced the U.S. would withdraw from the Paris climate pact and that he will work to renegotiate the international agreement in a way that treats American workers better. "So we are getting out, but we will start to negotiate and we will see if we can …

German Scientist Confims Climate Change Ia A Politically Motivated Scam
Even as the inbred idiot Prince Charles was babbling to a hand picked audience about the skid marks in his underpants being caused by Climate Change, a somewhat more scientifically literate person, Dr. Friedrich Karl Ewert, a retired geologist and data computation expert, has confirmed what those of us dubbed 'climate deniers' have been telling you for years ...

German Scientist Confims Climate Change Ia A Politically Motivated Scam
Even as the inbred idiot Prince Charles was babbling to a hand picked audience about the skid marks in his underpants being caused by Climate Change, a somewhat more scientifically literate person, Dr. Friedrich Karl Ewert, a retired geologist and data computation expert, has confirmed what those of us dubbed 'climate deniers' have been telling …

Obama's Climate Change Hypocrisy – The Arrogance Of The New Patricians

It is customary for US Presidents, when they leave office either having served two terms, been defeated in an election, or of their own volition, to fade quietly into the background. This is largely good manners, for an ex President to appear to be trying to intervene on political issues and influence events or public …

Big Business Joins Climate Change Scaremongers
The Paris summit on climate change approasches, which means the tree hugging fascist tendency are turning up the volume to eleven again. Trouble is they cannot produce a shed of evidence to back up their wild claims of imminent catastrophe because global warming only exists in their mathematical models, in the real world it is not happening/

Confusion Reigns As Paris Climate Conference Draws Near
The carbon dioxide driven climate change scam is back on the agenda as yet another monstrously expensive and fossil fulel gobbling jolly for politicians, scientists, freeloaders and general wankers gather to eat, drink, talk a lot and do nothing about a problem that exists in mathematical models but not in the real world.

Volkswagen Emissions Scandal - Is It The Tip Of The Iceberg?
The real problem here is that, driven by the hysterical warnings of self interested pseudo-scientists, politicians have set unachievable targets for reducing emissions while demanding that national economies keep growing.

Climate Denial Finally Pays Off
This blog has always been sceptical of the scientific case for climate change. And we admit that NO we are not climate scientists, NO we have not published research papers in 'peer reviewed' science journals. Of the three main contributors (all retired or semi retired) one is an engineer who still lectures in engineering and …

Nobel Laureate Smashes the Global Warming Hoax VIDEO
Nobel laureate Ivar Giaever's speech at the Nobel Laureates meeting 1st July 2015. Ivar points out the mistakes which Obama makes in his speeches about global warming, and shares other not-well known facts about the state of the climate.

Charlotte Church blames Syria's brutal civil war on CLIMATE CHANGE (not ISIS, Assad or Obama)
Last Nights QT: Stephen Kinnock, Leanne Woor (obscured) Charles Moore, David Dimbleby (host) Charlotte, Stephen Crabbe (Image source) Classical singer turned left wing fuckwit showed exactly what is wrong with the left on Question Time last night Climate change played a role in Syria's conflict, according to Charlotte Church. Speaking as part of the panel …

The Pain In Spain as Green Energy Policy Fails

You will not find anything in mainstream media, either print or broadcast, about the failure of the green energy initiatives that have left Spain in dire economic strais or Denmark in the dark. Bizarre, as other governments are pressing ahead with plans to make us reliant on these crackpot schemes and intellectual wanks of mad scientists ...

Climate Scientists versus Free Speech and Freedom Of Information This week four groups, whose boards represent a distinctly liberal world view and who oppose scrutiny of taxpayer-funded science by academics, asked the University of Virginia to disregard its agreement before the court with American Tradition Institute to provide the records of former climate scientist Dr. Michael Mann, which belong to the public. The groups, led by the far-left Union of ....

Ever Changing Ocean
The scientists warn us climate change will cause massive extinctions, species will be destroyed, nations will die, the oceans will swamp huge areas of land as sea levels rise and lots of scaremongering stuff like that. But life in the seas has survived much worse catastrophes, much more violent changes than anything we puny humand can conjure up. It is a measure of the arrogance of humans in general and scientists in particular to imagine we puny humans could destroy the planet.also availabe HERE

Climate Change and the Population Explosion
In all the debates about climate change and the effect of carbon dioxide emissions on the environment there is one issue that has a huge bearing on humanity's relationship with our planet that neither politicians nor scientists will discuss. Population growth. So a philosopher has to step up to the mark and ask why people are encouraged to have children when we face so many population related problems?

Here's A Snippet From A Brilliant Article On Climate Change
Those building the biblical Tower of Babel, intending to reach heaven, did not know where heaven was and hence when the project would be finished, or at what cost. Those setting out to solve the climate change problem now are in the same position. If we were to spend 10 or even 100 trillion dollars …

The Great Wind Turbine Catastrophe

Because of failure to invest in new coal and nuclear powered generating plants to provide the electric energy we need Briain now faces a serious shortfall in electricity supply as old stations, already well past their planned lifespan are forced to close. Seduced by the voices of academics and the science lobby, the government seems foolishly determined to rely on wind turbines for future electricity needs.

Lib Dem Energy Minister Wants You To Sit In The Dark While Foreign Billionaires Steal You Money
The Energy Secretaru Ed Davey, one of the most senior Liberal Democrats in the Coalition government has banned Conservative junior minister John Hayes, a new face in the Department of Energy, from making remarks about the spread of wind farms after he told newspapers ...

Germany: Bravarian Election To Ring Death Knell For Angela Merkel

The end of Angela Merkel's reign as leader of Germany and the most powerful figure in the EU has been looking imminent for some time, but the death knell could ring on her chancellorship this weekend as she faces another serious challenge to her grip on power when voters in Bavaria go to the polls in regional elections this weekend.

The vote, in Braviaria, Germany's most populous and economically prosperous region is being seen as a referendum on the Chancellor and her fragile coalition government with the Christian Social Union (CSU) - coalition partner and Bavarian sister party of her Christian Democratic Union (CDU) - facing a double does of voter disillusionment as nationalistic conservative voters, angerd that the CSU has not taken a harder line against Merkel's open door immigration, punish the party, while more liberal types who support the increasing Islamification of their country punish the part for now wholeheartedly throwing its support behind Merkel's policy of welcoming uneducated, illiterate and effectivly unemployable third world migrants.

The outcome could have a massive impact, although it is unlikely to bring down the government. If the fractious coalition holds together in the event of the CSU losing its absolute majority in Bravaria amid Germany's rise in populism and anti-EU sentiment. The parties were close allies until a public row over migration policy soured the partnership and nearly brought down the Merkel's coalition earlier this year.

CSU leaders have been openly critical of Mrs Merkel's migrant policy and fear handing yet more of the party's political ground to the right-wing, anti-immigrant Alternative for Germany (AfD), which exceeded expectations in national elections a year ago.

Mrs Merkel's government will be damaged, possibly fatally, if the CSU performs badly at the ballot box and heavy losses are blamed on CSU leader Horst Seehofer, interior minister in her cabinet.

Teneo Intelligence's Macro Research predicts the CSU will lose its traditional absolute majority and have a knock-on effect on the party leadership.

It said: "The CSU will either require a coalition partner, or, depending on the magnitude of its losses, might even have to go into opposition.

MORE ON GERMANY: Germany index Immigration and Germany

---

9 October,2018

How Many More Lives Does Angela Merkel Have Left?

This week the new series of Doctor Who launched amid much ballyhoo about the mysterious Doctor being played for the first time by a woman. While many pedantic Whovians (or whatever they call themselves,) are appalled and complain that the lead role belongs to a man, in my not so humble opinion Jodie Whittaker (best know to date for Broadchurch,) the thirteenth Doctor Who, looks as if she may be the best Doctor since David Tennant. She brought to the role a sense of fun which has been missing since Tennant. Both Matt Smith and Peter Capaldi, the two most recently transformed Doctors in what has become a long line of regenerated Doctors are excellent actors, but somehow lacked the charisma to carry off a role that needs to be played with an attitude of, "I know this story is bollocks, but it's not meant to be taken seriously so let's have fun." What has this to do with angela Merkel and Germany? you might well ask. Indulge me, all will become clear. In the past few years the show had come over all politically correct and disappeared up its own arse. Another field of human endeavour that was in the past a lot of fun but has now fallen into the trap of taking itself too seriously is politics. Take Germany for example. Germans have always been a bit prone to taking silly things seriously. That Master race nonsense a few decades ago is a case in point. Germany was the most prosperous and stable democracy in Europe under Hausfrau - Volksfuhrer Merkel until she won her third term as Chanellor. That victory had the same effect as being declared divine once had on Roman Emperors. Merkel began to believe her own publicity, and thought she could change the world by supporting schemes to unite Europe under a single government and flood the continent with third world migrants (aka cheap labour for Germany's factories). And she believed she could succeed because Germans, the ignorant masses, would march in lockstep behind her. And that's when it all started to go wrong.

Uncontrolled immigration

caused social and economic problems, while Merkel's popularity slumped so much that in the wake of the inconclusive election of September 2017 her conservative CDU party was forced into a coalition with their traditional rivals the socialist SPD to keep nationalist and Eurosceptic parties out of power. Yet Merkel, who had looked dead in the water, is still afloat, her political career having undergone more regenerations that Doctor Who. Earlier this year, Merkel managed to avoid a potentially disastrous second election by finally, six months after the election, getting the Social Democrats (SPD) to sign up to a mutual suicide pact in the form of new Grand Coalition. This ensured cartel-style government of the political and business elites reigns in Germany to do the bidding the European Union and march towards political and financial integration which fewer and fewer Germans support. The results of Merkel' desperatly clinging to power have been catastrophic for the former dominant parties of Germany. The Social Democrats (SDP) is spiralling towards minor party status, with recent polling now putting them behind five-year old Alternative for Germany (AfD) nationally, 16% vs. 18.5% in a recent poll by

Die Welt

. Worse news for the SDP is that the classical liberal Free Democrats are gaining ground on them too. But, it's not just the SPD that continues to hemorrhage support. Merkel's own Christian Democratic Union (CDU) is now below 25% nationally, since its coalition with the Christian Social Union (CSU) now has the support from less than 30% of Germans nationally. The sister party of Merkel's CDU, the CSU, which is a regional party operating only in Bravaria, is usually good for around 8-9% of that total, but their support in Bavaria is down below 40%, dropping to 35% as of last month's poll numbers. So, only a week before Bavarian state elections, all the traditional parties are seeing their bases eroding. The CDU are aware Merkel is a lame duck, having nailed her colours to the mast or a raft of deeply unpopular globalist policies, the only thing keeping her in power at this point is that there is little confidence among German voters that a new election would solve the problem, while the one thing Merkel has succeeded in throughout her decline is stabbing potential rivals in the back. The AfD, not a far right party as mainstream media always claim, but centre - right party that rejects globalism and concepts such as multiculturalism and a borderless world, are not ready for government while the pro - business Free Democrats are natural coalition partners but not coalition leaders. One of the problems for the AfD is that since the ninteen thirties, nationalism has ben increasingly conflated with National Socialism. People who compare AfD, Britain's UKIP, the Sweden Democrats, the Freedom Party in The Netherlands and France's Front National and Italy's ruling coalition to Hitler's Nazis or Mussolini's Fascists are poorly informed. Nationalism is not authoritarianism. Mohandas K Gandhi was a nationalist, as were Guiseppe Garibaldi, Mustafa Kemal, Charles de Gaulle and Irish republican leader Eammon de Valera. The politics of these leaders ranges from conservative to democratic socialist. I have closely watched

developments in German politics

for some years, just as I have watched developments in other EU nations, having anticipated the break up of the community since I worked in the EU Commission in Luxembourg in the 1980s and learned that the long term plan was political integration and the creation of a European Superstate. It was never going to work of course, the only surprise has been that the reassertion of national independence took so long. But what has become clear recently is that the poll numbers for opposition parties like AfD are under-stated because of real fear of political retribution, and allegedly because of electoral jiggery - pokery. For example, in the recent Swedish election, anti - immigration, Eurosceptic party The Sweden Democrats (SDs) slightly under performed against expectations. In the run up to the election Swedish mainstream media and government figures mounted a massive smear campaign against the SDs, branding them Nazis and racists. After the election, even though the

SDs had come from nowhere

to be the third largest party and justifiably claim a place in the governing coalition. This was resisted by the undemocratic parties of the left, and now Sweden faces months of political haggling without a legitimate government just as Germany did because Angela Merkel refused to accept the inevitable. While all this is going on, democracy is under attack on other fronts.

Germany's anti-hate speech laws are being used to arrest people for being politically incorrect, while the far left directors of US internet giants such as Google and Facebook are meddling in political matters having appointed themselves censors of news and opinions that does not suit their cultural Marxist agenda.

From

last year's GDPR,

an attack on free speech disguised as a measure to protect users' privacy, to the latest rules on sharing memes, the clamp down on speech critical of the political status quo in Europe is happening quickly not just in Germany but across the EU. Even in Britain, where we are on the way out of the EU, these rules are being applied to suppress voices critical of Islam, government immigration policies and telling the truth about immigrant crimes. How is this affecting the polls? We have seen the reults for ourselves, in the brexir refrendum, in Sweden, Germany, Italy, Poland, Austria and to a lesser extent in other EU member states that have held elections recently.

Watch an interview like this one . with a German voter and we have to wonder if there are masses of 'closet AfD voters' there are in Germany like there were 'closet Trump voters' in the U.S. in 2016 or Brexit voters in the UK referendum?

Being branded racist or xenophobic or an ignorant, uneducated working class oik might not directly put people off holding their opinions, but the sheer nastiness, and sometimes the violence with which supporters of the left respond on finding somebody does not agree with their ideology driven authoritarian agenda can have a very real deterrent affect. No major national elections are due for a while, but if significant numbers in Bravaria turn out to vote AfD and cause an upset in Bavaria's state elections on the October 14th that could be the catalyst to nudge AfD forward nationally to seriously challenge Merkel's own CDU in the polls. This plays in to the unfolding political crisis in the democratic world that after Trump and Brexit, Merkel's decline in Germany and victory for the anti - EU coalition in Italy isn't on the horizon anymore. It is here, throughout the liberal democracies the old elites are on the back foot, the

banking cartel and the domiation of the petrodollar are being challenged

, political parties that differ only in name, while toeing the globalist line on policy are in decline, and after the failure of the US /NATO allies to dislodge Assad in Syria, the military - industrial complex can no longer use scaremongering to swing public opinion behind regional wars and regime change campaigns.

'Islam Doesn't Belong to Germany' - New Interior Minister
While mainstream media was hailing the political mastery of Hausfrau - Volksfuhrer Merkel in negotiationg a new coalition deal to keep her in power for another four years, after Germany had been without a government for almost six months, The Daily Stirrer (and other alt_news sites to be fair) warned that the new government of Europe's most powwerful economy was fragile and full of holes. Only days after Merkel was sworn in for a fourth term, the holes in her coalition started to appear ... Continue Reading">

German Election: Will Another Term For Merkel destroy German Economy
According to the latest round of opinion polling ahead of the German elections, Angela Merkel looks set to become the joint longest-serving modern German chancellor, that's despite having been accused of "putting problems on the back burner, and staved off several attempts to indict her on treason charges for her role in the immigrant crisis. Business organisations have also raised doubts about the economic consequences of re-electing her, warning that her new term may bring "stagnation" for Germany.

Majority of Germans Favour Snap Election as Merkel Coalition Talks Stumble
There appears to be no end in sight to Germany's crisis of democracy as the European Union's most populous and economically powerful state continues to stumble along without an effective government. Coalition talks between Chancellor Merkel's CDU/CSU and the left wing Greens and classical liberal Free Domocrats have stalled over irreconcilable policy demands.

Germany Sees Fourfold Rise in Terrorism-Related Cases
According to a report in the Welt am Sonntag, Germany has experienced a huge rise in the number of terror-related cases in just one year, with prosecutors having dealt with more than 900 cases so far in 2017, compared with 250 cases initiated throughout 2016. Around 700 Islamic extremists now living in Germany have been identified by the Federal Criminal Police Office (BKA) as posing a potential terror threat.

A Week Before Election 30% Of German Voters Still Undecided
Polling companies in Germany are indicating that support for Chancellor Angela Merkel's conservative Christian Democratic Party is still slipping with the election only one week away. More disturbingly perhaps for Hausfrau - Volkfuhere Merkel is the news that over a third of Germans are still unsure how they will vote. An opinion poll published today (15 September) on Friday showing the number of undecideds was not coming down fueled uncertainty about the kind of coalition that will emerge from an election on September 24.
< href="http://www.dailystiirer.com/2017-september.shtml#170915-germany">

Merkel Faces Crisis As German Ruling Coalition Collapses
German Chancellor Angela Merkel faces a crisis in her ruling coalition after Bavarian Premier Horst Seehofer demanded she take steps to halt the tide of illegal immigrants entering the country. To have any chance of surviving, the government must present new initiatives for controlling illegal immigration, deal with the critical situation on the Austrian border ...

New German Coalition in Peril as Potential Partners Clash over 200,000 Annual Migrant Limit
Reports that German Chancellor Angela Merkel has agreed a proposal from coalition partner and leader of the Christian Social Union (CSU) Horst Seehofer to limit the number of asylum seekers in Germany to 200,000 per year to secure a ruling coalition may be somewhat premature. Other coalition partners are not as positive on the policy.

Merkel Calls for Beginning of Coalition Talks With Greens, Free Democratic Party
German Chancellor Angela Merkel officially announced on Saturday for the first time that her conservative bloc of the Christian Democratic Union (CDU) and its Bavarian sister party Christian Social Union (CSU) will seek to form a coalition government with the centre right Free Democratic Party (FDP) and left wing loony Greens.

German Elections: Anti - EU party AfD 3rd In Polls

Elections take place in Germany this Sunday, September 24, for the federal assembly (Bundestag) and the presidency (Chancellor). While Angela Merkel looks set to win a fourth term as Chancellor and the most likely outcome of the election is another "Grand Coalition" between Christian Democrats and Social Democrats that coalition will be a much-weakened if late polls are to be believed.
More news from September 2017

Chechen Islamic Police Now Enforcing Sharia Law On Streets Of Berlin
A hundred Islamists are now openly enforcing Sharia law on the streets of Berlin, according to German police officers who are investigating a recent string of violent assaults in the German capital. The self-appointed religious police consist entirely of Salafists (Muslim fundmentalists) from Chechnya, a predominantly Sunni Muslim region in the Caucasus. The vigilantes are name-and-shame tactics and physical violence to intimidate Chechen migrants and dissuade them from integrating into German society;

Is USA Preparing For War Against Russia In The Baltic Region?
The US government has been making preparations for a possible war against Russia in Europe's Baltic States, German business newspaper Deutsche Wirtschafts Nachrichten (DWN) reports (link goes to page in original German). The report claims that all the NATO war games organized in the region by Washington have been intended to prepare various military response scenarios.

Controlled Media Blacks out German Mass Opposition to Nonwhite Invasion

U.S. To Station Nuclear Weapons in Germany Against Russia
Germany's ZDF public television network reported on September 22nd, "New U.S. Atomic Weapons to Be Stationed in Germany," that the U.S. will station 20 new nuclear bombs in Germany, each being four times the destructive power of the one that was used on Hiroshima . Hans Kristensen, the Director of the Nuclear Information Project at the Federation of American Scientists, says, "With the new bombs the boundaries blur between tactical and strategic nuclear weapons."

Watershed Moment In US – EU Relations, Merkel Says Europe Can No Longer Rely On America
Only hours after Donald Trump infuriated Angela Merkel and the rest of his G-7 peers by refusing to endorse the Paris climate treaty, the US President has done it again. Hausfrau Volksfuhrer Merkel has now decided Europe can no longer rely on the USA to commit military support to EU nations that do not pay their NATO subs, should they come under attack.

Germany offering Britain post-BREXIT access to the European market for an annual "fee"! Who do these sausage scoffers think they are? The German government might like to pretend otherwise but there are twenty six other EU member states involved in negotiating any post – Brexit trade agreement with the UK, and Germany is not overly popular with many of them.

Left Wing Hate Mob Protesting At G20 Turn Hamburg Into An Inferno.
Militant anarchists staged a second day of violent protests in Hamburg as the G20 summit in the city held its first sessions. According to local reports, at least 45 people have been detained and 159 police officers have been wounded in clashes. For the second day, police had to resort to water cannon to disperse protesters from various neo - fascist groups (OK, we know they call themselves anti - fascist but the pathetic little university dumbed down idiots do not understand was fascism is,) while buildings and dozens of cars were set on fire in the suburb of Altona.

EU Euronazis Raise Demand For Brexit 'Compo' To €100 Billion.
Tensions between the UK and Europe escalated overnight after EU negotiators increased their demand for compensation from Britain's for the anticipated effects of Brexit to €100 billion, (You can imagine Juncker and Barnier, dressed in Mao suits, sticking little fingers in the corner of their mouth and in silly voices intoning "One – hundred – billion – Euros.) This latest attempt to bully Britain has only served to widen the divide between Brussels and London.

Frankfurt Becomes First German City Where Natives Are Minority


Non Germans now outnumber Germans in the city of Frankfurt, for the first time in a German city more than half of Frankfurt residents now have a migrant background, according to data from the city's Office of Statistics and Elections. Figures show that 51.2 per cent of people living in Frankfurt have a migrant background, the city's secretary of integration Sylvia Weber said: Well that sounds like a recipe for conflict.

French Prime Minister says: "Europe Is Falling Apart"
After years of blythely ignoring years of economic stagnation, social deterioration, and an unemployment rate which stubbornly refuses to fall below double-digits for countries like Greece, Spain and Italy, Europe appears to have finally been shocked into recognising the reality of its situation by Brexit and the Trump election in the USA. Bureaucrats have responded with their usual tactic, scaremongering.

Somali Rapist Was Not Deported: Rapes Again.
As she campaigns to be elected leader of The Conservative Party and thus Prime Minister, Theresa May glibly promises to be firm in maintaining law and order and to address the problems caused by mass immigration by reforming immigration laws and enforcing border controls. But can she be trusted?

Is Bilderberg A Sinister Group That Runs The World Or Just A Tea Party For Rich And Powerful People
Are the Bilderberg Group meeting, this weekend in Dresden, Germany, really The Shadow Government (the New World Order, The Illuminati,) that rules the world? For years the Bilderberg Group denied its own existence. Now thanks to the diligent work of dedicated investigative journalists we know it is real, yet many 'liberals' 'progressives', globalists and university dumbed down idiots still insist it is all a conspiracy theory.

BoJo Was Correct – The EU Was A Nazi Idea
The biggest kerfuffle in the EU referedum campaign this week came when the University dumbed Down and brain dead, Labour voting sheeple got their knickers in a twist over comments Boris Johnson made about the E U having originally been a Nazi idea. Boris was accused of misrepresenting or exaggerating the comparison between the EU and the German Nazi's plan for a union of Europe.

Will Merkel's Migrant Disaster Drive Germany's AfD Into Power?
Results from local elections held in Germany last weekend indicate that German Chancellor Angela Merkel is in deep trouble. Her party, the Christian Democrats is losing votes to opponents from the right and left, largely because of the illegal immigrant crisis brought on by Merkel's crazy 'open doors' immigration policy which ahas resulted in Germany admitting criminals, terrorists and many illiterates,
---
8 October, 2018
Is This Why The EU Did Not Want Us To Leave?
German Industrial Production Slumps For Third Month Running
Germany's industrial base is showing consistent signs of an economic crisis amid trade tensions between the U.S. and the European Union. Output from German factories unexpectedly declined for a third consecutive month according to statistic reported by Reuters and Bloomberg.
The figures, published last Friday, showed a 1.1 percent decrease for September, missing economists' forecast of a 0.2 percent increase. Exports from Europe's manufacturing powerhouse fell 0.9 percent and the trade surplus, a point of contention with President Donald Trump, narrowed further.
The news came at the end of a challenging week for the Eurozone economy, with other published statistics showing fears of a trade war between western and eastern blocs denting manufacturing confidence and Germany reporting another drop in factory orders.
Berlin's Economic Ministry blamed the apparent weakness on temporary bottlenecks related to new emission-test procedures for cars. "In light of the slow order intake but a large backlog of work, the industrial upswing should continue as the squeeze loosens," it said in a statement, adding construction business is booming.
In the Netherlands, manufacturing production fell 0.9 percent in July, while Spanish output fell for a third time in four months. But there was better news from France, where production beat expectations by rising 0.7 percent. Separately, German labor costs rose 0.2 percent in the second quarter compared to the previous three months.
MORE on EUROPE
Germany
---
UK court blocks class action law suit against Google
The UK High Court on Monday ruled against a bid by a users group to sue Google for allegedly collecting sensitive data from 4.4 million iPhone users in England and Wales. The High Court judgement stated, "there is no dispute that it is arguable that Google's alleged role in the collection, collation, and use of data obtained via the Safari Workaround was wrongful, and a breach of duty."
Justice Mark Warby, presiding, said it had been blocked because claims that people had suffered material damages were not supported by the facts, as well as the impossibility of calculating the number of iPhone users affected. The collection of data was "wrongful and a breach of duty," he said, but ruled that there was insufficient evidence "damages" had been incurred to allow the law suit to go ahead. The Judge has a point, but we should ask now, why is the UK government through its communications regulator OFCOM not prosecuting Google on behalf of the public, when it is blatantly obvious these data pirates violated about a million proivacy and data protection laws.
The legal challenge was instigated by a group calling itself Google You Owe Us, and was a representative action — a claim brought by an individual on behalf of a group of people. It alleged that Google, a unit of the US tech company Alphabet, had bypassed privacy settings oniPhones (not difficult, Apple are not the technology gods they sell themselves as,) between August 2011 and February 2012 to collect data for sale to advertisers for the purpose of targeting internet users with advertising matter based on their internet browsing habits. It launched legal action last November.
Richard Lloyd, leader of the users' group Google You Owe Us, called the decision "extremely disappointing" and said there were plans to appeal. "Today's judgement effectively leaves millions of people without any practical way to seek redress and compensation when their personal data has been misused," he said.
"The privacy and security of our users is extremely important to us. This claim is without merit, and we're pleased the Court has dismissed it," a Google spokesperson said. Well they would, wouldn't they?
Read more on Google: Google turns 20: In search of next multibillion-dollar company
Google Now Has Access To Millions Of Patient's Health Records
A controversial deal between tech giant Google and the National Health Service (NHS) will allow artificial intelligence units access to 1.6 million confidential medical records. Since 2014, Google has partnered with several scientists in an attempt to understand human health, but a new report reveals the data gathering goes far beyond what was originally anticipated - well now there's a surprise.
US-EU Privacy Shield Data-Sharing Agreement Blasted as Inadequate
The issue arises from the strict EU laws — enshrined in the Charter of Fundamental Rights of the European Union — to the privacy of citizens personal data. As we all know thanks to the material leaked by Ed Snowden and others the United States National Security Agency (NSA) does not regard anything as private,
Apple Hypocrisy On Users Privacy Sets Standard For Silicon Valley
When I searched for images depicting the spy-in-your-pocket nature of a certiain rather fruity technology firms products, I was amazed (not) to find all had been blocked. still, a quick hack, a screWhen I searched for images depicting the spy-in-your-pocket nature of a certiain rather fruity technology firms products, I found that strangely all had been blocked. No worries, a screen grab of an old image gave me this.n grab and we got the picture.
Going To War Against The Evil Empire
Matt Drudge, and love him or hate him, nobody can seriously suggest he has been an influential figure since the early days of the world wide web, recently claimed he had been told by a US Supreme Court judge that new copyright laws currently being pushed through the United States legislative system will finish ...
Who Runs America? US Federal Trade Commission Takes Orders From Google
Barak Obama runs America surely, you might well be thinking. We would argue that no US President since Eisenhower has truly run the USA. But the latest revelation of how cosy the Obama Administration has become with corporate business, to the extent that government departments are taking instruction from Google will shock even the most cynical Americans
Google Meets White House Officials Every Week, Why?
We have been very suspicious for ten years of the way Google with such apparent ease achieved a dominant position in web search. How did it happen, did Google do something evil, did they invoke the powers of darkness in their meteoric rise. Or were there even darker forces at work, powering Google to a position in which their internet technologies could dominate global information flows? Here's something cynics should read.
EU taking on Google - Well One German Publisher Is
Those New World Order fanatics at The Guardian, bless them, seldom miss a trick when it comes to promoting the single European Superstate and the globalist agenda. Their latest misrepresentation is to try and make us feel the European Union is somehow protecting our freedoms even as the bureau rats of Brussels are taking them away.
Pissed Off With Government/Microsoft/Google Online Spying? Be Completely Anonymous Online
Not so long ago our biggest worry online was malware, virus software, trojans and worms plagued the internet cost many people a lot of time and worry. Since about a year ago everything has changed, protecting our digital privacy is the issue and the enemy is no longer spotty little nerds hunched over computers in dimly lit basements, but governments and major technology corporations.
Artificial Intelligence: Will It Kill Human Society?
The media, the so called 'experts' and politicians hail every technological advance as if it will btransport us from reality to a utopian paradise. but does Artificial Intelligence and related internet and computer technology pose theats to human society that far outweigh any possible advantages? Whateve, Google plan to put machines in our place on top of the food chain.
Reasons To keep Google Away From your Credit Card Information
I did not use Gmail a lot because although the mail got through, I started to be bombarded with targeted ads related to keywords used in my mail exchanges (they weren't keywords as far as I was concerned, just conversation. That did not worry me much but the idea that Google were sharing my email content with the bastards throwing these ads at me did.
You Will Be Told Biometric Identification Is For Your Security, But When You Can't Do business without It, It Becomes An Assault On your Privacy
Latest plans to extend biometric security, allegedly for our safety and protection but really we suspect to extend the powers of surveillance enjoyed by central authority, ought to be the straw that breaks the camel's back and triggers wholesale resistance to the march of technology. Are you ready to start defending your freedom?
Don't be Evil, Google Will Do It For You
Google have abandoned their "Don't Be Evil motto. Good thing really, they are becoming more evil every day. The latest plans to integrate our brains with their servers may seem like a science fiction freaks wet dream, but these creepy nerds are serious ...
Don't Be Evil, That's Our Job Is Google's Real Motto
Don't Be Evil said Google's web page. But the search engine giant is the most evil of all the technology companies (though the rest can make Satan, Beelzebub, Belial, Azazel and the other Biblical demons look like choirboys. Read of Google's latest step in advancing their evil agenda to take over our lives and make us all slaves of their technology. A collection of articles by Ian R Thorpe on the unethical and dishonest ways Google has gained an unhealthy degree of influence over the internet.
When I Told Them Google Are Evil They Called Me A Conspiracy Theorist
Don't Be Evil sgaid oogle's web page. But the search engine giant is the most evil of all the technology companies (though the rest can make Satan, Beelzebub, Belial, Azazel and the other Biblical demons look like choirboys. Read of Google's latest step in advancing their evil agenda to take over our lives and make us all slaves of their technology
---
7 October, 2018
Brexit has terrified 'Brussels bubble' - German insider
The EU elite "lost faith in their own appeal and abilities" following the Brexit referendum vote and the surge in support for nationalist parties. The knee jerk response of the Brussels bubble was to try (and fail) to punish Britain for defing Brussels in the same way as they had punished small nations like Greece, Portugal and Ireland, which in their perception was the only way to prevent the EU breaking apart.
Top bureaucrats in Brussels are terrified at the prospect of the European Union breaking apart, according to a European expert. The fragility of the EU bloc since the financial crisis of 2008 is behind the punishment tactics and intransigence of negogiator Michel Barnier and other EU leaders.
Tanit Koch, now of the Transatlantic Commission on Election Integrity" (TCEI) who previously worked as editor of German magazine Bild, said that the Brexit referendum result shocked the Brussels leadership, who did not have a clue how to respond. Her comments come less than two weeks before the major EU summit this month, at which the direction of Brexit and the future of the EU could be decided.
Koch told BBC's The World This Weekend: "In the last two years, within Europe, especially within the Brussels bubble, they have lost faith in their own appeals and their own abilities.
"They are desperate for the European Union not to implode or break apart.
"It is not so much about punishing Britain as many in this country suggest.
"It is an honest fear that if a precedent is set, that someone who leaves gets a better deal, others will follow suit."
Koch also revealed the extent to which EU federalisation dogma has taken hold among the top rank in the business world across Europe. She spoke of a recent meeting between German Chancellor Angela Merkel and prominent German business leaders on Brexit. When Mrs Merkel insisted that the sngle market would not be compromised, raising the prospect of a no deal, the business leaders cheered.
She claimed that support of the "EU's holy grail" meant more to the German CEOs than the huge expected hit to their businesses. The Daily Stirrer finds this a little far fetched as we know from our own sources that many German firms have lobbied for Merkel to support a reasonable deal for Britain.
Despite the apparent deadlock in recent months, a change of tone has emerged in the last week among EU leaders, after long months of them insisting none of their conditions was negotiable. Yesterday, European Council President Donald Tusk said he was confident that the EU and UK would secure a deal by the end of the year.
MORE ON BREXIT

EU "Sounds Alarm" Over New US Sanctions On Russia; Germany Threatens Retaliation
Late on Friday (21/07/17), Congressional negotiators agreed to advance a cross - party bill that would punish Russia for its (alleged) interference in the 2016 election according to the Wall Street Journal. And while it seems improbable that President Trump would sign the bill if it reaches his desk, the loudest complaint about the bill to date has emerged not from the Oval Office, but from US allies in NATO and the European Union ...
Nigel Farage Swipes Back At Irrational, Screeching, Crazy Clinton
US Democratic Party presidential candidate Hillary Clinton launched a hysterical, irrational attack, filled with half truths and blatant lies, against the most prominent figure in the campaign to get Britain out of the EU (Brexit), UK Independence Party leader Nigel Farage, during a speech at a rally today. Mrs Clinton, responding to Farage's address to a large and enthusiastic audience at a Donald Trump rally, may have been rattled at the prospect of having such a hihly effective campaigner in the rival camp ...
Rebellion Against EU Authoritarianism Escalates As 8th Member Nation Threatens Referendum
Brussels went too far, they crossed the line in moving from an economic union to a political pan - European political empire. In the end it was a race as to which member state would quit first, Britain, Natherlands, Denmark or Italy. In the event it is Britain.
Is Brexit A Harbinger Of Doom For The 'Experts' The Brexit vote, the decision by a democratic majority in Britain to leave the European Union has sent shockwaves around the world. Not only does the EU now face a tsunami of departures, the usurpation of democracy by 'experts' ( technocrats ) has been challenged and exposed as a sham.
BREXIT vs. GREXIT – The Truth About The European Union And How It Treats Members
Unless the testicularly deficient politicians stand up for their nations he only thing that will halt the European Union's push beyond Europe's geographical borders to incorporate Asian, middle eastern and north African nations is war. Power is addictive and the bean counters of Brussels have ambitions far beyond Europe.
The Hypocrisy and Snobbery Of The Remain Campaign And The Antidote

When I had to defriend a Facebook contact because she was arguing in favour of the EU, it was not simply because I support Brexit that I had become pissed of with her, it was the snobbish and condescending way she dismissed supporters of LEAVE and their case. People are entitled to their opinion on the European Union, but they should check the 'facts' they post in support of their arguments.
The Labour Case For Brexit by Kate Hoey M.P.
After my short intro is a savage indictment by Brexit supporting Labour MP Kate Hoey of the way the Labour Party has abandoned the working class and is now trying to betray the party's proud heritage and its roots in the industrial areas by taking Britain into an undemocratic, corporate controlled, capitalist friendly, elite dominated globalist control freak project.
Dutch Referendum This Week Shows why We Should Leave The EU.
Few of you were aware probably that there is an EU referendum vote in The Netherlands this week. As usual with anything negative about the EU barely a word has been printed in the topic in mainstream media and the silence from our notionally unbiased national broadcaster The Bolshevik Broadcasting Corporation (BBC) has been deafening.
French, Belgians, Dutch, Italians Follow Britain in Euroskepticism
Europeans want us British to lead them out of Europe. Don't be fooled by project fear, the European Union (aka the Euronazi Federal Superstate) is falling apart. There will not be chaos if we leave, there will be chaos if we stay.
Head Of European Institute: Brexit 'Better' For Everyone
Brexit would be the best result of Britain's in / out referendum for both Britain and the EU i a Belgian professor who heads up the European Institute at the London School of Economics (LSE) has said.
Johnson's article lines up his reasons why Britain must exit on June 23rd. It's time to be brave
OK, I know a lot of you think Boris is most accurately described by a word many people find offensive, but he's put together a very good argument here on why we must leave the EU. Published in part here under 'fair use' terms and conditions, in the public interest ...
Cameron's EU Package: Not A Deal But A Few Turns In The Spin Machine As we and almost everybody else predicted, David Cameron's deal to improve Britain's relationship with the EU is worthless. It changes nmothing, and can be vetoed once we have voted to stay in.
Cameron Plays Deal Or No Deal In Europe
David Cameron, who was apparently up all night trying to make other European leaders understand why his country needs a better deal in order to poersuade the prople it is a good idea stay in the EU. Unless Cameron gets what will enable him to sell the idea of surrendering national sovereignty to a Federal European Superstate ruled by a committee of unelected bureaucrats in to the British public he will not campaign for the UK to remain in the bloc
EU Refuses to Block Eurozone Integration to Reach Agreement With UK
Austrian Chancellor Werner Faymann said at the E?U summit on British membership terms that the European Union wants to reach an agreement with the United Kingdom, but it is not prepared to compromise the banking union (financial integration) or the further integration of monetary union (UK being forced to abandon the pound join the Euro?) to achieve this goal.
Cameron's EU Deal Worthless. It Can Be Vetoed In European Parliament? Opinion polls show Britain is evenly divided on the question of whether to leave or remain in the EU, though it has been suggested up to 10 million other voters, many of them women, have yet to make a decision. How they cast their vote will shape the future of the world's fifth largest economy and the EU itself. But what is really at stake is more important than economics ...
Obama's intervention in UK politics triggers angry backlash Angry Britons have launched a petition calling for U.S. President Barack Obama to be prevented from speaking in the UK parliament on Britain's forthcoming referendum on European Union (EU) membership.
---
Trump: "Angry Mob" of "Radical Democrats" Has Become "Too Extreme And Too Dangerous To Govern"
President Trump on Saturday touted a conservative victory after his Supreme Court nominee, Brett Kavanaugh, was confirmed as the 114th Justice after a contentious and dramatic assault from the left. Speaking in Topeka, Kansas, Trump framed the Democratic resistance to Kavanaugh as an attempt by an "angry mob" to hijack the proceedings "in their quest for power."
"They threw away and threw aside every notion of fairness, of justice, of decency and of due process," Trump said of the anti-Kavanaugh efforts. "What he and his wonderful family endured at the hands of Democrats is unthinkable, unthinkable."
"Just imagine the devastation they would cause if they of their obtained the power they so desperately want and crave," Trump added. "You don't hand matches to an arsonist and you don't give power to an angry left-wing mob, and that's what they have become."
Trump then used Kavanaugh's example to illustrate why conservatives need to vote during the midterm elections in four weeks so that Democrats don't take back the House.
America
---
6 October, 2018
How Russia plans to disentangle its economy from US dollar
Phil T Looker, 6 October, 2018
The Russian Finance Ministry this week officially revealed a plan to end the country's dependence on the US dollar for foreign trade. Economic analysts are warning it will be a long and painful process, but readers familiar with this page will be aware Russia and China, with support from Iran and a number of other oil rich countriies whose oil trade is restricted by US use of the petrodollar to manipulate makets, is several years along the road to economic independence alredy. As well as news updates elsewhere in the page on progress, we have also explained at length how separation from the global reserve currency could be achieved.
According to the plan mentioned above, Russia aims to de-dollarize its economy by 2024. The program is complicated, but a key point is that Russian traders who use roubles instead of dollars would get huge taxation benefits including quicker VAT returns and other incenives to dump the US currency. Russia and China have already signed up some very significant economies, including India, Brazil, Nigeria and Turkey to a system of settling cross border trades in the national currency of the vendor. Another post within this page from 2015 shows how long the process of gathering support for dedollarisation has been under way.
Andrey Perekalsky, an analyst at brokerage company FinIst, told news reporters, "It is necessary to gradually switch to such a system of international payments, which implies payment in rubles for Russia's best and most popular goods on the world market like oil, gas and arms exclusively." Currency traders in The City Of London, the world's main currency trading centre will no doubt be delighted to hear that.
Perekalsky added thatRussia should also unite with China and the European Union in creating a payment channel that can't be controlled by the United States. The alternative to the SWIFT interbank settlement network that could bypass Iranian sanctions could be seen as a first step in that direction. As this page has reported previously, moves are already underway in Russia, China and the EU to create such a system.
Petr Pushkarev, chief analyst at TeleTrade, offers the opinion that Russia with its vast foreign currency reserves (almost $500 billion,) is able to keep the ruble value stable despite the effects of US sanctions mania, which is actually hitting US allies in Europe and Asia which must trade with Russia harder than Russia itself. The currently high prices for crude oil could also help, by increasing Russia's revenue without their having to increase volumes sold.
It appear Russia will diversify not only into rubles, but also use the Chinese yuan - it has been an early supporter of the gold backed petroyuan system set up by China earlier this year to enable oil trades priced in Youan to be conducted on the Shanghai commodity exchange. Deals have also been signed to trade in Vietnamese dong, Indian rupee, and the Euro. The British pound is also involved and has always enjoyed reserve currency status, though in recent decades its role has been minor and restricted mainly to trade between members of the British Commonwealth.
The dollar is pretty much overvalued against the euro; the IMF forecasts a gradual devaluation of the dollar by 10-15 percent," Pushkarev noted.
"American policy is disliked not only in Russia but by Europe and throughout the third world. There is a widespread feeling that the USA has abused its position as issuer of the main reserve currency to bully smaller nations into trading on terms advantageous to the USA. EU officials have already openly announced that they are starting to create their own system of settlements with Iran, in which transactions will not be transparent to the US authorities and therefore will not be subject to sanctions," he added.
Scientists Sound Alarm Over DARPA Plans To Spread Viruses Using Insects
Scientists Sound Alarm Over DARPA Plans To Spread Viruses Using Insects
A team of scientist sounds the alarm in a new Science Policy Forum report about a mysterious US government program that is developing genetically modified viruses that would be dispersed into the environment using insects. The virus-infected or 'Frankenstein' insects are being developed as countermeasures against potential natural and engineered threats to the US food supply.
The program is operated by the Pentagon's Defense Advanced Research Project Agency (DARPA) could be viewed as an attempt to develop an entirely new class of bioweapons that would prompt other nations to seek similar weapons, they cautioned.
---
---
Schools Advised to Alert Social Services if Parents Stop Sons from Wearing Skirts
Council guidelines have advised schools that staff may need to alert social services if parents dismiss a "gender questioning" child's demand to "transition". Brighton and Hove City Council's "Trans Inclusion Schools Toolkit" tells teachers "it may be necessary and advisable to activate safeguarding procedures" if worried about a child's "wellbeing and or safety" when faced with a parent who says, "I refuse to allow my son to change his name or wear skirts."
As The Telegraph pointed out on Thursday, the Department for Education's (DfE) statutory guidance says that staff should refer a child to social services or police if the institution's safeguarding lead has concerns about a child's welfare.
MORE on Education
---
---
5 October, 2018
Italy's Eurosceptic Leaders Slams Brussels - EU Has Ruined Our Country
Matteo Salvini enjoys life as EU leaders fume
Matteo Salvini,the leader of Italy's League party and Italy's deputy Prime Minister reinforced his stance against the EU's efforts to block to Italy's tax-cutting budget due to be revealed today, Friday 5 October. Speaking at a trade fair in Rome, Salvini said: "The EU said yes to (past) budgets that impoverished Italy and made its situation precarious."
"So I don't get up in the morning thinking about the judgment that people like Juncker and (EU Economic Affairs Commissioner Pierre) Moscovici, who have ruined Europe and Italy, have of the government and of Italy," Salvini added.
On Tuesday, Salvini had threatened to seek damages from Juncker for scaring off investors by attacking Rome's budget plans, amid some veiled personal criticisms levelled at the Jean Claude Juncker, president of the EU Commission.
Asked by TV News channel La7 about Juncker's suggestion Italy might pose a similar threat to Greece, which almost brought down the Euro, Salvini replied: "I talk to sober people who don't make comparisons that aren't here nor there." This remark was a reference to Junckers alleged drink problem.
"He should drink two glasses of water before opening his mouth, and stop spreading non-existent threats," Salvini added. "Or we'll ask him for damages."
While speaking in Germany on Monday, Juncker said: "We have to do everything to avoid a new Greek or rather an Italian crisis this time. One crisis was enough." The Commission president stated there should be no "special treatment" for what he called Rome's budget indiscipline. Italy has the second biggest public debt ratio in the EU, currently at 131 percent of GDP. Only Greece's debt is larger.
Juncker's words were echoed by eurozone finance ministers at a Eurogroup meeting who cautioned against Italy's budget plans.
EU Economic Affairs Commissioner Pierre Moscovici angered politicians in Rome when he said "The Italians have... chosen a resolutely euroskeptic and xenophobic government that, on issues of migration and budget, is trying to get out of its European obligations."
Although the Italian government appears to have backed off a little during the week, the EU are going to find pushing around this nation of sixty million people a different proposition to bullying small nations like Greece, Pourtugal, Ireland and Cyprus.
EU Stitch Up To Promote Euronazi Selmayr's Is Typical Of The EU's Contempt For Democracy
# The former Prime Minister of little Luxembourg Jean-Claude Juncker to ensure his chief of staff was installed as the new Secretary-General of the European Commission, in what one senior Eurocrat has called "an impeccably prepared and audacious power-grab" at the top of the European Union.
EU "Sounds Alarm" Over New US Sanctions On Russia; Germany Threatens Retaliation
Late on Friday (21/07/17), Congressional negotiators agreed to advance a cross - party bill that would punish Russia for its (alleged) interference in the 2016 election according to the Wall Street Journal. And while it seems improbable that President Trump would sign the bill if it reaches his desk, the loudest complaint about the bill to date has emerged not from the Oval Office, but from US allies in NATO and the European Union ...
Fears Over Threat To Sovereignty Could Wreck EU European Army Plan
No they're not Star Wars Imperial Stormtroopers, they are German soldiers assigned to an international peacekeeping force, showing how like Imperial Stormtroopers a pan European army might look (Image source)
Germany Threatens Sanctions Against Poland Over 'Lack of Western Values' (for Western read German)
Last year, Poland's conservative nationalist Law and Justice party (PiS), led by former Prime Minister Jaroslaw Kaczynski, captured both the presidency and parliament at elections in May and November. Since taking office, the party's lawmakers have used their parliamentary majority to initiate a series of controversial legal reforms, causing concerns both at home and abroad, specifically in Brussels and in Berlin.
Europe's Bank Crisis Arrives In Germany: €29 Billion Bremen Landesbank On The Verge Of Failure
... yesterday we observed a surprising development involving Deutsche Bank, namely the bank's decision to quietly liquidate some of its shipping loans. Reuters reported, "Deutsche Bank is looking to sell at least $1 billion of shipping loans [a market sector] whose lenders face closer scrutiny from the European Central Bank.
BREXIT vs. GREXIT – The Truth About The European Union And How It Treats Members
The only thing that will halt the European Union in its tracks, stop the push beyond Europe's geographical borders and prevent EU expansion to incorporate Asian, middle eastern and north African nations is war. Unless the testicularly deficient politicians stand up to the bean counters of Brussels. That's what they are, bean counters; not one among them is a risk taker or a person who has advanced because of their willingness to put their arse on the line.
The Hypocrisy and Snobbery Of The Remain Campaign And The Antidote

When I had to defriend a Facebook contact because she was arguing in favour of the EU, it was not simply because I support Brexit that I had become pissed of with her, it was the snobbish and condescending way she dismissed supporters of LEAVE and their case. People are entitled to their opinion on the European Union, but they should check the 'facts' they post in support of their arguments.
Adolf Hitler, His Part In Our Downfall

.pdf dowload
A thirty five thousand word book on the authoroitarian, undemocratic, bureaucratic dictatorship that is the European Union. Following the outburst of left wing hate politics following Boris Johnson's reminder that the EU has its roots in Hitler's Naziism, which as any intelligent person is aware is both true and very well documented. My blog colleagues and I decided to assemble this collection of our articles (with some long extracts quoted from public domain and creative commons sources) to help people misled by the REMAIN campaign into thinking the arguments are solely economic.
EU Vows To Use Powers To Block All Elected 'Far Right' Politicians From Power
... populist social conservatives are regularly topping the polls across the Europe, but have been victims of EU orchestrated stitch ups to keep them out of power and ddeny the democratic will, in France, Sweden, Holland, and now Austria – and anti-migrant populists are already in power in Hungary, Poland, and the Czech Republic. Mr. Junker's definition of "far right" is somewhat broad, noted by him previously describing Hungary's conservative president, Viktor Orbán, as a "fascist".
EU Vows To Use Powers To Block All Elected 'Far Right' Politicians From Power
... populist social conservatives are regularly topping the polls across the Europe, but have been victims of EU orchestrated stitch ups to keep them out of power and ddeny the democratic will, in France, Sweden, Holland, and now Austria – and anti-migrant populists are already in power in Hungary, Poland, and the Czech Republic. Mr. Junker's definition of "far right" is somewhat broad, noted by him previously describing Hungary's conservative president, Viktor Orbán, as a "fascist".
The Labour Case For Brexit by Kate Hoey M.P.
After my short intro is a savage indictment by Brexit supporting Labour MP Kate Hoey of the way the Labour Party has abandoned the working class and is now trying to betray the party's proud heritage and its roots in the industrial areas by taking Britain into an undemocratic, corporate controlled, capitalist friendly, elite dominated globalist control freak project.
EU's Bureaucratic Dictatorship Is Losing The Support Of The Most Loyal Nations
When the unelected bureaucrats of the European Union Commission decided, without consulting member states, to comply with the wishes of the warmongering rent - boy in The White House and impose sanctions on Russia, after Vladimir Putin ordered the annexation of Crimea (to prevent the US backed neo - fascist government in Kiev carrying out a genocide of ethnic Russians in Crimea,) the idiotic goons were as usual duped into doing Washington's dirty work.
Cameron's Hopes For EU Membership Reforms For UK Torpedoed By Tusk
David Cameron's hopes of winning serious concessions on sovereignty, border controls, contributions, trade agreements, human rights and labour laws so he could claim to have won a better deal for Britain by the time the in / out referendum starts next year European Union suffered an early blow when European Council President Donald Tusk warned that reaching a deal would be "very tough" ...
EU tiring of confrontation with Putin.
Huge reversal: the EU seeks a normal relationship with Russia. It seems that the EU is being greatly affected by the actions of Vladimir Putin in Syria: suddenly the EU President Jean-Claude Junker is saying that the EU must not let the US dictate their relationship with Russia.
Disillusionment With EU Grows as Swedish Support Slumps By 30%
A new opinion poll carried out on support for the European Union in Sweden has produced some shock findings as a massive turnround among Swedish voters probably due to mass immigration and migrant related crime waves in cities. From being one of the most solidly pro-EU member states, Sweden now has a substantial majority against membership of the EU.
Fears Over Threat To Sovereignty Could Wreck EU European Army Plan
No they're not Star Wars Imperial Stormtroopers, they are German soldiers assigned to an international peacekeeping force, showing how like Imperial Stormtroopers a pan European army might look (Image source)
The Real Refugee Crisis Is In The Future Perhaps Angela Merkel thought we didn't yet know how full of it she is. Perhaps that's why she said yesterday with regards to Europe's refugee crisis that "Everything must move quickly," only to call an EU meeting a full two weeks later. That announcement show one thing: Merkel doesn't see this as a crisis. If she did, she would have called for such a meeting a long time ago, and not some point far into the future.
---
4 October, 2018
Top FBI Attorney Provided 'Explosive' Testimony Regarding Trump-Russia Probe
On a day that saw the latest nonsensical claims from the UK government about Russian government culpability for the Skripal assassination attempt back in March, we came across a story which shows how the other great "It's The Russians fabricated narrative is falling apart.
While NATO governments were getting their knickers in a right old twist about the discovery of some Russian citizens found in possession of laptop computers, smartphones
The Russians are alleged to have launched a cyber attack on the headquarters of global chemical weapons watchdog OPCW while it was investigating the Salisbury spy poisoning, the British and Dutch security services have revealed. No evidence has been offered to link the action to the Skripal case.
Authorities in the Netherlands have named four GRU operatives who, it is claimed, travelled to Amsterdam and attempted to hack into the Organisation for the Prohibition of Chemical Weapons network directly.
The four men - named as Alexei Moronets, Evgeni Serebriakov, Oleg Sotnikov and Alexei Minin - flew from Moscow to Amsterdam on April 10 on official passports, where they were met by a Russian embassy official.
Three days later, they parked in a rental car outside a hotel near the OPCW building, with specialist technical equipment in the back of the vehicle designed to hack into the watchdog's network.
If you are quite web savvy you might, as I have, understand how ludicrous it would be to try to hack the OPCW network while sitting outside in a car, with all your hacking equipment visible to passing pedestrians. And can we believe the Russians would expect an organisation like OPCW would have omitted to secure their Wi Fi network?
Well if you have believed all or any of the story about the Russians hacking the US election systems to hand the presidency to Trump, you are probably naive enough to believe this latest shite.
Meanwhile in America ...
from The Daily Caller
A former top lawyer at the FBI provided "explosive" testimony to Congress on Wednesday regarding the FBI's Trump-Russia investigation, lawmakers said. James Baker, who served as the FBI's general counsel until May, told Congress that a previously unidentified source provided information to the FBI for its investigation, which began on July 31, 2016.
"During the time that the FBI was putting — that [the Department of Justice] and FBI were putting together the [Foreign Intelligence Surveillance Act surveillance warrant] during the time prior to the election — there was another source giving information directly to the FBI, which we found the source to be pretty explosive," Ohio GOP Rep. Jim Jordan said after a hearing, according to Fox News.
As the FBI's top attorney, Baker was directly involved in handling applications for the FISA warrants granted against former Trump campaign adviser Carter Page.
Baker was interviewed behind closed doors as part of a congressional task force's investigation into the FBI's possible abuse of the FISA process. Republican lawmakers have expressed concerns that the Page FISAs relied heavily on the unverified Steele dossier.
The document, which was funded by former Secretary of State Hillary Clinton's campaign and the Democratic National Committee, was cited extensively in the FBI's applications to spy on Page.
"Some of the things that were shared were explosive in nature," North Carolina GOP Rep. Mark Meadows told Fox regarding Baker's interview. "This witness confirmed that things were done in an abnormal fashion. That's extremely troubling."
---
The military-industrial-humanitarian complex: Western hegemony spread by virtue signalling?
Shakespeare once wrote that the devil can cite Scripture for his purpose. Tomasz Pierscionek is a doctor and on the board of several charities supporting poverty relief in the third world, he holds an interesting theory on the weaponisation of humanitarianism, saying that the charities have become part of the west's armoury in the bid for global hegemony.
The terms 'humanitarian' and 'democracy' where once used to describe honourable behaviour and just causes. Now they have become contenders, along with science, socialism and liberal for the dubious honour of being the most abused words in the English language, routinely deployed to justify politically motivated acts of aggression which lead to death and destruction.
Words such as 'humanitarian' and 'democracy' have acquired a darker and more cynical meaning following their misappropriation to justify the invasion of sovereign nations, effect regime change and promote the spread of Western military, economic and cultural dominance around the world. The mainstream media and many human rights activists, assist these ventures by broadcasting and publishing propagandised news and by tapping into negative emotions such as fear and outrage to soften public opinion and make interference in the political affairs of sovereign states appear justified.
If you remember 2001 and the lies of western politicians and media about Saddam Hussein's Weapons of Mass Destruction, supposedly capable of being deployed against western targets within 45 minutes, the strategy was used to swing public opinion behind the US / EU / NATO push for a war that would rid them of a maverick leader. The public were deceived into accepting the invasion through attention-grabbing headlines crafted to abhor readers with 'evidence' of Saddam's butchery and to generate strong emotional reactions which would cause people to think with their hearts rather than their heads.
One story was written by Labour MP Ann Clwyd, and published by the one time newspaper of record
The Times
two days before the US-led Coalition of the Willing began pounding Iraq's cities and infrastructure with carpet bombing attacks. Clwyd claimed that Saddam had demonstrated a 'human-shredding machine' into which adversaries were fed and reduced to fish food. It is of course a variation on a scence in the Coen brothers film Fargo in which a wood shredder is used to render a corpse unidentifiable.
The article, under the title
"See men shredded, then say you don't back war"
was quoted by other newspapers and by TV and radio news and caused readers to feel revulsion towards Saddam and his regime, and made the anti-war lobby appear sympathetic to a murderous regime dubbed by one tabloid, "The Butchers Of Bagdhad," and indifferent to the plight of the Iraqi people. The existence of a human shredder was later
challenged
and such a machine is yet to be found. And for the record Saddam was supported by more than hald of Iraquis, a popularity he achieved by the simple expedient of using a significant proportion of his country's oil revenues to provide generous welfare payments.
He was certainly no angel, but did manage to keep down the extremist elements in Iraq,and of course, his removal by the the western military powers, USA , UK and France (The FUKUS axis,) facilitated the rise of ISIS some years later. Saddam's real crimes were well known to US and NATO
intelligence
services, who kept him informed about the locations of Iranian troops during the Iran-Iraq war in the 1980s, in the knowledge that he would use mustard gas and sarin against them.
The US also provided Saddam with cluster bombsand helped him acquire chemical precursor agents. US-based Human Rights Watch estimated that Saddam killed at least 290,000 of his own people while in power. However, this figure is dwarfed by the number of Iraqis believed to have died in the aftermath of the 2003 invasion, due to occupation forces, sectarian violence or ISIS – this figure is estimated to be in the hundreds of thousands, if not in excess of a million.
The psychological shock-and-awe strategy was again employed in the lead up to NATO's bombing of Libya, as the US and UK's on-off relationship with Gaddafi took a turn for the worse after he planned to start selling oil in dinars (a new gold-backed pan-African currency) instead of US dollars or euros, and encouraged his African neighbors to follow suit.
The release of Hillary Clinton's emails in late 2015 revealed that such a move would have strengthened African economies and led to competition between the dinar and the dollar or euro.
On this occasion, we were treated to the excuse that bombing Libya and supporting the anti-Gaddafi rebels, including Al-Qaeda-affiliated elements, was necessary as Gaddafi was about to commit a massacre against the people of the rebel-controlled city of Benghazi. Another emotive claim designed to mould public opinion into accepting the war affirmed that Gaddafi was giving his soldiers Viagra so they could commit mass rape. An investigation by Amnesty International found no evidence to support this allegation and revealed that on several occasions anti-Gaddafi forces in Benghazi had made false allegations or manufactured evidenceof human rights violations.
Without any sense of irony American, European and British politicians and the media now try to justify censorship of news and opinion, seeking to justify this illiberal and undemocratic activity by claiming it is necessary to silence those who spread 'fake news'. Do we really believe governments and the media are going to censor themselves? Do we believe Google are suddenly going to cease and desist from suppressing factual information and opinions critical of their cronies in Washington? Do we believe Facebook are going to remove the globalist bias from their algorithms and give equal prominence to news and ideas that do not support Zuckerberg's world domination agenda? Do we look as though we were born yesterday?
The concern of governments and their corporate friends about fake news is that with the rise of new media real news will leak out into the public domain and expose the fact that governments have been feeding us fake news since the modern era began with the protestant reformation.
---
3 October, 2018
Brexiteer Steven Woolfe: EU needs to 'learn about democracy'
MEP Stephen Woolfe, a prominent figure in the UKIP campaign team during the referendum run up has claimed the European Union needs to "learn about democracy" in cos he mademment on Foreign Secretary Jeremy Hunt's remarks comparing the European Union to the Soviet Union.
Woolfe claimed the Foreign Secretary's remarks were a "strong message" to the European Union who "have to learn about democracy". Speaking on Euronews' Raw Politics, the British MEP criticised the European Union's track record for "forcing" countries (including France, The Netherlands, Ireland and Greece,) to vote again if a vote does not give the result Brussels wants.
He said: "It was also a very strong message you have to learn about democracy. Either, if you carry on that way, you could be seen by people to be like that and the European Union has always championed the idea of being free."
He then reminded top EU officials including European Commission president Jean Claude Juncker, "You forced a referendum in France, you forced a referendum again in Holland, and you made the Irish vote again to kind of join on a European constitution.
"What we are saying is you don't allow democracy when you don't like it, isn't that like those who are overridingly powerful, the elites telling us what to do? That is the kind of strong message he is sending out."
Following the Salzburg summit, Malta's Prime Minister Joseph Muscat claimed there is an "almost unanimous" backing among leaders for Britain to have a second referendum. Fortunately this twittering coterie of nobodies from nations whose populations are smaller than a many middle - sized British towns and whose annual GDP is about the same as the total takings of people selling pies, burgers and not dogs at an English Premier League soccer match do not have any influence on what happens in Britain.
In spite of the total irrelevance of his opinion, Muscat added: "There is a unanimous, or almost unanimous I would say right now, point of view around the table that we would like the almost impossible to happen, that the UK has another referendum."
Prime Minister Theresa May has repeatedly said the UK will not have another vote on leaving the European Union.
---