July 2021
Daily Stirrer - January 2022 January 2022 26 January 2022 Daily Covid Crimes Roundup - 26 January 2022

Covid Vaccines A Spectacular Failure Data Shows

Data analyses from multiple countries show a negative correlation between COVID vaccination rates and worsening infection rates and other health trends.

Miss a day, miss a lot. Subscribe to The Defender's Top News of the Day. It's free.

Story at-a-glance:

British data show the COVID shots are an abysmal failure, as COVID infection rates in the UK are higher among the "fully vaccinated" in all adult cohorts.
Infection rates are also rising faster among the fully vaxxed than in unvaccinated cohorts of all ages. All in all, these data prove that vaccine passports and mandates are completely pointless.
Data from Scotland show more of the same. Double-jabbed Scots are more likely to be admitted to the hospital for COVID than unvaccinated. Since Omicron became dominant, COVID case rates are also lower among the unvaccinated than among the single-, double- and even triple-jabbed.
Internationally, journalists are now starting to try to switch the narrative away from cases, hospitalizations and deaths by pointing out how unreliable these data are. What they don't admit is that "dangerous misinformants" have highlighted these problems for two years already.
Omicron is blowing huge holes in the pandemic narrative, as it predominantly affects the vaxxed, thus proving mandates and vaccine passports are irrational and useless.

At this point, there is simply no question. The COVID shots are an abysmal failure in every way possible. Again and again, data analyses from around the world show a negative correlation between "vaccination" rates and worsening infection rates and other health trends.

There's no rationale for passports and mandates

Among the latest data sets to show this are official statistics from the UK government. Its "National Flu and COVID-19 Surveillance Report: 13 January 2022 (Week 2)" shows COVID infection rates in the UK are higher among the "fully vaccinated" in all adult cohorts.

Infection growth rates are also rising faster among the fully vaxxed than in unvaccinated cohorts of all ages. All in all, these data prove that vaccine passports and mandates are completely pointless and nothing more than a coercion tool. In no way do they reduce infection rates, hospitalizations or deaths from COVID.

Regardless of how many shots a person has received, they're still getting infected and transmitting it. Plus, we know the jabbed are veritable incubators for mutating strains. Everything about this mass vaccination campaign is detrimental to public health.

Continue reading >>>

[

Daily Stirrer

] ... [

Our Page on on Substack

]... [

Boggart Aboad

] ... [

Greenteeth Home

] ... [

Greenteeth on Minds.com

] ... [

Latest Posts

]

---

Fully Vaccinated College Campuses Are Seeing A Surge In COVID Cases from SHTFplan.com https://www.shtfplan.com/headline-news/fully-vaccinated-college-campuses-are-seeing-a-surge-in-covid-cases Mac Slavo
January 26th, 2022
SHTFplan.com


The ruling class continues to tell everyone else that these "vaccines" are safe and effective. At this point, perhaps they don't know the meaning of the word "safe" or "effective," unless "effective" means something other than being able to stop the transmission of the virus.

Some rulers have actually said these shots are worthless now, while others have kept the propaganda going strong to maintain their grip on power over others.

CDC Director: "What Vaccines Can't Do Anymore Is Prevent Transmission"

The mainstream media claims that cases are spiking on college campuses because, despite the rapid spread of the omicron variant, most schools are beginning their spring semesters in person. Just 14% of colleges are beginning the semester online, according to new data from the College Crisis Initiative. This time last year, before there were vaccines, about 40% of colleges started online.

Continue reading >>>

[

Daily Stirrer

] ... [

Our Page on on Substack

]... [

Boggart Aboad

] ... [

Greenteeth Home

] ... [

Greenteeth on Minds.com

] ... [

Latest Posts

]

---

Israel now #1 in covid cases per capita, proving all the draconian vaccinations, lockdowns and restrictions are utterly worthless and stupid

(Natural News) Despite the fact that Israel has implemented some of the most draconian COVID-19 pandemic measures in the world, the country is now number one in the world in new cases, according to local reports.

According to the Times of Israel, a leading health expert in the country said that 0.6 percent of the population was testing positive daily for the virus — most likely the latest variant, omicron, which is highly contagious but also very mild.

Prof. Eran Segal of The Weizmann Institute said at that rate, Israel currently leads the world in per capita infection rates, even though the population is required to get the latest version of vaccines available and despite heavy quarantine and lockdown regimes.

However, Segal tried to excuse the high infection rate:

But Segal noted it was likely that Israel was not truly the country with the highest infection rate. Rather, he attributed the figures to Israel being a leading country in the number of tests performed each day, relative to its population size.

Israel is followed in the highest daily cases worldwide ranking by Mongolia, Peru, Canada and Georgia.

The fact is, either you're the number one country, per capita, in daily infections — or you're not. And right now, Israel is No. 1, period, no matter how you look at the data.

But instead of realizing that this novel coronavirus is not the world-ender that the world has been propagandized to believe, Israeli Prime Minister Naftali Bennett is quadrupling down on idiot policies that have not worked yet and are never going to work (because viruses virus — that's what they do and nothing humans do will stop them from spreading).

Continue reading >>>

[

Daily Stirrer

] ... [

Our Page on on Substack

]... [

Boggart Aboad

] ... [

Greenteeth Home

] ... [

Greenteeth on Minds.com

] ... [

Latest Posts

]

---

24 January 2022
SUN is a UK political movement which aims to counter the collusion and crony institutions and systems undermining freedom, the rule of law, democracy and the peace of the United Kingdom. "Our emblem is the white and red poppy. It's in honour of all of those who fight and have fought for our freedom, democracy, rule of law and peace."
Just over 12 months from deployment of the Covid emergency use experimental injections scientific studies in the thousands and reports of criminal complaints of assault and murder from the illegal, unlawful use of biochemical poisons made to police forces around the country, verify an assault on an unsuspecting UK population.
Irrefutable science shows that the Covid injection is not safe and not effective in limiting transmission or infection from the SARS-CoV-2 coronavirus pathogen. The "safe and effective" false propaganda, put out by public officials who now are continuing to push this injection, is a clear breach of duty. A public office holder is subject to, and aware of, a duty to prevent death or serious injury that arises only by virtue of the functions of the public office.
Continue reading >>>
[Daily Stirrer] ... [ Our Page on on Substack ]... [Boggart Aboad] ... [ Greenteeth Home ] ... [ Greenteeth on Minds.com ] ... [ Latest Posts ]>/p?
---
Nervous system disorders after the jab – a case study
by Sally Beck, TCW Defending Freedom, January 24, 2022
NERVOUS system disorders following Covid vaccination are being recorded in shocking numbers, with reports to the UK's Yellow Card Scheme of almost 300,000 injuries and 300 deaths.
Despite this, the Medicines and Healthcare products Regulatory Agency (MHRA), who run the Yellow Card scheme and review all suspected injuries, are sticking with their mantra that Covid vaccines are 'safe and effective'.
Their message infuriates music manager Georgia-Rose Segal, 34, from Hertfordshire, a previously active fitness fan. Supremely healthy, and at low risk of contracting Covid-19, she was worried about getting the experimental jab, but decided to take it after being reassured by three GPs. She could then travel abroad for her job, about once a quarter, and visit family in Israel to celebrate Rosh Hashanah, the Jewish new year.
It is a decision she bitterly regrets as she is now a statistic, one of the 100,000 victims suffering with 300,000 neurological injuries reported up to January 5, 2022, which we have analysed in our special report below.
After her adverse jab reaction, Georgia, who is articulate, down-to-earth and had clearly made the effort to be well informed, was admitted to Stoke Mandeville Hospital in Buckinghamshire – a spinal injury specialist – with symptoms which included lack of balance, dizzy spells, tremors, tics, short-term memory loss and brain fog.
Georgia had her first dose of Pfizer-BioNTech Covid-19 vaccination on May 13, 2021 at Hemel Hempstead pop-up vaccine centre. It wiped her out. 'I felt like I could have slept for a year. I felt like that for a couple of days,' she said. She had her second dose on June 29. 'Within four hours I felt dizzy and light-headed. I fainted that evening, then over the following days, I began fainting up to three times a day. Continue reading >>>

How COVID Vaccines Suppress the Immune System
from Childrens Health Defender

In a preprint paper, Stephanie Seneff, Ph.D., described a mechanism of the COVID shots that results in the suppression of the innate immune system, and how that is leading to an increase in cancer cases in people who got the vaccines.
Miss a day, miss a lot. Subscribe to The Defender's Top News of the Day. It's free.
Story at-a-glance:
In a non-peer-reviewed research paper last week, Stephanie Seneff, Ph.D., describes a mechanism of the COVID shots that results in the suppression of your innate immune system. It does this by inhibiting the type-1 interferon pathway.
The COVID jab can cause neurons in your brain to produce toxic spike protein, or take up circulating spike protein, and the neurons try to eliminate the spike protein by transmitting them through exosomes. The exosomes are picked up by microglia, immune cells in your brain, which activate an inflammatory response, which can contribute to degenerative brain disorders.

Two microRNAs, miR-148a and miR-590, are central in this process. These microRNAs — excreted in the exosomes along with the spike protein — significantly disrupt the type-1 interferon response in any cell, including immune cells.

On average, there are twice as many reports of cancer following the COVID shots compared to all other vaccines combined over the last 31 years.

The fact that the signal is that strong is even more remarkable when you consider that most people don't think the COVID shot could be a variable in their cancer emergence, so they never report it.
In this interview, return guest Stephanie Seneff, Ph.D., a senior research scientist at MIT who has been at MIT for over five decades, discusses her latest paper, "Innate Immune Suppression by SARS-CoV-2 mRNA Vaccinations. The Role of G-quadruplexes, Exosomes and MicroRNAs," co-written with Dr. Peter McCullough, along with two other authors, Dr. Greg Nigh and Dr. Anthony Kyriakopoulos.
Previously, Nigh and Seneff co-wrote an entire paper detailing the differences between the spike protein and the COVID jab spike protein.
In a non-peer-reviewed research paper published last week on the preprint service Authorea, they and their other co-authors delve deeply into the mechanisms of the COVID shots, showing how they absolutely, in no way, shape or form, are safe or effective. The shots actually suppress your innate immune system.
"I think McCullough is fantastic and I'm so happy to have him collaborate with me," Seneff says. "I really hope we will be able to find a journal that is willing to publish it. We may have to seek some kind of alternative media to get it published.
"It's really incredible the amount of censorship that's going on right now. I'm in a state of shock all the time. I just keep thinking it's not going to get any worse, and it's truly going to get better, and it just seems to keep on getting worse and worse.
"I don't know where the end is. It's very discouraging … Pharma has so much money behind [them] and they've got it all set up to make sure that nothing gets past them …
"We're hoping to put it up as a preprint, but … remarkably, they can reject it at the level of preprint as well. We're working on that angle, but it's not easy. When you're writing something this radical, they really fight hard to keep it off the web."
On Jan. 16, 2022, the pre-print service Authorea published this paper on its website, assigning it a Digital Object Identifier, thus making it official.
Exceptionally strong safety signals
As noted by Seneff, when you look at the various databases for adverse effects, you can see an exceptionally strong safety signal — and the COVID shot developers know that. "The numbers are out of sight," Seneff says, and this goes for all levels of side effects, from mild to catastrophic.
Continue reading >>>
[
Daily Stirrer
] ... [
Our Page on on Substack
]... [
Boggart Aboad
] ... [
Greenteeth Home
] ... [
Greenteeth on Minds.com
] ... [
Latest Po
sts ]
---
---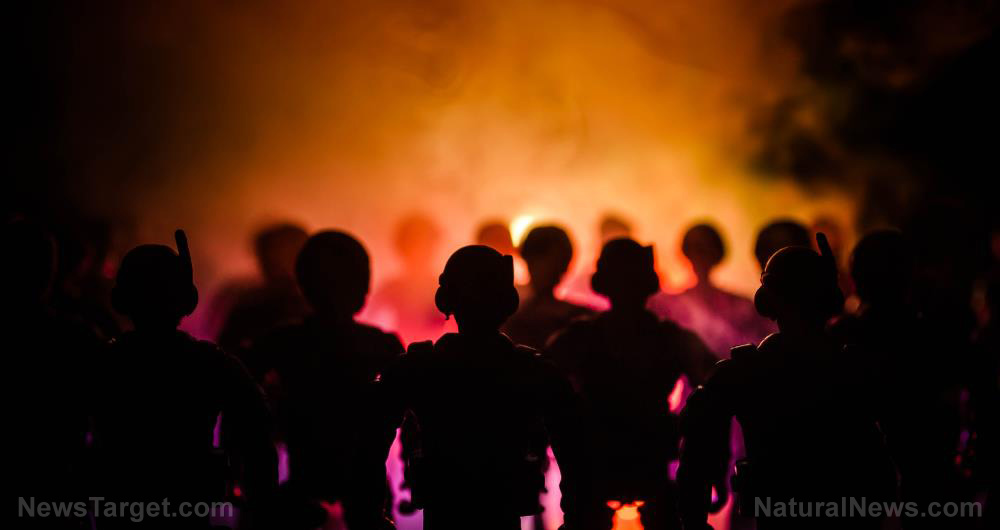 At least 600 law enforcement officers in Austria have written a letter to Austrian Interior Minister Gerhard Karner requesting that proposals for forced Wuhan coronavirus (Covid-19) "vaccination" be withdrawn.
This cohort of police officers also wants the Austrian government to stop discriminating against the unvaccinated, who are now being treated like second-class citizens just for refusing to permanently modify their DNA with experimental Big Pharma chemicals.
"We do not want to face the population in a threatening manner during what are predominantly peaceful demonstrations which were organized due to the increasing dissatisfaction of the people with politicians," the letter, written on January 10, reads.
The petition was signed by three law enforcement personnel who claim to represent hundreds of other law enforcement officials who oppose the mandates.
Over the weekend, some 20,000 protesters converged on Vienna to protest the government's fascist dictate that all citizens over the age of 18 must get jabbed for the Fauci Flu in order to continue living normal lives like everybody else.
23 January 2022
German Government "Concerned" About Massive Anti-COVID Restriction Protests
Authored by Paul Joseph Watson via Summit News,
The German government is seriously "concerned" over the sheer number of protests against COVID restrictions in recent weeks, which are the most widespread in the country's history.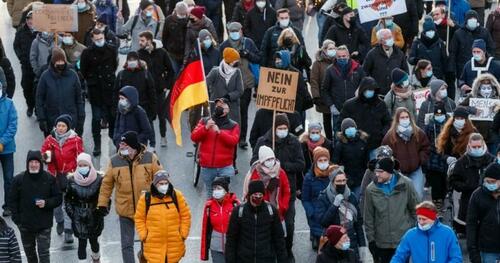 Influential German broadsheet Die Welt reveals that on the same day, protests took place in over 1,000 locations across the country.
"The government is concerned about the decentralized actions," reports the newspaper, with one source labeling the "immensity" of the demonstrations "depressing."

"Never before in the history of the Federal Republic have there been demonstrations that are more widespread than in the last few weeks," states the report, with the government counting 1,046 separate protests involving around 188,000 participants.
Instead of describing such developments as "depressing," you'd think authorities in Germany would maybe considering listening to the will of their people.
A scandal in Hamburg where the Mayor falsely claimed that the unvaccinated represented 95% of COVID cases didn't do anything to restore trust.
A Senate investigation reported the actual number to be 14.3%.
Germany is still pushing ahead with plans to make the COVID vaccine mandatory, with a parliamentary debate on the issue planned for next week.
Las year, the editor-in-chief of Germany's top newspaper Bild apologized for the news outlet's fear-driven coverage of COVID, specifically to children who were told "that they were going to murder their grandma."
As we highlighted earlier, the Czech Republic has abandoned plans to make the COVID vaccine mandatory for some groups after numerous large protests took place in Prague.
Continue reading >>>
[
Daily Stirrer
] ... [
Our Page on on Substack
]... [
Boggart Aboad
] ... [
Greenteeth Home
] ... [
Greenteeth on Minds.com
] ... [
Latest Posts
] ... [
Germany
]
---
Rare Spinal Cord Condition Flagged as Potential Adverse Effect Of COVID-19 Vaccines: EU Drug Regulator
A rare spinal cord condition could be amongst the vaccine's adverse side effects, according to an EU drug regulatory authority. The committee even, who reviewed the data over a three day conference, made a suggestion addressing vaccine manufacturers to add a warning and spread awareness.
A change to the product information has been indicated by the European Union's drug regulator, for COVID-19 vaccines from AstraZeneca and Johnson & Johnson, recommends to include a warning of a rare spinal cord condition called transverse myelitis.
Transverse Myelitis is a rare condition that involves inflammation of one or both sides of the spinal cord. Symptoms can include tingling and weakness in the limbs, pain or numbness, loss of pain sensation, or issues with bowel and bladder function.
The change was recommended by Pharmacovigilance and Risk Assessment Committee (PRAC), the European Medicines Agency's (EMA) committee that assesses the safety of human medicines, on Jan. 14 after concluding that a causal link between the two vaccines and TM is "at least a reasonable possibility."
It recommends changing the product information for the COVID-19 shots — Johnson & Johnson's Janssen and AstraZeneca's Vaxzevria – to include a warning of "very rare cases of transverse myelitis (TM) reported following vaccination." TM will also be added as an adverse reaction with an unknown frequency to the vaccine profile.
#
Continue reading >>>
[
Daily Stirrer
] ... [
Our Page on on Substack
]... [
Boggart Aboad
] ... [
Greenteeth Home
] ... [
Greenteeth on Minds.com
] ... [
Latest Posts
]
---
A comparison of official Government reports suggests the Fully Vaccinated are suffering Antibody Dependent Enhancement
Official Government and Public Health data available from around the world strongly suggests that the triple/double Covid-19 vaccinated population are suffering from antibody dependent enhancement.
In some cases, antibodies can enhance virus entry and replication in cells. This phenomenon is called antibody-dependent infection enhancement (ADE). ADE not only promotes the virus to be recognized by the target cell and enters the target cell, but also affects the signal transmission in the target cell.
In other words, ADE occurs when the antibodies generated during an immune response recognise and bind to a pathogen, but they are unable to prevent infection. Instead, these antibodies act as a "Trojan horse," allowing the pathogen to get into cells and exacerbate the immune response.
The result is often more severe illness than if the person had been unvaccinated, and this is precisely what we are now seeing around the world.