---
The Immigration Problem - Who Says We Have To Hand Our Nations To Alien Cultures
Look at that poster and weep and realise that it will become a reality if the establishment cartel remains in power. We are entering a dangerous time and being led by fools and cowards is a sure route to disaster.
Imagine a foreign and alien justice system enforced by religious thugs, this monstrous abomination is nearer now than ever and we can thank the cowardly snivelling appeasers of the establishment cartel for that. Imagine living in a country where women can be flogged for going out of their homes without an accompanying male relative, or for walking around with faces or hair uncovered. Imagine living in a country where a woman is still her husband's chattel to do with as he wishes, even if he wishes to beat her or force her to have sex against her will or threat her as a domestic slave.
Imagine living in a country where the ritual mutilation of little girls' vaginas is not only tolerated but celebrated. Or where a father can sell his daughter into marriage to a man she detests, a man who may be old enough to be her grandfather. Imagine living in a country where parents killing a daughter for trying to refuse such a marriage is considred to be something to do with honour.
Imagine the level of congnitive dissonance the screeching 'liberals' have to draw on in order attempt to justify some Muslim's doing all of these things in Britain while simultaneoully screeching "Racism, sexism," when a white Englishman makes any slightly off colour remark about women or calls for immigration controls to be properly enforced.
Imagine the country the politically correct screechers of The Conservative, Labour and Liberal Democrat Parties want to turn Britain into. (h/t Cassandra King)
RELATED POSTS:
Back to Contents table

Refugee Crisis Or Existential Battle With USA for Europe
It has been clear for some years now that the USA, backed by its main NATO and EU military allies the UK and France (the FUKUS axis has been trying to provoke Russian into firing the shot that will be heard around the world and recognised as the startiung signal for World War Three.
Nothing is ever as it seems to be however, and views from middle east and far eastern journals suggest the USA is also working at destabilizing EU nations in order to force their support in its wars.
A Swedish Voter Loses It With The Politically Correct Idiots Running His Country
The problems caused by government created immigrant ghettoes in Swedish cities have turned the once safe streets into war zones as rival gangs from various immigrant communities vie for control of the drugs, prostitution and illegal gambling trades.
Brexit - The End Of The European Superstate Dream?
David Cameron, having won the election with a wafer thin majority is now under the cosh from eurosceptics in his own party as well as party managers panicked by the rise of UKIP. He has promised an early in-out referendum on Britain's future membership of the EU but can he win the concessions he needs to secure a yes vote from the punters
Gogglebox on the Charlie Hebdo atrocity
Mainstream media has lost even more cribility because editors were afraid to publlish the Charlie Hebdo cartoons that are thought to have provoked the attack. boggart Blog, fearless as ever, has run them, along with our own cartoon on the topic.
EU Accused of Using Migrant Boat Crisis to Further Integration
Chaos In Calais Ramps Immigration Concerns for UK Voters
The unelected bureaucrats who run EU stand accused of cynically exploiting the Mediterranean boat people crisis to further it's European integration program that will result in the national sovereignty of 28 ~(and growing) member states being abolished as they are amalgamated into a single federal superstate.
Latest Posts
Elsewhere: [Boggart Blog]...[Little Nicky Machiavelli]...[Scribd]...[Wikinut]
>The Immigration Problem (part 1): If you Want To Help Migrants First Stop Killing Them
As Britain, its voters divided between pragmatism and politically correct thinking, heads for political chaos in an election likely to produce and inconclusive result, the big issue that none of the established parties want to talk about looks set to dominate the political debate through the next government's term in office.
At the centre of the problem of course is they all too typical hypocrisy and self righteousness of the political left. In their zeal to be seen to care about 'the poor' they are incapable of taking a step back from superficial aspects of the issue and those heart - rending pictures of people desperately clinging to sinking boats in the Mediterranean, and see that by encouraging people to try to get to Europe in the first place they are only thrusting the victims of poverty , oppression and persecution into the hands of ruthless criminals who as soon as they have secured the exhorbitant fees for transportation and 'legal fees' simply don't care what happens to the people who have been duped.
The Immigration Problem (part 1)
RELATED POSTS:
Back to Contents table
Warring Migrant Tribes, Street Shootouts, Grenade Attacks, Government Says Its Multiculturalism?
"Sweden, that's where they commit suicide and the king rides a bicycle," a character in an Alan Bennet play famously said back in the 1980s, a reference to Sweden's reputation as the most boring country in the world. That reputation has long gone, thanks to 'enlightened and progressive' immigration politicies, the elegantstreets of Sweden's gothic styled cities are now more like Chicago in the Al Capone era.
Sham Marriages To Beat Immigration Laws Are Out Of Control
With main immigration news on being dominated by the Mediterranean boat people crisis and the masses at Calais hoping to stow away in a freight container, we forget that another way of getting somebody into the country is the sham marriage. Numbers involved may be small, but it is another indication of our governments' failure to address the immigration problem.
Latest Posts
Immigration - Europe's burden
Immigration: the plight of the Mediterranean boat people
Is Sweden's immigration policy national suicide
Immigration: there is no promised land
Immigration marginalising the white working classes
The impact of immigration on hospitals and schools
Elsewhere: [Boggart Blog]...[Little Nicky Machiavelli]...[Scribd]...[Wikinut] ... [ Boggart Abroad] ... [ Grenteeth Bites ] ... Ian Thorpe at Flickr ]
---
---
---
---
Moroccan Youths Selling Arse, Hash On The Streets of Stockholm
At least 200 children from Morocco alone are currently roaming the streets of Stockholm, selling their bodies and committing various crimes such as drug peddling, theft, pickpocketing, shoplifting and robbery. It is known that over 11,000 illegal immigrants whose asylum applications were rejected have gone underground in Swedish cities.
This is in addition to the hundreds of organized gypsy beggars from Eastern Europr that have flooded the streets of Stockholm and other cities. Local authority leaders and politicians in the country its governing elite likes to style "The Humanitarian Superpower" are so afraid of being dubbed racist or xenophobic by the 'liberal' media, nothing that would have any actual impact is ever done to combat the problems.
A spokesman for Sweden's immigration agency recently told Swedish Surveyor that they are powerless to enforce deportation orders and that there now are more than 11,000 asylum seekers who have gone underground. Nobody has any real idea how many illegal immigrants are on the loose in Sweden.
"We have at least 200 children from Morocco who roam in the cities at evenings and during nights and who commit crime. They are 9 years old and up" says Christian Frödén, a policeman in Stockholm to SVT News. Frödén and his associate Mikael Lins ask if they can show ID and check if they are under the influence of narcotics. If they suspect the latter they urine test them and if they find someone who has escaped from an asylum home, they are sent back.
"They often abuse hash and do not understand the Swedish attitude towards drugs at all" Lins told SVT.
It was back in 2012 that the Immigration Agency started noticing that youngsters from Morocco were seeking asylum in Sweden and this number has increased every year. Throughout Africa, Sweden is known as 'a soft touch' for illegal immigrantsd, this is due in no small part to the impression given by visiting left wing politicians from Sweden that all are welcomed by the "humanitarian superpower". The inability of police and social agencies to deal with crime and unwillingness to deport spread is also the fault of self regarding left wing elitists whose obsession with 'human rights' apparently does not extend to defending the humn rights of ethnic Swedes whose families have lived and worked in the nation for many generations.
While congratulating themselves on their humanitarianism, the Swedish left also manage to remain oblivious to the harn they are doing to those they encourage to arrive in Sweden illegally. Once there they will be fed and sheltered by the authorities until their asylum allpications are dealt with, but remain in the grip of traffickers because of debts incurred in getting out of their homeland and making the journey withough documentation. And in the case of debts owed to such eople, there are no bankruptcy arrangements, do debt counselling servives. The choice is simple, pay or pain.
The Moroccans seeking asylum know full well that their chances of being granted asylum are slim and therefore 1/3 simply escape from the asylum homes and go underground.
"They show a very strong distrust for authorities and the grown up world and the signals we get from Social Services and the police is that they do not always want the care and welfare, which in fact is offered" says Kjell-Terje Torvik, national co-ordinator with the Immigration Agency. The children are often street kids from Tangier and Casablanca, accustomed to living without parents and having developed the skills necessary to survive on the streets. Their journey to Sweden goes via Spain and Germany, and the cost of their passage must be repaid with crimes such as prostitution, theft, shoplifting, pickpocketing and robberies, police officer Christian Frödén explains.
Young boys selling their bodies on Swedish streets is tragedy of multiculturalism, the political left who pushed open doors immigration policies have been so self regarding they forgot that when you import a cultures from the third world, many unpleasant aspects of life in third world nations come packaged with it. In 2008 a study found that prostitution was more common amongst young boys than girls of illegal immigrant communities on the streets of Gothenburg. Obvioosly no lessons have been learned.
RELATED POSTS:
Back to Contents table
The Euro Is Closer To Collapse Than Anyone Cares To Admit.
Europe is coming unglued
Immigration is becoming a burden to all European states
EU refugee quotas are causing tensions between Union and member states
It Could Be You Next ...
Whoever told you Britain is the only country sceptical about immigration lied, OK
E U Exploits Human Misery To Advance Political Agenda
Latest Posts

Elsewhere: [Boggart Blog]...[Little Nicky Machiavelli]...[Scribd]...[Wikinut]
---
Merkel Agrees That Immigrants Abuse EU Welfare Systems
In a surprise statement German Chancellor Angela Merkel has agreed with Prime minister David Cameron that there is an urgent need to address the "abuses" of Britain's benefits system by immigrants. It was the first time Chancellor Merkel publicly offered any support to the Prime Minister's bid to reform the EU welfare system. She still refuses to endorse the "full-on treaty change" he seeks however. After their meeting in Downing Street yesterday, Mrs Merkel said that she would "very much like" Britain to stay in the European Union, but maintains that
the principle of freedom of movement
cannot be questioned "in any way". In comments that will not help win over Eurosceptic Conservatives, Cameron reiterated his support for the notion of freedom of movement but said changes to the benefits system were essential. In a press conference, Mrs Merkel said that Germany was prepared to "work together" with Britain on securing changes to the benefits system. She told reporters she was ready to seek "common solutions" to concerns raised by Britain and other member states about the EU, and added: "Where there's a will there's a way." Mrs Merkel suggested that EU laws could be reformed to ensure that migrants' access to benefits are restricted. The Prime Minister wants migrants to have a job offer before coming to the UK; to make them wait four years before being eligible for certain benefits; and a ban on sending child allowance benefits abroad. Mrs Merkel said: "There is no question of the principle of freedom of movement being in any way questioned, but we also have to look at abuse of that. We want to say to our local authorities that abuse needs to be fought against so freedom of movement can prevail. "One has to take a very close look at the social security systems of individual member states that are not part of communal law – to what extent they have to be adjusted to this situation. That is something we have to address together." The German leader said a recent European Court of Justice ruling that Germany can refuse benefits to EU migrants if they have never held a job in the country, seized on by UK internatonal lawyers as a vindication of Mr Cameron's calls for reform, had been "quite helpful". She added: "Where there is common ground is that the last ruling of the ECJ was helpful as regards the abuse of social benefits and entitlement." Mrs Merkel's comments will be seen as a sign she is willing to support many changes demanded by Mr Cameron. The Prime Minister has pledged to renegotiate Britain's relationship with the EU before holding an in-out referendum in 2017 at the latest. At the Conservative Party conference in October, Cameron said that he would put the issue "at the very heart of my renegotiation strategy for Europe". However, the committed Europhile later shidted his stance slightly to say that he backs the "principle", which allows an unlimited number of immigrants to live and work in the UK. Mr Cameron said: "I welcome Mrs Merkel's willingness to help find solutions to the reforms that EU badly needs to adapt to the changing world. I support freedom of movement and what I don't support is the abuse of freedom of movement. That is what we have to change."
RELATED POSTS:
The Real Refugee Crisis Is In The Future Perhaps Angela Merkel thought we didn't yet know how full of it she is. Perhaps that's why she said yesterday with regards to Europe's refugee crisis that "Everything must move quickly," only to call an EU meeting a full two weeks later. /p> EU bureaucratic democracy
Euro Uber alles - but for how much longer
German taxpayers rebel against spendthrift EU
Europe to become the German superstate
Europe coming unglued?
Britain and The European Supertate
German Police See Rise In Far Right Extremism
French Government Accused Of Trying To Delay Elections.


The burned out hostel at Vorra, Germany - picture: Spiegel

In the German town of Vorra on Dec. 12, 2014 an arson attack changed the political atmosphere in Germany, three homes, newly renovated for refugees, set on fire. Police trying to apprehend the arsonists have faced a wall of slinence from local residents. Nobody saw anything, nobody heard anything, nobody knows anything. Any form of vioence is deplorable of course, but there are two sides to every case.

The december attack focused attention on Vorra, but attacks on refugee camps are becoming more common. In Tröglitz this week a similar attack ocurred. There have been others in Escheburg, near Hamburg, Germering, close to Munich and Sanitz, in the eastern German state, Western Pomerania.

The tide of anger and resentment among German citizens at their government's obession with immigrants and minorities has even reached the capital Berlin, acity dominated by left wing tax eaters, stock jobbers, law - mongers and sinecurists of Germany Federal government. All of those comunities have seen arson attacks against accommodation facilities for refugees. All have experienced an increase in hostility to immigrants (particularly illegal immigrants) and 'refugees. Elsewhere hostility has turned to violence in villages and cities all over Germany; while the hypocrites of the left blame ignorant, right wing extremists but refuse to acknowledge their own self - righeous policies which make ordinary Germans feel marginalised might be to some extent to blame, the anti - immigrat movement is attracting support from well-off people as well as the poor, from educated professionals as well as unskilled workers.

It would be sensationalism to talk of Germany being in flames as some left wing commentators have while wailing and gnashing their teeth about right wing extremism. Last year, however, there were almost three times as many attacks on refugee hostels in Germany as there were in 2013.

The PEGIDA marches in Dresden and other towns are another symptom of German dissatisfaction, as is the growth of anti EU political party Alternatif Fur Deutschland. While the response of the bourgeois elite is sneering condescension at the 'ignorance' of the unenlightened masses rather that listening to the concerns of people who are actually the backbone of Germany's economy and society, the problem will continue to grow.

But of course the political left and the university professors who make their opinions for are too arrogant to ever consider the possibility that they might be wrong so we can only see the situation getting worse. Here is a message for those fond fools of the left, who have elected themselves to think for all of us, but whose university educated minds are full of book learning and lacking life experience and understanding of human nature:

"O you that have at length survived the great perils of the sea – yet by land more grievous woes lie in wait – into the realm of Lavinium the sons of Dardanus shall come, relieve your heart of this care. Yet they shall not also rejoice in their coming. Wars, grim wars I see, and the Tiber foaming with streams of blood:-

Virgil, The Aeneid book 6

RELATED POSTS:
Back to Contents table
Latest Posts


Elsewhere: [Boggart Blog]...[Little Nicky Machiavelli]...[Scribd]...[Wikinut] ... [ Boggart Abroad] ... [ Grenteeth Bites ] ... Ian Thorpe at Flickr ]
---
---
---
Elderly Residents Evicted to Make Way for Asylum Seekers
We have reported with shock and dismay many times on what is happening in Sweden, where a collective psychosis of self hate among the ruling elite is driving them to destroy their nation and culture in a frenzy of politically correct fascism.
The latest outrage from Sweden's Politically Correct Fascists is a report from Swedish newspaper Värmlands Folkblad about elderly residents of the Millmark center in Sörmark, being served with eviction notices on last week because their group retirement home declared was due to be transformed into a government asylum shelter for 'refugees' (aka illegal immigrants).
Although many of the people are reluctant to move (but who cares about them, they're only ethnic Swedes - and probably working class at that), sums of money have been offered to those who cooperate and leave quickly. One of the people who lives in the centre, identified as Evy, said of the eviction:
"They kick out the tenants, and they do it very quickly. They say we get some kind of compensation if we move within a month.
"I have not so easy to move on me and I feel comfortable here. I have planted a small garden that I care about and can not imagine staying in an apartment where I do not have anything to do".
Although the house presently holds 10 retirees, accomodated in large, comfortable apartments, the Swedish government has granted a licence for it to be converted into accommodation for 144 asylum seekers. Each one will bring in a guaranteed daily income to the owner – paid directly by the Swedish government.
Last year (2014) Sweden had 8,365 asylum applications per million citizens (total population around 8 million), compared to just 494 per million in the United Kingdom. This is because politically correct Swedish government agencies class all people entering the country as asylum seekers rather than distinguishing economic migrants and criminals freeing the harsh justice of their homelands from genuine political refugees. Breitbart London reported earlier this week on the lengths to which the Swedish government is prepared to go in order to make even Jihadists, (rapists, murderers and torturers) returning from the conflicts in Syria and Iraq feel welcome in what was once the most civilized country in the world. Terrorists will be given free post traumatic stress therapy to help them get over the terrible experiences they endured while raping, murdering and beheading 'enemies of Islam' in warzones they volunteered to join, and will be rewarded with homes and guaranteed job offers upon returning, so they don't "feel alienated" in Swedish society.
Reacting to the jobs for terrorists plan, a Swedish soldier facing redundancy after returning from fighting in Afghanistan lamented: "There is no permanent job waiting for me when I come home". That just about sums up the sickness afflicting the Swedish intelligensia. If these idiots reeally feel so guilty and full of self loathing because they were born in a beautiful, prosperous and liberal nation, nobody is stopping them killing themselves. There can be no moral justification however for their trying to kill all European Swedes so terrorists can have the country.
RELATED POSTS:
Back to Contents table
Immigration, Sweden's preferred method of national suicide
Immigration: There is no promised land in Europe
The immigration problem
Death of Democracy Latest Posts

Elsewhere: [Boggart Blog]...[Little Nicky Machiavelli]...[Scribd]...[Wikinut] ... [ Boggart Abroad] ... [ Grenteeth Bites ] ... Ian Thorpe at Flickr ] ... [ Tumblr ]
---
---
---
Italy Is Another Country Where Anti EU Feeling And Problems Caused By Mass Immigration Are Changing Politics
Although this page originally set out to chronicle the UK's problems resulting from the open doors immigration policy pursued by the Labour Government of 1997 - 2010, it is clear that a movement in emerging across Europe, diven by public outrage at the way their nations social and cultural make up is being changed by immigration and by the way moves towards integrating EU member nations into a single Federal European state are eroding national sovereignty and cultures. This article looks at how the Lega Nord (Northern League) formerly a regional separatist party in northrn Italy is taking its anti - EU, anti - Immigration platform nationwide with the aim of capturing government.
RELATED POSTS:
Back to Contents table
Latest Posts

Elsewhere: [Boggart Blog]...[Little Nicky Machiavelli]...[Scribd]...[Wikinut]
---
One of the great tragedies of the EU / US liberal elites' policy of trying to recruit immigrants from third world countries in order to change the demographic make up of their own states and ensure the continuance of the Pensée Unique political consensus is the fate of so many people who are conned and duped into travelling to the west having been tricked by con men and criminals posing as 'migration agents' into paying, in relative terms, fortunes for false douments and transport in cattle trucks or unseaworthy ships and boats, in the belief they will be welcomed on arriving in the EU or USA.
The latest example is the case of Blue Sky M, a rusty old cargo ship loaded with 970 migrants. Whether the ship was seaworthy or not, I couldn't say, but the crew did not seem to think so, Blue Sky M and its human cargo were abandoned with the controls set so that the ship would crash into the Italian coast. It looks to be an elaborate people trafficking operation.
The migrants, thought to be Syrian and Kurdish refugees, were fleeing their home countries to avoid the ongoing conflict with Islamic State, The Independent reports.
Italian coastguards nad naval personnel boarded and took control of the ship, and sailed it to the port of Gallipoli, where almost 1,000 people were taken ashore, many needing treatment for hypothermia.
With targeted campaigns to track and capture gangs dealing in human cargo, the true story of the boat people will probably never be known, it seems likely the ship was due to be scrapped and was bought by traffickers for one last load. As the Italian navy, to the chagrin of EU leaders and leftie screechers, are becoming very efficient at intercepting boat people, Blue Sky M was probably set on course to run aground and then abandoned by the crew so they could escape capture by the authorities.
The ship fist alerted authorities as it sailed off the coast of Corfu, close to where a fire on a ferry had resulted a major rescue operation. Following the alert, Greek and Italian authorities tracked the ship. After contact was made with the ship's Captain, he told them the vessel was not in distress and did not need any help. However, it then departed its scheduled route from Korfez in Turkey to Croatia with a sharp turn to the West towards Italy, around the time the distress call was made.
On its approach to the country's southernmost tip, Santa Maria di Leuca, port authorities dispatched two helicopters as a precaution and a team of six coast guard officials boarded the ship.
A spokesman for the Italian coastguard, Commander Filippo Marini, said the team took control after realising there was no crew on board. He said the action taken by the Italians "avoided disaster" by stopping the ship crashing into the shore. They reported that the motor had also been blocked.
EU rules state that the country in which asylim seekers first land is the one who assesses whether they are genuine refugees or not, but with the burden for processing the huge numbers – and the scorn poured on Italy in particular after one boat caught fire costing the lives of hundreds who were being trafficked by criminal gangs – the incentive to do the work on behalf of the other EU countries is not there. Italy and Greece are the target countries for thousands of migrants fleeing conflict, persecution or frequently in search of a better life they think they can get in a European country.
Once they cross from Africa or The Levant to the islands in the Mediterranean they then claim asylum, with many exploisting EU freedom of movement rules by heading north towards Calais, hoping to stow away on a ferry or the eurotunnel to get to the UK where they have been told they can get a free education, health care and housing and that Britain is such a wealthy country the government will pay them a wage for doing nothing.
Many say they have paid thousands of Euros or Dollars for their passage, with extended families and somtimes whole villages chipping in to give just a few members of their community a better life.
RELATED POSTS:
Back to Contents table

Mediterranean Immigrant Composite
The flow of undocumented migrants from Africa trying to cross the Mediterranean from the coast of Libya to Italian, Greek and Maltese territory seems unstoppable. Two factors in the problem however have been western (particlarly American meddling in the internal affairs of African states, and wester aid leading to a population explosion national infrastructures are unable to cope with. And of course European leaders haven't a clue how to deal with the problem.
Europe In Crisis About The Mediterranean Boat People
The intervention in Libya by western powers France, UK and USA (the FUKUS axis) was morrally and politically wrong as well as being perhaps the most stupid example of balls out politics by an American president ever. To overthrow the leader of any nation, no matter how unpopular he is with other world leaders, is a dangerous game.
While the world has been looking the other way, Boko Haram has been conquering Nigeria
One story that has slipped away from us recently as we have tried to bring you a fair and balanced view of the Ched Evans With Hunt, the Charlie Hebdo terrorist attack, ships full of migrants abandoned in The Adriatic and the collapse of the Petrodollar amongs other catastrophe's that have happened, are happening or are waiting to happen, has been the progress of the Boko Haram rebellion in Nigeria.
Latest Posts
Elsewhere: [Boggart Blog]...[Little Nicky Machiavelli]...[Scribd]...[Wikinut] ... [Boggart Abroad]
---
>
EU Costal Mission Prepares For Record Year Of African Refugees
(Source: Reuters) As numbers of illegal migrants trying to cross the Mediterranean in flimsy, unseaworthy boats continues to rise, the European Union's largest border operation, patrolling the coasts of Italy, Greece, the nations bordering the Adriatic Sea and southern France and Spain, making plans for coping with people rescued from the sea or from unseaworthy boats abandoned by the criminal gangs who operate the people trafficking racket.
Off Sicily's est coast earlier this week, the crew of the Icelandic coast guard vessel Tyr, named after a Nordic god of war, conducted rescue drills. Though the United Nations refugee agency has criticised the mission, known as Triton, because its mandate is not search and rescue but border control with patrols near the Italian coast, the EU border agency Frontex says it is interrested in saving lives, rather than helping undocumented migrants to arive illegally in Europe.
"We participate in a lot of search and rescue operations that take place far from the Italian shore, usually about 40 nautical miles north of Libya," Frontex spokeswoman Ewa Moncure told a Reuters reporter on the bridge of the Tyr.
Bankrupt Italy, citing costs, halted its more comprehensive Mare Nostrum search-and-rescue mission in November 2014, when Triton replaced it. Since then the Italy navy has been involved in the retrieval of 200 boats and resued almost 25,000 migrants, with Triton vessels helping in about a third of the rescues.
During the first two months of this year, arrivals were up 40 percent on the same period in 2014.
"We've already recorded 600 deaths on the Mediterranean this year, compared to 100 this time last year," International Organisation for Migration spokesman Joel Millman told reporters in Geneva on Friday.
The Triton monthly budget is 2.9 million euros, a third of Mare Nostrum's. The Tyr is one of Triton's two large vessels made for sailing the open sea, whereas Mare Nostrum had five, including one with a wet dock and room to shelter thousands of migrants.
The governments of southern EU countries – including Italy, Greece and Spain – have strongly criticised the failure of the 28-nation bloc to commit more resources to the growing immigration crisis.
RELATED POSTS:
Would an immigration cap help?
Immigration burden could break the EU
Europes Smart Borders are failing
When you sell the dream of a Promised Land, the consequences are inevitable
AK47 Assault Rifles Used By Immigrant Gangs in Sweden Pub Attack.
Whoever told you Britain is the only country sceptical about immigration lied, OK
---
Mediterranean Boat People Crisis Threatens European Identity
23 June, 2015
As European leaders gathere for a summit meeting on the Mediterranean Immigrant crisis, Italy's Matteo Renzi has warned that Europe must find a solution to the ever increasing flow of migrants from third world locations or risk losing its identity.
Speaking to Italian Daily Newspaper La Stampa, Mr. Renzi said, "A European response is needed by all of Europe, not just Italy. We want to fight for a different idea of values, civilisation, peace: that is what Europe was born for. If these values are ignored in front of a Mediterranean in flames, in front of children drowning, Europe loses itself," His warning came a day after France and Britain clashed over the thousands of immigrants massing at the port of Calais hoping to stow away in goods containers crossing the Channel by tunnel or on ferries.
On Tuesday (22 June) some of the thousands of illegal immigrants camped in refugee holding sites around Calais took advantage of the chaos caused by a ferry workers' strike to try to climb aboard lorries on their way to Britain.
France has said it is being forced to act like a British border patrol and called on London to do more to help.
Last week Hungary indefinitely suspended a key EU rule on processing asylum claims in order "protect Hungarian interests". The move does not seem to suggest an amicable agreement will emerge from the meeting.
Renzi, speaking ahead of a meeting of European leaders to formulate a united policy on the immigration crisis on Thursday and Friday said that Italy hopes their EU colleaugues will agree to share the burden of repatriating economic migrants and providing shelter to genuine refugees. Renzi has warned the EU not to indulge in hysteria or far-right pandering, saying that around 61,400 men, women and children have been picked up off boats so far this year, only slightly up on the numbers at the same time last year (this is disputed by his opponents).
Defying Italy's own anti-immigration Northern League party, he said Italy could tackle the situation in the Mediterranean alone if necessary, insisting "we will not give up on saving one single life: a life is worth more than a poll. For us, in Italy, Europe is this: a lighthouse of civilisation, not a wall of fear."
---
Refugee host school in Germany bans revealing clothes
by Arthur Foxake
We have asked before and no doubt will again, when the citizens of a nation are constantly asked to give up their freedoms and change their behaviour in order to avoid offending new arrivals from medievalist cultures, whose effing country is it anyway.
A school in Bavaria has sent a letter home to parents warning them not to let their daughters wear revealing blouses or short skirts, because emergency accommodation for refugees has been set up next to the gym.
Emergency accommodation for 200 Syrian refugees was recently erected next to the sports hall of Wilhelm-Diess-Gymnasium in Pocking, Bavaria, a story in Die Welt reveals. The sports hall has been closed as a result, and PE lessons have been relocated to a nearby primary school, but the school is still worried about the refugees mixing with students. So worried in fact that the headteacher recently sent out a letter to parents to give reassurance about extra security measures.
"For the refugees, access to the school gardens and buildings is strictly forbidden. The same goes for the school grounds during the day. The number of teachers on duty during breaks has been increased," read the letter from headteacher Martin Thalhammer.
The letter goes on to give students instructions on how to deal with the situation:
"The Syrian citizens are mainly Muslims and speak Arabic. The refugees are marked by their own culture. Because our school is directly next to where they are staying, modest clothing should be adhered to, in order to avoid discrepancies. Revealing tops or blouses, short shorts or miniskirts could lead to misunderstandings."
The letter has not been met favourably by some parents, but a local politician, who did not want to be named, told Die Welt the move was absolutely necessary. "When Muslim teenage boys go to open air swimming pools, they are overwhelmed when they see girls in bikinis," he said.
"These boys, who come from a culture where for women it is frowned upon to show naked skin, follow girls and bother them without realizing. Obviously this is concerning for us," he continued.
The move by the school has caused a lot of discussion, and Thalhammer has received queries from all over the media, reports the Passauer Neue Presse.
"There have never been uniform rules at this school and there never will be." He said. "It is my duty to look after the children. Therefore I wanted to inform everyone about what is going on at school and what the gym is being used for."
"It was my responsibility to remind everyone that two cultures are coming together here," he continued.
Seems to us Herr Thalhammer ought to be asking the goat-fuckers next door to his school to step into 20th century Germany by accepting modern German customs and practices (like letting girls dress how they want to) of or to fuck off back to the boronze - age culture they came from. If these rafugees cannot behave like civilized human beings they have no right to be in western Europe.
RELATED POSTS:
Back to Contents table
Latest Posts

Elsewhere: [Boggart Blog]...[Little Nicky Machiavelli]...[Scribd]...[Wikinut] ... [ Boggart Abroad] ... [ Grenteeth Bites ] ... Ian Thorpe at Flickr ] ... [ Tumblr ] ... [ Ian at Minds ]
---
---
Pissed Off Locals In Europe Torch Refugee Centres To Resist Enforced Palement Of Immigrants
by Arthur Foxake
Citizens in Germany and Italy have taken to burning the resettlement centres in their communities designated to provide accommodation for people who have crossed the Mediterranean to enter Europe illegally.
A converted country inn, forced to close due to punitive EU taxes and restrictive laws, then renovated at taxpayers expense for use by illegal migrants has been burned down in Reichertshofen, Germany after locals discovered it was being prepared to become refugee accommodation. It is just the most recent attack in, as Der Spiegel reports there have been burnings in Ash, Meissen, Tröglitz, Vorra, Böhlen, and Limburgerhof.
The mayor of Reichertshofen was quick to condemn the attack and authorities remain puzzled over why a rural community of 830 Germans would object to their village being used to accommodate 130 unemployable asylum seekers (DUH!).
Local protests, poster campaigns and a petition have called for the village to receive 30 to 40 asylum seekers instead, a number the community have claimed would be more appropriate to the size of the community. Authorities ignored public opinion and now the building they were converting for refugee accomodation has been destroyed.
The heavy-handed methods used by the German authorities to force communities to accept large numbers of refugees is contributing to growing social unrest and civil disobedience by ethnic Germans. The urban millenials, brainwashed with the warped values of cultural Marxism in the state education system may thing Germany has an obligation to allow its population of 85 million be swamped by 100 million newly arrived, non German speaking fully trained beggars but in the sticks they hold different opinions.
Breitbart London reported on a zero-notice purchase and conversion of a hotel to an asylum centre in one Saxon suburb. Nightly protests of up to 1,200 people started after bus-loads of migrants arrived without warning – the police have now established a legally mandated ghetto and 'no go zone' around the hotel. Placing the whole town under a state of emergency, police now have powers to remove people from the streets and even control who comes to the town altogether.
Is it any wonder Germans are reminding Hausfrau Merkel and her extremist cronies what happened last time Berlin came over all National Socialist.
Meahwhile in Italy, the main country of entry to Europe for Mediterranean for Africa's beggar army (to be fair they're not all beggars, there are quite a few fully skilled vaginal multilators among them plus a few pickpockets, muggers, con artists and alllegedly a contingent of Islamic State terrorists. In fact we have no idea who these undocumented arrivals are of what they have done. but as in Germany the government is forcing small communities into housig the tens of thousands of new arrivals is such numers as to distort the social balance.
Residents of two apartment buildings in northern Italian city of Treviso were furious to find more than 100 migrants had been moved into their buildings – and had been provided with all the mod cons free of charge by the local government, reports TheLocal.it.
Protesting the lavish treatment of the migrants at their expense, the owner-occupier residents removed furniture and flat screen televisions from the migrant flats and had a bonfire in the communal gardens. One resident remarked: "They have transformed our homes, which we paid for with our mortgages, into a refugee camp".
Right, and as is commonly know, once you give an African a handout he'll cling to you like a parasite. Europe is now stuck with this pesilential burden who once housed and fed will spend their time fathering illigitemate picanninnies for us poor taxpayers to bing up and provide for.
RELATED POSTS:
Back to Contents table
Latest Posts

Elsewhere: [Boggart Blog]...[Little Nicky Machiavelli]...[Scribd]...[Wikinut] ... [ Boggart Abroad] ... [ Grenteeth Bites ] ... Ian Thorpe at Flickr ] ... [ Tumblr ] ... [ Ian at Minds ]
---
Germany shocked by scores of xenophobic attacks against migrants ass citizens' anger boils over
NB: in parts of this artice quoted from The Washington Post the spin is definitely pro-immigrant, anti-European. This does not reflect the attitude of The Daily Stirrer, while we oppose violence against migrants, we respect the fact thast Germans (and Europeans in general have rights and just concerns too, and after years of seeing their own interests sidelined by a political elite that prioritises the welfare of foreigners, the German people are getting mightily pissed off by leaders who think their counntry is best served by their kissing immigrants arses.
from: The Washington Post
By Anthony Faiola August 16
MEISSEN, Germany — In a gesture of German goodwill, the administration in this medieval city leased a newly renovated apartment building here to humanely — even comfortably — house dozens of desperate ­asylum-seekers. The newcomers from Syria and other war- ravaged nations would enjoy freshly redone floors, cute balconies and shiny, modern appliances in a cheerful building near a timber-framed pub. Then Meissen's goodwill went up in smoke.
On a cool night six weeks ago, suspected right-wing arsonists struck the building, scorching its interior and rendering it uninhabitable days before the ­asylum-seekers were to move in. The attack added Meissen, a gothic castle town of 30,000 on the Elbe River, to a string of German cities caught up in an escalating rash of violence against refugees.
The acts include an ugly spate of arson targeting refugee centers as well as physical attacks on refugees themselves, marking the return of what critics say is an unnerving brand of xenophobia to Western Europe's most populous nation.
It is typical of the American media of course to support the destruction of Europe's history for the sake of sucking up to Africans, Muslims, and Romanians. Liberals in the USA have with their great experiment in multiculturalism, turned their society into a ghettoized third world cesspit, now the fuckwitted guilt addics want to drag the rest of the world down with them.
While the violence against migrants being seen all around Europe now should be deplored, those truly responsible are the political elite whose refusal to act to curb the epidemics of violence, crime and rape that inevitably accompany the arrival of an influx of uneducated rabble from parts of the world where women are chattels and vulnerable people are easy targets to places where women are free to walk around town unaccompanied and old peoples' rights to leave their homes are usually respected.
Why should we make allowances for black scum who can't control their urges when they see a woman who doesn't have a bag over her head. Go German citizens, show the elite they have shat on you once too often. Or better still you could try torching puiblic buildings and politicians offices and the premises of mainstream news organisations.
RELATED POSTS:
Back to Contents table
Latest Posts

Elsewhere: [Boggart Blog]...[Little Nicky Machiavelli]...[Scribd]...[Wikinut] ... [ Boggart Abroad] ... [ Grenteeth Bites ] ... Ian Thorpe at Flickr ] ... [ Tumblr ] ... [ Ian at Minds ] ... [ The Origninal Boggart Blog]
---
---
Rioting Asylum Shelter Inhabitants Scream 'Allahu Akbar' as They Attack Police
Not long ago, with this page on Europe's immigration crisis getting out of control, we had to make a separate page to cover how Sweden's loonytoons immigration policy is rapidly turning that once enlightened, liberal nation into a lawless, dystopian failed state. It seems we will soon have to do the same with Germany, where the anger of normally tolerant German citizens at they way they are being marginalised as their government prioritizes the interests of migrants, many of whom are in the country illegally.
In the latest report from German news organisation concerning violence, crime and anti social behaviour of people who have no interest in integrating and simply want to shit on German (any any civilized) values and traditions and demand licence to steal, rape and kill shows that German citizens having been betrayed by their government, police and judiciary who refuse to act against the criminal scum are increasingly prepared to meet violence with violence. But the migrants are now so numerous and so confident the authorities will not act against them they are attcking police stations and other public buildings if they do not get what they want.
Riot police were forced to fall back and barricade themselves inside a building as the intensity of sectarian violence grew around a refugee centre in Germany last night.
The riot turned Thuringa, Germany into a warzone on Wednesday after "religious differences" between different Muslim sects over their interpretation of the Koran led to mass demonstrations at an asylum centre in the town. The building was trashed, with windows smashed, doors and stud walls demolished and furniture destroyed. Eighteen, including six police officers, had to seek hospital treatment.
Iron bars and stones were used as weapons in Thuringia province where a dispute among residents of a refugee hostel and locals has escalated, apparently because asylum seekers thought they saw the Koran being vilified. The German federal states Prime Minister, Herr Ramelow, has now called for segregation by ethnicity and separate separate accommodations for Muslim and non Muslim groups together.
After an organised attack the door to the office of a Security Service in Eisenach, gaped open, a huge hole was visible in the wall, windows were smashed and debris scattered on the ground. Photos documenting the extent of destruction after violent riots in a refugee camp in Suhl, southern Thuringia look more like scence one would expect to see in Syriua or Iraq.
Local authorities reported at least 16 injured, including six police officers. Seven damaged police vehicles, more broken cars and a "completely smashed the entrance of the refugee camp" as a police spokesman tells.
What did happen? The riots were triggered according to police on Wednesday night a quarrel among residents of a refugee centre "because matters of faith". Specifically, according to investigations; An asylum seeker was attacked by about 20 others because it should be handled filthy with the Koran.
Local vigilante groups are organising to protect their towns from immigrant violence. Frightening, but when riot police start to pussy foot around these paleolithic scumsuckers instead of piling in and breaking heads, someone has to make a stand in support of decency and tolerance.
(Sources: Bild,
Der Spiegel
(via Google translate), The Local
RELATED POSTS:
Back to Contents table
Latest Posts

Elsewhere: [Boggart Blog]...[Little Nicky Machiavelli]...[Scribd]...[Wikinut] ... [ Boggart Abroad] ... [ Grenteeth Bites ] ... Ian Thorpe at Flickr ] ... [ Tumblr ] ... [ Ian at Minds ] ... [ The Origninal Boggart Blog]
Britain to Crack Down on Illegal Working by Migrants
Illegal migrants found working in Britain will face jail and have their earnings seized under new measures announced by the government on Tuesday. The government has been ramping up its anti-immigration rhetoric in response to a spike in migrant attempts to reach Britain via the Channel Tunnel in France and is under pressure to show it is acting to deal with the crisis. Natacha Bouchart, mayor of the northern French port city of Calais where thousands of migrants are camped in the hope of crossing to Britain, has previously said Britain's generous welfare system and lax identity controls make it a magnet for illegal migrants. "Anyone who thinks the UK is a soft touch should be in no doubt, if you are here illegally, we will take action to stop you from working, renting a flat, opening a bank account or driving a car," Immigration Minister James Brokenshire said. "We will continue to crack down on abuse and build an immigration system that works in the best interests of the British people and those who play by the rules." The government said it would introduce legislation when parliament returns from its summer break in September that would bring in a new offence of illegal working, carrying a jail term of up to six months and an unlimited fine. Wages earned by illegal immigrants will also be able to seized, it said. Under the new measures, the government said it would also make it easier to prosecute employers who knowingly hire workers with no permission to work in Britain, and increase the maximum jail sentence to five years from two.
---
Migrants Defiant as Hungary Blocks Train Links for 2nd Day
Source: AP, Reuters, 2 September, 2015, posted by Arthur Foxake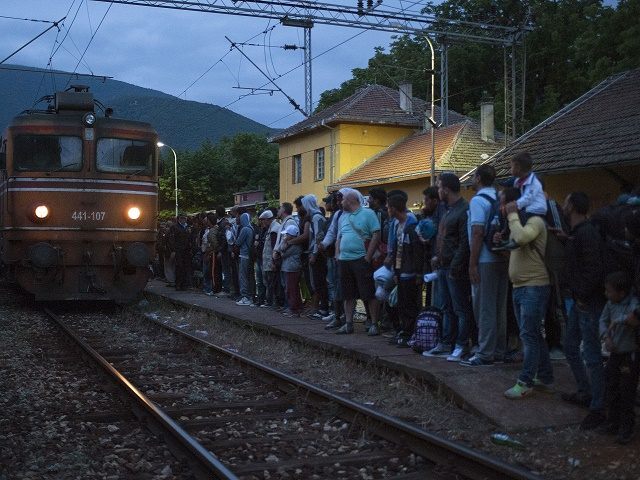 Hundreds of migrants gathered at the main railway station in Budapest chanted defiant slogans as the Hungarian authorities blocked entrances to boarding stages for a second day, preventing people who had entered hungary and the EU illegally from seeking asylum in Germany and other European Union countries to the west.
"What we want? Peace! What we need? Peace!" a few hundred migrants chanted outside Keleti station, as others promised violence and expressed their intention to 'kill the indidel.'
Budapests railway stastions have taken the spotlight of Calais and Kos as the new focal point for continent-wide unrest over the unrelenting tide of unskilled, uneducated, illiterate migrants from the Middle East, Asia and Africa looking for free housing and government handouts in the west.
Hungary's police told European news services they intend to reinforce police and border security positions outside the Keleti terminal as the volume of migrants arriving from the Mediterranean having travelled through and the Balkans continues to grow by the hour, with an estimated 3,000 troublemakers screaming about their 'human rights' already encamped near the station. (Here's a clue, wankers: you are in hungary illegally, you have no passports or visas, no means to pay for travel and no intention of paying for anything, YOU HAVE NO FUCKING RIGHTS).
Hungarian government representatives said officers working jointly with colleagues from Austria, Germany and Slovakia also were searching for migrants traveling illegally on other Hungarian trains and described the security push as compatible with the EU's policy of passport-free travel.
Efforts to control, curtail and protect migrants (from angry locals fed up of seeing their communities trashed by these savages) continued unabated elsewhere across Europe. French authorities said services on the cross-Channel Eurostar trains were returning to normal after serious overnight disruptions triggered by reports of migrants on the tracks, obstructing and trying to climb on top of trains. Monsieur Le Crapaud is a lying toad, the French are in fact eager to allow the Calais rabble through the tunnel and onto ferries because one in Britain they are no longer France's problem.
Passengers aboard one Paris-to-London train said their service was suspended because migrants trying to climb aboard the train damaged fire safety equipment. In tweets, passengers also described seeing migrants running along the roofs of another train near the migrant-besieged French port of Calais.
Hungary's prime minister, Viktor Orban, is scheduled to meet EU chiefs Thursday to discuss his country's handling of its unprecedented flow this year of more than 150,000 migrants, chiefly from Syria and other conflict zones. While Germany says it expects to receive 800,000 migrants this year, quadruple last year's figure, many EU members face criticism for failing to commit to housing more asylum seekers.
RELATED POSTS:
Back to Contents table

Human Rights Omnibus
Immigration Boat People
Immigration problem
Europe Immigration burden
Immigration marginalising the white working class
Europe does not offer immigrants a promised land
Latest Posts

Elsewhere: [Boggart Blog]...[Little Nicky Machiavelli]...[Scribd]...[Wikinut] ... [ Boggart Abroad] ... [ Grenteeth Bites ] ... Ian Thorpe at Flickr ] ... [ Tumblr ] ... [ Ian at Minds ] ... [ The Origninal Boggart Blog]
If you liked this, please give it a boost CREATIVE COMMONS: attrib, no comm, no dervs.
KEYWORDS: news, opinion, dailystirrer,