Organized Child Abuse and Politically Correct Blindness - Birmingham and Elsewhere
---
W. Midlands Police covered up child sex abuse report ahead of 2010 UK election
West Midlands police, Britain's second largest police force, blocked publication of a 2010 report detailing how criminal gangs consisting of mainly Muslim men from Pakistan were sexually grooming vulnerable young girls in Birmingham and other large towns in the midlands industrial area. The decision to cover up the scandal was made because of fears its findings would spark racial tensions and influence the outcome of Britain's 2010 general election.

West Midlands Police were informed in the report that 139 girls – some of whom were only 13 years of age – were at serious risk of exploitation from groups of men. However, the force failed to issue any precis or summary of the report or any statement appealing for information that might help in bringing the perpetrators to justice. (NB: It is an underlying principle of justice in any democratic state that the law must apply equally to all citizens, nobody is above the law, not even by virtue of their skin colour.)

This sobering revelation was first uncovered by the Birmingham Mail under Freedom of Information (FoI). The paper had submitted its request as part of a broader investigation into sexual exploitation of children.

A document dating back to March 2010, sent to the Birmingham Mail, suggests Asian gangs were targeting children's care home and schools in the West Midlands area. Titled 'Problem Profile, Operation Protection,' the files also indicate young Caucasian girls were coerced into recruiting their peers into the gang's web of exploitation.

Allegedly produced by senior intelligence officers, the report's findings caused concern ahead of May 2010's General Election. Fears it could drum up racial tensions and cause commotion ahead of polling day allegedly led to its suppression.

The documents, released under FoI, have been heavily redacted.

One passage reads: "In [redacted] a teacher at a [redacted] that a group of Asian males were approaching pupils at the school gate and grooming them. Strong anecdotal evidence shows this MO [modus operandi] is being used across the force.

"Operations in other forces have identified an MO where offenders use a young girl in a children's home to target and groom other residents on their behalf."

The file further suggests recruiting other youngsters was a means for victims to "escape the cycle of abuse" they were forced to deal with. It says this pattern had surfaced in other English regions. The internal report, seen by the Birmingham Mail, said police had identified as many as 139 victims. Some 78 percent were white,while over 50 percent were aged 13 to 15. Half of these victims, who hailed from Birmingham, Dudley and Walsall, lived with their parents. Meanwhile, 41 percent were in residential care.

At the time of the investigation, police located 75 grooming suspects, most of whom had a history of sexual offences. Thereport says most of these criminal suspects had an Islamic background and lived in Birmingham.

The report uncovered evidence of what it described as "a high level of organized criminality" in the West Midlands, with numerous offenders working in unison to target, groom and exploit victims. It said young girls were forced into prostitution by these sex abuse networks, and severe intimidation was used to keep them silent.

Main Source:
Birmingham Mail - Child Sexual Exploitation: We force West Midlands Police to release secret report
Also: Police withheld bombshell report
RELATED POSTS:
Back to Contents table

London gangs 'pressuring 9yo girls into group sex' – UK Home Office report
A new report from the UK Home Office, the government department that deals with law and order reveals that the street gang culture imported along with these illegal immigrants has led to girls as young as nine unlucky enough to live in areas 'controlled' by these gangs are being sexually exploited and forced to service multiple men, after being groomed to think such behaviour is 'normal'.
Rotherham Witness Says Police Covered Up Child Abuse By Muslim Men
A witness in the Rotherham sex-grooming trial told the court yesterday that she wanted to reveal details of her childhood abuse at the hands of organised Muslim gangs so that people working for the authorities could never again hide such crimes from the public.
Merkel's Beloved Muslim Migrants Trigger Rape Epidemic In Munich
A story picked up by Pam Geller (always a reliable fact checker although some dislike her sensationist style of reporting) of Muslim migrats raping German women while migrant women are being forced into prostitution is not playing well with the femiists and left wing extremists who want us to believe the lie that these barbarians actually enrich our culture.
Latest Posts
Elsewhere: [Boggart Blog]...[Little Nicky Machiavelli]...[Scribd]...[Wikinut] ... [ Boggart Abroad] ... [ Grenteeth Bites ] ... Ian Thorpe at Flickr ] ... [ Tumblr ] ... [ Ian at Minds ]
---
Five Asian Men Charged over Oxford Child Sex Exploitation
Another five men of Pakistani backgrounds, all living in Oxford have been charged with sexual offences by police investigating organised child sexual exploitation over a period of 16 years. Over 100 officers were involved in dawn raids in the city on Tuesday morning,with nine men of Asian origin being arrested on suspicion of offences including rape, sexual grooming and indecent assault following 60 complaints from schoolgirls.
The men who were charged have been named as:
Assad Hussain, 34, charged with six counts of indecent assault and six counts of rape.
Qasim Hussain, 29, charged with one count of rape.
Naim Khan, 36, charged with two counts of indecent assault, one count of rape, one count of supplying cocaine, one of supplying heroin, one of sexual touching and one of making an indecent film of a child.
Allah Ditta Yousaf, 45, charged with four counts of indecent assault.
Owais Khan, 31, charged with one count of indecent assault and five counts of rape.
All of the men apart from Assad Hussain are due to appear in Oxford Magistrates Court today.
Three other men who were arrested have been released on police bail until 8 July, while a fourth man is on bail until 15 July.
Detective Superintendent Joe Kidman confirmed after the operation, "This morning more than 100 officers executed search warrants at eight properties across Oxford at 6am as part of Operation Sabaton. A number of people have been arrested in connection with the offences, which relate to female victims in Oxford between 1999 and 2007." Hannah Farncombe, the officer responsible for safeguarding children at Oxfordshire County Council said: "In recent years we've trained more than 8,000 professionals across all agencies who have contact with children in Oxfordshire. They now know how to spot the signs of CSE and can report these to our multi-agency Kingfisher team."
RELATED POSTS:
Back to Contents table
Grooming and abuse scandal in Rotherham
Rochdale grooming scandal
Child abuse: Even the elite were at it
The truth about racism
Home Secretary says Britain Will Outlaw Hate And Extremism
Oxford Sex Abusers? Bronn In Game Of Thrones Summed Them Up
Labour's Multicultural, Utopian Paradise?
Latest Posts

Elsewhere: [Boggart Blog]...[Little Nicky Machiavelli]...[Scribd]...[Wikinut] ... [ Boggart Abroad] ... [ Grenteeth Bites ] ... Ian Thorpe at Flickr ] ... [ Tumblr ]
---
---
Adolescent Girl Raped By 60 Men In Asian Grooming Gang
A trial jury atThe Old Bailey, London, heard yesterday the harrowing ddetails of how two schoolgirls were groomed and raped by an paedophile gang based in Aylesbury, Bucks, while aged just 12 and 13. Eleven gang members, accused of carrying out the crimes between 2006 and 2012 face 49 criminal charges between them including statutory rape, child prostitution and creating child pornography,
The Daily Mirror reports
. The court heard how the two girls came from broken homes and were easily manipulated because the men gave them excitement, bought them gifts such as, jewellery, make up and DVDs, plied them with alcohol, and made them feel adult. Girl 'A' said in a police statement: "You get passed round. It wasn't particularly me looking for them. It was them looking for me. It's just that they pass your number around. Or you're with one of them and they invited three or four of their friends round and then you have to sleep with them. "Because you're in their place and they're making your life a bit more exciting, you do what they want. I just knew Asian men wanted to sleep with me. I didn't think they found me attractive. I was happy that I was wanted. I felt popular. Like they wanted me and I got a load of attention, that was it.' Girl 'B' said: "From aged 13 to 15 I was reckless. I was very vulnerable. I was easily led. I was out seeing men, getting drunk, running away, getting arrested. I wanted attention and I was looking in the wrong place". The girls were encouraged to think of the gang members as boyfriends, but the fact that the men passing the girls around their extended friendship circles and pimped them to outsiders suggests the men though of the girls as whores. Girl 'A', who was approached while out in town with friends aged 12 then went on to be raped by 60 men, "almost all Asian", over the course of just two years. Her situation only became apparent to authorities after she had given birth twice – but she was being raped by different men so frequently she does not know who the fathers are. Prosecuting, Oliver Saxby QC said: "This case concerns child sexual exploitation on a massive scale. It features two young girls who were… sexually abused from the age of 12 or 13. Both girls were from unstable backgrounds, making perfect targets.
RELATED POSTS:
Back to Contents table

Child Protection Chief Who Failed To Act Against Pakistani Rape Gangs Rehired on £1k a Day
A senior child protection officer, who quit her post with a six-figure payoff, after being censured for failing to speak out about widespread sexual abuse by Pakistani gangs involved in grooming and sexual abuse of vulnersble under age girls has immediately been re-engaged as a consultant and is being paid almost £1,000 a day.
Child abuse scandal in Rotherham
Rochdale child abuse cases
Even the elite are into abusing children
Politically correct index
We can't prove sex with children does them harm' says Labour-linked NCCL
Oxford Sex Abusers? Bronn In Game Of Thrones Summed Them Up
Latest Posts
Elsewhere: [Boggart Blog]...[Little Nicky Machiavelli]...[Scribd]...[Wikinut] ... [ Boggart Abroad] ... [ Grenteeth Bites ] ... Ian Thorpe at Flickr ] ... [ Tumblr ]
---
Sex abuse gangs in Black Country: 'Significant similarities' to Rotherham scandal, say police
Children in the Black Country are being sexually exploited, with gangs similar to those in Rotherham operating in the West Midlands, says a police report. The heavily-redacted findings reveal there are 'significant similarities' between child sex abuse here and the scandal in Yorkshire.
The findings of a West Midlands Police report entitled Child Sexual Exploitation, which was produced in October last year but has only now been made public have been leaked to The Wolverhampton Express and Star.
It is marked as 'restricted' and large sections of information have been blacked out which suggests another similarity with cases in Rotherham, Rochdale, Oxford, Reading and Bradford, a massive cover up by the authorities desperate to avoid taking responsibility for their criminal negligence in failing to act on evidence built up over many years.
In Wolverhampton, the city council's processes are criticised and the report states: "Inference: There are significant numbers of child sex exploitation victims that are not identified by the Wolverhampton local authority." A map showing two 'clusters' where there have been 'high concentrations' of 'referrals' in the city is among the items to have been covered up. Certain postcodes and a list of areas in Wolverhampton have also been redacted.
None of the councils in Wolverhampton, Walsall, Sandwell and Dudley have escaped criticism in the report, which was compiled in October last year but has only now been made available to the public.
Other hotspots in the region are Lye, Brierley Hill, Tipton, Smethwick and Rowley Regis in Sandwell, Willenhall and Walsall town centre. But council bosses don't know how many children are being abused and some of the information needed to identify abuse is 'non-existent'.
Peterborough Child Sex Trafficking Ring Members Sentenced
The Daily Stirrer team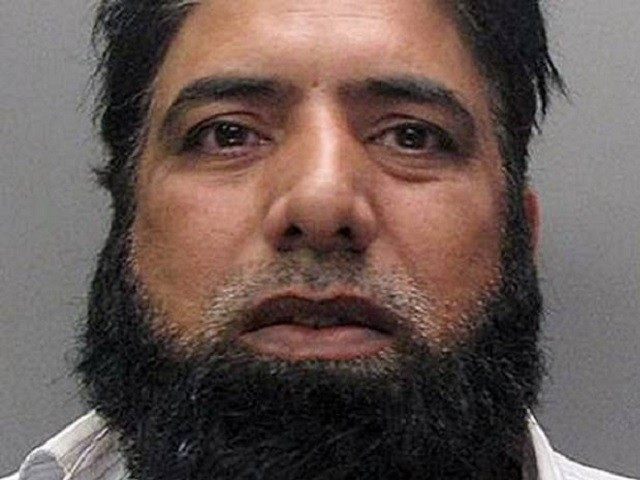 Mohammed Khuabib - does he look a suitable boyfriends for a 14 year old.
A court in Cambridgeshire has started to announce sentences for the predominantly Pakistani and Slovakian members of a gang which groomed, raped, and trafficked a number of girls as young as 12 who were being looked after in local council run care homes in Peterborough.
Eleven members of the gang, which operated from a fast food shop, have so far been found guilty of the crimed which included the abuse of 30 women, 15 of whom were below the age of 16. Nine men have so far been given prison sentences. The last trial to be completed was of 43-year-old Pakistani, Mohammed Khubaib, who was described in court transcripts as having "a persistent and almost predatory interest in young teenage girls".
Khubaib was arrested after having been observed on three separate occasions in one week with young, drunken girls in Peterborough. When police raided an address in the city to arrest Khubaib last year, they found him with two 14-year-old girls he had plied with gifts and alcohol. A witness said he had given the girls vodka, and was showing them videos on a laptop which had "porn-style scenes".
Details of the gang's depraved activities have been slowly emerging over the course of the cases against the men. There are disturbing similarities with abuse cases involving foreign men and girls from care homes in Rotherham, Rochdale, Birmingham, Oxford, Bradford and many other towns and cities around the country.
The Peterborough gang seems to have been involved in levels of extreme abuse on a part with the worst instances elsewhere. On one occasion a child with learning difficulties was taken to a children's play ground, tied to a play-house and then gang-raped by several men in turn. One 12-year-old girl would be taken away from home for days at a time to visit several homes in the Peterborough area for sex.
Of the nine men already sentenced, four were Pakistani, three were Slovaks, one was an Iraqi, and another remains unidentified because of his age. They have been sentenced to a total of 101 years and nine months between them. One of the men, 23-year-old Muhammed Waqas, will be deported once he has served his jail sentence.
Sentencing for the remaining perpetrators, which includes Khubaib, will be complete by mid-May.
RELATED POSTS:
Back to Contents table
Latest Posts

Tony Blair under pressure to come clean over Labour minister child sex abuse cover-up
Pressure mounted on Tony Blair tonight to answer questions over the Mirror's revelations that a child sex abuse probe was axed after a minister in his government was named as a suspect. MPs joined forces with a victim of abuse to call on the former Prime Minister to reveal if he knew about the alleged cover up or of any allegations against the politician.
The Public Interest to Protect Powerful Paedophiles
The Director of Public Prosecutions has decided that it would not be in the public interest to prosecute serial paedophile Greville Janner, for many years the leader of the Zionist lobby in the UK. I presume that his convenient senility is the reason for non-prosecution ...
Elsewhere: [Boggart Blog]...[Little Nicky Machiavelli]...[Scribd]...[Wikinut] ... [ Boggart Abroad] ... [ Grenteeth Bites ] ... Ian Thorpe at Flickr ]
---
Chicago's Untold Story of Widespread Child Abuse in State Facilities
http://www.activistpost.com/2015/03/chicagos-untold-story-of-widespread.html 'Illinois seems to be a hotbed for a lack of accountability and transparency on the part of government agencies. Most recently we have learned that police in Chicago were using a domestic "black site" in the Homan Square area to illegally detain, question, and torture Americans suspected of crimes. However, before that story broke, Illinois was already in the midst of another controversy. One that has received very little attention outside of local and state media. State treatment and residential centers for youth in Illinois are rampant with abuse – physical, mental, and sexual. The Chicago Tribune has done a great job exposing the story though their "Harsh Treatment" investigation. The investigation found that hundreds of youth are assaulted and raped by fellow youth at Illinois residential centers. When these rapes and assaults are reported the authorities rarely ever act. In many cases veteran residents introduce new residents into the world of prostitution. Thousands of residents of state homes and centers have ran away and according to the Chicago Tribune, dozens have never been found.' Another issue the Tribune found was that children of special needs are not being placed in treatment centers that target the appropriate care. This means most children are placed in the same facilities regardless of specific needs. The Tribune's investigation lead to special legislative session in Chicago, where 22 lawmakers were informed on the failures of the Illinois Department of Children and Family Services and associated residential centers for troubled youth and state wards. At that session, state child welfare chief Bobbie Gregg called the reports "both appalling and unacceptable," before announcing she would resign from the agency on January 19. Gregg was the seventh director in just three years. She has since been replaced by George Sheldon, former head of Florida's Department of Children and Families.
---
Authorities Have Been Blind to Sex Abuse, There Are More Grooming And Abuses Cases To Be Exposed
OFSTED, the quango responsible for overseeing England's schools and child services and ensuring standards are maintained on behalf of the government has for years been soobsessed with form filling, box ticking and making sure targets were schieved so that the government statistics would look good, it became blind to the enormous scale of systemastic grooming and abuse of young girls living in council care homes by gangs of adult males from migrant communities.
Because local child services departments succeeded in ticking all the boxes and achieving meaningless and arbitrary targets, while hundreds of girls were being groomed and raped by Pakistani gangs living in towns such as Rotherham, Rochdale, Sheffiel, Nottingham and elsewhere (see the other posts in this page), the bureaucrats were happy to praise the good work of local education and social services departments for their good work.
A committee of members of parliament investigating the abuse have now warned that if Ofsted were unable to detect the systematic rape of children where it was so blatant in Rotherham, they will have almost certainly missed it elsewhere.The phrase 'Unable to detect' is a masterpiece of understatement, pressure from politically correct activist groups and senior politicians afraid of being called racist easily persuaded the spineless pen pushers of OFSTED to simply close their eyes and ears to the glaring, blaring evidence that was staring them in the effing face and blasting into their ears.
A report published by the committee highlights the comments of Ofsted in the same year the first of the grooming gangs were sentenced to prison, when the Quango praised Rotherham child services for "effective and creative work". The report asks why: "We are left with two still partially unanswered questions: first, given the inability of Ofsted to recognise organised child sexual exploitation until 2012-13, is it possible there are more Rotherhams waiting to be found?".
Consequently, all local children's services in the country are now being reviewed, however the committee questioned whether that would be enough, given Ofsted's failures in the past, remarking "Ofsted's credibility is now on the line". The chair of the committee, Labour member of parliament Clive Betts has suggested the 'hands off' approach of the government to Ofsted meant the body was left to "mark its own exams", potentially leading to complacency.
Once again the the report (phrase quoted above) we see typical bureucratic understatement, OFSTED cridibility is not 'on the line,' the sumgness and dismissive attitude of these tax eaters has flushed any credibility they may once have had right down the toilet.
The Daily Telegraph reports the blithe response of Ofsted to the criticisms: "We welcome the report and the committee's recognition that the changes we have made since 2012 strengthen our ability to uncover where children are at risk.
"We know we didn't get it right historically in Rotherham and have apologised for those mistakes." No mention of Rochdale, Reading, Bradford, Oxford, Nottingham, Birmingham and Sheffield then, or any of the numerous other towns where investigations are still in progress? But when members of the political and public sector elite are at it themselves what else can we expect?
This is not the first heavy criticism taken on by Ofsted as of late, as it has been repeatedly attacked for perceived bungling in its handling of the so-called 'Trojan Horse' schools scandal. Given new powers to tackle covert Islamic radicalisation in state schools, OFSTEAD, its management structure dominated by the politically correct left, instead used them to undermine Christian faith schools. Breitbart London last week reported on the comments of Conservative MP Sir Edward Leigh, who said the body should be put into "special measures".
Addressing parliament, Sir Edward singled out for criticism the tick-box culture at Ofsted and recent examples of highly rated schools being threatened with closure because they failed to meet new guidelines on multiculturalism and diversity, saying: "They appear to be guilty of trying to enforce a kind of state-imposed orthodoxy on certain moral and religious questions.
"You have to wonder how far Christian schools have to go to satisfy the new standards. In September Bolton Parish Church C of E Primary School was told that, although "events such as Eid and Diwali are celebrated" pupils' understanding of life in modern Britain is underdeveloped".
"How many non-Christian festivals does a Christian school have to celebrate before Ofsted will be happy?"
His comments will resonate with many parents unhappy at the bias towards Islam that has inflitrated state education, and the emphasis placed on the role of ethnic and sexual minorities in society.
RELATED POSTS:
Back to Contents table

Rotherham Child Sex Abuse Probe Puts 42 Police Officers Under Invesitigation
allegations against police officers include neglect of duty by failing to adequately investigate on the basis of evidence or to deal with incidents appropriately, inappropriate comments and evidence of corrupt relationships between police officers and offenders.
Latest Posts
Elsewhere: [Boggart Blog]...[Little Nicky Machiavelli]...[Scribd]...[Wikinut] ... [Boggart Abroad
---
---
---


KEYWORDS: news, opinion, dailystirrer,

If you liked this, please give it a boost
Close Window and return to previous URL