The Daily Stirrer is constantly looking at the news and trying to dig out the stiory behind the story. With latest news that does not make mainstream media and controversial reporting and opinion, we are loking forward to bringing you inside information on the disintegration of the European Union, the replacement of the Petrodollar as global reserve currency, the continuing decay of the USA (unless Trump can neutralise the authoritarian warmongers of the deep state, and we don't think he can) and the ongoing problems caused by the flood of illegal immigrants from the third world to Europe and North America. We certainly do live in Interesting Times.
Daily Stirrer, June 2019
Editor's note: The Daily Stirrer believs in the universal right of free speech, this does not mean we necessarily agree with the views expressed by our contributors.
The Daily Stirrer is having a few staff problems at the moment, our editor / webmaster Ian is spending a lot of time supporting his wife who is in hospital recovering from a serious illness, science - technology expert Xavier is having health problems himself, not serious but energy sapping, and Phil T Looker who handles finance and economics is not a techie. So posting is a bit patchy. Bear with us, it will come together again. For now we will ensure activity by posting links to other sources running stories readers might enjoy.
29 June 2019
Italy Arrests Captain Of Migrant NGO Ship After Illegal Docking
Italian leader Matteo Salvini continued to se the standard for leadersd of Eurosceptic EU member states when he ordered the arrest of the captain, crew members and passengers of a ship that crashed the Italian border control agency blockade to land its cargo of illegal immigrants on the Iitalian island of Lampeduesa. The captain of the migrant transport ship Sea Watch 3 had docked at Europe's most southern port on the Italian island was arrested on Saturday following a protracted standoff, according to the
New York Times
.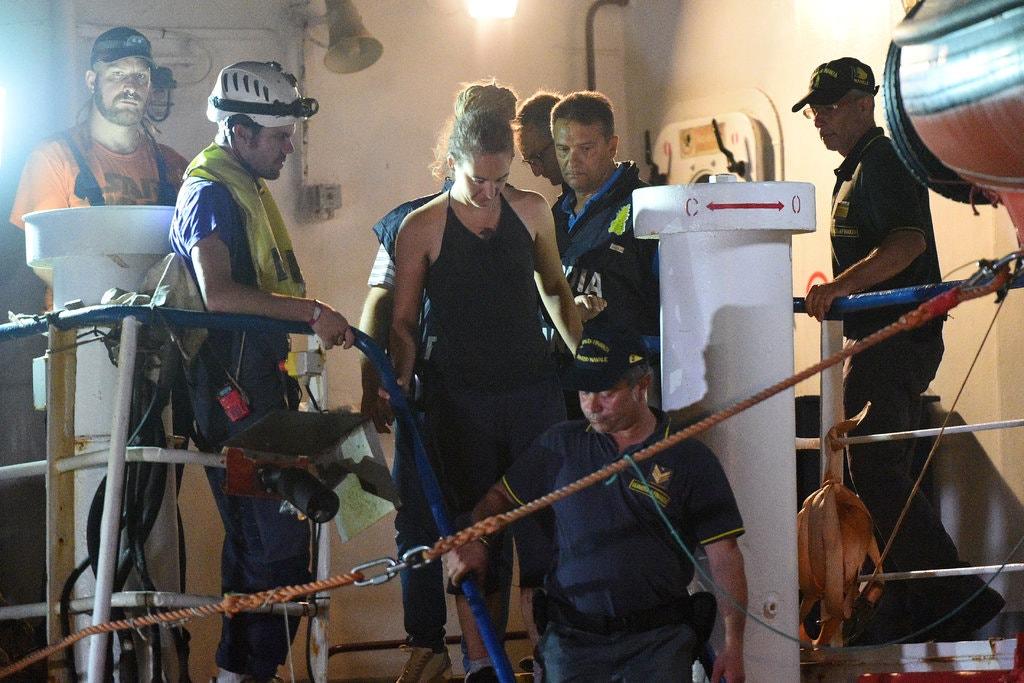 The 40 migrants onboard disembarked after 16 days on the Sea Watch 3, operated by German NGO Sea-Watch and operating under the Dutch flag and were taken to a detention centre for illegal entrants to Italy.
Captain Carola Rackete, 31, docked just before 2 a.m. after ramming an Italian government border-control vessel which was trying to stop them entering the port. Rackete was arrested on charges of "resisting a war ship," which carries a penalty of up to 10 years in prison.
A spokeswoman for the Sea Watch charity Giorgia Linardi said that the situation was still "unfolding," and that the charges had yet to be formalized. She added that the migrants had been taken to a migration center on the island. The so - called charity is a politucally motivated organisation whic specialises in helping illegal immigrants from third world nations entrer the European Union.
The Sea Watch, which rescued 53 people off the coast of Libya on June 12, had navigated toward Italy after rejecting an offer to dock in Tripoli, Libya, which humanitarian groups do not deem safe. Thirteen migrants had been allowed to disembark in Italy for medical reasons after the rescue. -New York Times
Italy's Interior Minister, Matteo Salvini, closed the country's ports to rescue ships last year and has demanded that other European nations (in this case The Netherlands, where the ship is registered, take in the undocumented migrants. On Friday, five countries offered to take them. Salvini, who has referred to the GNO vessel as a "pirate ship," told RAI state radio that he had "ordered the arrest of an outlaw" who had recklessly endangered the lives of Italian border patrol officers. He also ordered authorities to sequester the ship "which goes around the Mediterranean breaking laws."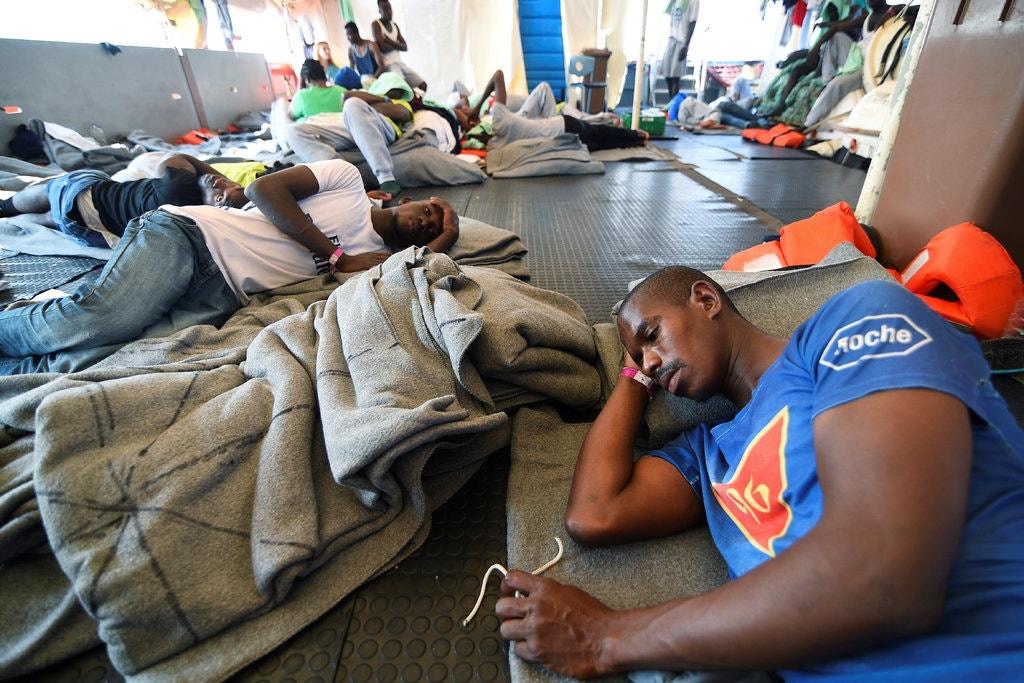 On Saturday morning, Salvini posted a video of the ship's arrival at Lampedusa on Twitter, writing "
Outlaw commander arrested. Pirate ship confiscated. Maxi-fine to a foreign NGO.
Migrants distributed to other European countries. MISSION ACCOMPLISHED."
No wonder the man is so hugely popular with Italian voters.
RELATED:
As Italy's poor struggle to come to terms with a lack of job prospects and the challenges of a globalized world, some are blaming asylum-seekers.
The EU can go and F*** itself!' Italian Politician's Outburst Rallies Support In Italy
Italian Town 'Taken Over' By Nigerian Migrant Gangs

---
28June 2019
Macron Threatens G20 On Climate Then Backs Off
France's boy president and current climate scaremonger in chief and leading European federalist Emmanuel Macron arrived in Japan for the G-20 summit full of sound and fury, which like the stuff of Macbeth's soliloquy in Shakespeare's play turned out to signify nothing. Having started with a threat that France would refuse to sign the concluding statement unless it included a renewed committment to actions agreed in The Paris Accord of 2015 according to
Bloomberg
.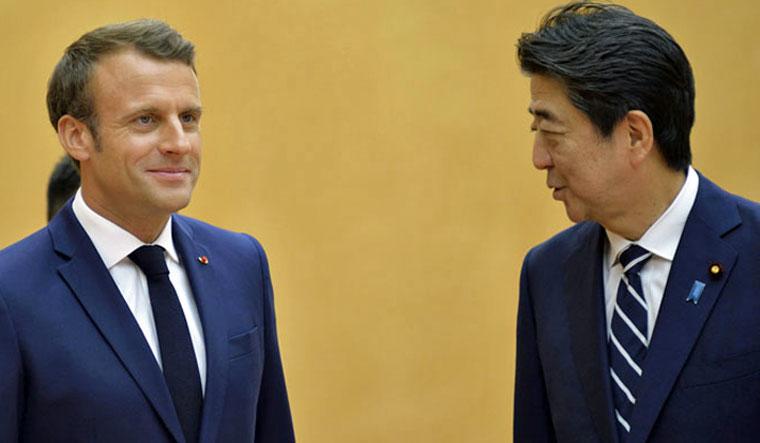 French boy president Emmanuel Macron and Prime minister Abe of Japan: (picture: Reuters)
"
If we are not able to get around a table and defend the climate, then France won't go along with it
," he said. "It's that simple." Then, probably because is aides were reminding him in stage whispers that The Paris Accord did not committ some of the world's biggest carbon dioxide emitters, including China, India, Indonesia, Pakistan, Mexico and Turkey to do anything on the grounds that they are 'developing nations, the boy president began to backpedal. One of his entourage suggested that it was impossible to discuss hypotheticals, and another said that the threat wasn't a threat - rather, Macron was simply indicating France's priorities.
European Council President Donald Tusk took issuer with Macron's comments
, saying during the Thursday press session that G20 leaders should instead help Japanese Prime Minister Shinzo Abe draft a positive final declaration
rather than threatening to boycott it
. Hours later,
Macron rewound his position
during a press conference with Abe, saying that he had only meant if France's climate initiatives weren't adopted, "We'll have met for nothing." By Friday, Macron had backpedalled even more, saying only that climate would be a major issue at the G-20, a statement which did not contain a threat of any kind. As
Bloomberg
notes, "Climate and bio-diversity have always been major issues for Macron -- partly because the landmark 2015 Paris Accord was signed in the French capital while the former Goldman Sachs investment banker was a minister in Francopis Hollande's socialist government, and we should not forget the even more politically significant fact that the French Green Party made major advances in May's European parliamentary elections,, to become serious contenders alongside marine Le Pen's EurosceptIc Rassemblement National to challenge Macron's globalist, Europhile, neoliberal party. Macron has calculated that voters favoring tougher action on the environment could be an important source of support as he fights to stave off Le Pen's challenge.
RELATED POSTS:
Climate chance catalogue
Climate Lies omnibus
Macron reduces France to chaos
France catalogue
The Truth About Climate Change Is Not On The Cover Of The Rolling Stone
Silicon Valley A Bigger Threat To Civilisation Than Climate Change?
France to 'ban all petrol and diesel vehicles by 2040'
French Journalists Reject Government Narrative, Show Support For Yellow Vests Yellow Vests
---
27 June 2019
Europe Prepares To Join The Currency War
Things seemed to be going to plan for the European Unon's single currecncy, The Euro, which was the biggest single step in the plan to merge the twenty eight member states into a single political entity. Ties to the German economic powerhouse the poorer nations of southern Europe could not manage their finances efficiently and soon became dependent on bailouts from the European Central Bank with were made with attached conditions suggested by Germany. It seemed that as long as the German economy prospered the 'European project,' (referred to, a tad unkindly perhaps, by this news site among others as Greater Germany,) would stay on track.
German government spending was actually falling while the trade surplus inceased. Industries that had been nationalized in the socialist 70s were being privatized. The European Central Bank – run by sound money advocate Jean-Claude Trichet – was smarter and more cautious than the reckless money printers of the US Federal Exchange and The Bank of England. The single currency, The Euro, looked for a time as if it was poised to challenge the US dollar as the main global reserve currency as the world mistook stagnation for stability.
Then – with glacial speed and agility at first and now looking more like an avalanche ortsunami every day, both the German economy and European Union fiscal prudence have gone pear shaped.
Mario Draghi, an Italian economist (hardly a recommendation for a banker,) succeeded Trichet as head of the ECB and promised to do "whatever it takes" to generate at least 2% inflation. Then he proceeded to deliver on that promise by buying massive amounts of debt from insolvent EU nations and introducing negative interest rates (i.e. we the punters pay the banks for the privilege of watching them burn our money.)
But the disease was not just financial, inequality – which, we're now coming to realize – fed by low interest rates and easy money, rose to near-US proportions with the citizens of Greece, Portugal, Ireland and east European nations reduced to penury by the austerities imposed as a condition of ECB loans. Immigration was mishandled to the point that it became the main political issue in many nations and triggered a wave of anti - EU feeling among Europe's working class communities. And populist parties opposed to the existing system started to attract enough votes to gain places in national assemblies and challenge theo cosy, neo - liberal consensus politics of the mainstream parties.
The ruling elites, shocked and frightened by the unwashed masses' sudden refusal to believe the propaganda and do as they were told, could only respond with massive increases in social spending in an attempt to buy complicity in the destruction of European civilisation, their promises of even easier credit (Draghi actually claimed that there was "plenty of headroom" to cut rates from the current -0.4%) and do whatever it took to preserve the status quo.
Usually austere Germany's government spending began to skyrocket, jumping from €300 billion to €400 billion in the two years from 2016 and 2018. And now that the Eurosceptic AfD have easten into the Christian Democrats vote now and the far left, spendthrift Greens are contenders for the position of biggest party, things don't look like returning to sanity any time soon.
From today's
Wall Street Journal:
To win voters lost to an anti-globalization backlash, Europe's mainstream parties are going back to the 1970s.
In Germany, the U.K, Denmark, France and Spain, these parties are aiming to reverse decades of pro-market policy and promising greater state control of business and the economy, more welfare benefits, bigger pensions and higher taxes for corporations and the wealthy. Some have discussed nationalizations and expropriations.
It could add up to the biggest shift in economic policy on the continent in decades.
In Germany, Europe's biggest economy, the government has increased social spending in a bid to stop the exodus of voters to antiestablishment, populist and special-interest parties. Reacting to pressure on both ends of the political spectrum, it passed the largest-ever budget last year.
"The zeitgeist of globalization and liberalization is over," said Ralf Stegner, vice chairman of the 130-year-old Social Democratic Party, the junior partner in Chancellor Angela Merkel's government coalition. "The state needs to become much more involved in key areas such as work, pensions and health care."
The policies mark the end of an era in Europe that started four decades ago, with the ascent of former British Prime Minister Margaret Thatcher and her U.S. ally, President Ronald Reagan.
After Thatcher abolished capital controls in 1979 and began selling off state companies in the 1980s, other European governments followed suit, embracing supply-side policies, deregulation, market liberalization and tax cuts. Revenues from privatization among European Union member states rose from $13 billion in 1990 to $87 billion in 2005, according to Privatization Barometer, a database run by consultancy KPMG Advisory S.p.A.
Today, concerns about growing inequality, stagnating wages, immigration, the debt crisis and China's rising power have fueled the recent political shift. European businesses and governments also worry about potential changes in U.S. policy, amid looming threats of trade sanctions.
This erosion of the old technocratic consensus about how to run an economy, even in countries where populists aren't getting any closer to power, could be one the most lasting consequences of the recent antiestablishment surge.
Even in countries where populist parties are already in government, such as Poland, those parties have shifted their focus from nationalist and anti-immigration rhetoric to championing generous welfare policies and state aid.
This reversion to the failed socialist ideas of centralisation and greater government control, coup-led with cultural Marxist attacks on the fabric of societies is spreading throughout Europe and North America as government debt grows and economic growth growth slows. This is how temporary recessions are turned into long term depresions. Borrow too much and the system starts to fail, leading to calls for a return to the good old days of rising benefits and increased government spending paid for with borrowed money.
This time around the only difference is that as the USA and Europe find their currencies undermined by growing debt and rising government expenditure (with social welfare budgets going through the roof,) China, Russia and their allies are waging a currency war on the west aimed at replacing the $US as global reserve currency, as we have reported extensively. China has alreasdy launched the Petroyuan, a non - dollar vehicle for oil trades, and Russia has opened up its own cross border electronic transfer system to rival SWIFT.
The next stage, already visible in Europe, is rising inflation and a currency crisis that wipes out the savings of the people the inflationary policies were supposed to help. The currency war between the US and China will soon be joined by Europe, already talking of its own EFT system and oil currency. The ECB and national central banks will try to undermine the value of the $ on currency exchanges in an effort to prop up the value of the Euro, leaving investors with nowhere to hide but gold. Have you noticed how the price of gold has risen on commodity markets between the beginning of 2019 and now?
RELATED:
war can end global US dollar dominance
Petro-yuan: China To Launch Renminbi As Reserve Currency & Take Down Petro-dollar
Why It Really All Comes Down To The Death Of The Petrodollar
Globalisation, The Davosocracy and the Pushbac
Money from fresh air
---
'Liberal ideal' failed the West, elites forgot about people: Putin in interview
Globalization and the 'liberal idea' have failed Europe and the US, while post-Cold War chaos is driving crises in Venezuela and North Korea, but was stopped in Syria, Russian President Vladimir Putin said in an interview to FT.
In a lengthy interview with the UK-based Financial Times on Wednesday, Putin candidly addressed questions about the Russian intervention in Syria – and lack thereof in Venezuela – as well as nuclear proliferation, North Korea, immigration policies in the US and Europe, Russian economy, relations with the UK, and the failure of what he called the "liberal idea" to provide for the people's well-being.
While the Cold War was bad, Putin told FT's Lionel Barber and Henry Foy, "there were at least some rules that all participants in international communication more or less adhered to or tried to follow. Now, it seems that there are no rules at all."
Moscow's decision to intervene in Syria, in the fall of 2015, was undertaken after a careful analysis of risks and potential rewards, because Russia could not stand by while an international terrorist organization (Islamic State, also known as ISIS) grew in its vicinity.
USA Russia war?
22 June 2019
---
21 June 2019
And They Call Brexit A Farce? EU Chaos As Leaders Fail To Agree Choices For Top Jobs ...
The Council of Europe - posing for pictures was about the only thing they could agree to do yesterday. (Picture via Politicalite)
The Council Of Europe, which consists of the political leaders of all EU member states (including the UK as Britain is still a member,) gathered for a summit meeting on Thursday to decide which candidates should be appointed to fill several top jobs when European Commission president Jean - Claude Juncker and several other senior figures step down at the end of their terms of office. They were locked in debate for the whole day and late into the night but were unable to reach agreement on who will fill even one of the positions within the EU.
The current President of the EU Council and one of the people who will retire later this year, Donald Tusk, a former Prime Minister of Poland, said he will organise another summit on the 30th of June to readdress the matter. Tusk, who has been touted as a possible presidential candidate in Poland for the centre-right and pro-EU Civic Platform, is one of the politicians still pushing for political integration of member states, a position which has been shown by the rise of nationalism both in his own country and throughout the EU to be as popular as a plague of boils with EU citizens .
Choosing a replacement for Commission President Juncker was always going to be difficult as the position has previously gone to the candidate favoured by the German government but growing resentment among other member states of the way Germany has manipulated EU policy to its own benefit, added to the huge influx of Eurosceptic European Parliament members following the success of both left and right leaning nationalist movements in the EU election last month. All previous elections have led to the centre - right Christian Democrats of the European People's Party (EPP) and the centre - left Socialists and Democrats (S&D) groups dominating the assembly. This grand coalition of establishment parties previously divided the leadership positions based on how the two groups performed in the EU elections.
In this year's elections voters were more polarised in their voting intentions, with a big surge in support for the Greens, the far left, and for nationalist parties. For many reasons, including the immigration crisis, economic stagnation, an EU expansionist agenda and the increasing awareness that the EU elite is completely out of touch with the problems that beset ordinary people in EU member states, the mood has swung against the consensus politics of the traditional parties. And then there are the minor local difficulties of Brexit and Italy's launch of a parallel currency which must lead to it leaving the Eurozone. All of this severely weakens the long standing hegemony of the leading German and French parties, all of which have adhered to the neo - liberal consensus.
The failure of the EPP and the S&D to win enough seats for a combined majority in the European Parliament has forced them to look for deals with other groups, most of which seek to overturn the status quo. President Emmanuel Macron, and the new Renew Europe group of centre to centre-right liberal parties that he leads are determined to alter the balance of power in their favour.
Manfred Weber, Chancellor Merkel's Christian Democratic Union (CDU) nominee is the EPP group choice to be the Commission President. Macron and his allies have refused to support Weber, and have called on Merkel to anoint another figure. Macron has suggested Brexit negotiator Michel Barnier or Competition Commissioner Margrethe Vestager as alternative option, but reports suggest neither name figured in the actual discussions yesterday.
The inability to agree on who will assume the presidency of the Commission will in turn, result in delays to the appointment of the new head of the European Central Bank (ECB). The first act of the European Parliament on returning from its summer recess will be to elect its president from candidates suggested by the European Council, but as the current council, which has not progressed as far as considering that question yet, is unlikely to be able to agree on the candidates that position too is in limbo. Furthermore new European Commission President must be chosen prior to the first sitting of the ninth European Parliament, which takes place on the 1st of July.
Taking all of this into account puts into perspective the words spoken by Jean - Claude Juncker a few weeks ago: "Democracy is a fundamental problem." For a group of elitists trying to merge 500 million people spread across twenty - seven different nations with widely differing cultural and economic needs into a single political entity, one can see that it is.
It was an understanding of the problems inherent in that which prompted many of us in Britain to vote to leave the EU.
RELATED POSTS:
Dark origins of The European Project
Europe: the democray deficit
Europe Unglues
France: Macron leads nation into chaos
Brexit: Deal or No Deal
20 June 2019
Will Italy's Mini - Bot Break The Eurozone?
Phil T. Looker, 20 June 2019 (long read)
Most people in Britain are sick to the back teeth of Brexit and if you ask anyone in most other European Union member states what is the biggest crisis the EU is likely to face this year they will almost certainly say the crippling effect of Britain leaving the EU without a trade deal. That's because they get their information via the carefully sculpted narratives presented in mainstream media.
But Britain is not the only EU member state to have had major misgivings for many years about the way the EU is run, the increasingly authoritarian attitude of the EU bureaucracy towards the democratically elected governments of its members or the direction in which the EU is taking, towards the welding of 27 sovereign states into a single politically entity, Federal Europe (or Greater Germany as many cynics like to call it,)
In spite of the news media's selective reporting however, another crisis is developing that could destroy the single currency and break up the 'Eurozone', the member states that adopted the Euro. Unsurprisingly it has not been reported in mainstream media, and so is not on the radar for most people. At the centre of this budding crisis is not the UK and Brexit, but Italy and its plan for a parallel currency.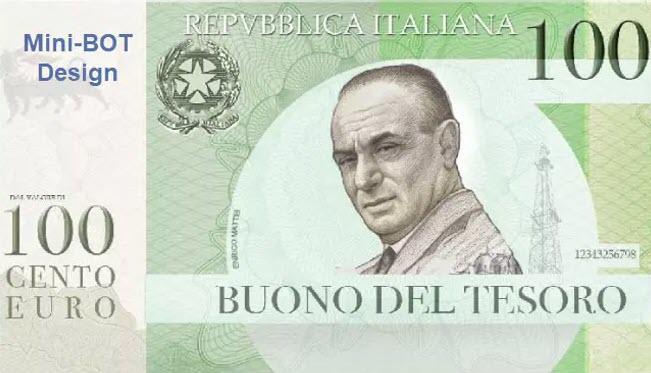 Both party leaders in Italy's ruling coalition, Matteo Salvini (League) and Luigi Di Maio (Five Star Movement) support the idea of a parallel currency as both parties, League from right of centre and Five Star to the left, have blamed most of Italy's recent economic problms on the country's being forced into the single currency when in reality its economy failed to meet the standards set by the EU for joining a system which effectively tied the weak economies of southern Europe including Italy, Spain, Portugal and Greece and the economies of smaller EU nations to the powerful, manufacturing based economy of Germany.
Needless to say those weak economies have accumulated insupportable debt burdens because as long as they are in the common currency system they cannot devalue their currency or set their own interest rates to reduce the burden of servicing their debt, while solvent but small economies such as those of Belgium and Denmark have struggled because Eurozone membership deprives national governments of financial flexibiltiy.
Italy, with the world's eighth or ninth largest economy last time I looked, cannot be pushed around as small counties like Greece and Ireland have been pushed around by the EU. The technocrat prime minister, Giuseppe Conte, appointed by the EU after Brussels showed its contempt for democracy by refusing to accept the elected leader of a Eurosceptic party as political leader of a member state, is not calling the shots and threatened to resign over this issue unless Salvini and Di Maio cave in to Brussels diktat. And neither is in the mood to back down and appease the bureaucrats on this issue.
European Central Bank president and Federalist fanatic, Mario Draghi, proclaimed "Mini-BOTs are either money and then they are illegal, or they are debt and then the stock of debt goes up. I don't think there is a third possibility."
Possibility Three
A week ago, I noted possibility number three in
Italy's Mini-BOT Trojan Horse Could Blow Up the Eurozone
.
Possibility three is a Trojan horse designed as a stepping stone to get Italy out of the Eurozone. The Daily Telegraph reported recently that Italian Tensions Hit Boiling Point Over Plans for 'Currency' to Rival the Euro.
The two parties that make up the fractious governing alliance – the hard-Right League and the Five Star Movement – want to introduce a new type of government bond that would be used to pay off the state's debts to companies and individuals.

Both the League and Five Star are deeply eurosceptic and have in the past mooted the idea of abandoning the common currency, with Matteo Salvini, the League's combative leader, last year calling the euro "a mistaken experiment that has damaged jobs and the Italian economy".

The idea of introducing mini-BOTs has alarmed Europe, with Mario Draghi, the head of the European Central Bank, saying on Thursday that they would either amount to a parallel currency, in which case they would be illegal, or they would simply add to Italy's towering debt.

He received support a day later from Vincenzo Boccia, the president of Confindustria, Italy's employers' federation, who said: "We are on the same wavelength as Draghi about the mini-bots because it would just mean more public debt."

"There's a complicated game going on between the League, Five Star, the Quirinale (the residence of the president of Italy, Sergio Mattarella), ministers and the prime minister," said Prof Giovanni Orsina, a professor of politics at Luiss University in Rome.
A showdown between Rome and Brussels over who rules Italy looks certain, chiefly because, safe in the knowledge that the Italian people are behind them, Salvini and Di Maio are looking for confrontation.
Brussels (by which we mean the EU commission, the unelected bureaucrats who effectively govern the EU,) are determined Italy's mini - bots scheme must be stopped at all costs. Meanwhile the government in Italy wants to do it in order to prop up its perpetually wobbling economy and ease the yoke og German fiscal austerity membership of the Single Currency places on it, and therefore, one way or another, the Italian coalition will do it, but Rome would prefer the EU trigger the event and it looks as if the government in the eternal City might have manoeuvred Brussels into granting their wish.
The Italian budget is not even close to meeting the EU's rules for Eurozone members and the coalition government have no intention of trying to meet those rules, for them it is a question of who governs Italy, the democratically elected asssembly or the bureaucrats in distant Belgium.The EU has resorted to its usual bullying tactics and threatened Excessive Deficit Procedures against Italy.
The EU has kicked the can down the road almost as far as it can on debt targets but the Italian government is seeking confrontation and will not back own even as far as agreeing to cosmetic changes in their financial plans to give the appearance of trying to comply, therefore the fate of The Euro is sealed. The EU will either have to abandon its rules or fine Italy. If it does not fine Italy other, smaller, Eurozone members will quit as many are unhappy at the way Germany has, since the single currency was floated, manipulated the system to its own advantage.
The fine and resulting spike in Italian bond yields will act as the trigger for Italy to launch its Mini-BOTs.
The longer the EU holds off imposing that fine, the more time Italy has to prepare for the Mini-BOT launch which, because the Italian economy is profoundly in breach of Eurozone rules on it's deficit, which the Lega / Five Star coalition government plan to increase (sic), is the only way of avoiding a default on Italy's debt. The EU have already imposed one fine which Salvini has refused to pay. Further penalties have been threatened, but this is pure vindictiveness of the part of The Fourth Reich as some have taken to calling the EU Commission At the moment, France is also in breach of economic rules yet because France's President Macron is one of the prime movers in the push for political unification, nobody is talking about taking action to punish French fiscal irresponsibility.
The most likely outcome is not a High Noon style showdown, the EU will try to do what it always does when faced with a crisis, by pretending there is no crisis just a minor local misunderstanding, while hoping it goes away. Bureaucrats are no more eager for confrontation than they are over having to make decisions for which they can be held accountable. But this crisis is not going to go away and with others festering in Poland and Spain, sooner or later the Europhiles who have driven the push for political unification (The European Project,) are going to have to face up to the fact that they have failed to sell their dream to the people of the member states, and the EU must reform by devolving power to the sovereign members of its members and return to being a free trade and political cooperation community of nations with broadly similar cultural backgrounds in the Romano - Greek or Celtic - Germanic cultures.
Whatever the short term outcome Italy is set to leave the Eurozone, it is a question of when rather than if. The Mini-BOT is the transition mechanism. Few see it coming.
RELATED POSTS:
Eurosceptic Italian party delivers 200,000-signature petition for exiting euro
Latest EU Attack On Italy's Salvini Shows The Elite Are Scared</b>
A court in Sicily has allowed proceedings against Italian Eurosceptic Interior Minister, leader of The League and all-around pain-in-the-arse for The Davos Crowd, Matteo Salvini. In what must be one of the most ludicrous EU efforts to silence nationalist leaders ahead of elections to the European Parliament in May this year, judges ruled Salvini should …
EU clashes with Rome over Italy's budget plans, again You thought Brexit was the only problem the EU was struggling with at the moment? How wrong were you? The EU Commission's latest rejection of Italy's budget is the first step in disciplinary procedures that, in typical school bully stylem the bastards of Brussels threaten will lead to big fines and economic …
Italian Elections: It is the EU, Not Russia, Who is the Meddler The harder the EU tries to impose its globalist agenda on people in some of its member states, the less willing they will be to toe Brussels' line, Italian journalist Marco Fontana commented on Sunday's election.
The EU can go and F*** itself!' Politician's Outburst Rallies Support In Italy The leader of the Lega party, formerly known as Lega Nord, Matteo Salvini claimed the European Union should stop interfering with Italian politics as the measures taken by the bloc have crippled the Italian economy for the past 15 years. Mr Salvini is the frontrunner in the upcoming Italian general election as Italy's next Prime Minister.
Union Flag Becomes a Symbol of Anti-EU Protest in Italy In a gesture that shows grasroots opinion in European Union nations is not in line with the anti - Britain rhetoric of senior EU bureaucrats, American globalist politicians and pro - federalisation leaders of Germany and France, small businesses along the Italian riviera have started to fly Britain's Union flag in protest at a European Union ruling which would open the area to multinational businesses.
As Italy's poor struggle to come to terms with a lack of job prospects and the challenges of a globalized world, some are blaming asylum-seekers. Elvio fifty - one year old unemployed construction worker asks, "Why do they have to be taken care of? It's me that needs taking care of." Like many working class Italians Elvio has had enough of being told how wonderful immigration is for the economy and how enriching for Italian culture. As far are he is concerned, immigration is one of the biggest problems. And Elvio thinks he knows who to blame.
Greenteeth Elsewhere: [ The Original Boggart Blog] ... [ Writerbeat ] ... [ Daily Stirrer.shtml ]...[Little Nicky Machiavelli]... [ Ian's Authorsden Pages ]... [Greenteeth & Daily Stirrer on YouTube ] ... [ It's Bollocks My Dears, All Bollocks ] ... [ Minds ] ... [ Scribd]...[Wikinut] ... [ Boggart Abroad] ... [ Grenteeth Bites ] ... [ Latest Posts ] ... [Ian Thorpe at Flickr ] ... [Latest Posts] ... [ Tumblr ] ... [ Authorsden blog ] ... [Daily Stirrer News Roundup] ... [ Boggart Network News ]
19 June 2019
Minority Report on Douma attack exposes 'compromised reporting & analysis' by OPCW – MIT professor
The OPCW failed to include evidence on the Douma "chemical attack" that contradicts the West's favored narrative in its final report, so the resulting document is inherently compromised, an MIT professor said.
The chemical weapons watchdog released its conclusions on last year's high-profile incident in early March. The Organisation for the Prohibition of Chemical Weapons (OPCW) claimed that chlorine-filled gas cylinders were dropped from the sky on the Damascus suburb. It did not directly pin the blame on the Syrian government, however.
Last month, there was a leak of an internal technical assessment which had been produced by a member of the OPCW fact-finding mission that studied two locations where the cylinders were found.
The document stated that the evidence the inspectors found didn't square with the idea that the cylinders fell from the sky, and that the logical explanation was that they had been planted there. This opinion was ignored in the watchdog's final document, and this makes it "a product of compromised reporting of the inspection and analysis process by upper level OPCW management," Theodore Postol, a leading expert in missile technology, told the Grayzone Project.
The scalding criticism came in response to the way the head of the OPCW addressed the embarrassing leak. Director General Fernando Arias said the opinion had no place in the final report because it "pointed at possible attribution" in the incident, which was contrary to the mandate given to the mission.
He said the data was instead studied by three external experts, who "all reached the same conclusions that can be found in the FFM final report."
Postol disagreed and accused Arias of mischaracterizing what was said in the leaked paper. The document "provided unambiguous contradictory data… that explicitly showed that the attacks were instead staged," but didn't go as far as pinning it on anyone.
The Douma incident sparked global outrage, partially thanks to footage of children being doused with water in a makeshift hospital, which was circulated by the media worldwide. The scene was later revealed to have been staged and not related to the alleged chemical attack.
---
17 June 2019
Oxford Academics Turn On Gay BLT Propagandists For Pushing Unscientific Claims
Gay, Lesbian and Trans rights protestor holds a placard making a typically idiotic statement - human rights apply to all humans, trans-rights are the infantile demands of self pitying losers.
'More than 30 Oxford academics have blasted Stonewall for pushing 'tendentious and antiscientific claims' in the trans awareness training it gives to universities according to a report in The Sunday Times (a more sensationalized version of the same story appears in The Daily Mail if you are blocked by The Times paywall).
The professors and lecturers have taken issue with Oxford University's compulsory training programme on Gay, Lesbian and Transgener issues, that includes dogmatic statements about permissible attitudes "towards Gay, Lesbian and especiall Transgender rights, including such unmitigated wank as "gender is how people interpret and view themselves." The Oxford academics expressed their opposition to such unscientific nonsense beong forced on teaching staff, researh fellows and students in a letter passed to The Sunday Times.
They call for universities to sever links with Stonewall and other LGBT charities until and unless those organisations dump their fascistic attempts to restrict freedom of though and commit to 'fully supporting academic freedom of thought'.
Academics are also being bullied by student groups to withdraw invitations to "transphobic speakers," i.e. anyone who do not accept "that trans people are the gender they say they are" or maintain that gender is fetermined by our biological sex rather that "feelings".
They fear the new rules university managers have accepted after being bullied by Gay BLT lobying could see staff lose their jobs, and that they contravene the roght of free speech.
Modern history professor Selina Todd is quoted by the Sunday Times as saying: "[This] is really pushing an agenda which is dogmatic and completely overruling freedom of speech... I am very scared that academics will start to lose their jobs.
"I feel uncomfortable. I've told my employer that I feel vulnerable and I've had students say they feel intimidated by what's going on at this campus."
Oxford and Cambridge last year spent £55,000 between them on LGBT training so staff are better equipped to help students who may be struggling. According to a NUS LGBTQ+ report from 2014, just 20 per cent of trans students feel completely safe on campus, which begs questions just how many of these mental cases are there at Oxford. One in three trans students said they had experienced bullying or harassment - while 51 per cent have seriously considered dropping out of their course. The Daily Stirrer does not see that as any loss to either the university or society in general were that to happen.
And what are these trans students studying for anyway, degrees in self pity?
MORE ON HIGHER EDUCATION MADNESS
Oberlin University Fined $33 Million For Supporting Students Accusations Of Racism Against Bakery
On Thursday, Oberlin College was hit with $33 million in damages when to Ohio jurors found the school participated in protests defaming a local bakery as racist. Oberlin's vice president, Donica Thomas Varner claimed the jurors ignored "clear evidence" that Oberlin was not at fault and insisting the school was being "held liable for the independent actions of their students."
Student Suspended from University for Calling Halal Slaughter 'Inhumane'
In an outrageous assasult on our right to free speech a British student has claimed he has been suspended from university for voicing the opinion that halal slaughter, prescribed by Shariah Law, is "inhumane" and also saying illegal immigrants should not be allowed to use the National Health Service (NHS) for free. The student says he has been told he cannot return unless he signs a conduct agreement and undertakes diversity training.
Dare We Defy The Illiberal Code Of The Liberal Left?
The crescendo of intolerant screeching from the liberal-left about 'hate speech', micro aggressions, white privilege (ironic as most of the screechers are privileged and white,) and even the most reasonable criticism of their sacred cows is one of the more bizarre aspects of the culture war currently being fought on university campuses, internet opinion and comment sites and in mainstream media.
Canadian University Holds 'White Privilege' Conference
May 15, 2018
"Of all tyrannies, a tyranny sincerely exercised for the good of its victims may be the most oppressive. It would be better to live under robber barons than under omnipotent moral busybodies. The robber baron's cruelty may sometimes sleep, his cupidity may at some point be satiated; but those who torment us for our own good will never quench theur self - righteousness ...
Oxford University wants to turn English into a sterilized Orwellian language
Oxford University, one of the oldest universities in the world and, one might think, the 'home' of the English language is now, it seems, engaged in a New World Order campaign to destroy the English Language. It appears the finest young minds in society are so deeply offended by words that remind them men and women are biologically they, backed by their fuckwitted Marxist lecturers and professors, are demanding gender specific pronouns be abolished.
The University Formerly Known As Cardiff Polytechnic Published List Of Forbidden Words Cardiff Metropolitan University formerly known as Cardiff Polytechnic may not be a seat of learning on a par with Oxford, Cambridge, Heidelberg, The Sorbonne or Princeton but when it comes to politically correct idiocy it is at the right up there with Harvard, Uppsala, University of California or The London school of Economics
Neo – Fascist Left Driving University Students To Despair
May 13, 2018
via David Broome, Minds.com May 12, 2018 ARE LEFTIST PROFESSORS AND UNIVERSITIES DRIVING STUDENTS TO SUICIDE? Are the oppressive totalitarian politics of the left driving students to suicide in Britain's Universities? It seems plausible when we consider that most of academia is overrun by Marxist professors organising gangs of SJW's who subject white straight male …
Oxford University Introduces Mandatory 'Cultural Appropriation' Classes November 20, 2017
One of the oldest and most respected colleges, Magdalen, at Oxford, Britain's oldest university has become the first to introduce the currenly fashinable idiocy from Ameroca's west coast, compulsory racial awareness classes to ensure ethnic minorities are not offended by anything, ever. Magdalen College students have voted to require all first-years to attend sessions which …
Students Feel Pressured To Reflect Uinversities Anti-Brexit Bias In Essays

University students have claimed they are being pressured by political activist lecturers into writing essays which pander to the "anti-Brexit bias"in the higher education system, and fear they will be marked down if their work does not comply with the left wing agenda. Students have alleged that free debate on Brexit, and opinions opposed to those of the "Remain" camp is being shut down by lecturers supporting the movement to thwart the democratic will ...
Eight Subjects That Ought To Be Part Of The Manadtory Curriculum For Basic Education?
Should subjects like meditation and gardening be part of the school currriculum? Or as one high school in Massachusetts, USA, seems to believe, classes in analyzing conspiracy theories (if taught properly this could help students distinguish between a true conspiracy theory, a fantasy and what is legitimate questioning of official propaganda. The embedded article from Collective Evolution presents some interesting ideas.
Students censored – An Academic Community In A Crisis Of Collectivism.
Intellectual freedom in our universities is under threat from ... intellectuals. So overbearing have the left wing screechers of bourgeois politically correct leftism now become that even the universities have surrendered to the intellectual control freakery of cultural Marxism. But if universities are now dedicated to turning out dull minded conformists, what hope is there for western society?
---
Nigerians describe horrors of Islamic atrocities: 'There is a genocide going on'
No mainstream news coverage of yet another massacre of Christians by Muslims. But leave bacon near a mosque and all hell will break loose from those idiotic, hypocritical, leftie Social Justice Warriors. Not long ago, after the killing of some Muslims by a white nutter, (who we do not defend or seek to justify, the killing of innocent people for no reason other than irrational hatred of their race or religion can never be defended,) we reported an imbalance in the reporting of acts of terror in mainstream media, as if the media luvvies are marching in lockstep with the violent, neo - fascist loonies of the far left, in trying to justify or gloss over the pointless murder of Christians, Buddhists, Hindus, Jews and secular humanist by Muslims, we highlighted the media blackout of another massacre of Christians by militant Muslims.
This story comes via The Geller Report
Nigerians describe horrors of Fulani atrocities: 'There is a genocide going on'

By Samuel Smith, CP Reporter, Christian Post, June 14, 2019:

WASHINGTON — Nigerians from predominantly Christian tribes in Nigeria visited the United States this week to share how their tribes are now "homeless" and "sleeping under the skies" after recent massacres at the hands of Fulani radicals and unwanted actions taken by the government.

Two members from the Adara community, a majority Christian ethnic group in Southern Kaduna state, shared their experiences during a panel event sponsored by the conservative think tank Heritage Foundation that also featured persecuted Nigerians from other parts of the country.

Alheri Magaji, the daughter of the current leader of the Adara Chiefdom, told the audience about how her ethnic group suffered vicious attacks carried out from mid-February through April this year that left about 400 dead and displaced thousands in her community.

Alheri Magaji (L) speaks about the plight of the Adara community in Kaduna, Nigeria

"Right now my tribe is nonexistent legally," Magaji explained. "Part of the reason why I am here is to try to get my land back. That is who I am. That is my identity. That is what makes me. My people are stranded. They are literally sleeping under the skies on the floor [with] no houses, no food, nothing. It is not about relief materials and how much we can donate. It's about holding the government accountable."

As previously reported, a series of Fulani attacks were carried out in Adara communities in the Kajuru local government area in a span of a few weeks by suspected Fulani radicals. Along with the hundreds of lives taken, countless buildings were burned and destroyed.

Fulani herdsmen, many of which are Muslim, are a nomadic ethnic group found in West and Central Africa. While conflict between Fulani herdsmen and farmers in Nigeria has been ongoing for decades, Magaji and other panelists explained that attacks launched by Fulani radicals in the last few years are more atrocious than the farmer-herder conflicts that came before.

"I spoke to a woman whose limbs were cut off. She had four kids and was nine months pregnant," Magaji recalled. "Fulani herdsmen came to a Kajuru town in February, about 400 of them with AK-47s. They came at around 6:30 a.m. They spoke Adara. They came in with war songs. They were singing songs that translate into 'the owners of the land have come. It's time for settlers to leave.'"

"We have 2-month-old babies, 6-month-old babies, babies in the bellies turned from their mother's womb and slaughtered like animals, like chickens," she continued. "We are here today to beg the U.S. government and for the world to hear our story."

By the time the series of Fulani attacks occurred this past spring, the Adara tribe had already been pushed into a state of uncertainty. Magaji said last May that the Kaduna government passed a measure to split the Adara chiefdom and create a Fulani Muslim emirate in Kajuru.

The Adara community detested such a proposal. Magaji added that the Adara chief was kidnapped last Oct. 19 and murdered about a week later even though a ransom was paid for his release.

"It was when the chief died that the elders in our land realized that the governor … [said that] Adara Christians are now under a Muslim Hausa-Fulani emirate," she explained. "It is so ridiculous that it was already signed into law and nobody knew about it. For a governor to make that kind of law in the first place without the people of the land knowing about it is illegal and unjust."

Magaji said that the elders of her community tried to pressure the government but "nobody would listen."

"When they realized that nobody was going to listen to them, they took the matter to court," she explained. "A week after the civil case started in court, my dad and eight other elders were arrested and thrown into prison for no reason."

Magaji said the state government blamed the Adara elders for the death of 66 Fulani herdsmen that were killed in February 2019.

"The problem we have with the statement the governor made is that on the 10th of February, 11 Adarra people were killed," she said. "The government didn't say anything about it even when the leaders of the community officially made statements."

"Aren't we citizens?"

Magaji said that in April, Kaduna Gov. Nasir Ahmad el-Rufai set up a commission to abolish indigeneship in the state. For the Adara community, she said, that means that the government is now taking away their chiefdom and their right to be considered an indigene of the state.

"We are wondering as Adarra people aren't we citizens of Kaduna state?" she asked. "If you are taking away my chiefdom and there is no Adara anymore, are you saying that I am no longer even an indigene of Kaduna state?

"A Fulani man can come and register as a citizen of Kaduna state and get all the benefits of a citizen while I am a true indigene of the state and I get no allocations and I am not recognized at all?"

Last Friday, she said, another bill was passed allowing government officials to regulate preachers in the Kaduna state.

"It is so unbelievable sometimes that if I wasn't living it, I wouldn't believe it," she said.

"A government official is supposed to tell a preacher how to preach and what to say. The license is to be renewed every year. That tells you that if you don't do what the government says, in a year, you lose your license, even in churches. It is only what the government allows you to say that you are allowed to say to the congregation."

Magaji fears that the Adara tribe will end up going "extinct."

"The government takes over and does whatever it wants to do," she added. "It's a plan that if it is not [halted] right now, it's going to be terrible for the world at large. There is a genocide going on. Every morning we wake up to different stories."

She said that anytime someone tries to speak out about what is happening to the Adara community, they are arrested. However, she added that no Fulani radical has yet been arrested for the mass killing of Adara citizens.

"As I stand here right now, I have been warned not to say a word because I might be killed," she said. "If you speak about it, you could be killed, thrown in prison or harassed by the police."

"What have I got to lose if I don't talk?" she continued. "My family is killed every day. My dad was locked up for over 100 days. My tribe is now extinct. If I keep quiet, to what gain will that be? The people who die every day are human beings too. If I have an opportunity to let the world know what is happening in my hometown, I will do anything to be able to save even one life."

Mercy Maisamari, the daughter of the head of the Adara Development Association who was kidnapped by Fulani herdsmen and later released on ransom, said during the event that girls like her are kidnapped on a daily basis.

"They kidnap you, they do whatever, they beat you up, they abuse you," she added. "Some will ask you, 'Where is your Jesus? Call your Jesus to come and save you.'"

Fulani violence has troubled communities across many states in Nigeria. According to the nongovernmental organization International Society for Civil Liberties & the Rule of Law, no less than 2,400 Christians were killed by suspected Fulani herdsmen across Nigeria in 2018.

Richard Ikiebe, president of the International Organization for Peacebuilding and Social Justice, explained that he has been told that there are around 70 communities in the Plateau state that have been "eradicated and repopulated" by Fulani herdsmen.

"Deliberate confusion of narrative"

Napoleon Adamu (L) speaks about the plight of the Agatu community during an event held by the Heritage Foundation in Washington, D.C. on June 11, 2019.

|

The Christian Post

Although the Nigerian government argues, as well as some human rights groups, that the crisis is just a "farmer-herder" conflict, Ikiebe contends that the conflict does have a religious element in addition to economic and transnational elements.

"It is a deliberate confusion of narrative that has been very successfully used on an international platform," Ikiebe, the director for the Centre for Leadership in Journalism at Pan-Atlantic University, explained. "They will tell you that these skirmishes are just farmers and herders. I can tell you it is all of that. It is religious. Please believe it. What is happening in Nigeria is religion."

Stephen Enada, the director of the International Committee on Nigeria, said that a rise in Fulani attacks was noticed in the Benue state between 2013 and 2016.

"Benue state was decimated and it is still being decimated and there is government inaction," Enada said.

Napoleon Adamu, a member of the Agatu community in Benue state, told attendees of the event that the troubles for his community started in 2013 after years of peacefully cohabitating with Fulani herders.

Now, he says, his community has "nowhere to run."

From 2013 to 2016, he said there were about 17 different attacks carried out by Fulani radicals. He said that in other parts of Benue, there were 29 attacks.

"The Fulanis that come over to Agatu this time are not the traditional Fulani that we used to know," Adamu said. "We know that when the Fulanis come, they usually come with their children and their wives. But the ones we have now that come, come in large numbers and fully armed. It is not just small arms. We know Fulani to always be carrying their long knife and stick. But this time, they carry AK-47s that the government of Nigeria cannot buy for their own army."

Adamu stressed that Fulani radicals "don't go back without killing people and burning houses."

"They choose to even burn houses because it is more difficult for people to come back and rebuild," he explained. "Once they burn, their intention is to override the place and take over. That is their intention: taking over the land."

According to Adamu, most of the Agatu people that have suffered from the attacks are homeless.

"The people are hardworking farmers and fisherman. But now, they don't have anywhere to go again," Adamu said. "They refuse to be counted as an IDP. They say they don't want to go anywhere. We prefer to sleep under trees. [This land] is where we belong. Leaving the land for other people to take over, we have resisted. By the grace of God, we are still there and we are homeless. We have no voice."

Just like in Kaduna, Adamu said the government has never made a public statement about the plight of the Agatu community.

"At the federal level, we have all the positions of authority taken over. We have no voice," he said.

"This is not a make-believe story. There are things that we have seen and things that we have felt. Because we have this opportunity, we want to appreciate the government of the U.S. in the first place for the support they have been giving to Nigeria. But please, apart from your support, it is not everybody that is enjoying what you are giving."
MORE ON TERROR
War on Terror
Islamic Terror: The Elephant In The Room
ISIS terror, Liberal sacred cows
The Left's hate and hypocrisy
---
16 June 2019
Oberlin University Fined $33 Million For Supporting Students Accusations Of Racism Against Bakery
from
The Daily Wire:
On Thursday, Oberlin College was hit with $33 million in punitive damages thanks to Ohio jurors, who agreed the school participated in and encouraged protests defaming a local bakery as racist.Ohio law capped the punitive damages at $22 million — twice what the jurors charged Oberlin in compensatory damages a week earlier.
As The Daily Wire previously reported, Oberlin's vice president and general counsel, Donica Thomas Varner, sent a community wide email blasting the jury for its findings, claiming the jurors ignored "clear evidence" that Oberlin was not at fault and insisting the school was being "held liable for the independent actions of their students."
But school administrators, including interim vice president and dean of students Meredith Raimondo, participated in protests deeming the bakery as racist because a bakery employee held a black Oberlin student accountable for shoplifting and using a fake ID to purchase alcohol.
Oberlin is still remaining obstinate even after being hit with the massive $33 million fine.
The New York Times, while reporting on the punitive damages rewarded to the Gibson family, who own Gibson's Bakery, included a line from an email sent to the Oberlin community by president Carmen Twillie Ambar, which said, "none of this will sway us from our core values."
Those "core values" apparently mean supporting students who make false accusations of racism.
The Times also quoted a statement from the college that blamed Gibson's Bakery for the whole ordeal.
"Gibson bakery's archaic chase-and-detain policy regarding suspected shoplifters was the catalyst for the protests," the statement said. "The guilt or innocence of the students is irrelevant to both the root cause of the protests and this litigation."
Oberlin is essentially saying that the bakery should have just let the shoplifter go in order to adhere to current "woke" theology.
Here's what happened: A black Oberlin student, Jonathan Aladin, tried to use a fake ID to purchase alcohol from bakery employee Allyn Gibson. Gibson refused to accept the fake ID and noticed two additional bottles of alcohol hidden under Aladin's shirt. Gibson told Aladin he was calling the cops. Aladin, according to Gibson's lawsuit against Oberlin, knocked the phone out of Gibson's hand and ran from the store. Gibson chased after him. When police arrived, Gibson was being physically attacked by Aladin and the two other students who accompanied him to the store — Cecelia Whettstone and Endia Lawrence.
All three students pleaded guilty. Aladin acknowledged race was not a factor in his treatment.
Yet to Oberlin, Gibson is a racist for trying to hold Aladin accountable because he is black.
Jurors saw through Oberlin's "defense" and hit them with tens of millions of dollars in damages. Oberlin tried to claim it was too poor to pay — a claim that failed to sway jurors.
David French, a senior writer for National Review who has covered campus insanity for years, wrote that the Oberlin trial provided a "blueprint for fighting back."
"The case represents an important moment — the moment when the American legal establishment learned that it can potentially impose steep costs on institutions that participate in the kind of cruel, malicious, and vicious mob tactics that have become an all-too-familiar part of the American political landscape," French wrote. "It turns out that the law can indeed offer an answer to the worst forms of illiberal behavior."
Increasingly over the last half-decade, colleges and universities have gotten away with stepping on the constitutional rights of students, faculty, and outsiders in the name of social justice. Jurors in Ohio just provided a big check on whether such behavior is acceptable anymore.
Oberlin: Example Of Left Wing Indoctrination In U.S. Colleges
Ashley Land at Quora
This is very hard to describe unless you've actually experienced it first hand.
I'll use a recent example. There's a college called Oberlin. A few years ago, a group of black students from Oberlin were caught shoplifting from a local bakery. The police arrested them, they confessed and everything was done by the book. The students at Oberlin, however, saw this as a grave injustice and insisted it had to be the result of racism. So they protested against this small bakery. Now, you'd think the university itself would sit by impartially because hey, students gonna protest. That's kinda what they're known for. But no. The faculty actually aided the students and handed out fliers slandering the bakery as racist. The bakery took them to court and has just won a huge lawsuit.
Universities have taken up political causes, such as banning conservative speakers from holding talks on campus, firing faculty members who held the wrong politics (one Canadian teaching assistant was fired for showing 5 minutes of a Jordan Peterson clip), allowing students to hold colleges hostage (checkout Evergreen college), faculty members maligning other faculty members for speaking out about issues (thousands of college professors across Canada called for Jordan Peterson to be banned from teaching), etc. You can look into more specific instances of college faculty taking the side of leftist students even over their own faculty members in a dispute. A few years ago, a student at Yale screamed at a faculty member because he said students should be free to wear whatever Halloween costumes they want. The student yelled (paraphrasing) "this is not an intellectual space, it is not! You're supposed to be making a home here!". Whose side do you think Yale took?
When I was at college, one of the first subjects we studied in sociology was terrorism. Now, you'd think a sensitive subject like this would include ideas from across the spectrum. But no. Virtually every word out of my professor's mouth was to blame the US/UK and the west and to declare Bush, Cheney and Blair war criminals. He stated that since more people die by drowning in the US than terrorism, we should stop investing money in counter terrorist programmes, claiming this money was the result of corruption rather than legitimate national security issues. That is a college professor taking sides. In other words, that is someone who is meant to be an impartial educator assuming the role of political activist.
Another professor, again in sociology, claimed without evidence that the reason crack cocaine carries more prison time than powdered cocaine is that crack cocaine is a "black drug" and powdered cocaine is a "white drug" therefore the reason for the disparity in sentencing is institutional racism. 5 minutes of research will show you that this is not in fact the reason for the disparity in sentencing and that it has more to do with ease of distribution, prevalence in communities and the fact that decades ago, black leadership wanted it to carry harsher sentences to try and get crack cocaine out of their communities. Whenever a college professor makes a claim that has no evidence to back it up, this can pretty much only mean they didn't care to make sure it was true.
Then there was the gender pay gap. We were taught the gender pay gap like it was gospel. In fact, amusingly in one lecture, someone asked our female professor if she was a victim of the gender pay gap. She said she'd never knowingly experienced it but continued to preach (which is what she was doing) it constantly. We never saw any sort of graph, we were never shown a table of statistics…we were shown a handful of videos made by "leading feminists" and were then asked to write about it. Now…you might be asking yourself "I went to college…you can write an essay from either opinion as long as you back it up with evidence". That's where you're wrong, kiddo. I decided at one point to write an essay almost exclusively sourced by a combination of pew research, government statistics (from three developed nations) and the most impartial sources I could find. My conclusion if I'm remembering right was something like "while there have been documented instances of illegal wage disparities (instances I documented by the way), there is no evidence that a disproportionately male-favouring wage gap exists on the broad, societal level" and I cited a study that found millennial unmarried women outearned millennial unmarried men. Nope. I think that got me a C vs my friend's poorly written B grade paper which only contained 3 sources (the bare minimum vs my 7 sources). My seminar professor actually wrote next to government statistics "false" in red pen.
How about another more direct example? One of my professors called out an essay I wrote that basically disagreed with Marx, more or less making fun of me in front of the seminar group (about 16 people). My own grades would slip whenever I used a conservative source, even assigned material like Hayek, especially when my conclusion agreed with them. One day I thought f**k it, and wrote an essay kissing Karl Marx's ass, talking about how he was right about so much. From any objective standpoint, this was not a good essay. Poorly sourced, rushed, slightly under the word count, facts were questionable at best…solid B. The distribution of material itself was awful. I keep hearing from people who claim to have studied Ayn Rand…I haven't met anyone who was actually assigned Ayn Rand who went to college in the last 15 years outside of people who majored in economics. It used to be that Rand would be assigned in philosophy and sociology too…yet everyone was assigned Marx. Our syllabus looked like this:
40% Karl Marx, 20% Hobbes, 10% Durkheim, 10% Weber, 10% Thomas Moore, 5% Locke, 5% Hayek. So much so that despite personally agreeing with Hayek, I still know more about Marx's ideology than Hayek's! When I sat for the exam, the paper contained a full 12 questions. 4 included a thinker by name. All 4 were Marx. No one else's name got a direct mention. One question was actually framed in such a way that you had to agree with Marx in order to be able to answer.
If I could try reaching out to my liberal friends here on Quora I'd like to explain why you likely didn't notice this. If you are personally a liberal and the liberal college professor tells you things that 90% of the time you agree with, you won't notice that it's biased. You will think of it as factually accurate. Because why wouldn't you? If you believe that the middle class is dying under capitalism and your professor says "Marx accurately predicted the decline of the middle class under capitalism"…you won't see anything wrong here. Even though that's a wildly left wing statement.
Perhaps the silver lining here is also a damning statement on modern universities. Students don't listen to their professors much. Not 100% but for the most part, students (especially in the liberal arts) are just here for 4 years of fun and freedom. A degree doesn't mean much today because people don't need to learn that much to pass and get a degree.
And all that being said, I don't want to give the impression that I'm speaking ill of every college professor here because most are reasonable, logical, intelligent people who belong where they are. But when we focus in on the humanities, especially sociology, psychology and all the "studies" (gender, African, trans, feminist), we see a disproportionately far left faculty who are able to tell their students that the world is a certain way without being challenged on that narrative. But since the liberal arts draw huge numbers of students, they have the most impact. This is why there aren't a whole lot of engineer or mechanics SJWs. Those fields really don't allow for much politics.
More posts on Politically Correct madness
---
15 June 2019
Electoral Fraud Scandal In Peterborough By - election Being Covered Up?
from
Politicalite
:
Thanks to Politicalite's groundbreaking exclusive coverage of the crooked Peterborough By-Election so far, the Daily Mail have picked up on our story and have revealed a fresh incident of alleged electoral fraud being investigated by the Police:
"A knock at the door of a semi-detached house on a street in the East ward of the city of Peterborough.
It's the afternoon of April 22, eight weeks before the June 6 by-election in which Labour will squeak to victory ahead of Nigel Farage's Brexit Party.
Alone at home is a 54-year-old Asian woman with severe health problems.
On her doorstep she allegedly finds Dr Shabina Qayyum, Labour candidate for the ward in the local council elections, along with two male party officials.
Dr Shabina Qayyum with a Labour Party colleague at the Peterborough election count (Source: Ploiticalite)
What happened next is in dispute. But the resulting allegations were serious enough for the council to call in the police.
Criminal claim was followed by counter-claim; the only certainty is that politics in Peterborough is a dirty business — and has been for some years now.
Labour's victory by 683 votes, in one of Britain's most keenly-fought by-elections of recent years, has been overshadowed by accusations of electoral fraud and voter harassment — centred on the Asian community which is particularly active in Peterborough politics." READ ALL >>>
RELATED POSTS: Election fraud allowed to take place in Muslim communities because of 'political correctness', report warns
France's FN Win Regional Elections First Round. Now The Cheating Starts.
Postal Voting Has Given Us Third World Politics
Clinton voter fraud
DC Leaks Expose George Soros Manipulating Elections
Police Investigate South Thanet Constituency Election.
Is This Why UKIP Only Won One Seat
London's Muslim Mayor Rejects Brexit Vote At Gay Pride Event
---
14 June 2019
Why Would Iran Attack Tankers In The Gulf - They Have Nothing To Gain?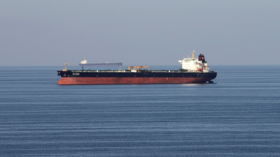 Oil tanker in The Strait of Hormuz, betwen Iran and the United Arab Emirates (Picture source) Reuters / Hamad I Mohammed
Whenever we at Boggart Blog / The Daily Stirrer read or hear of an international incident that raises tensions between east and west and for which the official news story makes no sense at all, all three of us being the kind of old gits whe had to lean Latin at school, ask ourselves "Cui Bono? (who benefits.)" It was not having to learn Latin that made us so cynical but learning about Marcus Tullius Cicero who always began his analysis of political events in Rome by asking that very question.
So I asked myself "who benefits?" on hearing that two oil tankers had been attacked and damaged, and by the time Washington, with is usual incredible alacrity (think of 9/11, flight MH17 and the alleged chemical weapon attacks in Syria for starters,) had accused Iran of being responsible for the attacks I was aware of certain significant factors not mentioned in mainstream media reports.Despite the lurid accusations from Washington, led by U.S. Secretary of State Mike Pompeo who accused Iran of attacking the two ships and linking the latest incident to two other recent tanker attacks, drones hitting Saudi oil pumps, and a missile hitting a Saudi airport earlier this week. U.S. Secretary of State Mike Pompeo was quick to pin the blame for the incident on Iran, claiming that the Islamic Republic was "lashing out" in frustration over Washington's draconian sanctions regime.
There is absolutely no evidence that the government of Iran is involved. Lack of evidence does not necessarily prove innocence of course, but unsubstantiated accusations do not prove guilt so we should keep our minds open to other possibilities But if nt Iran then who did this and why? And what does that say will happen next? Logically, it was either Iran, or the US, or a third party:
Iran is suffocating under US sanctions, it is a known instigator of such actions via proxies, and has been threatening the EU that it will walk away from the nuclear deal if they won't help it break the US economic stanglehold. An attack like this would be incredibly stupid (as stupid as Syria's President Assad launching illegal chemical weapons attacks on rebel held areas when his forces were on the brink of crushing the IsIS rebellion,) … unless they are desperate enough to give The White House an excuse to attack, hoping the Trump adminidtration will back down with the 2020 elections looming and the president's core voters being averse to further humiliations in the middle east. If that is the case there will be more provocations even as Iran calls this all "beyond suspicious", "economic terrorism", and "sabotage diplomacy".
The US is divided between neo-cons champing at the bit to take on Tehran, war-averse Trump and the isolationist voters who put him in power, and a Pentagon now looking at China and Russia as the real threat. CENTCOM has said a war with Iran is not in the US strategic interest – and after the humiliation of Syria it clearly isn't. Donald Trump is no fool, no matter what bitter Hillary Clinton supporters say about him. Sure he's a loudmouth, an egomaniac, and a crass, bombastic bully, but he is not stupid enough to order an attack on Iran, a far more militarily powerful nation than Syria, and equally good buddies with China and Russia.
Third parties 'state - actors' to use the words of Secretary Pompeo, are in short supply. Mainstream media will no doubt follow murky social media to point a finger at the Saudis and Israelis but would either want to precipitate a major regional war that would drag them in or would they prefer to sit back and watch sanctions destroy Iran's economy?
'Why would Iran do it?'
Tehran has nothing to gain from attacking the oil tankers, defense analyst and retired Lt. General Amjad Shoaib said.
"Why would Iran do it? They have no reason to go to war and they have no reason to escalate the situation," he stressed.
Tehran has adamantly denied any involvement. Iranian Foreign Minister Javad Zarif described the incident as highly suspicious given that it occurred on the day Japanese Prime Minister Shinzo Abe arrived in Tehran, according to mainstram reports to act as a mediator in a bid to ease tensions between Iran and the USA. He added that Washington's evidence-free accusations are designed to "sabotage" Iran's diplomatic efforts.
According to reports from India, Iran and Japan however though the possibility of Japanese mediation has been discussed there is no plan for Abe to mediate between Iran and the U.S." ISNA reported.
A member of the Iran's foreign policy committee also made similar remarks, saying Abe's trip is not aimed at playing a mediatory role between Iran and the United States.
"The aim of the visit is to expand bilateral relations," Alaeddin Boroujerdi told Mehr news agency on Monday. "In the years that followed the [Islamic] Revolution, Iran and Japan have enjoyed good relations."
Boroujerdi said. "The talk of mediation is mere speculation and is not true."
According to Boroujerdi, Israel is afraid of Japan's cooperation with Iran and therefore is making efforts to undermine this development.
Though the official line is that the tankers were damaged by mines, Japanese firm, Kokuka Sangyo Co, said on Friday that its tanker had been attacked by two "flying objects" but that there was no damage to the ship's cargo of methanol.
Added to that is the fact of Iran's rescue operation which lifted 44 sailors from the two tankers, 'Front Altair' and 'Kokuka Courageous, which could feasibly have been an attempt to divert suspicion after the attack on the two vessels. Similarly pictures produced by Washington purporting to show Iranian military personnel removing an unexploded mine from one of the tankers begs the question why would Iran do such a thing if it was behind the attack.
Kourosh Shamlou, an attorney and Middle East specialist commented that it would be completely illogical for Iran to quite literally torpedo such a historic summit, especially since doing so would play into the hands of Washington's anti-Iran hawks.
"I'm an attorney. You have to know for whom a crime is beneficial. We can see the geopolitical situation of Iran and the US in the Persian Gulf. We can say that the Iranians are not going to torpedo a ship that will lead to the Americans attacking them. It's going to give the Americans an excuse to attack Iran. So it cannot be the Iranians."
In fact, the incident has already had negative economic consequences for Iran, Hamed Mousavi, professor of political science at the University of Tehran and visiting professor at Carleton University, noted on RT.
"Iran's currency lost five percent of its value today just because of talk of escalating tensions as well as perhaps the possibility of war. I think right now Iran wants to de-escalate the situation with the United States," said Mousavi.
Conspiracy theory'
It's not surprising that media outlets are dutifully relaying Pompeo's accusations against Iran without questioning his logic – or asking for evidence, commented political analyst Shabbir Razvi. He has a point, that is exactly what they did in the case of all Assad's alleged atrocities, the shooting down of Flight MH17 over Ukraine, the Boston marathon bombers and most other recent outrages.
Razvi stressed that without evidence, it would be irresponsible of Washington – or anyone else – to put forward theories about who was responsible for the attack. However, there's at least one country that has a documented history of fabricating scenarios to justify military action, Shamlou noted.
"All of a sudden, an accident happens, and [the United States] starts saying 'it's the Vietnamese, it's the Iraqis, it's the Iranians.' And then they have a legitimate cause for their people to attack."
A Non State Actor?
Now I am as sceptical about blaming the USA for every mishap as I am about blaming Russia, China, Israel, Iran or Bogmondorovia (I just made up that name,) for everything that happens. People in Washington have said the attack was too sophisticated and too well organised to be the work of terrorists, only governments would have the human and material resources to organise and execute such an operation. But are they?
On Monday last week, crude oil prices tanked to below $50 per barrel, and driven down by the threat of global recession, some frankly silly commitments by desperate politicians to phase out fossil fuels by 2050, the effects of the esacalating trade war between the USA and China, a less developed threat of a trade war between the USA and EU, threatened to go as low as $40 per barrel. This caused quite a lot of consternation in oil producing states and also among oil extraction companies and processing companies.
And oil companies are the largest customer of paramilitary private security contractors. Oil companies have the finances to mount very sophisticated operations while paramilitary security contractors, recruiting from the elite forces of US, British, French, Australian and who knows what other armies have the personnel capable of carrying out sophisticated covert operations. So on Monday the price of crude oil bombs, Tuesday sees panic in the oil markets and among oil producing nations and oil companies, on Wednesday two tankers get hit in one of the busiest waterways on the planet, a vital route for oil from the Gulf States to the west. And almost immediately oil prices jump, wiping out recent losses.
Join up the dots as they saying goes. Cone on, it isn't hard - there are only two dots to join. And if you get stuck ask yourself "Cui Bono?" Who benefits from the threat of war in the world's largest oil producing nations, whose profit margins will be boosted by an oil famine, whose future prospects would be boosted by reminding the world, amid all the talk of sustainable, clean energy, just how dependent on oil our civiliation is?
RELATED POSTS:
Pro-war trolls resort to smears as their 'rebels' lose miserably in Syria
Bureaucrats, Politicians and media talking heads who have consistently supported military intervention in Syria, and championed Obama's stated aim, that the priority was not to defeat ISIS terrorists but to remove the Assad rgime have gone apeshit following the collapse of the rebels final strongholds. The war loving 'liberals' are throwing everything they have at the level headed people who counselled against intervention ...
Is World War Three Really Kicking Off This Time?
The airstrikes by a US led coalition that killed many Syrian soldiers fighting for the legitimate government of Bashar al Assad against the terrorist forces of ISIS has raised the level of hostile rhetoric between the USA / NATO coalition and the Russia / China / Iran alliance. The likelihood of war seemed to have receded through the summer, after it seemed possible early this year, that one stray shell or bullet could spread the war beyond the middle east.
Only 5 Percent Of Russian Air Strikes Hitting Islamic, British Defence Secretary Lies
After an amazing outburst from the delusional Brack Obama left the United Nations General Assembly in stunned silence because Obama has accused Russia and China of all the recent breaches of international law of which the USA is demonstably guilty, the propaganda departments of western governments seem to have totally lost their grip on reality.
Have US tactics only helped to make ISIS more powerful?/b>
We have questioned the US led efforts to defeat ISIS in the middle east many times, pointing out that every time the western alliance steps up opposition to the establishment of a news Islamic Caliphate, Islamic State seem to get stronger. 'Conspiracy Theorists', our critics yell. So let's look at opinion from around the world that concurs with ours.
EU and US talk of war with Russia
The European People's Party (EPP) the largest political group in the European Parliament, nominated Luxemourgeois nonentity and alcoholic (allegely) Jean-Claude Juncker as President of the European Commission. The party has the support of some of Europe's most powerful leaders, including German Chancellor Angela Merkel. Made up largely of centre Social Democrat parties and centre right Christian Democrats they command an automatic majority in any vote taken by the European Parliament and are unerringly federalist, globalist and anything but democratic. And they are unerringly supportive of America's efforts to start a war with Russia. "The time of talk and persuasion with Russia is over," MEP and Vice-President of the European People's Party (EPP) Jacek Saryusz-Wolski told a meeting of the European Parliament on Tuesday, 21 April, "Now it's time for a tough policy, a realistic policy, and concentration on defence and security, because the eastern flank of the EU feels vitally, existentially threatened."
Read More:
EU and US talk of war with Russia
The Difference In Voting For Hillbillary or Trump Is Only One Promises War With Russia
Essential reading for our american readers who must soon decide who they want as their next president. Important too for non Americans who cannot influence the outcome of the election but are entitled to know why their arses might be blown from here to eternity sometime in the next few years.
Has Everybody Forgotten Obama's War
The American military machine has just chalked up the grim statistic of its 2,000th fatality since America troops first surged into Afganistan to defeat "insurgents" whose families had lived in that country for many generations. The invasion was justifed in the aftermath of September 11 by the myth that Afghanistan was a ...
Just How Close Are We To World War Three
Have you read or heard in your news supplier of choice of the recent massive troop movements in Israel, the massive build up of British, French and American warships around the approaches to the Persian gulf or just how badly the situations in Egypt and Libya have deteriorated since ...
Ignore The warmongering Left's Calls For Intervention In Syria
Morons to the right of me, idiots to the left. What are us libertarians to do as we find ourselves in our customary position, clinging to a raft of common sense as we try to navigate a course through a sea of insanity. My stance on the trouble spots of the middle east has always been the same, firmly non interventionist and I am not shifting as the propaganda ...
Obama Talks The Talk But Dare Not Visit Afghanistan In Daylight
Todays mainstream news papers and broadcast bulletins are full of the Superhero Barack Obama's daredevil visit to Afghanistan. The man who liberated Libya single handed and took out Osama Bin Laden (or a Pakistani pensioner with a beard) in a daring solo raid behind enemy lines stormed into the Afghan capital, Kabul, made a speech that left hundreds of Taliban fighters dead and saw others fleeing for the mountains with their arses on fire then left again all in the space of ...
Syrian Rebels Say West Is Already Aiding Thier Uprising.
The mainstream media are all agog today over something The Daily Stirrer and other libertarian blogs have been telling you for weeks. There are already western military personnel on the ground in Syria, aiding the uprising against the government of President Assad.Western powers have been providing military support and equipment to the Syrian rebel fighter, one of ...
Syrian Rebels Say West Is Already Aiding Thier Uprising.
As the troubles stirred up in Syria by the meddling of the American idiot President Barack Hussein Obama and fuelled by the west's determination to intervene and effect regime change in another middle eastern nation escalate into civil war, the rebels show they are as unfit a government in waiting as those fanatical mobsters the western powers have catapulted into power in Egypt, Libya and Tunisia. We conclude that Obama wants World War 3. ...
Israel Will Not Warn USA Before Launching A Strike Against Iran
Israeli officials say they won't warn the U.S. if they decide to launch a pre-emptive strike against Iranian nuclear facilities, a U.S. intelligence official familiar with the discussions has ytold Associated Press. The prediction, delivered in a series of private, top-level discussions raises tension in the middle east ahead of meetings in the coming days at the White House and Capitol Hill. Israeli officials said that if they eventually decide to launch a strike is necessary, they would not ...
The Business of War: Defense Sales Keep Economies Of Manufacturing Nations Afloat
Tens of thousands have been killed and millions displaced due to 'humanitarian' interventions by the developed nations (led by the USA, France and the UKm the FUKUS axis) in the domestic politics of third world nation. Usually the interventions support rebel groups who if they came to power would be far more oppressive and brutal regime than the one they replaced.
---
13 June 2019

Google Spends Just $20 Million A Year To Control The U.S. Government

It's unlikely that regular readers of this blog or The Daily Stirrer will have failed to notice one of our favourite games is revealing the true nature of the fascistic corporate entities that have been handed control of the internet by inept, virtue signalling, rent seeking politicians whose corruptibility is on a par with their technological illiteracy.

Yesterday we exposed the extent to which Facebook's top management were aware of the extent their platform was being used to illegally obtain personal information from web users who don't even have a Facebook account, today we move on to Google. We reported several years ago that the Search and Advertising giant, known for its rabid enthusiasm for all far left causes, had established such a cosy relationship with The Obama Administration that Google executives were regularly sitting in on government meeting in |The Oval Office.

It has often been said tht if voting changed anything they'd abolish it, and those who hoped things might change under Donald Trump will be disappointed to learn that while the US president is making noises about curbing the power wielded in Washington DC by representatives of Silicon Valley high tech corporations, those companies are so deeply embedded in government departments that little has changed in terms of the influence the tech corporations have on government policy, so much so in fact that buying favourable treatment from government is no longer a significant expense.

Google has recently severed links with six of the largest lobbying firms it had employed, in an apparent attempt to overhaul its global government affairs and policy operations amid greater government scrutiny of its business, according to a Wall Street Journal report. Over the last few months, the company has tried to give the appearance of lowering its profile in the capital, as well as scaling down its Washington policy team, and releasing two senior executives who helped develop its "influence operation" into one of the largest in the U.S. capital. The influence operation had been spending about $20 million a year on lobbying politicians and government officials, reducing the number of lobbying firms firms contracted to push Google interests which between them consumed about half of that cost seems to suggest a scaling back of political activity. But where Google is concerned things are seldom what they seem to be.

The change of direction is explained as part of a "continuing modernization" of Google's influence operation." That it comes at a time when Google and other high tech giants such as Facebook, Microsoft, Apple and Amazon are facing heightened government scrutiny of the shadier areas of their business is surely a factor in this change of direction.

The Department of Justice is widely reported to be preparing an antitrust investigation into the company alleged unfair and unconstitutional business practices while both houses of Congress and state attorneys general in various states are also reviewing its methods, particularly those which violate users' right to privacy. Some politicians are even calling for the company to be broken up into smaller, independent businesses.

And so Google is planning to reallocate the paltry $20 million per year that it has been using to control the government and spend it on ... you guessed, trying to control the government in slightly more subtle ways.

Among the firms and consultants who are no longer working for Google are "Charlie Black, a longtime Republican strategist, and firms that have relationships with senior Republicans and Democrats on Capitol Hill, including Off Hill Strategies LLC, which has ties to fiscally conservative Republicans."

People who claim to be in the know about the restructuring plan say the aim is to focus the company's global reach in order to help it deal with regulators and lawmakers across regions and markets. That certainly sounds convincing in view of the monster fines levied by the European Union and various national governments, fines so large and so numerous they must have stung despite the size of google's annual revenue. The moves are also being spun as a shake up of interfaces with government by Google's new head of policy and government relations, Karan Bhatia.

Bhatia was recruited in the summer of 2018 as Google's VP of Policy and Government Relations and tasked with reviewing the company's lobbying needs. Susan Molinari, a former Republican congresswoman, stepped down as Google's head of Washington operations last year and the company has yet to name a successor.

It is worth noting that in 2006, Google was spending about $800,000 on lobbying and had four firms on retainer. By 2018, the company was retaining 100 lobbyists from 30 ifferent firms at an annual cost of $21.7 million to lobby Washington politicians and top civil servants and was the largest spender on lobbying among US corporations, despite the relatively small dollar amount for the massive tech giant.

The company also makes donations running into $milliond to think tanks, political research units, universities and media consultancies that help Google shape the debate into its business practices.

Meanwhile, Google employees (under no pressure from management of course, after all seeing colleagues sacked for questioning liberal dogma would not make anyone feel coerced into joining the orgies of virtue singnalling,) helped the company become one of the largest sources of donations to the Democratic Party and its candidates, including Hillary Clinton and Barack Obama. Records show that Google employees donated a total of $1.6 million to Clinton's 2016 campaign and after Obama, whose campaign was backed by Google took office in 2012, Google and its lobbying team enjoyed an incredible run of successes in Washington, including having the FTC drop a planned anti-trust case. The company also benefitted from favorable FTC net neutrality rulings (which decreed that favouring the websites of its own busineses and its biggest advertisers in search result listings was not unfair to competitors,) and secured favorable legislation on self driving vehicles.

But over the last few years the company has continued to hit headwinds from both sides of the aisle while its public image has taken a beating over privacy concerns and critics claiming that its political bias influences which content is censored.

Google is an enemy and must be broken up, or freedom dies.
The Google empire is anything but a force for good, As we have reported the corporation enjoys an unhealthily cosy relationship with governments and security agencies, with only the European Union, China and Russia having proved capable of standing up to it ...

Google Now Has Access To Millions Of Patient's Health Records

A controversial deal between tech giant Google and the National Health Service (NHS) will allow artificial intelligence units access to 1.6 million confidential medical records. Since 2014, Google has partnered with several scientists in an attempt to understand human health, but a new report reveals the data gathering goes far beyond what was originally anticipated - well now there's a surprise.

US-EU Privacy Shield Data-Sharing Agreement Blasted as Inadequate

The issue arises from the strict EU laws — enshrined in the Charter of Fundamental Rights of the European Union — to the privacy of citizens personal data. As we all know thanks to the material leaked by Ed Snowden and others the United States National Security Agency (NSA) does not regard anything as private,

Apple Hypocrisy On Users Privacy Sets Standard For Silicon Valley
When I searched for images depicting the spy-in-your-pocket nature of a certiain rather fruity technology firms products, I was amazed (not) to find all had been blocked. still, a quick hack, a screWhen I searched for images depicting the spy-in-your-pocket nature of a certiain rather fruity technology firms products, I found that strangely all had been blocked. No worries, a screen grab of an old image gave me this.n grab and we got the picture.

Going To War Against The Evil Empire
Matt Drudge, and love him or hate him, nobody can seriously suggest he has been an influential figure since the early days of the world wide web, recently claimed he had been told by a US Supreme Court judge that new copyright laws currently being pushed through the United States legislative system will finish ...

Who Runs America? US Federal Trade Commission Takes Orders From Google
Barak Obama runs America surely, you might well be thinking. We would argue that no US President since Eisenhower has truly run the USA. But the latest revelation of how cosy the Obama Administration has become with corporate business, to the extent that government departments are taking instruction from Google will shock even the most cynical Americans

Google Meets White House Officials Every Week, Why?
We have been very suspicious for ten years of the way Google with such apparent ease achieved a dominant position in web search. How did it happen, did Google do something evil, did they invoke the powers of darkness in their meteoric rise. Or were there even darker forces at work, powering Google to a position in which their internet technologies could dominate global information flows? Here's something cynics should read.

EU taking on Google - Well One German Publisher Is
Those New World Order fanatics at The Guardian, bless them, seldom miss a trick when it comes to promoting the single European Superstate and the globalist agenda. Their latest misrepresentation is to try and make us feel the European Union is somehow protecting our freedoms even as the bureau rats of Brussels are taking them away.

Pissed Off With Government/Microsoft/Google Online Spying? Be Completely Anonymous Online
Not so long ago our biggest worry online was malware, virus software, trojans and worms plagued the internet cost many people a lot of time and worry. Since about a year ago everything has changed, protecting our digital privacy is the issue and the enemy is no longer spotty little nerds hunched over computers in dimly lit basements, but governments and major technology corporations.

Artificial Intelligence: Will It Kill Human Society?
The media, the so called 'experts' and politicians hail every technological advance as if it will btransport us from reality to a utopian paradise. but does Artificial Intelligence and related internet and computer technology pose theats to human society that far outweigh any possible advantages? Whateve, Google plan to put machines in our place on top of the food chain.

Reasons To keep Google Away From your Credit Card Information
I did not use Gmail a lot because although the mail got through, I started to be bombarded with targeted ads related to keywords used in my mail exchanges (they weren't keywords as far as I was concerned, just conversation. That did not worry me much but the idea that Google were sharing my email content with the bastards throwing these ads at me did.

You Will Be Told Biometric Identification Is For Your Security, But When You Can't Do business without It, It Becomes An Assault On your Privacy
Latest plans to extend biometric security, allegedly for our safety and protection but really we suspect to extend the powers of surveillance enjoyed by central authority, ought to be the straw that breaks the camel's back and triggers wholesale resistance to the march of technology. Are you ready to start defending your freedom?

Don't be Evil, Google Will Do It For You
Google have abandoned their "Don't Be Evil motto. Good thing really, they are becoming more evil every day. The latest plans to integrate our brains with their servers may seem like a science fiction freaks wet dream, but these creepy nerds are serious ...

Don't Be Evil, That's Our Job Is Google's Real Motto
Don't Be Evil said Google's web page. But the search engine giant is the most evil of all the technology companies (though the rest can make Satan, Beelzebub, Belial, Azazel and the other Biblical demons look like choirboys. Read of Google's latest step in advancing their evil agenda to take over our lives and make us all slaves of their technology. A collection of articles by Ian R Thorpe on the unethical and dishonest ways Google has gained an unhealthy degree of influence over the internet.

12 June 2019

Facebook Takes Another Hit After Report Zuckerberg Knew Of "Questionable" Privacy Practices

Mark Zuckerberg: If he still thinks he is untouchable the thought will not last much longer.

The reputation of scandal - plagued social media giant Facebook took another hit on Wednesday after emails emerged which appear to show CEO Mark Zuckerberg's knowledge of questionable privacy practices at the company, (and presumably his approval of such malfeasances as he did not act to stop them,) according to the Wall Street Journal, citing people familiar with the matter.

The WSJ wrote:

Within the company, the unearthing of the emails in the process of responding to a continuing federal privacy investigation has raised concerns that they would be harmful to Facebook—at least from a public-relations standpoint—if they were to become public, one of the people said.

The potential impact of the internal emails has been a factor in the tech giant's desire to reach a speedy settlement

of the investigation by the Federal Trade Commission, one of the people said. Facebook is operating under a 2012 consent decree with the agency related to privacy, and the emails sent around that time suggest that Mr. Zuckerberg and other senior executives didn't make.

It is not yet known exactly which emails the FTC has requested, or to what extent they implicate Zuckerberg.

The FTC launched its investigation in 2018 in the wake of the scandal surrounding the massive 'data harvesting' exercise brought to light by the Cambridge Analytica controversy which revealed that company specifically had used illegally obtained personal data to target certain users with news intended to influence voting patterns.

In the wake of that other abuses of users' private information were brough to light and it became clear that Facebook was directly involved in gathering data on web users who do not even have a Facbook account.

The FTC investigators will be looking to ascertain if Facebook's data privacy lapses violated a 2012 consent decree the company agreed to.

In one email exchange from April 2012 that has caught regulators' attention, according to a person familiar with the matter, Mr. Zuckerberg asked employees about an app that claimed to have built a database stocked with information about tens of millions of Facebook users. The developer had the ability to display that user information to others on its own site, regardless of those users' privacy settings on Facebook, the person said.

Mr. Zuckerberg wanted to know if such extensive data collection was possible and if Facebook should do anything to stop developers from displaying that data, the person said.

Another employee responded to Mr. Zuckerberg's question, saying it was possible and many developers do the same thing but adding it was a complicated issue, the person said. -Wall Street Journal

The Journal also notes that email exchange in question happened after the FTC's consent decree had been agreed, but before the date on which it took effect, bringing to mind Zuckerberg's most famous one - liner, "The dumb fucks trust me.".

The current report states "If [the decree] had been in effect at the time, the stockpiling of such user data would potentially have violated it. Mr. Zuckerberg's message seemed to indicate he was aware of that, according to the person who was familiar with the exchange," per the report.

In April, the company said it anticipates paying up to $5 billion to settle the case.

On Tuesday, Facebook said in a statement: "We have fully cooperated with the FTC's investigation to date and provided tens of thousands of documents, emails and files. We are continuing to work with them and hope to bring this matter to an appropriate resolution."

RELATED POSTS:

Facebook's Censorship Drive Backfires As Advertisrs Dump Platform Mark Zuckerberg's bid to set up Facebook as official censor by appointment to The New World Order has backfired spectacularly as major brands are feeing the social media giant's advertising platform. CrossFit just announced they are shuttering their Facebook and instagram ad campaigns due to censorship, which filters out conservative and libertarian flavoured content and promotes only far left propaganda.

Facebook Negotiating Multibillion-Dollar US Fine As UK Labels "Digital Gangsters" Facebook and its executives were labeled "digital gangsters" by a UKParliamentary inquiry into the social media giant's abuse of users privacy. The company should immediately be subject to statutory regulation the report published at the conclusion of the 18-month investigation by the Digital, Culture, Media and Sport parliamentary committee recommended ...

also read at Boggart Abroad

Facebook Rattled After Report Claims 50% Of Its Users Are Fake

10 June 2019

Germany Heading ForPolitical Instability After European Assembly Elections?

Mainstream media's reaction to the European election results in Germany for the EU elections rejoiced in the poor showing of the Eurosceptic, anti - immigration AfD but chose to ignore the far more significant trends that are emerging in German politics, trends that threaten the political and by extension economic stability of the EU's most powerful nation.

The media trumpeted the regression of the right. Alternative for Germany's (AfD) finishing with 11% of votes cast after after polling at a high of 18% in 2018 was spun as proof Chancellor Merkel had turned back the tide of nationalism and put Germany back on its integrationist, globalist path.

But while it may be premature to write off the AfD because it is entirely possible their supporters suffered a bout of apathy with regard to the European Parliament, being aware the European Commission will not allow any nationalist grouping to gain influence in the parliament, the Left made some astonishing gains at the expence of Merkel's CDU and its coalition partners the CSU and SDP. The always fragile coalition is now in even more trouble, combining votes for coalition members gives them only only 45% of votes cast with the collapse of the once invincible Social Democrats (SPD) continuing as they gained just 15.6 % of the vote. The conservatives of the CDU / CSU alliance gained a combined 28.7%

The result in Bremen gave a powerful illustration of how Germans have abandoned the centre left. The city has voted solid SPD for 73 years, but last month lost to the Merkel's CDU in both European and regional elections. This was not a tial success for the CDU however, they simply haemorrhaged votes to the AfD nationalists and the classical liberals of the Free Democrats Party at a lower rate that SDP voters deserted the party for the far - left Greens and the Marxist Left Party.

With Merkel allegedly disavowing her promise to retire as head of the Christian Democratic Union (CDU) and SDP leader Andrea Nehles resigning as a consequence of the party's disastrous deecline, his has now thrown the survival of the current Grand Coalition into doubt. The question now is whether it can survive until the next election in 2021 although some political commentators are saying it is unlikely to survive beyond three regional elections in German federal states where the CDU and SDP are seen as vulnerable.

Meanwhile The Greens surged to more than 20% nationally and from being traditional recipients of the protest vote on as a protest vote twenty years ago over have become serious contenders for power as voters rejected another four years of the SPD lamely rubber-stamping Merkel's EU-first policies because they was they could keep a couple of fingers on the levers of power.

The greater significance of these statistics lies in trends outside Germany. These EU election results imply that the SPD may be, like the Tories in the U.K., in terminal decline. The Greens in Germany are of the most aggressively far left of all environmentalist paries in the EU. They are far more committed to about enacting societal change through Progressive aka Culrural Marxist policies and believe the SPD have been Merkel's stooges as the pushed for the integration of EU member states into a single political entity for too long. Their success in the European elections will only make them more strident.

Germany's Greens are more closely aligned with the far - left wing of the US Democrats whose rising star Alexandria Ocasio - Cortez, proposer of the notorious Green New Deal, which the Bambi - eyed, Goofy - brained Ms Cortez is not well read enough to recognise as Stalinism with an environmentalist veneer.

The rise ofThe Green Party in Germany will have knock-on effects throughout the EU as too.

As Nigel Farage said after the Brexit Party's stunning victory in Britain's European election, politics is changing. New parties of both left and right are gaining at the expense of the mainstream parties who have long taken for granted the votes of their core constituencies as they plotted and schemed to transfer power to unaccountable supra - national bureaucracies and global corporate cartels. The rise of left and right factions (the labels have little significance now,) indicates a desire among voters to localise power. Enough centralisation, they say. A global approach to certain problems does not need a globalist government of appointed bureaucrats.

have written,, the center isn't holding in Europe, nor in the USA, Australia or Canada it seems. The election of Donald Trump in the USA, the UK's vote to leave the EU, the vicory of left wing, anti - EU Syriza in Greece back in 2015, the collapse of centre right and centre left in Spain which has seen the country stumble along without an effective government since 2014, the success of anti - EU, anti - immigration League in Italy all show a swing away from the centre. Even Germany's Greens are campaigning for more attention to be paid to Germany's problems and less to the globalist agenda.

It adds up to the conclusion that the era of centrist consensus are over, politicians like Merkel are dinosaurs, Grand coalitions such as hers with their traditional opponents the SDP, which stand for nothing except the advancement of the European federalisation project have, from both sides of the political aisle, been the big losers in recent elections .

From now on political radicals of both left and right will have far greater influence over the course of the European Union and the democratic world. Merkel is on the way out anyway, and as the cadidates to replace her from within her own party look every bit as mediocre as the SDP hopefuls who hope to remove her from power in an election, it is posssible someone from The Green Party or Alternatif fur Deutschland could become Chancellor.

The problem for Germany, however, as has occurred in Spain, Belgium and the UK is that there is now neither natural party of government as the UK's Conservatives or germany's SDP once were, nor a workable coalition available.

The Greens, with their extreme anti - industry agenda were the main reason Merkel had such a difficult time putting a coalition together after 2017's election when Germany functioned without a government for six months. She will either have to move left to appease the Greens, which would drive a wedge between her party Bavaria's Christian Social Union (CSU) or consider a coalition with AfD, which is anathema to anyone who supports the Federal Europe project. Merkel has alienated many older and more conservative CDU voters over the past eighteen months by focusing on defending her disastrous 'open doors' immigration policy and decrying the rise of AfD that it has now become almost certain that immigration and the federal Europe project could cause the coalition to fall apart.

This augurs ill for her party in three big state elections in eastern Germany later this year — Brandenburg, Saxony and Thuringia. All are AfD strongholds now, AfD holding power in the regional assemblies in Brandenburg and Saxony and being the main opposition in Thuringia. Should AfD recover from the European election setback the shift in the power balance will set up a strong East/West divide in Germany which Merkel's talk of closer integration with France and her criticism of Poland's nationalist government is doing nothing to improve.

Germany's federal Government today reduced its growth forecast for the EU's largest economy today after for the second time in two months as plunging car production figures sent shockwaves through the Eurozone. The German economy, already technically in recession, has been propping up the economically stagnant EU for years. After Brexit of course, with the … Continue reading

Yellow Vests Protest Merkel-Macron Plan To Integrate Defence, Foreign Policy

The left wing wankerati will not doubt be screaming about racism and xenophobia when they learn of the latest exploits of the German Yellow Vest movement who were out protesting against the latest step Hausfrau - Volksfuhrer Merkel and The Boy Macron have taken towards politically integrating Germany and France, on which Original Boggart Blog and The Daily Stirrer have been following developments ...

Angela Merkel is seen by many Germans as more committed to advancing Islam in Europe than respresenting the wished of German voters. (picture source: http://www.tapwires.com ) Though Hausfrau – Volksfuhrer Merkel only clings to power by her fingernails as the fragile coalition she leads staggers from crisis to crisis, the damaging effects of her 'open … Continue reading

LITTLE ISTANBUL: Turkish Muslims have made Germans feel like foreigners in their own country

When Turks buy a building, they don't allow any German people to move in. The next thing you know, there is a mosque and soon the whole neighborhood has become a 'NO GO Zone' for non-Muslims.

'Islam Doesn't Belong to Germany' - New Interior Minister

While mainstream media was hailing the political mastery of Hausfrau - Volksfuhrer Merkel in negotiationg a new coalition deal to keep her in power for another four years, after Germany had been without a government for almost six months, The Daily Stirrer (and other alt_news sites to be fair) warned that the new government of Europe's most powwerful economy was fragile and full of holes. Only days after Merkel was sworn in for a fourth term, the holes in her coalition started to appear ...

Continue Reading"> After Triggering Mass Migration Crisis, Germany Bribing Foreigners To Leave

Though Angela Merkel clings to power the effects of her 'open doors' immigration policy damage Germany. It may amuse nationalists to observe as, with one face the pledges support for a United Nations initiative to open all national borders, while with the other she tries to persuade German voters she has listened to public opinion and understands her mass immigration policy is abhorred by a majority of voters ... German Election: Will Another Term For Merkel destroy German Economy According to the latest round of opinion polling ahead of the German elections, Angela Merkel looks set to become the joint longest-serving modern German chancellor, that's despite having been accused of "putting problems on the back burner, and staved off several attempts to indict her on treason charges for her role in the immigrant crisis. Business organisations have also raised doubts about the economic consequences of re-electing her, warning that her new term may bring "stagnation" for Germany.

Majority of Germans Favour Snap Election as Merkel Coalition Talks Stumble

There appears to be no end in sight to Germany's crisis of democracy as the European Union's most populous and economically powerful state continues to stumble along without an effective government. Coalition talks between Chancellor Merkel's CDU/CSU and the left wing Greens and classical liberal Free Domocrats have stalled over irreconcilable policy demands.

Germany, the EU's most powerful economy, has urged Prime Minister Theresa May and the EU's chief negotiator, the pompous French clown Michel Barnier to do all in their power to avoid a hard Brexit due to risks of French instransigence disrupting the financial sector. This would be catastrophic for the EU's financial markets, though the …

Continue reading

Germany Sees Fourfold Rise in Terrorism-Related Cases

According to a report in the Welt am Sonntag, Germany has experienced a huge rise in the number of terror-related cases in just one year, with prosecutors having dealt with more than 900 cases so far in 2017, compared with 250 cases initiated throughout 2016. Around 700 Islamic extremists now living in Germany have been identified by the Federal Criminal Police Office (BKA) as posing a potential terror threat.

A Week Before Election 30% Of German Voters Still Undecided Polling companies in Germany are indicating that support for Chancellor Angela Merkel's conservative Christian Democratic Party is still slipping with the election only one week away. More disturbingly perhaps for Hausfrau - Volkfuhere Merkel is the news that over a third of Germans are still unsure how they will vote. An opinion poll published today (15 September) on Friday showing the number of undecideds was not coming down fueled uncertainty about the kind of coalition that will emerge from an election on September 24. < href="http://www.dailystiirer.com/2017-september.shtml#170915-germany"> Merkel Faces Crisis As German Ruling Coalition Collapses

German Chancellor Angela Merkel faces a crisis in her ruling coalition after Bavarian Premier Horst Seehofer demanded she take steps to halt the tide of illegal immigrants entering the country. To have any chance of surviving, the government must present new initiatives for controlling illegal immigration, deal with the critical situation on the Austrian border ...

New German Coalition in Peril as Potential Partners Clash over 200,000 Annual Migrant Limit

Reports that German Chancellor Angela Merkel has agreed a proposal from coalition partner and leader of the Christian Social Union (CSU) Horst Seehofer to limit the number of asylum seekers in Germany to 200,000 per year to secure a ruling coalition may be somewhat premature. Other coalition partners are not as positive on the policy.

Merkel Calls for Beginning of Coalition Talks With Greens, Free Democratic Party

German Chancellor Angela Merkel officially announced on Saturday for the first time that her conservative bloc of the Christian Democratic Union (CDU) and its Bavarian sister party Christian Social Union (CSU) will seek to form a coalition government with the centre right Free Democratic Party (FDP) and left wing loony Greens.

German Elections: Anti - EU party AfD 3rd In Polls

Elections take place in Germany this Sunday, September 24, for the federal assembly (Bundestag) and the presidency (Chancellor). While Angela Merkel looks set to win a fourth term as Chancellor and the most likely outcome of the election is another "Grand Coalition" between Christian Democrats and Social Democrats that coalition will be a much-weakened if late polls are to be believed.

More news from September 2017

Chechen Islamic Police Now Enforcing Sharia Law On Streets Of Berlin

A hundred Islamists are now openly enforcing Sharia law on the streets of Berlin, according to German police officers who are investigating a recent string of violent assaults in the German capital. The self-appointed religious police consist entirely of Salafists (Muslim fundmentalists) from Chechnya, a predominantly Sunni Muslim region in the Caucasus. The vigilantes are name-and-shame tactics and physical violence to intimidate Chechen migrants and dissuade them from integrating into German society;

Is USA Preparing For War Against Russia In The Baltic Region?

The US government has been making preparations for a possible war against Russia in Europe's Baltic States, German business newspaper Deutsche Wirtschafts Nachrichten (DWN) reports (link goes to page in original German). The report claims that all the NATO war games organized in the region by Washington have been intended to prepare various military response scenarios.
---
8 June 2019
Free Speech Murdered omnibus
Death Of Democracy
Threat to The Free Press
Facebook, the internet's unofficial censor
Facebook's Censorship Drive Backfires As Advertisrs Dump Platform
Google Vs. Trump: "The Good Censor" On Collision Course With The Patriot President
Facebook Steps Up Censorship, Bans Populist News Sites
The Importance Of Freedom Of Speech and Information
Google Algorithm For 'Fact Checking' Fake News Almost Exclusively Targets Conservative Media
---
7 June 2019
Calls To Suspend New Labour MP Before She Is Sworn In …
Just when you thought politics could not get any crazier.
The Jewish Labour Movement (JLM) today called for the party whip be withdrawn from Lisa Forbes who was elected MP for Peterborough in a by election last night, before she has even been sworn into Parliament. The Jewish Labour Movement (and who would have thought the Jew - hating Labour Party would have a jewish section?) want Ms. Forbes investigated and possibly kicked out of the party over her alleged anti - Semitism.
Ms Forbes won the seat by a small majority on Thursday, holding off the challenge from Nigel Farage's Brexit Party whose candidate, local celebrity Mike Greene, had been tipped by polling firms to be heading for a landslide victory. Greene was beaten into second place by just 683 votes. However, a series of antisemitic posts from the newly elected Member of Parliament has led the JLM to call for her suspension.
Forbes reportedly 'liked' a Facebook post which said that Prime Minister Theresa May was pursuing a "zionist slave-masters agenda". She also commented approval on a post that claimed that Mossad were responsible for creating Islamist terrorist groups such as ISIS.
The newly minted MP has also declined to accept the definition of antisemitism as put forward by the International Holocaust Remembrance Alliance, something which other parties including the Conservatives have adopted as policy.
The JLM issued a statement saying Forbes was a "perfect example" of a Labour member who "rejected the accepted definition of antisemitism and supported anti - Semitic causes yet was still welcomed in the Labour Party and is allowed to seek public office as a candidate for the party.
"Ms Forbes should have the whip suspended immediately," the statement continued, calling for the EHRC's investigation into Labour's institutional racism to be accelerated and widened in scope. The party is simply incapable of dealing with racism internally the JLM statement concluded.
The Jewish Chronicle reports that two senior Labour MPs, Dame Margaret Hodge, who last year accused party leader Jeremy Corbyn of being an antisemite, and Dame Louise Ellman, vice-chairman of the Labour Friends of Israel, have formally complained to the Labour Party about Ms Forbes.
MORE ON LABOUR RACISM
Labour anti Semitism
Labour's racist future
Labour loves Islam
Left's culture wars
Why are the left racist?
The left's hate and hypocrisy
The Daily Stirrer
---
6 June 2019
Peterborough by-election: Rout of Conservatives and Labour by Brexit Party and Lib Dems expected
The Peterborough consituency has flip - flopped between Labour and the Conservatives for decades but with both parties having kept a low profile during the campaign, following their anihilation in the European Parliament election and poor results in local council elections, both held last month, due to their inept handling of the process for the UK's leaving the European Union, Peterborough looks set to elect the first MP for Nigel Farage's new Brexit Party at today's by-election.
With the Conservatives in disarray and unable to mount a coherent campaign, Labour despised for pushing a black woman candidate with no local connections onto the constituency, (they have quotas for minority candidates,) and she then getting herself arrested and jailed for pervrting the course of justice and also because of its anti - Semitism and ambiguity in a constituency that voted 61 per cent leave which suggests the Lib Dem's "Stop Brexit at all costs" position will not win them many votes, Brexit Party candidate Mike Greene is feeling optimistic, with odds of 1/6 on the six-week-old party winning its first Westminster seat.
Dubbed a 'super marginal', Peterborough was the first constituency in Britain to launch a successful recall petition to strip Labour's Fiona Onasanya of the seat she won from the Tories in 2017. She was fired by the constituency after imprisoned for perverting the course of justice over a speeding offence.
Multimillionaire Greene, who switched from being a lifelong Conservative supporter and donor to becoming the Brexit Party's first parliamentary candidate, believes the city is about to make history for the second time in a year.
"Being Labour or Tory is a bit like supporting the same failing football team - you try to keep on hoping but then you lose hope and realise you can't do it any more," he told reporters during a walkabout on Wednesday.
MORE ON BRITISH POLITICS
4 June 2019
UK News Ignores Crowd Chanting "We Love Trump!"
While the media was busy covering the temper tantrums of London's anti-Trump, pro-refugees, terrorist - loving Muslim Mayor, Sadiq Kahn, and the antics of the far left, who once again, flew their childish balloon of our president wearing a diaper over London, a massive gathering of pro-Trump supporters were gathered in Trafalgar Square. The enthusiastic crowd were showing their support for President Trump in a very visible way. It made those left wing commentators who have been speaking, writing and tweeting as if everybody in Britain agreed with them look foolish.
With their chants of "We love Trump! We love Trump!" the pro-President Trump crowd sent clear message to President Trump, "The great deplorables of the United Kingdom love you, we are with you, we stand with you, and we want you to succeed. Forget about the establishment. Forget about the detractors and the fake news media. The real people out here in the United Kingdom—We love you, Mr. President!" Coming only a day after hundreds of thousands in Britain
marched in protest
of President Trump, supporters of the president and his unorthodox brand of statesmanship gathering for their own demonstration, was, perhaps, a way of making a very British gesture in the direction of far left hate - mongers like London Mayor sadiq Khan and Labour leader Jeremy Corbyn whose provocative statements about Trump's state visit were intended to cause division and incite fury in far left extremists. Whatever Mr. Trump may have don'e to anger the loony left, no matter how many pussies he may (or may not,) have grabbed, we should remember Khan#s links with the terroist Muslim Brotherhood organisation and that Corbyn's criticisms of Trump's human rights record are hypocritical when he has for decades sung the praises of Marxist tyrants whose human rights abuses have been among the worst in the modern era. Hundreds of protesters gathered in Whitehall, the rather grand London avenue that includes runs from Trafalgar Square to Parliament Square and The Palace of Westminster, in which many British government departments have their headquarters. Hundreds of signs that read "Britain Loves Trump" and "Free Tommy Robinson" could be seen among flags that double as nativist symbols—Union Jacks, the red and white English flag, and American flags. While anti - Trump protests were given blanket coverage in UK media and particularly by the left wing, taxpayer - funded state broadcaster, The BBC, the pro - Trump rallies were completely ignored. The numbers at anti - Trump rallies were greater, but that is no excuse for not reporting the rallies of Trump supporters, which were attended by significant numbers. The political bias displayed is on a par with the media's completely unbalanced reporting of the Brexit crisis, which would lead a stanger to our shores to believe that only senile, ignorant, uneducated, xenophobic, white, heterosexual, working class bigots supported leaving the EU. In fact, where most leave voters can offer a coherent case for their voting leave, the university brainwashed sheeple who take to Twitter and other social media sites to decry Brexit supporters can only resort to calling them racist, fascist bigots (they can't remember all the big words I used above.)
Left's attachment to hate and hypocrisy
As Alec Baldwin Was Slammed For Saying Cocksucker A Left Wing Cocksucker Was Praised For His Hate Speech ...
Jew hating Leftie Students Union In New Anti-Semitism Row
Those anti Semites of the The National Union of Students (NUS) are at it again. [ ... ] Hypocrisy and double standards are the stock in trade of the 'new left' of course and the anti – Semitism of Labour voters and other younger lefties (University dumbed down airheads who are too historically illiterate to be aware of the role Britain's Jewish communities played in establishing the Labour Party
Politically Unbiased(!) BBC Launches Left Wing Attack On Donald Trump For Illegal Immigrants Stance
We have mentioned that the terms of publicly funded broadcaster The BBC's charter requires that it be completely fair and non partisan in its political civerage. In recent years however, the BBC's bias towards the politics of the left has become blatant. Furthermore, while BBC bosses try to preach a politically correct message via their comedies and dramas, commercial stations are making better quality programmes.
Politically Unbiased BBC Launches Left Wing Attack On Donald Trump For Illegal Immigrants Stance
The BBC, Britain's publicly funded broadcaster is bound by a charter which commits it to be balanced and non partisan in its news reporting. Repeatedly however, the BBC, its management now doniated by left wing luvvies is becoming more and more blatantly left wing in its unbiased reporting
Stephen Nolan's Pro-Migrant Stance - Boggart Blog Pays Tribute With Fat Bastard by The Macc Lads
The BBC will not accept any criticism when it comes to anything of a political nature. They would never back down.There is, it seems, no one in the entire institution who is not radically left wing and they are waging ideological war against the general population and against British culture and values.
One in four Jeremy Corbyn supporters believe world is run by 'secretive elite'
YouGov analysis of Labour supporters also finds most Mr Corbyn's backers see America as the 'greatest single threat to world peace' in revealing research. And they call us conspiracy theorists ...
Social Science Degrees Make Great Leaders? More Junk Science.
We've had junk science on climate change, genetically modified seeds, many types of medicines and social engineering. The junkiest of junk science however is always commissioned by public service organisations and is aimed at convincing the public that our public servants are doing a good job. Fortunately the public are not as gullible as our leaders suppose.
Home Secretary says Britain Will Outlaw Hate And Extremism
In yet another example of how out of touch with reality our leaders are, Theresa May announced on BBC Radio 4's Today programme that the "British" government's determination to make "hate," "extremism" and "Neo-Nazism" illegal.
Labour Scourge Of Tax Avoiders Is A Tax Dodger? WTF is going on?
We have often made points about the hypocroisy of the left, particularly those lefties, but surely Margaret Hodge (nee Oppenheim - the diamond people) is the undisputed champ of left wing hypocrites. As a senior Labour MP Margaret was always eager to condemn tax avoidance. Unfortunately like most self righteous Labour millionaires she did not practice what she preached.
Millie Tant, Tatchell's Transphobia and Germain Greer's Big Hairy Smelly Vagina
The well of hypocrisy from which the left, champions of freedom, democracy, equality and free speech in their own estimation, draw their dishonest, self rightoeus views on the world is bottomless, it will never run dry. How else could it have continued to flow during this latest two-faced display of authoritarianism from the lovers of all minoities even when those minoritites hate each other. It is the multual hatred of minorities however that is fragmenting the left.
Aid Organisations Using Ebola to Line Their Own Pockets
Just a couple of days ago The Dily Stirrer was slamming charities managers for using our money to line their own pockets. Now in a devastating attack on the charity sector, a Liberian official accuses charities of exploiiting ebola for gain.
Red Cross To Be Renamed Red Swastika?


The Red Cross is getting some well deserved stick after sacking 71 year old Brian Barkley, a volunteer for over twenty years. His crime was to have an opinion that differed from the politically correct dogma espoused by the self righteous, self interested left wing troughers who line their pockets via generous expenses and salaries for running the charity.
Tony Benn's inheritance tax dodge - another leftie hyocrite exposed
Remember the patron saint of loony lefties, Saint Anthony of Wedgewood - Benn, previously known as Viscount Stansgate? Agreeable sort of bloke, pip smokers, great speaker, utterly daft opinions as one would expect from an aristocrat who is so deluded he thinks he understands the working class?
Taxi Customers In Heywood / Rochdale Ask For 'Local' Drivers
A taxi company in the child-sex scandal hit town Heywood, is now offering customers option of requesting white-only cab drivers, after two former 'Asian' drivers were imprisoned for their roles in the sexual exploitation gang.
Birmingham Child Abuse Scandal Set To Break - Will Dwarf Rotherham, Rochdale
Hot on the heels of child sex abuse scandals in Rotherham and Rochdale, another, bigger scandal is set to erupt in brimingham and the West Midlands. Gangs made up of predominantly Pakistani men, using the same modus operandi as the South Yorkshire and Greater Manchester abuse rings, targeted young girls and boys from broken home who were unfortunate enought to find themselves in the care of the local authority. Once groomed the children were raped and prostituted
Sex Gangs Operating In The Child Care System - Why Didn't People Come Forward.
The predicable response from many politicians since the Rotherham Child Care sex scandal blew up in the faces of the smug, self serving establishment has been to feign surprise and say, "But why didn't people come forward sooner?" The fact is that as we saw in the Jimmy Savile scandal, people were coming forward, people were voicing suspicions and they were insulted, ridiculed and humiliated.
Nato heads of state will meet in Newport, Wales, to discuss the alliance's future.
This won't be a standard summit. Nato is in crisis. Faced with an increasingly unstable situation in Ukraine where the neo - Nazi government installed by the USA / NATO and the EU gets loonier by the day, NATO, The North Atlantic Treaty Organisation is being presented by mainstream media as in need of a new strategy to deal with what's described as increasing Russian aggression in eastern Europe. This is in addition to their needing a new strategy to deal with the threat of the Islamic State in Iraq and Syria.
Is It Lack Of Diversity That Makes Lefties Stupid?
Quite a while ago now I wrote a post titled "Is It Lack Of Diversity That Drives Left wing Hate?" It contained these lines: There's an old joke; Q: "Why do teenagers only listen to other teenagers?" A: "Because they're stupid." - Q: "Why are teenagers stupid?" A: Because they only listen to other teenagers." Substitute leftie, liberal, radical or progressive for teenager and that just about sums up the political 'left'
Such Nice People Live On The Left Of The Political Spectrum Left wing politics, once the politics of freedom, individualism and self - determination has increasingly over the past few decades become the politics of hate, envy, bitterness, hypocrisy and authoritarianism. Left wing politics has now developed a level of intolerance for those who challenge its idiotic assumptions or moral superiority, it appears to be charging headlong towards fascism.
Shock; horror. Human Barbie Doll has her own opinions
The human Barbie girl Valeria Lukyanova has become something of an online phenomenon and is regarded as a sex symbol by many young men of the kind who have more computers than friends. Personally I find her apearance bizarre and about as sexually alluring as cold porridge. Still each to there own, where would we be without diversity of opinion.
Whether Tom Chivers Is A Science Writer, A Hack Journalist Or A Cunt Is A Matter Of Semantics
More political propaganda from the loose bowelled left (they pump verbal diorrhea at us all the time) concerning whether it is a 'hate crime' to decline to address transgender males as "she". Once again in something that is a personal matter, the self styled metrosexual elite have elected themselves as guardians of politically correct morality and are trying to impose their emotionally retarded views on all of us.
Gay and same sex marriage: The Bigotry And Intolerance Of Those Who Describe Themselves As The Liberal Left With same sex marriage made legal in Britain we face the same kind of witch hunts against businesses that do not want to deal with beareded queens in bridal gowns as the liberal bigots and gay nazis are launching in the USA. As many of us new media common sense merchants predicted, once the principle was accepted in law, nobody would be allowed to opt out of supporting these bullies.
Ve Haff Vay Of Making You Konform. The Tide Is Turning against the Autoritarian Left
The left's self confidence has had a hint of desperation about it for a long time. From their constant whines about the sexism, racism and homophobia of the working class who happen to be the party's core constituency to the substitution of smearing UKIP for policies in the european Election this is a party of arrested adolescents throwing a hissy fit because people are laughing at them.
Why Do Those On The Political Left Assume They Have A Monopoly On Goodness And Truth
Political philosophy: As politics and society become more binary and polarise so that according to a self sppoined elite there are only two possible points of view on any issue, public debate is stifled and the polarised left and right end up attacking the other's right to free speech. It has nothing to do with liberal democracy
Homosexuality: As a liberal society we have a duty to tolderate, not celebrate.
Even though the government has accepted a very limited definition of same sex marriage the gay lobby keeps raving on about the greates non issue of all time. But in a free society should we be subjected to bullying if we do not show enough enthusiasm for homosexual and lesbian relationships? When did indifference become a hate crime?
Socialist Nazis Of The Left
The Racist Hypocrisy Of The Left
---
2 June 2019
Parents Banned from Protesting LGBT Lessons Outside School
It was inevitable given the lefts love of Muslims and the LGBT community that the interests of these two conflicting cultures would cause problems in left wing politics. The problem began a few months ago when a gay teacher at a mildlands junior school persuaded the mostly white, socialist governors of the school in which Muslim pupils are the majority, to let him introduce into the curriculum gay and lesbian lessons for children as young as six and seven.
This brought Muslim parents into conflict with Anderton Park Primary School as any form of holosexuality is an abomination to Islam. Labour dominated Birmingham City Council decided LGBT rights is a more fashionable cause than multiculturalism and diversity this week and took up the fight by trying to force Muslim parents to allow their kids to be subjected to gay and transgender propaganda. Now the council has won a High Court order to ban protests by Muslim parents about LGBT relationship lessons in and around Anderton Park Primary School.
As children return to school after the half-term break, parents and other protesters face arrest if they appear on or in the proximity of the school grounds to protest about the teaching of LGBT relationships to their children. In recent weeks the predominately Muslim parents have been seen carrying signs that read "Adam and Eve Not Adam and Steve" and "Say No to Sexualisation of children".
The protestors argue the content of lessons in gay and lesbian sex is not appropriate for young children and teaching them about gay relationships would confuse them.
Under the terms of the Court order, the protestors will be arrested if they break the following conditions:

"Organise, engage in, or encourage others to engage in any protests against the teaching of equalities at the school within an exclusion zone

Print and hand out leaflets, organise protest events or encourage others to do so

Use social media to make offensive or abusive comments about any members of staff at the school around equalities teaching."

A council spokesperson said of obtaining the order, "We did so only after careful consideration and in the light of increasing fears for the safety and wellbeing of the staff, children and parents of the school when they come back from their half-term break.
"This is particularly so after the serious escalation of the protests in the week before half-term – including the attendance of very large numbers of people who have no children at the school, many of whom are not from the city," they stated.
---
U.K. Hits "Open Borders" Highs - 600,000 Migrants Arrive In Year - Official Figures
On the heels of the Lyon terrorist attack that happened last Friday, with Mohamed Hichem M. confessing to the crime and pledging allegiance to ISIS, newly released statistics from the UK's Office of National Statistics (ONS)show that over a quarter million more new immigrants entered Britain than refugees left.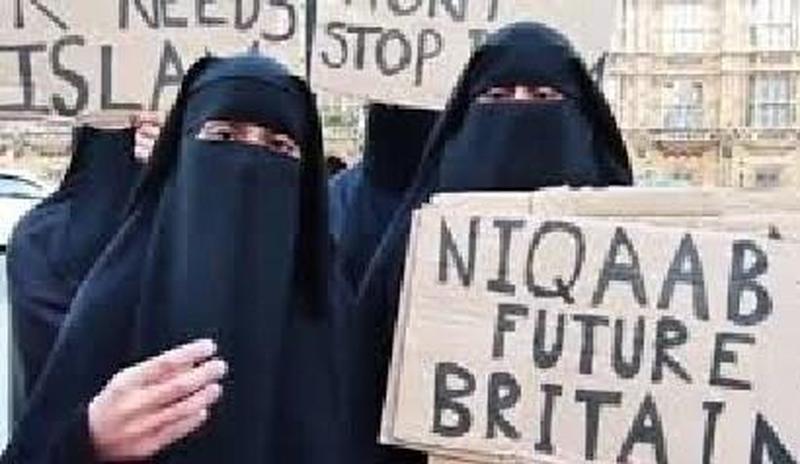 Picture source: Google
On top of that, The U.K. granted asylum or resettlement to 17,304 people – an increase over the previous year.
According to the ONS report: "Since 2016, the pattern of migration to the U.K. for work has been changing. Long-term immigration to the U.K. for work has fallen, mainly driven by the decline in EU arrivals. Despite this, 99,000 EU citizens still came to the U.K. long-term to work in 2018, a level similar to 2012. We are also seeing the number of skilled work visas for non-EU citizens increasing, although overall non-EU work-related immigration has remained broadly stable."
Vice chairman of Migration Watch U.K. Alp Mehmet claims that net immigrationremains at more than a quarter of a million, very abnormal and high. During 2018, nearly 75,000 more people entered than departed. This particular statistic shows an upward trend and has risen at an increasing rate with each passing year. Mehmet says "The clear message in these figures for the next Prime Minister is that they must make it a priority to deliver on the government's pledge to reduce immigration levels by a lot, in line with the public's wishes".
Picture source: Zero Hedge
Although the Conservative party has won three elections under the promise of reducing net migration "from the hundreds of thousands to the tens of thousands", nothing of the such has been done. In 2010, Theresa May, who was Home Secretary from 2010 to 2016, railed against the previous Labour government's inaction, detailing that "over Labour's time in office net migration totaled more than 2.2 million people – more than double the population of Birmingham. We can't go on like this."
Supporters of open borders and uncontrolled immigration on the far left of the political spectrum may be shocked to learn that a man of non European origin holds a high office in an organisation such as Immigration Watch, but to those of us who bother to research our subject it is well known that many people who have migrated to britain from The Caribbean, Africa, the Indian sub - cintinent and South East Asia and integrated with British society are concerned about the quality of people now being allowed in, about their cultral incompatibility and their determination to reject British law, culture and traditions.
Even with wins for the Conservative government in the 2015 and 2017 elections, nothing was done to curb the number of refugees entering the country with the same number of people arriving each year as before.
The British government still buries their heads in the sand regarding the dangers of unfettered migration, even after public opinion, and events in Britain's cities, London in particular, have given them the message that many new immigrants are not here as aspiring Britons but see themselves as conquistadores while law abiding citizens yearn for their home towns and cities to be secure and safe again.
If government policies continue to force the police to abandon our streets to lawless and violent elements, it will inevitably fall to the citizens to take the law into their own hands in order to protect themselves and their families as more and more immigrant related problems including gang violence and sex crime arise from refugees and migrants encouraged by the authorities' reluctance to act against them infiltrating and for fear of being accused of racism by far -left apologists for their misogynistic culture of hate and violence. Authority figures in Europe such as Hausfrau - Volksfuhrer Merkel, the boy president Macron and E U President Jean - Claude Drunkard in Europe have shown beyond doubt that they do not have the best interests of their own people at heart.
The Daily Stirrer
The Politcally Correct Thought Police
Media silence Surrounds Muslim Massacres Of Christians
---
1 June 2019
Police Recruit Denied Job for Being a White Male Wins Appeal
A heterosexual casual-Christian white male university graduate who applied to become a police officer with Cheshire Constabulary and was denied a job in his local police force precisely because he was white, straight, Christian (in a very British way,) and male has won his appeal against the decision.
Twenty - five year old Matthew Furlong wanted to following in the footsteps of his father Liam Furlong by joining Cheshire Police, but was rejected with the force's human resources department citing the so-called "positive action" provisions in the Equality Act in justiication. The Equalities Act is the act rushed through by former deputy Prime Minister, paedophile enabler and feminist idiot Harriet harman (aka Hattie Harperson,) in the dying days of the last Labour government ostensibly to make britain a fairer society, but which managed to be unfair to everybody and has been resposible for many of the widening social divisions in britain today.
The Cheshire police force had been criticised for having no black police officers and so introduced the policy to try and increase diversity in their ranks although there are no significant migrant communities in places like Great Budworth, Cholmondley (pron. Chumley) or Lower Peover. When the grounds for rejecting Matthew's application were revealed his father complained about the decision and the case was taken to a tribunal which Mr Furlong won, with the court deciding that he had been discriminated against on the basis of his race, sex, and sexual orientation, the Manchester Evening News reported.
The tribunal ruled that positive action can only be used in a so-called "tie break" situation in which two candidates for the role are equally qualified, and that did not apply in case of Mr Furlong, who has a degree in particle physics and cosmology. The would-be recruit said the experience had "completely shattered" his faith in the police recruitment system, adding that had he lied and claimed he was bisexual, for example, he would probably have been accepted based on that lie at the first time of asking, because it would have helped Cheshire Police fill their quota for officers who are turd burglars or pussy slurpers.
"I absolutely agree that a force should represent the equality and diversity of the community it serves but that must be achieved legitimately and without discriminating against anyone," he said in a pres statement.
Male Privilege Is A Myth (video)

The pushback against politically correct thinking, identity politcs and the hatred from feminists for all things male is probably overdue but it is coming. After the #MeToo campaign tried to return our view of justice to the equivalent of a medieval witch hunt by making accusation of a man by a woman sufficient evidence on which to convict, while the racists of black Lives Matter tried to bully lawmakers into accepting that requiring black and brown people to obey the law is racist, the populist movements in the USA and Europe. which have put Trump in The White House, taken Britain out of the EU and put anti -establishment governments in power in Poland and Italy continue to gain strength.
The Trump administration has committed the unforgivable sin of being sensible. In a move guaranteed to trigger thousands of lefties and send snowflakes into meltdown, The White House has proposed the idea of recognizing "sex" as "biological sex" for purposes of Title IX, according to a draft memo leaked to the New York Times. This seemingly innocuous proposal …
Continue reading
As the US 2018 midterm elections loom ever larger on the horizon it is clear the US electorate has never been more implacably polarised, while the smearing, lying, backstabbing and name calling have never been more blatant. The Democrats know there is not only control of the Senate and House of Representatives at stake, but …
Continue reading
30 May 2019
---
How Much Does The UK Actually Send To The EU
Big kerfuffle this week over Conservative Party leadership contender Boris Johnson facing a court hearing over his claim, made during the EU Referendim campaign, that Britain sends £350million a week to Brussels. Originally the Rabid Remainers tried to claim somebody in the Leave campaign (they weren't quite sure if it was Boris, Nigel Farahe, Jacob Rees - Mogg, Michael Gove or somebody else and didn't really care,) had said all of the money would go to the NHS. Nobody had actually said it of course but such is the solipsism of the globalist camp that if they want something to be true, they can easily convince themseles it is true.
The claim is in fact true but misleading. If the amount paid into the EU budget is taken, then it is close to £350million a week. Our net contribution (i.e. after the amount paid by the EU to fund various EU supported projects means the net amount we contribute to the EU is somewhat less. However that £350million is not the full story:
from The Bruges Group
The true cost to Britain being a part of the European Union is close to £661 million per week since 2010, a number hidden from the British taxpayers due to an intricate payments system and largely ignored by the mainstream media.
Our estimated figure encompasses £80billion lost to the Treasury after the European Court of Justice forced tax rebates to multinationals.
A key area of controversy is on the rebate, an annual, purported "reduction" in United Kingdom's contribution to the EU budget that's equal to about 66% of the difference between what the UK contributes to the EU budget and its receipts from the EU.
Even after the rebate, in membership fees alone, Britain shelled out £70.6 billion since 2010.
Data derived from a briefing paper on "The UK's contribution to the EU Budget" indicates Britain contributed between £8-10 billion per year. The same report acknowledged "the UK made the second largest net contribution to the EU budget in absolute terms, and the third largest net contribution per head of population" in 2015.
If the EU exceeds its budget, as it did in the fiscal year 2014-2015, UK is responsible for footing the difference. We did that year in the amount of £1.7 billion, as reported by the Daily Mail.
The EU demanded the amount after recalculating the income of member states dating back almost 20 years, penalizing the British economy that was found to be larger than previously determined. The article detailed Britain "paid the amount due" in full with two instalments not subject to rebates.
Parliament has no control over these payments since Britain is part of the EU and civil servants are legally obliged to pay these costs. Britain is increasingly relied upon as a financial support structure for Eurozone countries facing serious financial difficulty or at risk of defaulting on their debt
oblications.
>>
Brexit Is Now About More Than Leaving The EU
Until now we have not posted anything in the past few days on Brexit. Our position is well know to our readers, let's face it, the saturation coverage left nothing new to be said. The whole thing is a craptangle, but it was obvious from when the Conservative Party engineered a situation in which Theresa May was left as the only candidate for the leadership that there could be no other outcome.
EU "Sounds Alarm" Over New US Sanctions On Russia; Germany Threatens Retaliation
Late on Friday (21/07/17), Congressional negotiators agreed to advance a cross - party bill that would punish Russia for its (alleged) interference in the 2016 election according to the Wall Street Journal. And while it seems improbable that President Trump would sign the bill if it reaches his desk, the loudest complaint about the bill to date has emerged not from the Oval Office, but from US allies in NATO and the European Union ...
Nigel Farage Swipes Back At Irrational, Screeching, Crazy Clinton
US Democratic Party presidential candidate Hillary Clinton launched a hysterical, irrational attack, filled with half truths and blatant lies, against the most prominent figure in the campaign to get Britain out of the EU (Brexit), UK Independence Party leader Nigel Farage, during a speech at a rally today. Mrs Clinton, responding to Farage's address to a large and enthusiastic audience at a Donald Trump rally, may have been rattled at the prospect of having such a hihly effective campaigner in the rival camp ...
Rebellion Against EU Authoritarianism Escalates As 8th Member Nation Threatens Referendum
Brussels went too far, they crossed the line in moving from an economic union to a political pan - European political empire. In the end it was a race as to which member state would quit first, Britain, Natherlands, Denmark or Italy. In the event it is Britain.
Is Brexit A Harbinger Of Doom For The 'Experts' The Brexit vote, the decision by a democratic majority in Britain to leave the European Union has sent shockwaves around the world. Not only does the EU now face a tsunami of departures, the usurpation of democracy by 'experts' ( technocrats ) has been challenged and exposed as a sham.
BREXIT vs. GREXIT – The Truth About The European Union And How It Treats Members
Unless the testicularly deficient politicians stand up for their nations he only thing that will halt the European Union's push beyond Europe's geographical borders to incorporate Asian, middle eastern and north African nations is war. Power is addictive and the bean counters of Brussels have ambitions far beyond Europe.
The Hypocrisy and Snobbery Of The Remain Campaign And The Antidote

When I had to defriend a Facebook contact because she was arguing in favour of the EU, it was not simply because I support Brexit that I had become pissed of with her, it was the snobbish and condescending way she dismissed supporters of LEAVE and their case. People are entitled to their opinion on the European Union, but they should check the 'facts' they post in support of their arguments.
The Labour Case For Brexit by Kate Hoey M.P.
After my short intro is a savage indictment by Brexit supporting Labour MP Kate Hoey of the way the Labour Party has abandoned the working class and is now trying to betray the party's proud heritage and its roots in the industrial areas by taking Britain into an undemocratic, corporate controlled, capitalist friendly, elite dominated globalist control freak project.
Dutch Referendum This Week Shows why We Should Leave The EU.
Few of you were aware probably that there is an EU referendum vote in The Netherlands this week. As usual with anything negative about the EU barely a word has been printed in the topic in mainstream media and the silence from our notionally unbiased national broadcaster The Bolshevik Broadcasting Corporation (BBC) has been deafening.
French, Belgians, Dutch, Italians Follow Britain in Euroskepticism
Europeans want us British to lead them out of Europe. Don't be fooled by project fear, the European Union (aka the Euronazi Federal Superstate) is falling apart. There will not be chaos if we leave, there will be chaos if we stay.
Head Of European Institute: Brexit 'Better' For Everyone
Brexit would be the best result of Britain's in / out referendum for both Britain and the EU i a Belgian professor who heads up the European Institute at the London School of Economics (LSE) has said.
Johnson's article lines up his reasons why Britain must exit on June 23rd. It's time to be brave
OK, I know a lot of you think Boris is most accurately described by a word many people find offensive, but he's put together a very good argument here on why we must leave the EU. Published in part here under 'fair use' terms and conditions, in the public interest ...
Paris Police Officers To Be Prosecuted For Brutality Against Gilets Jaunes Protestors
French Police officers involved in the assaults against Gilets Jaunes protestors will be tried for violence during the yellow vests protestors, said the Paris prosecutor in an interview granted exclusively to Le Parisien.
The public prosecutor for Paris, Rémy Heitz, published a judicial review of the six months of Yellow Vests protests in Paris and other French cities, most notably Toulouse, Rennes, Montpellier and Ma
rsailles and announced, in an exclusive interview the first results of the investigations into the police response to the protests.
He said that 174 investigations had been opened to date, of which 171 were entrusted to the General Inspectorate of the National Police (IGPN) and three to the General Inspectorate of the National Gendarmerie (IGGN).
"57 files have been closed and handed over to my public prosecutor's office who is analyzing them [...]. Eight of them justified the opening of a judicial investigation, that is to say that the continuation of investigations is now entrusted to investigating judges," he added. Remy Heitz said that these include the facts denounced by Jerome Rodrigues, cases where the damage is the heaviest, with permanent disabilities.
"There are several cases related to the use of defense ball launchers (LBDs)," he said.
According to him, no policeman or gendarme has yet been indicted. A police officer was taken into custody in a case where a protester was injured and hospitalized, but the investigation is still ongoing.
More on France
---
29 May 2019
British banks now forcing online customers to surrender their right to protection from fraud
Experts fear that an addition to the terms and conditions on your online banking account could give banks an excuse to refuse a refund under the new compensation code launched yesterday, ostensibly to protect customers from authorised push payment (APP) scams — an increasingly popular type of online fraud in the UK.
APP fraud is where someone tricks you into sending them money from your account after contacting you by phone or email, pretending to be someone else. A comon approach is a call purprting to be from British Telecom (BT) threatening to cut of you internet connection unless you pay a specified sum. When the person targeted does not buy their internet access through BT this is easy to spot, but BT have a lot of customers out there and the scammers catch enough to make it worthwhile.
The new rules will see victims of such scams reimbursed only when they can showhave reasonable care has been taken to conform the payment was genuine. In a bid to prevent such fraud, banks have been using alerts to raise awareness of common tactics used by scammers (sic), such as posing as bank staff or police.
Now banks are demanding that customers confirm they are aware of the risks before they approve the payment — which leads some internet security experts to suspects banks will try to use these agreements to wriggle out of refunding fraud victims' money. So far, Barclays is the only bank to state this risk clearly to customers on its webpage. It warns: 'If you confirm this payment, and it turns out to be fraudulent, it is unlikely we will refund you.'
Royal Bank of Scotland (RBS) and NatWest are also warning customers it will be difficult to 'recover' their money if they go ahead with the payment and it turns out to be a scam. Under the new, voluntary code of conduct, providers must present customers with 'effective warnings' about scams when transferring money online.
However, the rules also say that if banks can prove customers ignored these warnings before making a payment or setting up a new payee, they do not have to refund them.'
---
27 May 2018
Facebook's Censorship Drive Backfires As Advertisrs Dump Platform
Mark Zuckerberg's bid to set up Facebook as official censor by appointment to The New World Order has backfired spectacularly as major brands are feeing the social media giant's advertising platform. CrossFit just announced they are shuttering their Facebook and instagram ad campaigns due to censorship, which filters out conservative and libertarian flavoured content and promotes only far left propaganda.
Facebook recently banned one of their affiliate pages without reason or warning. Many other organisations have been purged, somtimes not for actually supporting right wing political views but for simply not being enthusiastic enough about the kind of far left sacred cows Zuckerberg likes to embrace for his virtue signalling exercises. Other unethical behavior Facebook has engaged in around data rights includes collecting private data from users' home systems without authority, selling said data to advertisers and public relations consultants, ignoring court orders to cease and desist, tax evasion and a host of other bltantly illegal or ethically dubious activities.
The issues raised by CrossFit's decision reflect conservative concerns over free speech and social media censorship given the political bias shown by the owners of these companies. It seems that in their quest to satiate the outrage mob they have banned too many accounts, often without any reason other than that those sites reflect views that do not coincide with those of some egomaniacal Silicon Valley bilionaire.
When you appease exrtremists by banning one group then those same people demand you ban another group and it never ends. It is a trait of the left wing mindset that it can only ever go further in the same direction. Thus Facebook caving to far left faux - outrage over non - issues like 'transgender rights' or banning support for Israel has resulted in their steady decline. Young people are are abandoning the platform as it is now longer seen as cool, but has become a byword for authoritarian and illiberal business practices and political views. And now even it's biggest backer, the U.S. government is targeting Zuckerberg's empire with anti-trust measures. As more people and groups get banned on facebook more people decide to leave.
[youtube https://www.youtube.com/watch?v=65sYLQlEP-c&w=560&h=315]
RELATED POSTS:
---
26 May 2019
Belgian Yellow Vests Clash With Riot Police On EU Parliament Election Day
Belgian Yellow Vest protesters and other groups protesting EU mass immigration and Federalisation policies clashed with police and left wing activists protesting against the protestors in Brussels on Sunday, the final day of voting in the Europe wide elections to the EU Parliament.
>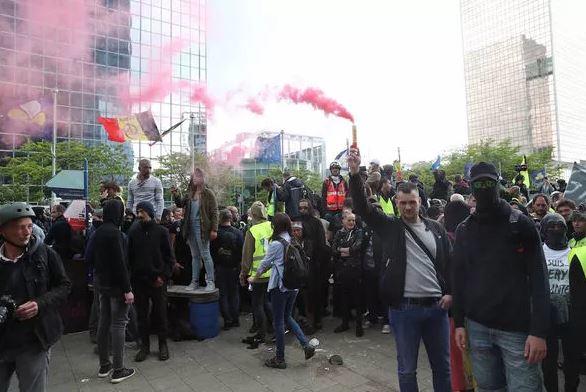 Videos taken by protestors and onlookers show multiple fights between protesters and riot police, prompting the deployment of riot squads aremed with tear gas and batons. Protesters at Brussels Nord Station chanted "everyone hates the police," as a helicopter hovered overhead. The protestors also clashed with police outside the headquarters of the European Union in the heart of the city.
The rioters then moved on to the headquarters of Belgium's domestic Socialist Party (PS), where they were reported to have attacked the building with paint bombs.
Police continued to hit back at rioters with tear gas and water cannons as they struggled to keep up with them." -Express
Though results for the election cannot be released until after voting is completein all member states, and at the time of writing it is still going on in some EU nations, a leak from the Netherlands, which like the UK and Ireland voted on Thursday, suggests that the party of Prime Minister and leading Europhile Mark Rutte, the People's Party for Freedom and Democracy (VVD) have been beaten into second place by the right-wing Forum for Democracy alliance (FvD).
Forum for Democracy – a relatively new conservative party, which is known for its Euroscepticism and sympathy for a grass roots Nexit (Netherlands exit) movement built around the idea of Holland leaving the EU, was formed in 2016 and has become a big winner in the Netherlands during the provincial elections two months ago, securing 86 seats spread across the country's 12 provinces. In three provinces, including the capital region of South Holland it became the largest party.
Matteo Salvini, the deputy prime minister of Italy and leader of the nationalist League Movement, which is expected to strengthen its position as largest party in Italy called for a "Trump-style" revolution in his cash-strapped country and across Europe to halt the growth of the EU's bureaucratic empire.
Salvini has clashed many times with Brussels over Italy's budget proposals and has also enraged European Union bosses with his hardline stance on immigration. He has even talked of Italy leaving the EU (Quitaly,) and has stood up to EU bullying since the unelected bureaucrats in brussels tried to overturn the result of the democratic election that voted his party into power by refusing to accept a Eurosceptic leader of an EU member state. And his proposals for tax reforms inspired by those passed introduced in the US by Mr Trump's White House administration are sure to ruffle more feathers in Europe.
"I want a Trump-style revolution for Italy. The only way to reduce public debt is by growing and cutting taxes. That's why a Trump-like revolution is dear to my heart.I won't compromise on taxes. The whole government team must believe in this, he is reported to have said."
Salvini while officially the internal affairs minister in the Italian government is the de facto leader and is set on a course of confrontation with the Brussels bureaucracy, which he feels serves German interests to the dfetriment of other EU members.
The deputy Italian PM increased his popularity at home and infuriated globalist leaders like France's boy presodent Emmanuel Macron and Germany's Hausfrau - Volksfuhrer Angela Merkel by implementing a clampdown on migrants trying to enter Italy illegally via the Mediterranean.
"I reduced the landings by 90 percent. There were 11,000 last year, today they are 1,100. I don't need to do anything else, the landings have been reduced and the expulsions are twice the amount of arrivals. I don't need new ideas and what I'm doing I'm doing it without Europe, alone and with this government."
Salvini's move to close Italian ports to ships operated by 'refugee' support charities which cruise the Mediterranean picking up undocumented migrants abandoned at sea by African human trafficking gangs.
Italy goes to the polls on Sunday in the European elections with League expected to win easily, but Mr Salvini would not be drawn on predictions.
Other EU member states which are likely to provide interesting results are Germany where the Eurosceptic opponents of mass migration the AfD are expected to make significant gains at the expense of ruling coalition partners the Social Democrats and Christian Democrats whose leader, Chancellor Angela Merkel kicked off the immigration crisis by declaring Germany's doors open to all comers and then tried to force other EU members to take the flood of uneducated, unskilled, illiterate, unemployable third world religious fanatics who flooded Germany's cities.
RELATED POSTS:
Little Donny Tusk The Polish Has-Been Tells Britain How To Vote.
Donald Tusk, who is the President of the European Council and was the centre-right Europhile Prime Minister of Poland from 2007 to 2014 made the remarks in support of his former Deputy Prime Minister, Anglo-Pole Jan-Vincent Rostowski who is standing as a Change UK candidate in London for Thursday's election.
EU Dictatorship: German MEP says process of choosing Juncker successor a hoax as European elections near
The process of selecting the person who will succeed Jean-Cluade Juncker as European Commission President is a deeply flawed "hoax" dreamed up by "Eurofanatics" who want to create a United States of Europe, a German MEP said today. Hans-Olaf Henkel made his remarks as the prospective candidates – known as Spitzenkandidaten, in Germany, jockeyed for position.
Europe's Nationalists Unite Behind Salvini Ahead Of EU Elections
With the EU elections due in May this year expected to deliver another body blow to the dream of a Federal European superstate, Europe's more conservative nationalist parties have today announced an alliance that is aiming to become the strongest group in the European Parliament, with a view to forcing to radical reform on the EU bureaucracy in Brussels, which dictates policy on security, migration, family and the environment, according to Euro News.
Harold MacMillan's EU warning revealed
Harold MacMillan, British Prime Minister from 1957 to 1963 gave us a chilling warning about the EEC – (European Economic Community) – before Britain joined the bloc, claiming that Germany had planned on using the trading bloc, as an instrument to assert its supremacy across the continent once more. On Wednesday, 3 April, 2019 The House of Commons voted in favour of legislation which forces the Government to request another extension for 'Brexit', giving our current Prime Minister Theresa May more time to show us the comtempt the ruling elite have for the principles of democracy.
Leaked Document Reveals Unacceptable Demands Made By EU Ahead Of Final Talks Before Brexit Deadline
A Secret document has revealed concession the EU is demanding before beginning fresh talks on Brexit ahead of the 12 april dealine. According to a memo seen by the Sunday Times, Brussels is demanding the UK must continue to pay its share of the EU budget, must implement new measures on citizens' rights, and sign a legally binding agreement to arrangements to avoid a hard border between Northern Ireland and The Republic.

Merkel: EU Members Must Cede control Of Their Border To Brussels
German Chanellor Angela Merkel sparked outrage today and pushed the EU cloers to its final disintegration when she stated that EU Member states would be forced to surrender on of their most important sovereign powers, control of their borders, to Brussels in order that the unelected bureaucrats of the European commission could 'manage' immigration (i.e. open the border crossings and let any criminally inclined bunch of fanatics enter Europe.
Spanish Socialist Budget Fails As Budget Rejected; New Elections Expected

We predicted last year when the socialist leader Pedto Sancjez usurped the Spanish government after the collapse of the minority government led by Mariano Rajoy collapsed, could not last. In a widely expected but destabilizing development, Spanish conservatives and pro-independence Catalonians voted to back a slate of amendments to a government budget on Wednesday by a wide margin of 191 votes out of 350,
EU Stitch Up To Promote Euronazi Selmayr's Is Typical Of The EU's Contempt For Democracy
# The former Prime Minister of little Luxembourg Jean-Claude Juncker to ensure his chief of staff was installed as the new Secretary-General of the European Commission, in what one senior Eurocrat has called "an impeccably prepared and audacious power-grab" at the top of the European Union.
EU "Sounds Alarm" Over New US Sanctions On Russia; Germany Threatens Retaliation
Late on Friday (21/07/17), Congressional negotiators agreed to advance a cross - party bill that would punish Russia for its (alleged) interference in the 2016 election according to the Wall Street Journal. And while it seems improbable that President Trump would sign the bill if it reaches his desk, the loudest complaint about the bill to date has emerged not from the Oval Office, but from US allies in NATO and the European Union ...
Fears Over Threat To Sovereignty Could Wreck EU European Army Plan
No they're not Star Wars Imperial Stormtroopers, they are German soldiers assigned to an international peacekeeping force, showing how like Imperial Stormtroopers a pan European army might look (Image source)
Germany Threatens Sanctions Against Poland Over 'Lack of Western Values' (for Western read German)
Last year, Poland's conservative nationalist Law and Justice party (PiS), led by former Prime Minister Jaroslaw Kaczynski, captured both the presidency and parliament at elections in May and November. Since taking office, the party's lawmakers have used their parliamentary majority to initiate a series of controversial legal reforms, causing concerns both at home and abroad, specifically in Brussels and in Berlin.
---
24 May 2019
EU's Top Eurofederalist admits EU wants an empire
Leader of the left-progressive group in the European Parliament Guy Verhofstadt (a.k.a. Verhofshit ) has said that in order to compete with the rest of the world, the European Union must become an "empire."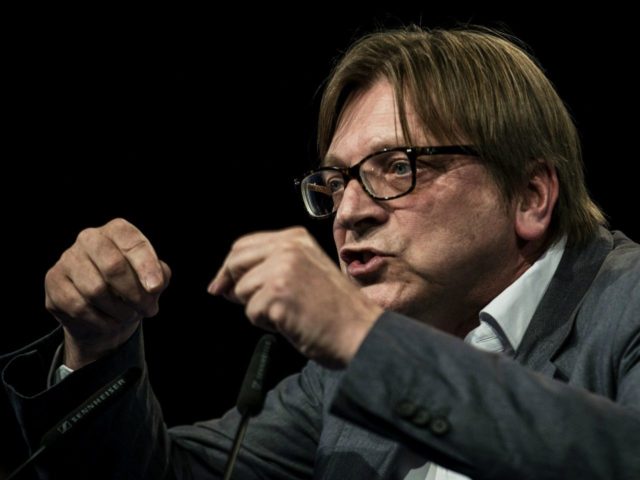 Guy Verhofstadt, the Phlegm who would be Emperor (Picture via Breitbart,)

The leader of the Alliance of Liberals and Democrats in Europe (ALDE) told CNN that plans to reform the EU and devolve power from Brussels back to the nation-state proposed by the populist paries that have spring up in member states, and led by Matteo Salvin's Lega (League) in Italy, Marine le Pen and her Rassemblement National in France and Hungary's Victor Orban, leader of the Fidesz party would mean that the bloc "will die inside."

"The world is developing into one not of nation states, but of empires. China is an empire. India is an empire. The US is an empire. We need to create a European Union that is capable of defending our interests," Mr Verhofstadt said told an interviewer from the far - left American news company who spoke to the Eurocrat his luxurious Brussels office.

Mr Verhofstadt, who is also the European Parliament's Brexit Coordinator, is an avid supporter of greater federalisation of the European Union. The populist movements, including Alernative for Germany (AfD) and The Sweden Democrats, both of which are making big waves in their domestic electoral systems are also among the parties expected to make big gaines in elections to the toothless European Parliament being held this week. UKIP, the party which led the 'Brexit' referendum campaign in the UK are not expected to figure significantly after fragmenting following theior success. A completle new group, The Brexit Party look like topping the polls in the UK where elections have to be held after the Conservative government completely botched the leaving process and failed to take the country out of the UK on 29 March.

Though the populist parties have routinely been labelled neo - fascist, xenophobic and racist by Eurocrats left wing politicians and mainstream media, they are none of those, in fact in casmanyes their policies, except on uncontrolled immigration and surrender of national sovereigny to an unelected committee of bureaucrats in Belgium, are more socialist than shose of mainstream socialist parties.

During a Euronews Raw Politics discussion last week, the former Belgian prime minister compared a proposed United States of Europe to the United States of America, saying: "The United States of Europe is a way to organise a common action on the European level by recognising, by guaranteeing the autonomy of the member states."

He was talking though his arse of course, none of those are Empires but he is not alone, other Eurocrats have also voiced support for a United States of Europe, including former president of the European Parliament and German socialist politician Martin Schulz who called for its formation by 2025. There have even ben discussions about extending the European Union beyond Europe's geographical borders. Such grandiose schemes are more reminiscent of the Nazi and Fascist dictatorships and Communist politbureaus of the twentieth century than a, supposedly democratic, free trade organisation.

RELATED POSTS:

Euro-bureaucratic Democracy
Eurogeddonm: The EU Deby Burden
Europe: EU Power Grab Looks Like Imperialism
Europe Stals Sovereignty
Europe democracy?
EU Dictatorship: German MEP says process of choosing Juncker successor a hoax as European elections near
The process of selecting the person who will succeed Jean-Cluade Juncker as European Commission President is a deeply flawed "hoax" dreamed up by "Eurofanatics" who want to create a United States of Europe, a German MEP said today. Hans-Olaf Henkel made his remarks as the prospective candidates – known as Spitzenkandidaten, in Germany, jockeyed for position.
Europe's Nationalists Unite Behind Salvini Ahead Of EU Elections
With the EU elections due in May this year expected to deliver another body blow to the dream of a Federal European superstate, Europe's more conservative nationalist parties have today announced an alliance that is aiming to become the strongest group in the European Parliament, with a view to forcing to radical reform on the EU bureaucracy in Brussels, which dictates policy on security, migration, family and the environment, according to Euro News.
Harold MacMillan's EU warning revealed
Harold MacMillan, British Prime Minister from 1957 to 1963 gave us a chilling warning about the EEC – (European Economic Community) – before Britain joined the bloc, claiming that Germany had planned on using the trading bloc, as an instrument to assert its supremacy across the continent once more. On Wednesday, 3 April, 2019 The House of Commons voted in favour of legislation which forces the Government to request another extension for 'Brexit', giving our current Prime Minister Theresa May more time to show us the comtempt the ruling elite have for the principles of democracy.
Leaked Document Reveals Unacceptable Demands Made By EU Ahead Of Final Talks Before Brexit Deadline
A Secret document has revealed concession the EU is demanding before beginning fresh talks on Brexit ahead of the 12 april dealine. According to a memo seen by the Sunday Times, Brussels is demanding the UK must continue to pay its share of the EU budget, must implement new measures on citizens' rights, and sign a legally binding agreement to arrangements to avoid a hard border between Northern Ireland and The Republic.

Merkel: EU Members Must Cede control Of Their Border To Brussels
German Chanellor Angela Merkel sparked outrage today and pushed the EU cloers to its final disintegration when she stated that EU Member states would be forced to surrender on of their most important sovereign powers, control of their borders, to Brussels in order that the unelected bureaucrats of the European commission could 'manage' immigration (i.e. open the border crossings and let any criminally inclined bunch of fanatics enter Europe.
Spanish Socialist Budget Fails As Budget Rejected; New Elections Expected

We predicted last year when the socialist leader Pedto Sancjez usurped the Spanish government after the collapse of the minority government led by Mariano Rajoy collapsed, could not last. In a widely expected but destabilizing development, Spanish conservatives and pro-independence Catalonians voted to back a slate of amendments to a government budget on Wednesday by a wide margin of 191 votes out of 350,
EU Stitch Up To Promote Euronazi Selmayr's Is Typical Of The EU's Contempt For Democracy
# The former Prime Minister of little Luxembourg Jean-Claude Juncker to ensure his chief of staff was installed as the new Secretary-General of the European Commission, in what one senior Eurocrat has called "an impeccably prepared and audacious power-grab" at the top of the European Union.
EU "Sounds Alarm" Over New US Sanctions On Russia; Germany Threatens Retaliation
Late on Friday (21/07/17), Congressional negotiators agreed to advance a cross - party bill that would punish Russia for its (alleged) interference in the 2016 election according to the Wall Street Journal. And while it seems improbable that President Trump would sign the bill if it reaches his desk, the loudest complaint about the bill to date has emerged not from the Oval Office, but from US allies in NATO and the European Union ...
Fears Over Threat To Sovereignty Could Wreck EU European Army Plan
No they're not Star Wars Imperial Stormtroopers, they are German soldiers assigned to an international peacekeeping force, showing how like Imperial Stormtroopers a pan European army might look (Image source)
Germany Threatens Sanctions Against Poland Over 'Lack of Western Values' (for Western read German)
Last year, Poland's conservative nationalist Law and Justice party (PiS), led by former Prime Minister Jaroslaw Kaczynski, captured both the presidency and parliament at elections in May and November. Since taking office, the party's lawmakers have used their parliamentary majority to initiate a series of controversial legal reforms, causing concerns both at home and abroad, specifically in Brussels and in Berlin.
Farage Shredded By Welsh Ministry Of Truth Newsman?
An obscure far – left website https://inktank.fi reported that while campaigning for the European Parliament elections in Wales, Nigel Farage was confronted by a BBC Wales reporter, Arwyn Jones, who asked him a question about Brexit, which you'd expect would be easy to answer: Farage didn't answer, how could anyone answer such a stupid question posed by an idiotic reporter working for an ogranisation tasked by The Fourth Reich's ruling bureaucracy in Brussels and their puppets in Westminster with presenting pro – EU propaganda as news ...
Farage Says New Brexit Party Will Spark "A Political Revolution" And Terrify The Tories
Nigel Farage, who led the successful Brexit campaign, warned backsliding elitist politicians on Tuesday that his brexit Party would spark a political "revolution" - a cliched line but appropriate given the mood of the country - and strike fear into the hearts of ineffectual Tories who have so far failed to deliver on the promise of the Brexit referendum if the UK is forced to contest EU Parliament elections as part of Prime Minister Theresa May's, the Sun newspaper reports ... MORE>>>
.
There are sheeple who want to remain in the EU at any price, and then there are people who understand the EU
I am not sure people really are up for reading EU related documents or a whole load more people would be less excited about the EU. If people read the chequers plan and the political declaration they would know the only people who leave the EU are the financial sector. Everyone else stays in without a vote or veto for two years whilst we negotiate the long term deal...
Johnson's article lines up his reasons why Britain must exit on June 23rd. It's time to be brave
OK, I know a lot of you think Boris is most accurately described by a word many people find offensive, but he's put together a very good argument here on why we must leave the EU. Published in part here under 'fair use' terms and conditions, in the public interest ...
Cameron's EU Package: Not A Deal But A Few Turns In The Spin Machine As we and almost everybody else predicted, David Cameron's deal to improve Britain's relationship with the EU is worthless. It changes nmothing, and can be vetoed once we have voted to stay in.
Cameron Plays Deal Or No Deal In Europe
David Cameron, who was apparently up all night trying to make other European leaders understand why his country needs a better deal in order to poersuade the prople it is a good idea stay in the EU. Unless Cameron gets what will enable him to sell the idea of surrendering national sovereignty to a Federal European Superstate ruled by a committee of unelected bureaucrats in to the British public he will not campaign for the UK to remain in the bloc
EU Refuses to Block Eurozone Integration to Reach Agreement With UK
Austrian Chancellor Werner Faymann said at the E?U summit on British membership terms that the European Union wants to reach an agreement with the United Kingdom, but it is not prepared to compromise the banking union (financial integration) or the further integration of monetary union (UK being forced to abandon the pound join the Euro?) to achieve this goal.
Cameron's EU Deal Worthless. It Can Be Vetoed In European Parliament? Opinion polls show Britain is evenly divided on the question of whether to leave or remain in the EU, though it has been suggested up to 10 million other voters, many of them women, have yet to make a decision. How they cast their vote will shape the future of the world's fifth largest economy and the EU itself. But what is really at stake is more important than economics ...
Obama's intervention in UK politics triggers angry backlash Angry Britons have launched a petition calling for U.S. President Barack Obama to be prevented from speaking in the UK parliament on Britain's forthcoming referendum on European Union (EU) membership.
---
22 May 2019
Little Donny Tusk The Polish Has-Been Tells Britain How To Vote.
Donald Tusk, who is the President of the European Council and was the centre-right Europhile Prime Minister of Poland from 2007 to 2014 made the remarks in support of his former Deputy Prime Minister, Anglo-Pole Jan-Vincent Rostowski who is standing as a Change UK candidate in London for Thursday's election. The top Eurocrat released a statement Tuesday in which he told pro-remain Brits to vote for the recently founded Change UK party, which supports a second referendum as a means to keep the United Kingdom inside the European Union.
POLITICO
reports
Tusk's remarks as: "Jan Rostowski worked with me as finance minister of Poland for six years and then as my Deputy prime minister. "Not only was he the best finance minister in Europe during the financial crisis, he is also a very dear friend who would make a great MEP for London, which I know he loves. I urge Londoners who want Britain to stay in the EU to vote for him." While Rostowoski was Poland's Finance Minister and Deputy Prime Minister under Tusk, he was born educated in London, part of a community of Polish citizens in exile during the Nazi and Communist eras. The Change UK party has enjoyed a difficult first two months, since it was established by a group of globalist, centrist Labour and Conservative Members of Parliament who left their respective parties citing concern over the nation's direction over Brexit. Claiming to represent a frustrated sizeable majority of Brits who felt unrepresented after the country voted by a margin of over 1.2 million votes, they are instead polling at less than five per cent. This failure to resonate with voters has been thrown into particularly sharp contrast by the runaway success of the Brexit Party, which is also less than two months old but is polling in
first place
for Thursday's election.
Tusk, who was PM of Poland from 2007-2014 and is a staunch ally of arch Eurofederalist Hausfrau - Volksfuhrer Merkel, and has been 'threatening' Brexiteers with the torments of Hell, whilst working eagerly to derail/cancel/reverse Brexit, has a big angry - red splodge on his record which should dissuade anybody from giving any credence to anything he says:
He has been accused of responsibility for the Smolensk air crash, which conveniently wiped out practically the leadership of his (and Hausfrau Volksfuhrer Merkel's) whole national sovereignty supporting opposition leadership. It is known Tusk engineered the cover not merely the cover-up on the Polish side:
from Wikipedia:
April 2010, a Tupolev Tu-154 aircraft of the Polish Air Force crashed near the Russian city of Smolensk, killing all 96 people on board. Among the victims were the President of Poland Lech Kaczynski and his wife Maria, the former President of Poland in exile Ryszard Kaczorowski, the chief of the Polish General Staff and other senior Polish military officers, the president of the National Bank of Poland, Polish Government officials, 18 members of the Polish Parliament, senior members of the Polish clergy and relatives of victims of the Katyn massacre. The group was arriving from Warsaw to attend an event commemorating the 70th anniversary of the massacre, which took place not far from Smolensk.
The pilots were attempting to land at Smolensk North Airport—a former military airbase—in thick fog, with visibility reduced to about 500 metres (1,600 ft). The aircraft descended far below the normal approach path until it struck trees, rolled inverted and crashed into the ground, coming to rest in a wooded area a short distance from the runway.[2]
Both the Russian and Polish official investigations found no technical faults with the aircraft, and concluded that the crew failed to conduct the approach in a safe manner in the given weather conditions. The Polish authorities found serious deficiencies in the organization and training of the Air Force unit involved, which was subsequently disbanded. Several high-ranking members of the Polish military resigned, under pressure from politicians and the media.
Various conspiracy theories about the crash have since been in circulation, and are promoted by Law and Justice's leaders Jaroslaw Kaczynski (twin brother to Polish President Lech Kaczynski, who died in the crash) and his deputy, Antoni Macierewicz, who claim the crash was a political assassination. Polish and international investigations did not find any evidence supporting this version.[2]
That's the official story. There is no such thing as a minority report when government inquiries are discussed, but independent investigations have come up with some very interesting findings.
http://smolenskcrash.eu/new...
http://smolenskcrash.eu/new...
https://news.sky.com/story/...
http://konferencjasmolenska...
http://www.smolenskcrashnew...
http://www.smolenskcrashnew...
Note how happy Tusk looks in link above, on the very evening of the crash! The expression on his face is similar to that of US President George W Bush on being told of the disaster at New York's World Trade Center on 11 September 2001. Like he is double-air-punching for joy as he grins at Putin. Incredible! Once he realizes a camera is on him, he wipes the grin and substitutes a look of concern. Talk about a 'smoking gun'!
http://www.smolenskcrashnew...
The anti - Brexit message from Mr Tusk comes just weeks after the European Union's Brexit coordinator, Belgian Federalism maniac Guy Verhofshit who, critics say, has been deeply antagonistic towards the United Kingdom during Brexit negotiations —
travelled to London
to campaign for the Liberal Democrats. Praising the enthusiastically pro-European Union membership party, whose election slogan for this vote is imaginatively titled "
Bollocks to Brexit
", Mr Verhofstadt told supporters in a leafy London square: "This is Europe. Europe. It's all Europe." Top European figures did not publicly call on the British people to vote one way or another during the 2016 referendum where Britain chose to leave the European Union, a matter of regret in Brussels where it is apparently believed that instructing voters to stay in Europe could have swayed the decision. European Commission Chief Jean-Claude Juncker
said
this month that he should have intervened, saying had he done so he could have "destroyed the lies" which he claimed caused Brexit.
---
21 May 2019
'Black Vests' African Protestors Take Over Paris Airport
Hundreds of illegal migrants, mostly from sub - Saharan Africa occupied the Paris Charles de Gaulle airport, the main air terminal in France yesterday, preventing people from boarding their flights and demanding that President Emmanuel Macron's prime minister, Edouard Philippe met them to hear their demands. Predicably the cheese - earting - surrender - monkey government gave in to the demands of these criminal scumbags and granted them all immediate citizenship.
"France does not belong to the French! Everyone has a right to be here!" yelled one of the migrants, through a loudspeaker, as they pressed for their presence in the country to be regularised. The protest was organised by the pro-migration La Chapelle Debout group,
Calling themselves "Black Vests" in a bid to claim similar legitimacy to the Yellow Vests, the working and middle class movements who have been protesting Emmanuel Macron's 'government for the rich and globalism' policies for months, the migrants also demanded Air France "stop any financial, material, logistical or political participation in deportations" in a statement published on Facebook.
Due to the kid gloves approach taken by successive French governments to the criminal acts ofIllegal migrants, these thugs now appear to have little fear of reprisals for lawlessness, with hundreds having conducted a similar protest demanding regularisation outside the Paris police quarters in January, according to Le Parisien.
They were even more arrogant in 2018, storming the historic Basilica of Saint-Denis, which holds the tombs of France's kings. They were joined in that action by far left anti-borders activists who helped vandalise the church and descecrate several tombs, forcing clergymen to cancel a Catholic mass and remaining in situ until the authorities forcibly ejected them from the premises.
It has also been widely rumoured that Muslim extremists elements in the illegal immigrant community were responsible for burning the national shrine, Notre Dame de Paris cathedral last month. The official narative which claimed the inferno was started by an electrical fault or building materials in a part of the 1000 year old church undergoing renovation were debunked by contractors who conformed there were no live electrical circuits in the area where work was in progress and neither were combustible materials stored in the area.
Populist politician Marine Le Pen, leader of Rassemlement National, the Eurosceptic, anti - immigration party condemned the seeming involvement of left-wing politicians in organising and promoting the demonstration, saying that "By calling migrants to desecrate the Basilica of St. Denis, Necropolis of our Kings… the far-left show that, in their immigrationist madness, they are ready to trample our civilisation and desecrate a place of historical worship."
If the French Prime Minister has truly caved in to the demands of these criminals it sets a dangerous precedent for European Union nations. In the whole of sub - Saharan Africa there is only one abundant skill set, that of holding out a begging bowl and looking pathetic. Start giving such people what they ask for and you will never be rid of them.
---
19 May 2019
Second bomb Attack In Six Months Targets Tourists In Egypt.
News feeds are telling us that earlier today (Sunday) a terror attack was made on a bus full of tourists travelling to see the Pyramids at Giza, near the Cairo, the Egyptian capital. Egyptian official news sources said the blast wounded at least 16 people, with no reports of fatalities so far.
The Egyptian government described the attack as having been by means of a roadside bomb placed on a heavily used stretch of road that in the tourist season is packed with busloads of sightseers en route to the famous World Heritage site, which leads security forces to believe it is the work of Islamic extremists intent on crippling Egypt's vital tourist trade — the second to target foreign visitors to the pyramids in under six months.
in December an explosion ripped through a tourist bus in Al-Haram area south of Cairo, which killed two and left a dozen injured, in what was the first such attack in two years.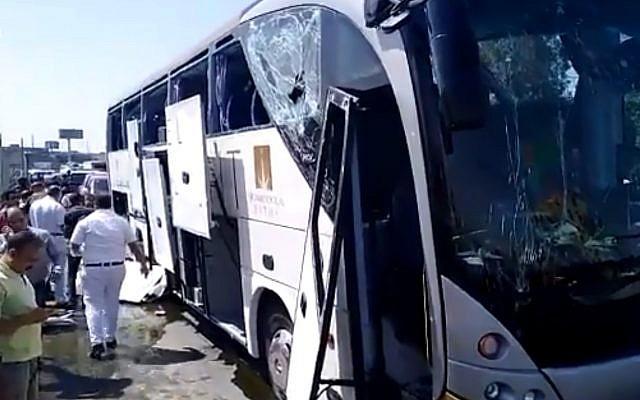 Eye witness reports suggest the bomb was a relatively small explosive device, and photographs of the aftermath show the bus suffered impact damage, but is intact.
According to Bloomberg:
Some of the wounded were foreign nationals, according to Mohammed El-Saghir, head of police investigations in Giza's al-Haram neighborhood. The blast occurred in front of a museum that's under construction, and there was not immediate claim of responsibility.
In the hours following the incident, reported numbers of injured people rose to 18, with police saying they're attempting to track the source, which a number of reports have linked with Islamic militant groups engaged in a long running conflict with Egypt's security services.
Greenteeth terrorist activity catalog
18 May 2019
Farage Shredded By Welsh Ministry Of Truth Newsman?
Under the headline:
Welsh TV reporter shredding Nigel Farage is the best interview you'll watch today
An obscure far - left website https://inktank.fi reported that while campaigning for the European Parliament elections in Wales, Nigel Farage was confronted by a BBC Wales reporter, Arwyn Jones, who asked him a question about Brexit, which you'd expect would be easy to answer:
A video clip of the exchange is going slightly viral on far - left, anto democracy sites such as Facebook and Twitter, with opponents of Brexit claiming Farage was 'shredded' by the reporter because he could not answer the question, "Can you name one WTO member nation that does not have a trade deal?
Of course Farage didn't answer, how could anyone answer such a stupid question posed by an idiotic reporter working for an ogranisation tasked by The Fourth Reich's ruling bureaucracy in Brussels and their puppets in Westminster with presenting pro - EU propaganda as news. A quick count suggests the WTO has 170 member (give or take a few to allow for counting errors on my part, many of which are island nations with very small population and some of which few of us have ever heard. Eswatini anyone? Apparently, according to the WTO membership list, Eswatini is a WTO member.
(What? No, I hadn't heard of it either until I looked up the list of WTO members.) Who knows if Eswatini has a trade deal? Who cares?
And who knew Tonga, (pop 100,000 spread across 36 islands) does not have a trade deal with anybody, not even nearby (well less than 1000 miles away) New Zealand, mainly because the Tongan economy is largely non - monetary. Their main sources of foreign exchange are payments from Britain, Australia and New Zealand, a small tourist industry (only the most intrepid would tracel so far to a place with so little to offer,) and remittances to family members from Tongans working overseas. They have no exports.
I only know this because I am at home on my computer with Wikipedia and Britannica Online at my fingertips. Almost every nation on the planet is now a member of the WTO, why would anyone know off the cuff the foreign trade policies of all of them. What is worthy of note is that no EU member states have trade deals either with each other, non EU trading partners or indeed the EU itself. They are bound by EU rules but those do not constitute a trade deal, free or otherwise. The EU itself is a member of the WTO and as its rules demand that member states surrender political sovereignty over trade policy to Brussels, not only the UK, but Germany, France, Italy, Spain, Poland, Netherlands and the rest of the member states cannot have any independent trade deals
But the item is reassuring in a way. If the Remainers are so far up shit creek with their efforts to get the Referendum overturned or Article 50 revoked they are celebrating imbecility, there's hope for Brexit yet.
MORE ON BREXIT
The Daily Stirrer
---
17 May 2019
EU Dictatorship: German MEP says process of choosing Juncker successor a hoax as European elections near
The process of selecting the person who will succeed Jean-Cluade Juncker as European Commission President is a deeply flawed "hoax" dreamed up by "Eurofanatics" who want to create a United States of Europe, a German MEP said today.
Hans-Olaf Henkel made his remarks as the prospective candidates – known as Spitzenkandidaten, in Germany, jockeyed for position. In accordance with the procedure, European political parties, prior to the European elections being held on May 23, appoint lead candidates for the role of Commission President, with the presidency of the Commission going to the candidate of the political party "capable of marshalling sufficient parliamentary support". Hopefuls include Manfred Weber, who has served as Leader of the European People's Party in the European Parliament since 2014 and Dutchman Frans Timmermans, Mr Juncker's vice president, a member of the Party of European Socialists (PES).
Denmark's Margrethe Vestager, European Commissioner for Competition since 2014 who successfully prosecuted Google over unfair business practices, is one of a number of names put forward by the Alliance of Liberals and Democrats as wanting the top job, with the Phlegm Guy Verhofstadt, the European Parliament's chief Brexit negotiator, also on the list.
However, Mr Henkel told reporters: "The idea of a 'Spitzenkandidat' is a hoax!
"It is predominantly a German idea. As the name already implies, it is the idea of German euromantics who can't wait to create the United States of Europe with more centralisation, harmonisation and socialisation.
"Like 'Kindergarten' or 'Angst', 'Spitzenkandidat' has already found its way into the language of other countries' political language.

Manfred Weber and Frans Timmermans are both candidates to replace Mr Juncker (Image: GETTY)
"It is a clear case of political shadow-boxing. Who knows Mr Weber or Mr Timmermans in Spain, Italy or France? Even in Germany, Mr. Weber is widely unknown.
"To pretend that the 'European People' might have voted for either candidate in the forthcoming European election is therefore fooling the public.
"During the last campaign for the European elections, Juncker was Spitzenkandidat of the EPP but I saw not one poster of him during my own campaign throughout Germany. Instead Ms Merkel and Mr Schulz were to be seen on posters all over the place.
"Mr Weber is unqualified for such a job. He has no executive experience in anything
"He wasn't even mayor or dog catcher of a small town of Bavaria where he comes from. His entire career was almost only that of a party politician."
Ms Vestager, who forced Google to pay 4.4billion in back tax after investigating their tax avoidance techniques and later fining the tech giant over $2billion for manipulating search results to their own financial advantage, and who has also taken action against the governments of Ireland and the Netherlands to force them to pay more taxes to the bloc, was highlighted by Harald Schumann, editor of German newspaper Tagesspeigel, as the "ideal" candidate – but Mr Henkel was unconvinced.
He said: "It is true that Mme. Vestager was much more visible and "successful" than other EU-Commissioners but that doesn't automatically mean that she is qualified.
"Let's not forget that she runs the only job in the Commission that has legal clout. While she has become popular because of fining large companies, one should remember that most of her predecessors were equally popular.
But the man most likely to succeed Juncker is Juncker's protegee Martin Selmayr who was promoted to EU Commission Assistant General Secretary and then to General Secretary in the space of one afternoon.
RELATED POSTS:
Labour Brexit Champion Kate Hoey
Brexit versus metropolitan snobbery
Brexit: MacMillan's Warning
---
16 May 2019
Muslim migrants now such a threat to women in Sweden, armed police escorts accompany joggers on their runs
Residents of the Swedish city of Oskarshamn will now have the option to be accompanied by armed police officers while out jogging. The above comments made by a police inspector mirror a report from 2016 which acknowledged for the first time that the stratospheric rose in rape and other sex crimes was linked to the country's policy of accepting all - comers, including hundreds of thousands of undocumented travellers, to claim residency, asylum or refugee status. The report also revealed that close to half of women in Sweden felt "very unsafe" at night alone in Swedish cities. According to the report, conducted by newspaper Aftonbladet, a further 43 per cent felt uncomfortable in Swedish cities even in the daytime.
https://fabiusmaximus.files.wordpress.com/2016/03/migrant-protest.png?w=1100
Swedes protest against migrant crime -Picture: https://fabiusmaximus.files.wordpress.com
The issue has been particularly bad in heavily migrant-populated suburbs many of which have been designated no-go zones due to lawlessness among the migrants. Though Sweden was never quite the socialist utopia it is often presented as by leftist media figure, when this reporter worked there arounf twenty years ago it was one of the safest places in Europe. Now many of the cities and large towns are torn by turf wars between crime gangs from various ethnic groups vying for control of the drugs and sex trades. A survey conducted by the Swedish National Council for Crime Prevention (Brå) claimed that around
half
of the residents of problem areas were too afraid to leave their homes in the evenings. As Sweden's violent crime rate has increasingly become the centre of national attention, more and more unorthodox solutions to the problems have been proposed. Last month, members of the Moderate Party even proposed
deploying the military
in no-go Muslim areas to aid police.
RELATED POSTS:
Sweden dystopia omnibus
Original Boggart Blog
---
15 May 2019
UK Asylum Seekers DEMAND 'VIP' Treatment
Taxpayer-funded three-star hotel accommodation provided for asylum seekers has been labelled discriminatory because paying guests receive better food than migrants who demand their "VIP status" be recognised.
Private contractor Clearsprings is housing 129 refugees at the Mediterranean-themed Europa Gatwick Hotel where migrants have their own rooms, with en-suite bathrooms, plus a television and tea and coffee-making facilities.
Yet, according to the Mail on Sunday, one of them was indignant about the conditions and demanded that they should be treated like VIPs.
The man, who has previously worked at hotels in Dubai, said: "We should be considered VIPs because we are long-staying guests. We are making money for this hotel."
Daily Stirrer Immigration posts
---
Turkey and Sadui Arabia Already Have Troops Fighting In Syria
Even mainstream media has been forced to concede that Turkey and Saudi Arabia are apparently ready to send ground forces to the Syrian battlefield as Assad's forces, backed by Russian air power and Iranian elite troops but continue to grind down ISIS forces equipped with US made arms and ammunition via Saudi Arabia and funded by Turkey's illegal oil trade with the terrorist group.
---
Personal Freedom Versus Political Paternalism
What is the role of government in society? This has been and remains the most fundamental question in all political discussions and debates. Its answer determines the nature of the social order and how people are expected and allowed to interact with one another – on the basis of either force or freedom.
The alternatives are really rather simple. Government may be narrowly limited to perform the essential task of protecting each individual's right to his life, liberty, and honestly acquired property. Or it may be used to try to modify, influence, or dictate the conduct of the citizenry.
In the first case, the government is assigned the duty of impartial umpire, enforcing the societal rules against assault, murder, robbery, and fraud. All human relationships are to be based on mutual consent and voluntary association and exchange.
In the second case, government is an active player in people's affairs, using its legitimized power of coercion to determine how the members of the society may live, work, and associate with each other. The government tries to assure certain outcomes or forms of behavior considered desirable by those who wield political authority.
More Government Means Increased Government Force
It's Official! Labour Party Supports Oppression Of Muslim Women
A Muslim women's rights organisation has sent an open letter to the Labour leader Jeremy Corbyn, outing the innate sexism of the Labour leadership in refusing to take action against the large numbers of male Muslim Labour councillors who have actively blocked Muslim women from entering politics. The group demanded an independent review and accused the party of prioritising votes and being "complicit at the highest levels".
Muslim Women's Network UK (MWNUK) named the Muslim-dominated city councils of Peterborough and Birmingham as a particular concern. The latter is already embroiled in a sexism row, and has been accused of covering up the activities of Muslim gangs alleged to have grooomed, abouse and sexually exploited under - age girls in council run care homes. Recently the Lord Mayor-elect and chairman of Birmingham's Central Mosque was forced to step down because he said forced marriage was not a problem and lied about dealing with horrific cases of domestic abuse.
The MWNUK urged Labour leaders to investigate "systematic misogyny displayed by significant numbers of Muslim male local councillors" and suggested that Muslim men within Labour had been allowed to operate under the "patriarchal 'biradari' system".
"They don't like women to be heard, to be empowered," a group spokeswoman told BBC2's Newsnight, explaining how in Labour dominated councils talented Muslim women had been harassed out of top positions. In the examples given, the party had effectively allowed the men to enforce Sharia principles; ensuring women could not act freely without the permission of male guardians.
Optician Fozia Parveen claims her efforts to become a Labour councillor in Birmingham in 2007-8 were scuppered by Muslim men in the party: "At the time, I was aware of a smear campaign against me, they said that I was having an affair with one of the existing councillors. I was quite taken aback. People were turning up at my family home trying to intimidate my mum."
She claimed Muslim men who were members of the local Labour party were behind the efforts to prevent her from standing.
---
Landmark Report Explodes The Myth Of Economic Benefits From Mass Immigration
The Contribution politicians and left wing hand wringers claim is by migrants to Britain's economy are "modest" compared to their long term costs, while mass migration depresses wages and harms GDP growth, a report on the findings of research led by a respected academic has found.
November 2015
How A Secretive Elite Created The EU To Build A World Government
Voters in Britain's referendum need to understand that the European Union was about building a federal superstate from day one
As the debate over the forthcoming EU referendum gears up, it would be wise perhaps to remember how Britain was led into membership in the first place. It seems to me that most people have little idea why one of the victors of the Second World War should have become almost desperate to join this "club". That's a shame, because answering that question is key to understanding why the EU has gone so wrong.
Most students seem to think that Britain was in dire economic straits, and that the European Economic Community – as it was then called – provided an economic engine which could revitalise our economy. Others seem to believe that after the Second World War Britain needed to recast her geopolitical position away from empire, and towards a more realistic one at the heart of Europe. Neither of these arguments, however, makes any sense at all.
Europe
Why Are Bigots So Offended By Being Called Bigots? As in the case of Iain Lee, the accusation of 'bigotry' seems to be more offensive than the actual bigotry which prompts it
German Scientist Confims Climate Change Ia A Politically Motivated Scam
Even as the inbred idiot Prince Charles was babbling to a hand picked audience about the skid marks in his underpants being caused by Climate Change, a somewhat more scientifically literate person, Dr. Friedrich Karl Ewert, a retired geologist and data computation expert, has confirmed what those of us dubbed 'climate deniers' have been telling you for years ...
War On Cash: Pin Numbers will be obsolete within five years, we will pay with mobile or fingerprints instead.
The War On Cash gathers more momentum as political, business and academic elite attempt to advance and agenda that will destroy individual freedom and privacy and give them total control of our lives and finances via technology.
Iran Releases Video Alleging the US, Israel and Allies were Behind Isis and the Paris Attacks
A video released by the office of Iranian Supreme Leader Ali Khamenei entitled, "Who Was Behind the Paris Attacks" alleges that it was the US, Israel and their allies who helped create ISIS in order to further their own interests
Opposition Party to Sue Austrian Government Over Complicity In People Trafficking
We have reported previously that in their eagerness to complete the genocide of Europe's white working classes, the political and business elites are prepared to make a mockery of their own laws. One way in which this has been done is by turning a blind eye to people trafficking so that the entry of illegal immigrants to Europe would not be slowed by national law. We can't claim credit for the action reported here, we have very few Austrian readers, but it's good to see oyhers are starting to think.
Accept Everything, Question Nothing A chilling poll published in the US has revealed that 40% of those born in the 21st century – the so-called 'Millennials' – believe government should be able to limit speech regarded as offensive to minorities. The older the generation, the more opposed to outlawing aspects of free speech. The 35-50 'Gen X' group approval of such a move was 27%; for the Baby Boomers (51-69), approval dropped to 24%, whilst the oldest age group asked (70-80) registered just 12% approval.
European Governments Hold "Secret" Meeting To Dismantle Borderless Travel Since the spring of this year, when numbers of migrant flooding across the European Union's border illegaly began to rise exponentially we have predicted that the resultant crisis would bring about the end of the Schengen Agreement - under which 28 EU nations operate open internal borders, unravels in the face of the overwhelming flow of refugees fleeing the war-torn Mid-East
Afghan troops defect to Taliban in Helmand
According to news sources in Pakistan, up to sixty five Afghan soldiers, trained and armed by US and European military advisers, have defected to the resurgent Taliban, taking their weapons and equipment with them. Another 88 are reported to have been killed in heavy fighting between Taliban irregulars and government forces in the southern province of Helmand.
WW3 US GOVERNMENT wants a WORLD WAR 3
The situation in Syria has always been a proxy war between the United States and Russia, and that is even admitted by the mega news networks who don't ever dare to mention Obama's secret orders demanding support for the Syrian rebels back in 2011 (in order to crush the Putin-backed Assad).
German Ministers Preparing 'Putsch' Against Merkel - SpiegelSenior ministers in Germany are no longer trying to reach a compromise on Immigration with German Chancellor Angela Merkel. Traditional political allies and supporterswhose loyalty could be taken for granted are gradually becoming her main opponents. The German Chancellor is not only losing power over the refugee crisis in Europe, but she is also unable to manage her own government, German magazine Der Spiegel wrote ...
Putin Lines Up The Big Guns As Obama 'Shoots Golf' And Kerry Vacillates
Things are getting serious (and very dangerous) in Syria. ISIS do not have warplanea and SAMs are not effective against ground troops so this latest Russian move can only be interpreted as a warning to the USA
Paris Horror Demonstrates Limits On Tolerance And Need For Border Controls As the lawless criminal scum imported by Merkel in her efforts to suck up to Obama threaten to turn Germany into a third world human cespit, it seems public opinion in European is waking up.
posted by Tapestry
Tajammu Al-Ezza brigade fighters on an anti-aircraft weapon inspect the sky for helicopters loyal to Syrian President Bashar al-Assad in the Hama countryside, May 6, 2015. (photo by REUTERS/Mohamad Bayoush) How the Syrian regime forces are attacking opposition under Russian cover HAMA, Syria — The Syrian regime launched a broadscale attack against the opposition …
President Barack Obama will hold a meeting at the White House on Friday with experts from both political parties to discuss the Trans-Pacific Partnership, White House spokesman Josh Earnest said on Friday. The meeting will include four former Secretaries of State -Henry Kissinger, James Baker, Colin Powell and Madeleine Albright – among others.
Cameron's Hopes For EU Membership Reforms For UK Torpedoed By Tusk
David Cameron's hopes of winning serious concessions on sovereignty, border controls, contributions, trade agreements, human rights and labour laws so he could claim to have won a better deal for Britain by the time the in / out referendum starts next year European Union suffered an early blow when European Council President Donald Tusk warned that reaching a deal would be "very tough" ...
Cameron's Hopes For EU Membership Reforms For UK Torpedoed By Tusk
US Debt Is Three Times More Than You Think
http://www.informationclearinghouse.info/article43366.htm "The Hill" - The former U.S. comptroller general says the real U.S. debt is closer to about $65 trillion than the oft-cited figure of $18 trillion. Dave Walker, who headed the Government Accountability Office (GAO) under Presidents Bill Clinton and George W. Bush, said when you add up all of the nation's unfunded liabilities, the national debt is more than three times the number generally advertised. "If you end up adding to that $18.5 trillion the unfunded civilian and military pensions and retiree healthcare, the additional underfunding for Social Security, the additional underfunding for Medicare, various commitments and contingencies that the federal government has, the real number is about $65 trillion rather than $18 trillion, and it's growing automatically absent reforms," Walker told host John Catsimatidis on "The Cats Roundtable" on New York's AM-970 in an interview airing Sunday. The former comptroller general, who is in charge of ensuring federal spending is fiscally responsible, said a burgeoning national debt hampers the ability of government to carry out both domestic and foreign policy initiatives. "If you don't keep your economy strong, and that means to be able to generate more jobs and opportunities, you're not going to be strong internationally with regard to foreign policy, you're not going to be able to invest what you need to invest in national defense and homeland security, and ultimately you're not going to be able to provide the kind of social safety net that we need in this country," he said. He said Americans have "lost touch with reality" when it comes to spending. Walker called for Democrats and Republicans to put aside partisan politics to come together to fix the problem. "You can be a Democrat, you can be a Republican, you can be unaffiliated, you can be whatever you want, but your duty of loyalty needs to be to country rather than to party, and we need to solve some of the large, known, and growing problems that we have," he said. **************************************************
Russia Wins While West Spins
http://www.informationclearinghouse.info/article43359.htm Like a good laundering machine, the Western media operate an efficient spin cycle for rinsing out dirty water. No sooner had Russia's foreign ministry issued a fairly straightforward statement on Syria's political future this week, then Western media news outlets were getting all in a lather with the spin that Moscow was preparing to hang Syrian President Bashar al-Assad out to dry. What that reaction shows is that these outlets are dutifully laundering the political agenda of their governments. That agenda seems to involve getting Russia to implement, unwittingly, the Western objective of regime change in Damascus. Russian foreign ministry spokeswoman Maria Zakharova was quoted by Russian news agency ITAR-TASS as saying that the Syrian leader's hold on power was not a matter of principle for Moscow. She also spoke about other important issues: the imperative to respect the sovereign right of the Syrian people to decide the political future of their country; and that regime change in Syria would usher in even greater disaster from terrorism and refugees. However, it was the words on Assad that got picked up and thrown into the spin cycle with haste. Britain's state broadcaster, the BBC, issued a breaking news flash with the headline: '
Russia says keeping Assad not crucial
'. While American channel CNN adverted that: 'Russian leaders were opening the door for Assad's exit'. Such so-called news items are laughably becoming more like commercial breaks. Commercial breaks between, well, more commercial breaks. Low on intelligent content and pitched to get viewers to buy somebody's tawdry product. There was nothing further to back up either report on BBC or CNN – only a selective, speculative interpretation of the words from the Russian foreign ministry. There was no mention of the sovereign right of the Syrian nation nor of the global-scale disaster if regime change were to take place. Just a seemingly puerile gaze at the words about Assad's staying in power not being «a matter of principle» for Moscow. What the Russian foreign ministry spokeswoman actually said was this: «We have never said Assad's staying in power is a principled aspect. We are saying that the change of regime in Syria could become a disaster not only on a local or even regional scale, but, with account for that problem with refugees that we have now, this could become a big black hole». Russia had already warned about Western media «juggling with its words» over Syria, and in particular on attempts to wilfully distort its policy. Following the Vienna summit last weekend on Syria, there was Western speculation that Moscow had tacitly agreed to Assad relinquishing power.
Russian Foreign Minister Sergey Lavrov sternly dismissed
then what he called were «rumours». «I heard that the rumours are being spread already that it has been or will be agreed that Assad will step down in some period of time. This is not the case,» said Lavrov. If Western media were to provide a journalistic service instead of laundering their governments' political agenda then they might have reported that Russia's position is rightly centred on the sovereignty of Syria and on the defeat of foreign-backed terrorism in that country. That Moscow is saying that the question of Bashar al-Assad staying in power, or not, is not a matter of principle is simply stating that Russia does not view the Syrian leader as a life-long president. Assad's presidency will be subject to the democratic will of the people, which is the all-important sovereign point. What is so controversial or enigmatic about stating that? Nothing, unless there is a mischievous will to misconstrue. Put another way, if Russia had said instead that Assad staying in power was a matter of principle for Moscow, then the Western media would no doubt have gone into double-spin mode and claimed that the Kremlin was dictating that the Syrian leader must remain in presidential office forever – regardless of the will of the electorate. One can imagine the headlines in that scenario: 'Putin lays down law to Syrian people' and so on. Of course, Western media spinning is hardly new and the consequences of the latest dash to misinterpret will no doubt be as fleeting as a soapy bubble. But the alacrity with which Western media outlets operated on the issue is instructive. Russia's military operation in Syria to protect the state and its sovereignty from foreign-orchestrated mercenary terror groups has dealt a devastating blow to Washington's covert military agenda of regime change. That agenda, instrumented by the deployment of mercenary terror groups,
predates the outbreak of violence in Syria
in March 2011 by several years, as uncovered by American journalist Seymour Hersh. Also as disclosed by former French Foreign Minister Roland Dumas, as well as leaked US diplomatic cables indicate from as early as 2009. Washington and its allies are now being compelled to use a political means to achieve what they couldn't otherwise pull off by covert military means – because of Vladimir Putin's bold intervention in Syria, beginning on September 30. Recall, too, that US Secretary of State John Kerry
demanded last month
, with typical haughtiness, for Russia to «bring Assad to the negotiating table». Not that there is much to discuss as far as Washington, London or Paris are concerned. Assad has to go, in their arrogant view, sooner or later. By going into so-called «diplomacy mode», as opposed to covert terrorist-supporting mode, what the Western imperial overlords expect is for Russia to comply with a political framework concocted in order to push Assad from power. That modus operandi is a negation of Syrian sovereignty, of course. And Russia is much too intelligent to be hoodwinked by these Western charlatans.